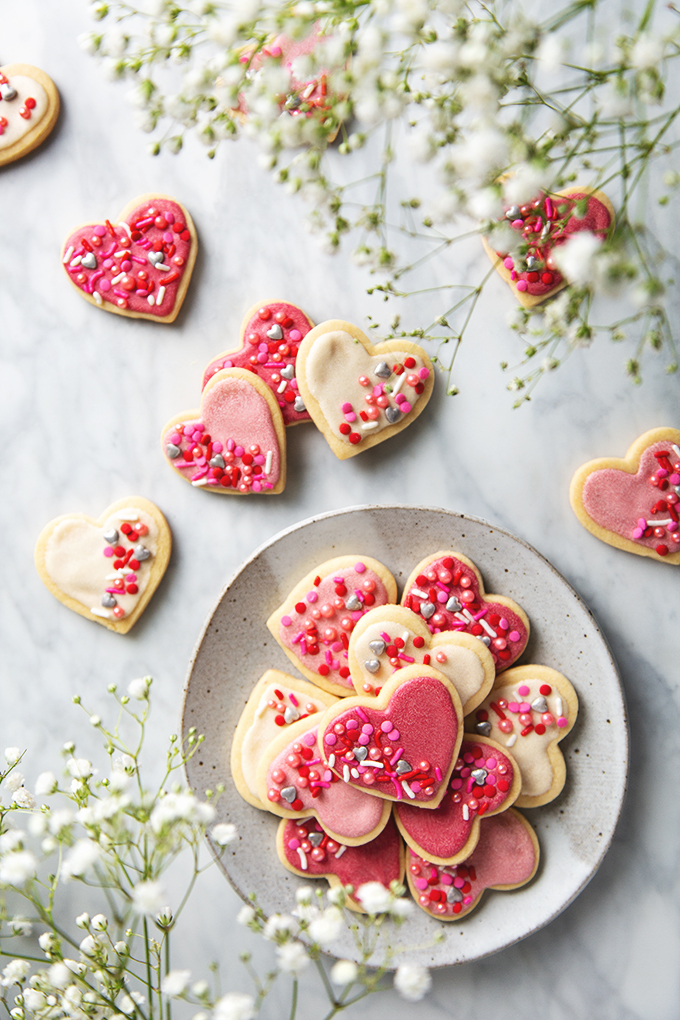 It's been about 30 days or so since the holidays and all things dessert and comfort food…are you ready for a cookie recipe yet? I hope so, because I've been tweaking this classic vegan sugar cookie recipe for the last, oh, four years and I think it's finally perfect!
Truth be told I don't often keep cookies at our house, mostly because we eat them in about two seconds flat. Aaron especially will eat cookies at every opportunity—morning snack, afternoon snack, and evening dessert, which I 100% attribute to his growing up surrounded by no less than ten different cookie options at all times. My mother-in-law is famous for making big batches of cookies so there's never a shortage, no matter how many people she's feeding. I joke that it's not a visit to the Scott house unless you've eaten half a dozen cookies and left with an economy-sized bag of more to take home.
So when we do have cookies at our house, I try to keep them a) homemade (they feel more special that way) and b) heavy on the nostalgia. In recent years I've been really into the idea of making the same few treats at certain times of the year, like gingerbread cookies at Christmas and these frosted sugar cookies for Valentine's Day. The food becomes our own little tradition, and I love that it's a way for me to really dial in a handful of recipes instead of always feeling like I need to create something new (which is often the case as a recipe developer).
To make the sugar cookies vegan, I swap regular butter and cream cheese for vegan butter and cream cheese, and make sure my sugar is organic (organic sugar = no animal-derived ingredients like bone char). Everything else is exactly what you would expect in a classic sugar cookie recipe—all-purpose flour, vanilla extract, baking soda, and sea salt. That's it!
The frosting is a non-dairy version of a classic mix: vegan butter, organic powdered sugar, and a little almond milk to thin it out. This time I also added a tiny bit of corn syrup for shine and natural vegetable dye to make pretty shades of pink, but you can totally omit the corn syrup and replace it with more almond milk, or skip the food coloring if you'd prefer.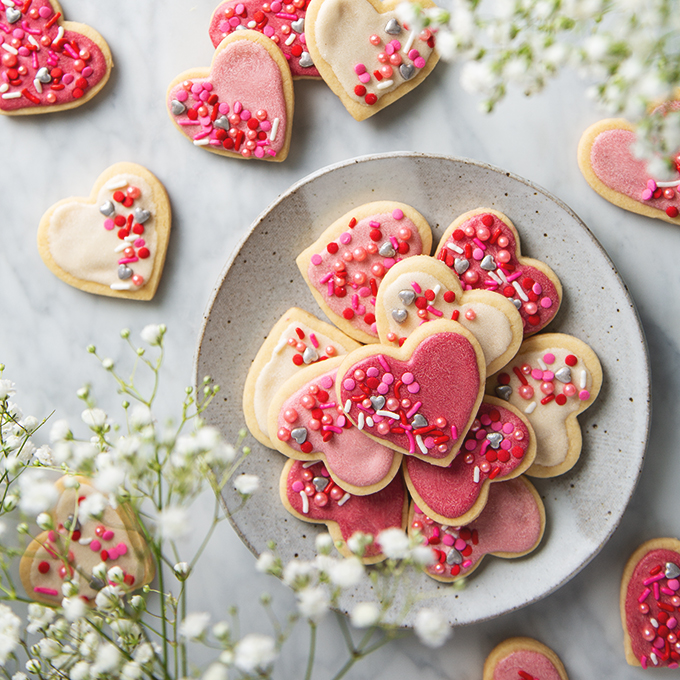 Normally I would dip the tops of the cookies into a bowl of frosting and call it a day; however, I was feeling a little more ambitious with my cookie decorating when I made this last batch. I filled three small, sealable plastic bags with frosting (one for each color), cut off a tiny portion of one corner, and then piped frosting around the edges and in the middle. I used a butter knife to spread the frosting over the centers, and added fancy sprinkles to my heart's content! Again, this part is very optional but very meditative, if decorating cookies is your thing.
If you're looking for a classic and vegan sugar cookie recipe, I think you're going to love this one. The dough is easy to work with, the cookies are sturdy while still being tender in the middle, buttery, and sweet…it's basically everything you could ever want from a really good sugar cookie, vegan or not.
Wishing you a happy February and almost-Valentine's-Day (with lots of cookies)! xo