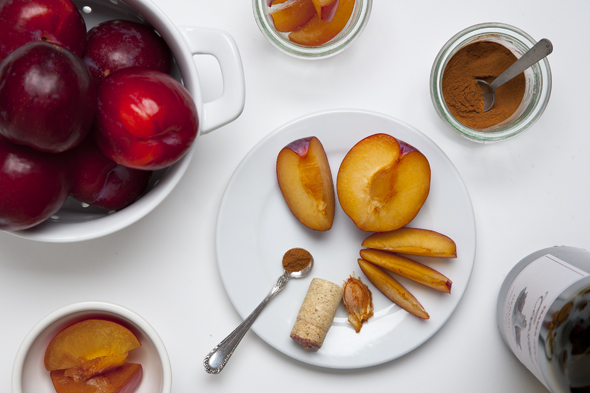 Last October, it's safe to say I ate some of the best vegan food of my life. During a just-long-enough three day getaway to NYC, we followed a very ambitious itinerary that consisted of eating, walking, eating some more, seeing some art (because this trip was for Aaron, too), walking, eating, and then eating again. The walking was a necessary component to allow for all of the eating. Not so much as a way to keep my pants from cutting off circulation in the waist (that's why I packed flowy dresses and skirts!), but because it allowed us to keep up our appetites. Aaron can always eat, but my itinerary tested even his limits, and so another strategy we used was to never eat until we were full. The key to all that eating, we quickly learned, is to enjoy small meals and savor every bite, stopping when you're wanting just a little more, and promising yourself you'll come back for another meal down the road.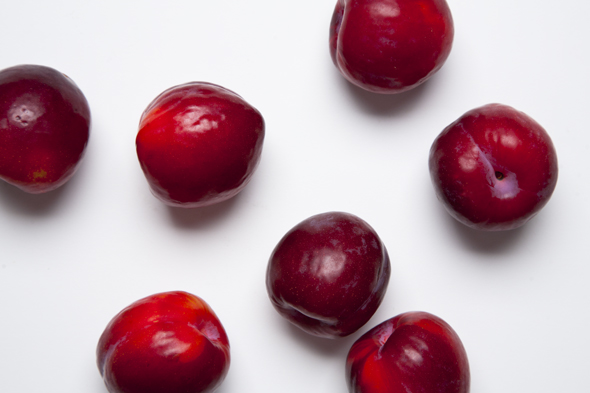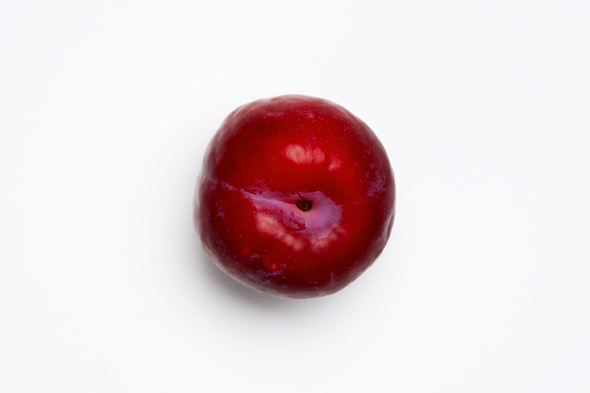 One of the most memorable treats I enjoyed that weekend was actually not a meal, but a couple of popsicles from the famous People's Pops along The High Line. If I had to choose a favorite dessert, I probably couldn't. But if you really pressed me, I would choose something frozen – ice cream, sorbet, or popsicles. That day in Chelsea, I went with an apple chai popsicle and Aaron ordered cinnaplum. The bolder apple chai overshadowed the cinnaplum in that instance, but it's a flavor combination I haven't been able to get out of my head since. I love the challenge of taking something, making it my own, and seeing if I can do it better.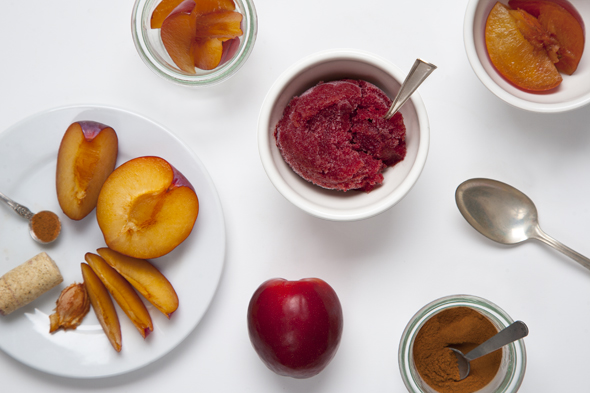 My version involves a whole bottle of merlot, so I win (kidding). It would not be appropriate for a popsicle stand, at least not one without a liquor license. Sidenote: do they have those?
The timing for these popsicles worked out perfectly too, since organic red and black plums were on sale when I went shopping over the weekend. The red plums are prettier and really juicy, but the black plums are sweeter and easier to pit. I used a combination of mostly red with a couple of black plums, but use whichever you like. One thing I would recommend is splurging on a good quality bottle of (vegan) wine. It doesn't have to be amazing, but you are using the entire bottle, so it's important to go with a merlot you would drink. And actually, that's the first step in the recipe: pour yourself a small glass to sip while you make the sorbet. I gave my glass to Aaron and then made sure to tell him how nice I am.