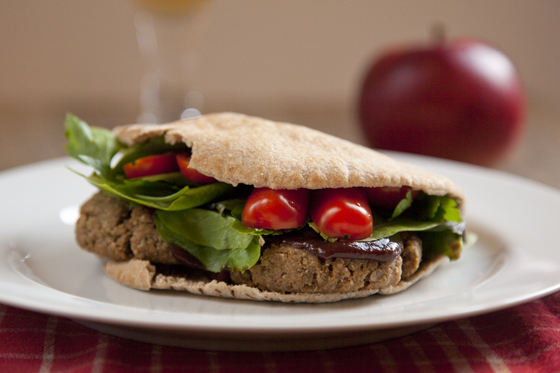 Veggie burgers are one of my go-to meals for portable lunches and quick dinners. And up until about a year ago, I'd just grab a couple of the pre-made, frozen packages during my weekly grocery trips, not giving it too much thought. But at nearly $6 for 4 burgers, it seemed like making my own would be an easy way to save some money…so I could then blow it on a $4 bottle of kombucha. Worth it.
I've tried a handful of veggie burger recipes, but there's something about the combination of lentils, walnuts, and sunflower seeds in this one that creates a super satisfying burger and keeps me full for hours. And unlike a lot of others, these burgers have minimal crumbling and hold their shape really well.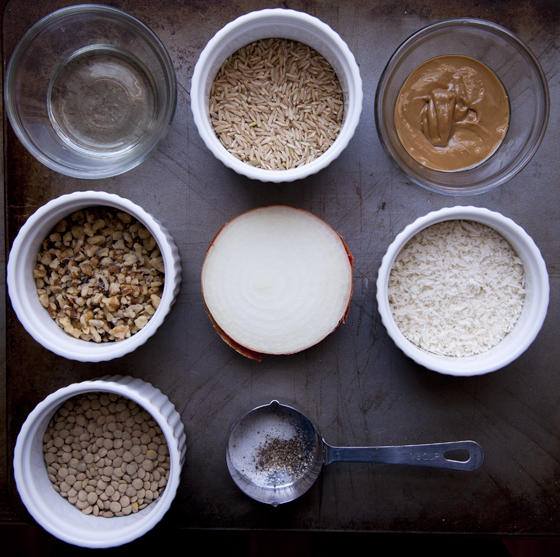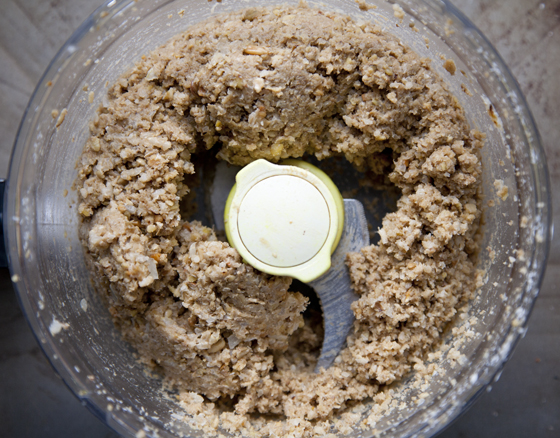 And since Aaron has recently been on a falafel kick, this week we decided to make falafel-sized patties for lunches, and enjoy them wrapped in pitas with a little spicy BBQ sauce, mixed greens, and sweet grape tomatoes.
The flavor of the burgers isn't too overpowering, so you could pair them with whatever toppings you like. Well, maybe not pumpkin puree. Let's try to eat at least one meal this week that isn't pumpkin, okay?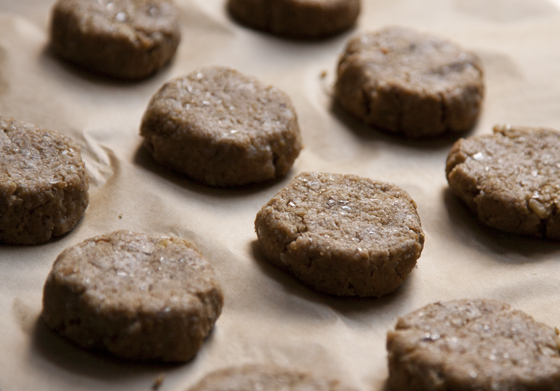 | | | |
| --- | --- | --- |
| Amanda's Favorite Veggie Burgers | | |
Author:
There's something about the combination of lentils, walnuts, and sunflower seeds in this recipe that creates a super satisfying burger. And as an added bonus – no falling apart mid-bite!
1 Tbs. Olive or Canola Oil
1/2 C. Chopped Onion
1 C. Cooked Brown or Green Lentils
1/2 C. Chopped Walnuts
1/2 C. Roasted Sunflower Seeds
1/2 C. Cooked Brown Rice
3-4 Tbs. Sunflower Seed Butter (or nut butter of your choice)
2/3 C. Panko Bread Crumbs
Salt and Pepper to taste
Pre-heat the oven to 350.
Heat the oil in a large frying pan over medium heat.
Add the chopped onion, cover and cook, stirring occasionally until soft.
Transfer onion to a food processor.
Add the lentils, walnuts, sunflower seeds, brown rice, bread crumbs, 3 Tbs. of the sunflower seed butter, and salt and pepper to taste. Process until well-blended. You want the mixture to be sticky enough to form patties, so if you find that it's too dry, add another 1 Tbs. of sunflower seed butter and process again.
Shape into 12 mini burgers, or 6 regular burgers. Place on a parchment-lined baking sheet and bake for 25-30 minutes until slightly browned and crispy around the edges.
Serve hot or cold!