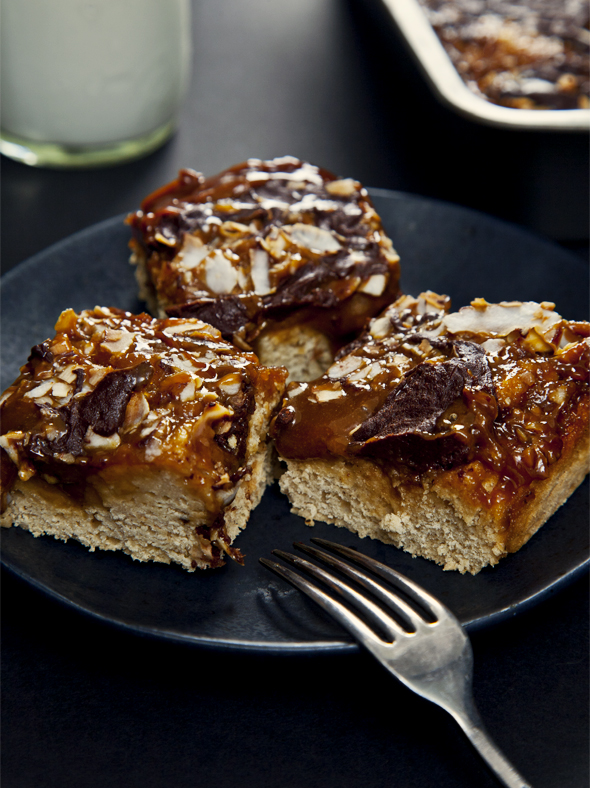 It is definitely cookbook season, and today I have another one that's worth noting. Any cookbook that is strictly desserts automatically gets my attention, and Debbie Adler's is especially intriguing because similar to her famous LA cupcake bakery, all of the recipes are made without gluten, eggs, dairy, soy, sugar and nuts.
You might think this would be limiting, but Sweet Debbie's Organic Treats proves that allergy-free baking is far from restrictive. The book includes favorite childhood desserts – Red Velvet Cupcakes and Chocolate Chip Cookies – along with newer creations like Salted Caramel Apple Muffins, Basil Lemonade Cookies, and Apple Fritter Donut Holes. Understandably, I had a hard time choosing which recipe to make and share…until I saw Girl Scout Brownies. Debbie has taken those chewy, addictive Samoas cookies and reincarnated them in brownie form.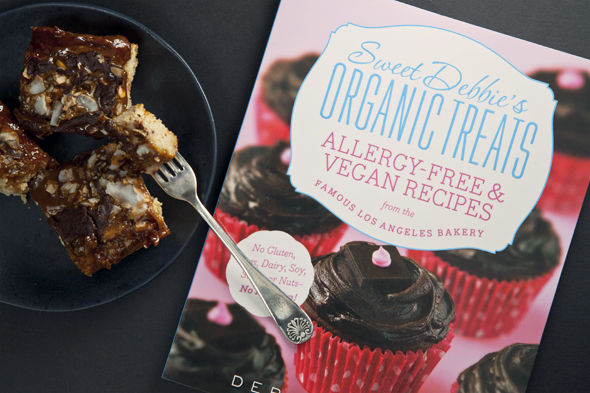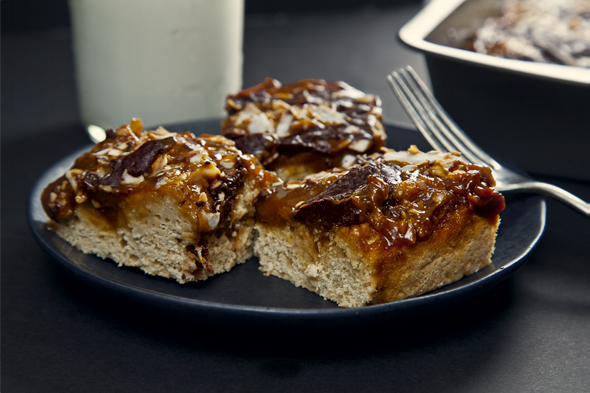 A dense, cake-y vanilla base, covered with a thick layer of the most insane vegan caramel, toasted coconut, and dark chocolate sauce. These are not messing around, and if you think you can freeze them for later, I have to tell you I liked them even better straight out of the freezer. At room temperature, the caramel and chocolate is all gooey and melty, in the fridge it's thick and chewy, and once frozen it tastes like English toffee. I gave Aaron a container of them to take to work because I was starting to seriously consider eating brownies for breakfast, lunch, and dinner.
It takes some talent to bake vegan, gluten-free, and with stevia as one of the sweeteners, and I found the ingredient measurements to be spot-on (there is zero stevia aftertaste). The instructions were also clear and easy to follow, which I especially appreciated given that the recipe includes multiple components.
And this caramel sauce…it really does rival the sugar/butter/heavy cream varieties. I don't know why I haven't used coconut nectar to make my own before, but it's a game-changer and my mind is spinning with ideas of what to make with it next.