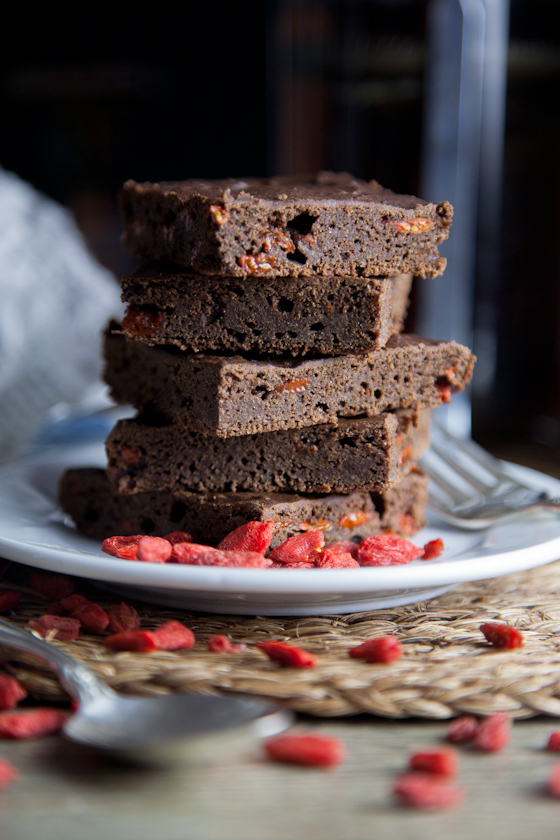 This past weekend was a good one. Beautiful weather, some potentially very exciting news for Aaron's design firm (fingers and toes crossed!), and brownies. I clearly have brownies on my mind, seeing as how I've made them twice in the last two weeks.
This recipe is an adaptation of my gluten-free pumpkin brownies, using some modifications, like applesauce instead of pumpkin and instant coffee powder to enhance the chocolate flavor (thank you, Ina Garten!). I also played around with the ratio of coconut sugar and stevia, which is always a delicate balance, and was successfully able to reduce the sugar. But what really makes these brownies are the goji berries that my very generous friend, Aimee, sent me. The goji berries were extra big and chewy and even better when combined with chocolate. What isn't, right?
I also need to give a shout out to Aaron for the photos in this post. Poor guy was saying on Sunday afternoon how he didn't know what to do with himself because he was all caught up on work, and then I casually mentioned that I'd like to step up my food photography skills and showed him some of my favorite sites. There went his afternoon, explaining lenses and lighting and searching our apartment for new props. I tried to tell him I didn't mean we needed to step things up right then and there, but he said "how would you react if I told you our neighbor makes the best gluten-free vegan brownies?" Okay, fair point.
I'll let the photos speak for themselves now.