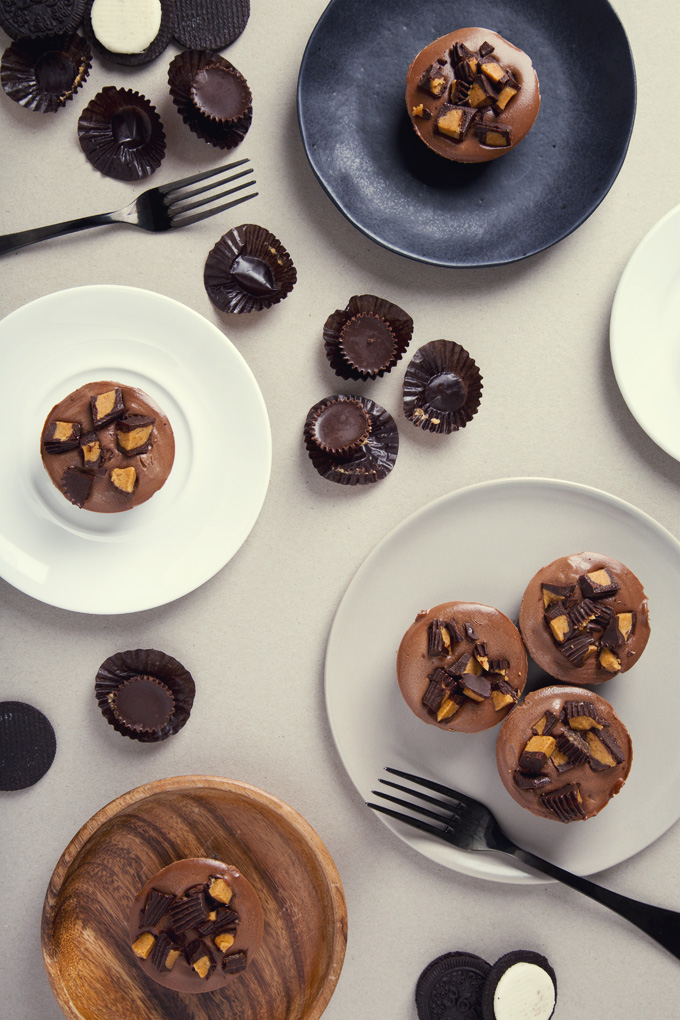 It's official: we've listed our condo for rent for the next year!
This means our road tripping adventure is getting real, our excitement is amplifying, and also that my anxiety is growing right in line with it. If you've been reading for a while, you may remember that I'm prone to worrying and I'm most definitely a planner. To give you an example, it took me years to finally leave my 9-5 in pursuit of more satisfying work. I'm the type of person who has to build up to making big changes in order to feel comfortable taking those leaps. Sometimes I envy people who can seemingly just jump right in with little hesitation and figure it out as they go. I'm the opposite. I try to figure out as much as possible in advance and then take strategic and calculated risks…worrying all the way.
The worrying is not ideal because it can sap much of the joy out of the process, but I will say that the (over)analyzing has produced solid outcomes thus far. The thing is, I'm also the type of person who is constantly pushing myself to do more/better/different. Both Aaron and I are similar in this way. It's probably why we both got into colleges, then transferred after freshman year to better (for us) schools. It's why I was able to take an entry-level job in online advertising and build out a whole new SEO department to manage, and why Aaron was able to create and grow the business he co-founded all by the age of 30. It's why I left my 9-5 to do a 180 and learn about culinary nutrition and recipe development, and why Aaron just recently left his business, sold his shares, and is now entertaining landscape photography as a possible next endeavor. These are accomplishments of which I'm extremely proud. They've been all-consuming in the moment and required serious grit—some more rewarding than others, but all satisfying in their own way. However, none have ever left us feeling comfortable for more than a fleeting moment.
I realized in the last year that we have this thing we do where we set a lofty goal, work really, really hard to get there, and then as soon as we do, we tell ourselves, "okay, onto the next." It makes for very productive, very exhausting days. And the thing about all of this is that for me there's this mind game element where I somehow convince myself that as soon as I do x, I'll settle in, be more present, take a break, etc, etc. I felt this happen when we finally saved enough to buy our condo last spring. There was this chaotic flurry of events leading up to it and following it, and then as soon as we unpacked the last box and it became a lot more quiet, we got this intense urge to travel…like pack up our tiny car with a suitcase and the dogs and just go. Leave it all behind. I studied psychology in undergrad, but I'm still sorting out what this even means.
Tangibly, I know it means we're a little over a month away from actually doing just that. The universe heard our desire to travel and re-think everything. Our work, our lifestyle, our home, our relationships. The part of me that can't stay still is about to burst with anticipation and the worrying, planning, practical part of me is freaking the fuck out. Will we be able to find good tenants while we're gone? Will I have flashbacks of that time we moved to San Francisco and then back again because I hated it? Will Barley whine the entire year we're driving around in the car? How will we make money when we're done? WHAT DID WE JUST DO?!
All of this is manifesting itself in the recipes I'm creating. It's comfort food, big time. It's also fun food because as one of my old co-workers once bluntly told me in an email before she quit her job to leave everything behind and start anew in California, "You need to have a drink. Life is not so serious." We will figure this out. We don't have to know all of the answers right now (or ever). We just have to keep taking one step at a time, out of "good enough" and boredom and into at least the possibility of joy and greatness. There is so much out there to explore and no way of truly knowing if it's right for us until we just do it.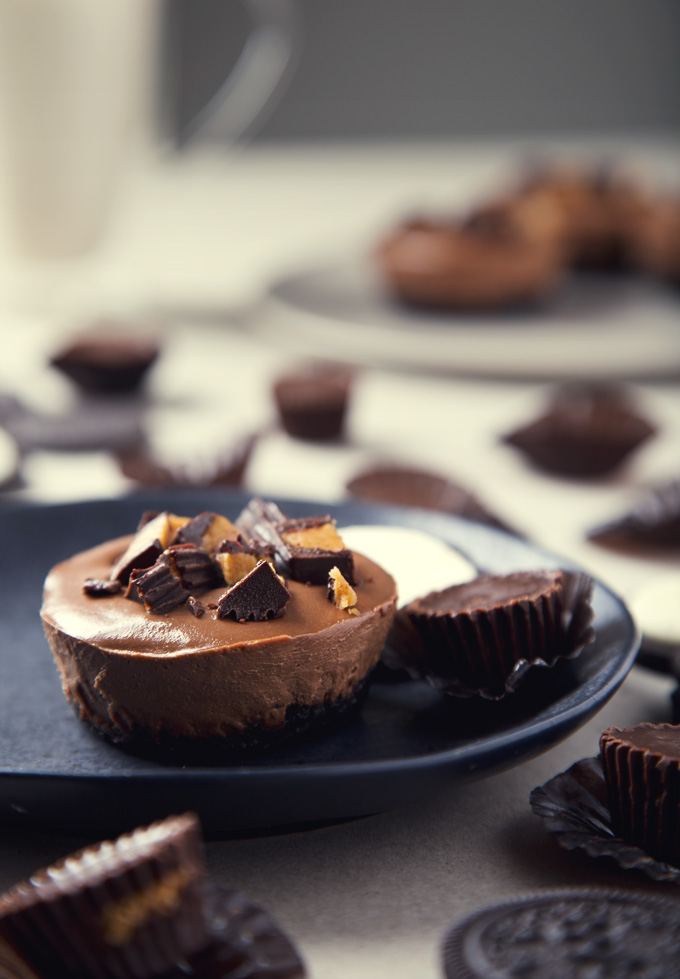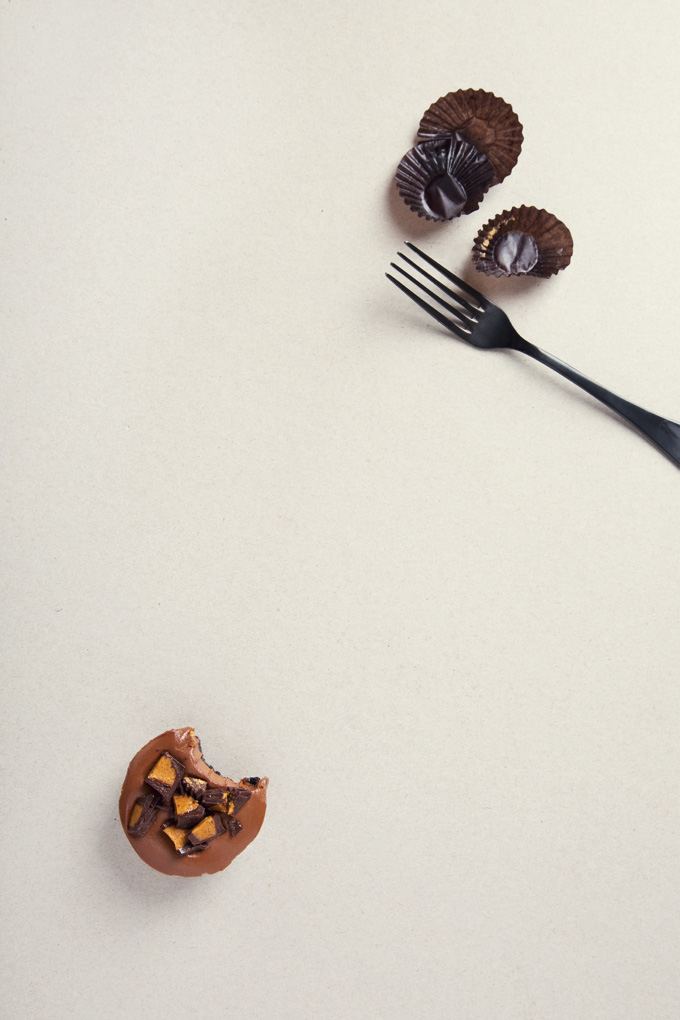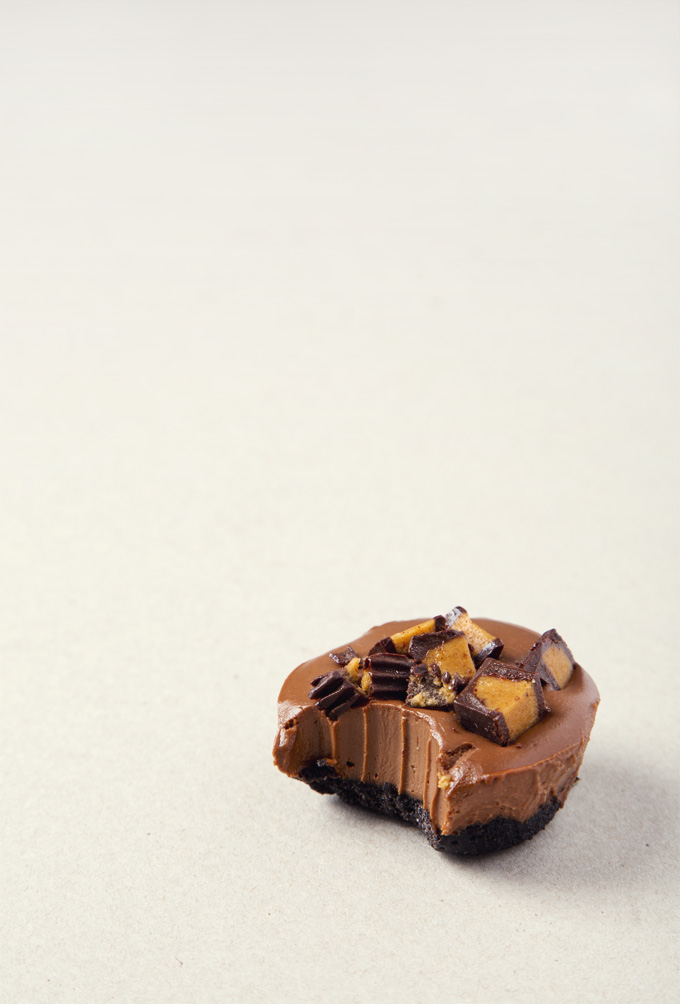 These no-bake vegan cheesecakes are all about playing in the kitchen and being unapologetically indulgent, both things I think many of us could use more of in our day-to-day. When I was trying to figure out how to make the crust, I literally tossed a bunch of whole oreo cookies into the food processor to see what would happen. It turns out oreos + melted coconut oil makes a damn good cheesecake crust. The filling is more wholesome in that it uses cashews and peanut butter for the creaminess, raw cacao powder for intense chocolate flavor, and maple syrup as a natural sweetener. But! Then I topped these with chopped vegan dark chocolate peanut butter cups. By far these are one of the most outrageously delicious desserts to come out of my kitchen. Even if you skip the oreos and the peanut butter cups for the more whole foods cheesecake filling, these are intense in a really, really good way. You may even get two servings out of each mini cheesecake because they are that rich.