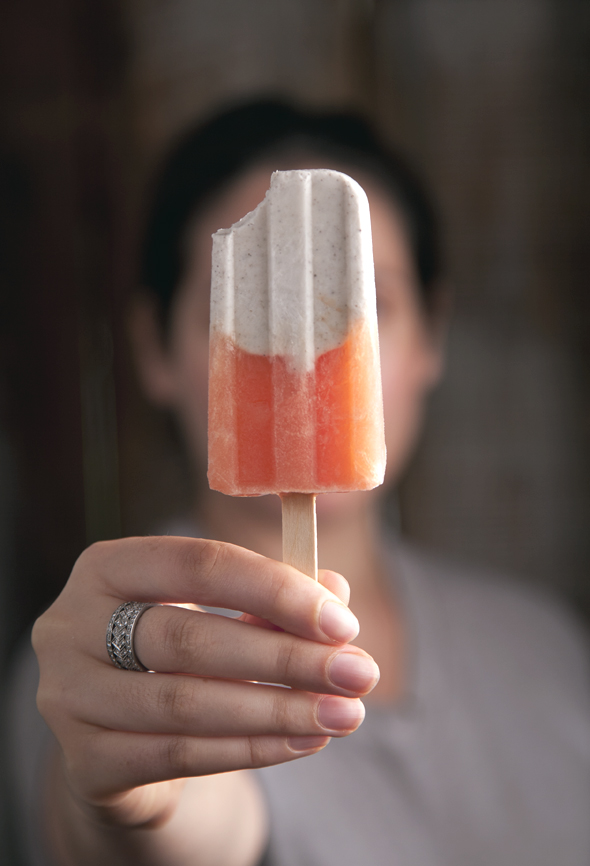 It's summer! Every time I step outside, I am so grateful for the warm sun on my skin (and the boost in Vitamin D) and the ability to wear sandals and not snow boots. I'm gravitating away from hot bowls of oats in the morning and craving giant mixing bowls of chopped fresh fruits sprinkled with hemp seeds, coconut and a squeeze of lime instead. And if I could, well, I might eat popsicles for dinner, likely alternating with banana soft-serve and sorbet.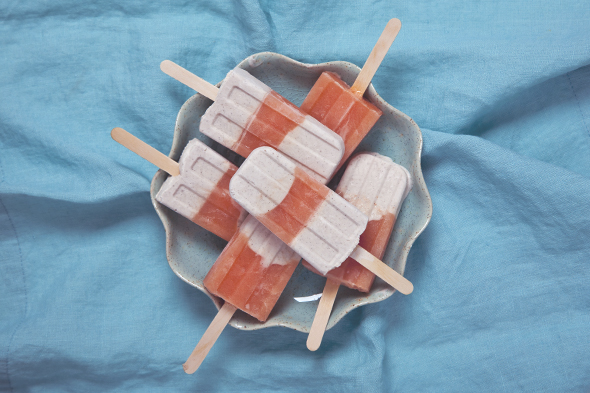 I've been wanting to share this recipe for a fancier, definitely better-for-you creamsicle for at least a month, but with all of the craziness of house stuff and school stuff, these popsicles just sat in the freezer, calling my name every time I walked past the kitchen. It took a lot of self-control for me not to eat these all pre-photo session.
To be honest, creamsicles were not really on my radar growing up, because I was always more captivated by frozen lemonades or anything chocolate. What inspired these was actually a body serum I've mentioned in the past. I've been rekindling my love for organic, natural perfumes and oils and I like to rotate them depending on how I'm feeling or how I want to feel, yet I always find myself reaching for the Lina Hanson body serum. It smells like the most delicious creamsicle—not overly sweet—but more bright, citrusy meets creamy, real-deal vanilla beans. The citrus fragrance is thanks to grapefruit oil, which I find to be a lovely spin on the more traditional orange.
A few weeks ago, as I was taking what always feels like a very luxurious few minutes to moisturize post-shower (while simultaneously realizing my prized glass bottle of body serum was just about empty), I could not get the idea of a grapefruit vanilla bean creamsicle out of my head.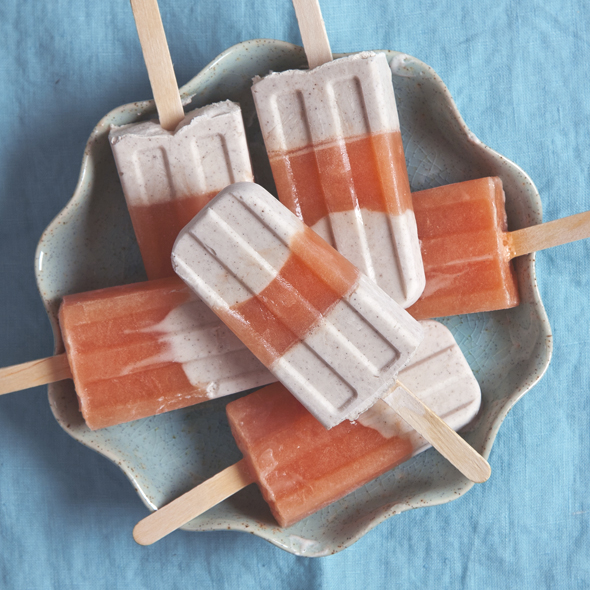 These popsicles are one of my favorite recipes to date. They have perfectly tart, freshly squeezed pink grapefruit juice layered between rich, creamy coconut milk ice cream that's generously flecked throughout with vanilla beans. I am a sucker for those little flecks.
I used a touch of vodka to keep the popsicles from getting overly icy once completely frozen, and I'm so happy with how that worked out. Even after several weeks in the freezer, the creamsicles maintain that true popsicle texture and the coconut milk ice cream is just as creamy as when I first made them. Aaron is also a happy guy because I splurged on the good vodka, poured two tablespoons, and then gave the bottle to him. Everyone wins.