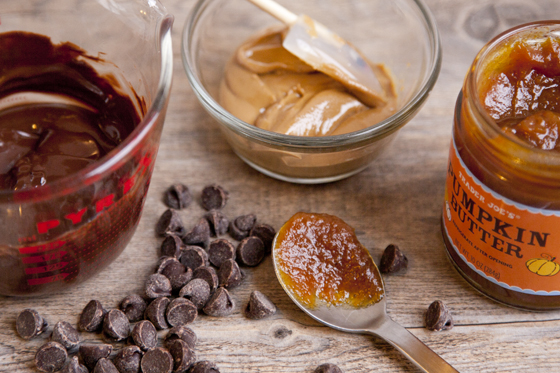 This is going to be food blogger blasphemy, but as a kid, I really could have cared less about peanut butter. Chocolate? YES. But peanut butter just wasn't something I craved. This was a good thing when Halloween would roll around, because it meant I could trade my Reese's-peanut-butter-cup-obsessed brother for all of the Junior Mints my heart desired.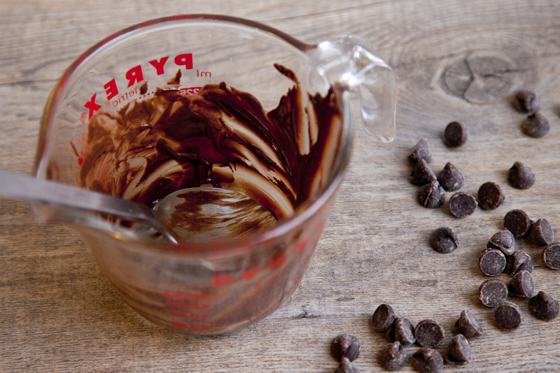 At some point during the last few years, my taste preferences shifted and I now find myself eyeing the peanut butter cups in the candy aisle. Along with the candy corn, black licorice, and sometimes even the circus peanuts. Don't judge me! My mom gave me her taste in candy. I know it's weird.
Instead of buying the highly processed (although delicious) Reese's brand, I thought I would take a stab at making my own. And then I thought what all food bloggers have been thinking this month – how can I add pumpkin to this?
Pumpkin butter! You're welcome.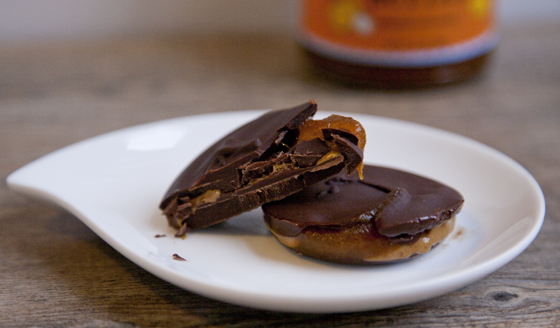 | | | |
| --- | --- | --- |
| Pumpkin Peanut Butter Cups | | |
Author:
Total time:
1 hour 5 mins
These pumpkin peanut butter cups are a fun spin on a favorite candy. They're simple, easily adaptable, and highly addictive.
1 C. Chocolate Chips
1 tsp. Coconut Oil
1/4 C. Peanut Butter (Sunflower Seed Butter would also be amazing!)
1/4 C. Pumpkin Butter
Non-Stick Cooking Spray
Lightly spray a mini muffin tin with non-stick cooking spray.
Place chocolate chips and coconut oil in a microwave-safe dish. Microwave on high for 30 seconds, stir, and repeat until chocolate chips are melted. Be careful not to burn the chocolate!
Spoon 1 Tbs. at a time of the melted chocolate into the muffin tin. Repeat 10 times, or until you've used half of the melted chocolate.
Place the muffin tin in the freezer for 5 minutes to allow the chocolate to solidify.
Once the chocolate has cooled, place 1/2 tsp. each of the peanut and pumpkin butters on top.
Cover filling with another 1 Tbs. melted chocolate and return to freezer. Allow to freeze for 1 hour.
Use a knife to carefully pop each chocolate out of the tin.
Eat immediately, or transfer to a tupperware and store in the fridge or freezer.