I'm so honored to be able to host one of my favorite cookbook authors, Robin Robertson, as part of her book tour today! Robin has over twenty cookbooks, writes "The Global Vegan" column for VegNews Magazine, was a contributing editor and columnist for Vegetarian Times, and she's also written for Cooking Light, Natural Health, and other magazines. At the end of this month, she's releasing a new cookbook – Fresh from the Vegan Slow Cooker, which includes two hundred convenient, tasty, and animal-free recipes.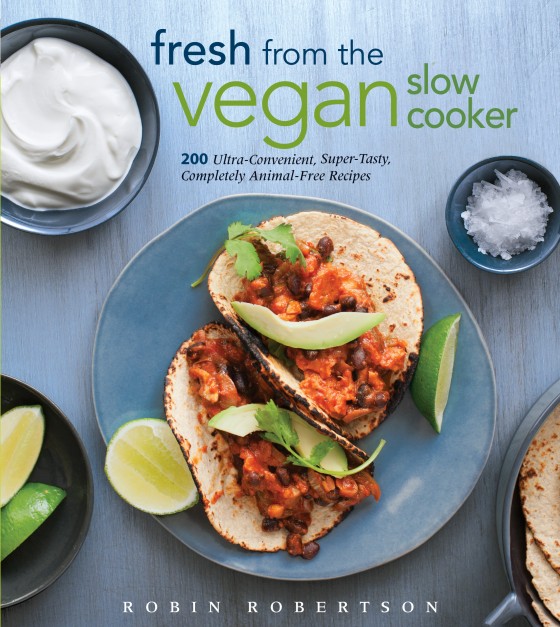 In addition to being really excited for vegan-specific slow cooker recipes, part of the reason why I'm so happy to be a part of Robin's book tour is because her Vegetarian Meat & Potatoes Cookbook was actually the first cookbook I purchased when I became vegetarian and started cooking for myself back in college. The recipes are straight-forward and consistently delicious, and years later, I still frequently turn to that cookbook when I need inspiration.
I read through a pre-release copy of Fresh from the Vegan Slow Cooker and was equally impressed with Robin's latest creations. I had a tough time choosing a recipe for her to share, although I immediately knew I wanted to spotlight one of her desserts. Aside from having a huge sweet tooth myself, I'm not sure a lot of people immediately consider desserts when it comes to slow cookers. Robin's recipe for Banana Brown Betty, in particular, stood out to me…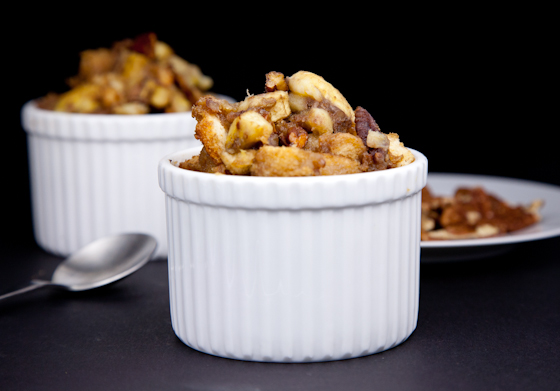 Desserts from the Slow Cooker
A guest post by Robin Robertson, author of Fresh from the Vegan Slow Cooker (The Harvard Common Press, 2012)
If you thought a slow cooker was only good for cooking beans or making chili, you may be surprised to learn that it's great for making desserts too.  Some of the tempting desserts you can make in a slow cooker include baked apples, cobblers, cakes, and even cheesecakes—all without turning on the oven. I like to see the expressions of people when I tell them the cheesecake they're enjoying not only contains no dairy, but was also "baked" in a slow cooker.
There are several advantages to making desserts in a slow cooker. For one thing, it's more economical than heating the oven, which, in the summer, provides the added advantage of keeping the kitchen cool. "Baking" in a slow cooker produces moist cakes and other desserts without the worry of scorching or burning, as the steamy heat of the cooker gently transforms ingredients into tasty treats.
Some desserts, such as puddings, are best made directly in the slow cooker insert, while other desserts, such as cakes, are best "baked" in pans that are set inside the slow cooker. If you plan to make a dessert using a baking pan, it's important to be sure you have a pan that fits inside your slow cooker. For example, a 7-inch springform pan will fit inside a 6-quart slow cooker. You should also be able to find small cake pans, glass or ceramic baking dishes, or aluminum pans that will work.
Whether you "bake" your cakes and other desserts directly in the slow cooker or in a pan set inside the cooker, you may want a piece of parchment paper, cut to fit, to arrange in the bottom of your pan or slow cooker for easy removal of your dessert.
An especially yummy dessert from Fresh from the Vegan Slow Cooker is the Banana Brown Betty, a take-off on the traditional Apple Brown Betty dessert. Quick and easy to assemble, it takes just 1 1/2 to 2 hours to cook in the slow cooker. Just put it on to cook before you start preparing dinner, and it will be ready to serve when you're ready for a little something sweet after dinner.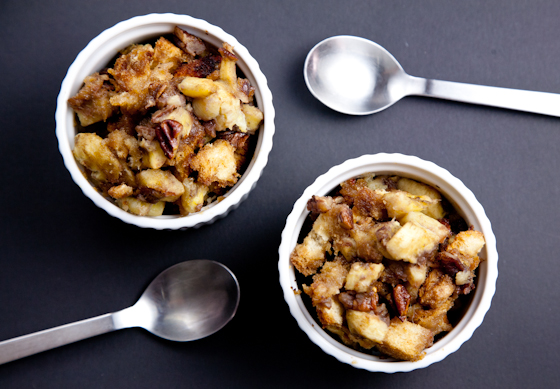 Recipe: Banana Brown Betty
Serves 4
Slow Cooker Size: 4-quart
Cook Time: 1½ to 2 hours on High
Gluten-free Option
Soy-free
Ingredients
1⁄3 cup pure maple syrup
¼ cup unsweetened almond milk
½ teaspoon ground cinnamon
¼ teaspoon ground ginger
¼ teaspoon ground nutmeg
1⁄8 teaspoon salt
6 cups cubed white bread (see Note)
4 ripe bananas, peeled and chopped
1⁄3 cup chopped toasted pecans
1⁄3 cup packed light brown sugar or granulated natural sugar
2 tablespoons brandy or rum or 1 teaspoon brandy or rum extract
Directions
1. In a large bowl, combine the maple syrup, almond milk, cinnamon, ginger, nutmeg, and salt and mix well. Add the bread cubes and stir to coat.
2. In a separate bowl, combine the bananas, pecans, sugar, and brandy, stirring to mix.
3. Lightly oil the slow cooker insert or spray it with nonstick cooking spray. Spread half of the bread mixture in the bottom of the cooker, followed by half of the banana mixture. Repeat the layering, then cover and cook on High until firm, 1½ to 2 hours. Serve hot.
Note: For gluten-free, use a gluten-free bread.
Recipe © 2012 by Robin Robertson and used by permission of The Harvard Common Press.
…
Of course, I had to test the Banana Brown Betty out for myself. You know, for quality purposes.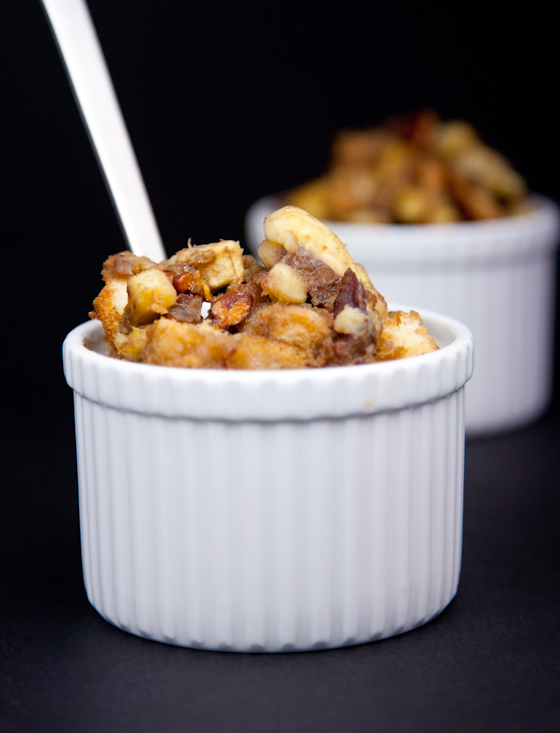 I'm happy to report that it's even better than I imagined…almost like bread pudding meets sticky buns. The bananas caramelize and become super sweet, the edges get browned and crispy, and the toasted pecans and spices are quintessentially Fall. All that was missing was a big scoop of vanilla coconut milk ice cream melting over the top.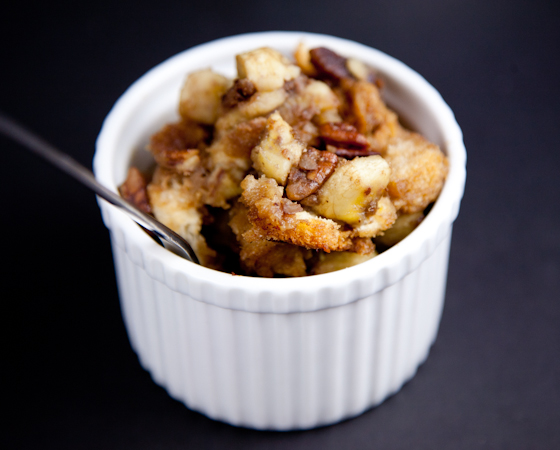 Head on back here tomorrow for a Fresh from the Vegan Slow Cooker giveaway!