Do you have a go-to meal for those weeks when you're in a cooking rut and would rather just get takeout? For me, pasta always comes to mind (followed very closely by tacos). I usually cook up a box of brown rice spaghetti, but the other day I tried one of my favorite vegetables in a new-to-me way: sweet potato noodles! Have you tried them? You can use an inexpensive spiralizer to make your own, or buy sweet potato noodles pre-made at some grocery stores (Whole Foods sells them in the produce section, although you'll pay a few dollars extra for the convenience).
Unlike zucchini noodles which can get soggy and turn to mush really quickly, sweet potato noodles have less water and thus maintain more of an "al dente" bite. I've found that for perfect sweet potato noodles, all you need to do is cook the raw noodles in a large skillet with a little extra virgin olive oil for a couple of minutes, then add a splash of water and cover and steam them for another three minutes, stirring occasionally to keep the noodles from sticking. They'll cook down quite a bit, so no worries if it initially seems like you've made too many noodles (one medium sweet potato per person is a good rule of thumb).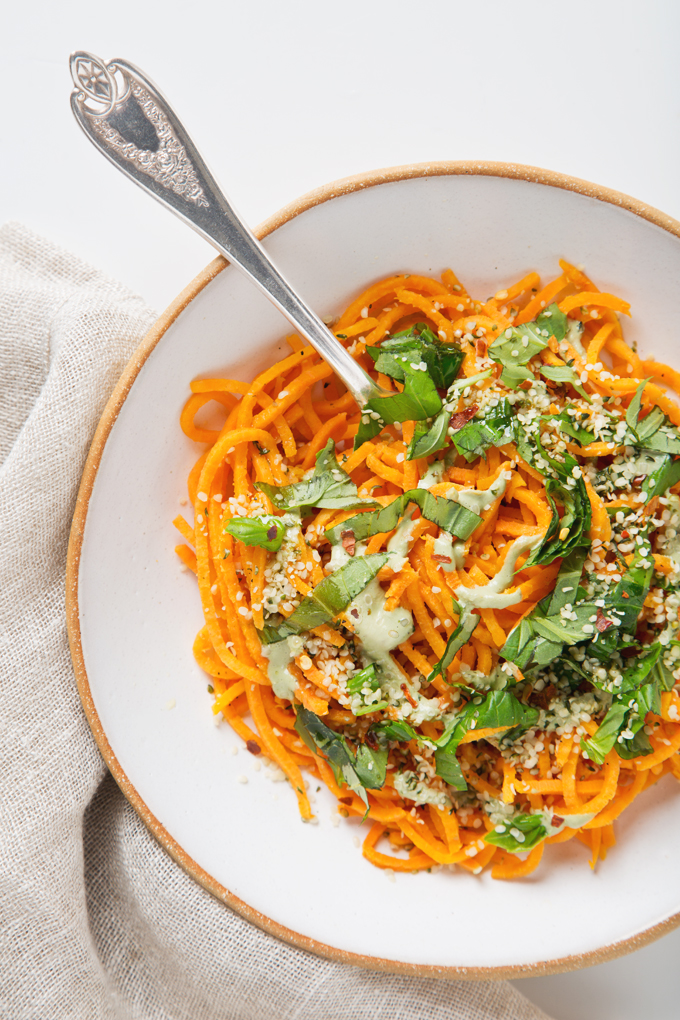 The sauce here is key, and lately I've been making a blender pesto cashew cream sauce on repeat. It's only a handful of ingredients—cashews, water, lemon juice, mellow white miso, and my easy lemony walnut and kale pesto that takes all of five minutes to throw together. You can buy pre-made vegan pesto (Trader Joe's sells one that's pretty good), but I prefer homemade because I'm picky about my pesto not tasting super oily. From there, pile on the toppings! I like sliced fresh basil, lots of hemp seeds, and a few pinches of red pepper flakes.