This 30-minute pasta salad is inspired by my Greek pasta salad with tofu feta cheese that many of you have told me you made on repeat last summer. (Side note: thank you! Feedback like that makes my day!) Similarly, this easy pasta salad recipe uses gluten-free fusilli and lots of fresh vegetables, but instead of a vinaigrette I whipped up a quick and creamy tahini dressing that's a perfect balance of rich, tangy, sweet, and salty. I want to put it on everything!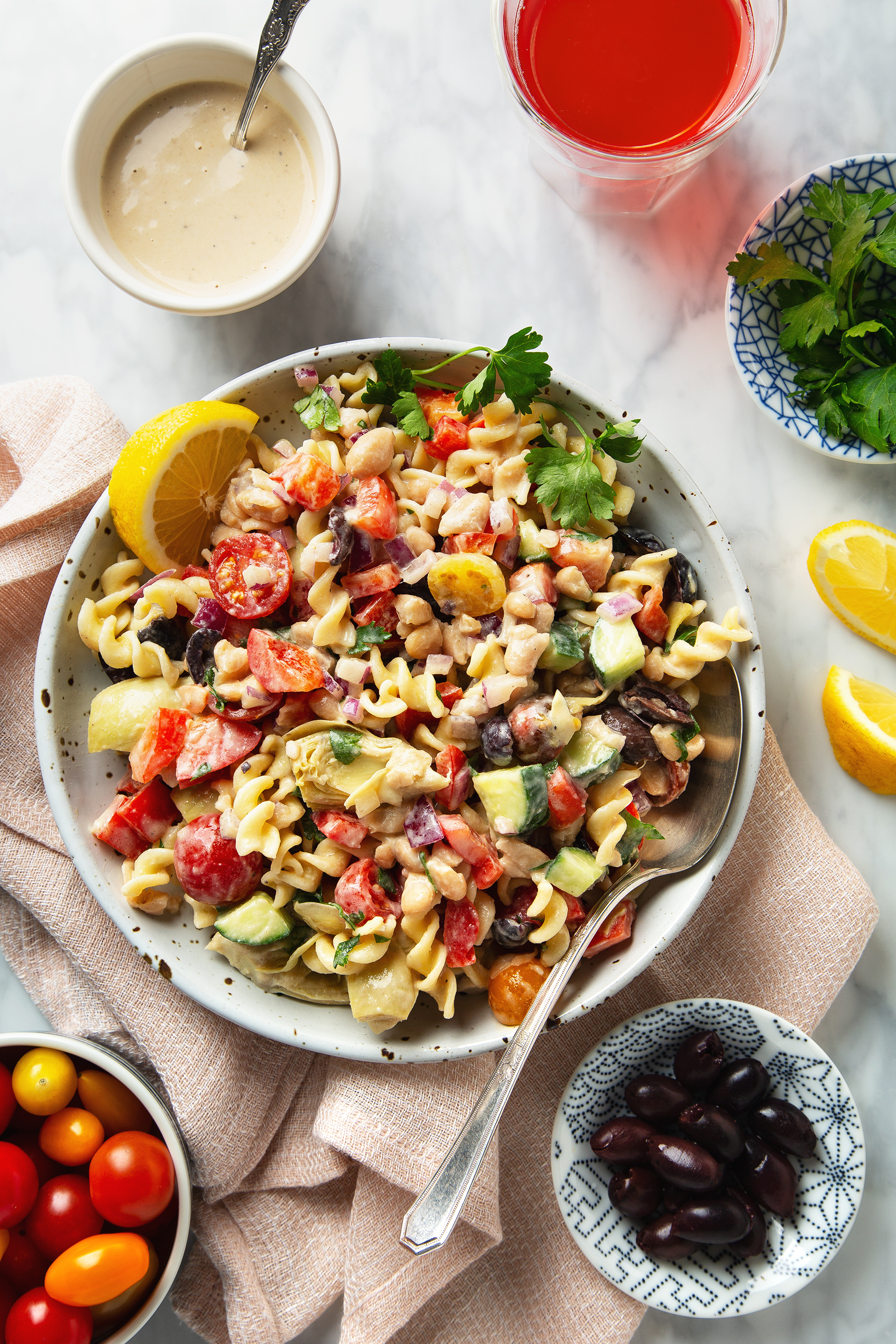 I'm forever trying to work a mix of colorful produce into our meals, so I went with a simple combination of artichoke hearts, red bell pepper, cucumber, red onion, cherry tomatoes, kalamata olives, and fresh parsley to round out the pasta. This is an excellent "clean-out-the-fridge" type of recipe, so feel free to swap in whatever you currently have on hand!
For protein, I love cannellini beans here because they add to the already creamy tahini dressing (chickpeas or navy beans would also be delicious). And speaking of that dressing—all you need to make it is tahini (duh, and FYI—the drippier your tahini, the better), fresh lemon juice, Dijon mustard, pure maple syrup, and a clove of minced garlic. Normally I would use water to thin my salad dressing, but this time I was going for extra creamy so I tried homemade cashew milk, with awesome results. Most any plain, unsweetened plant milk should work, so again, use what you have!
Aaron and I tend to be "one-bowl" people, so we've been eating our pasta salad as a main meal, but it'd of course be great as a side dish too. I'm thinking picnics, potlucks, BBQs, beach days…summer really is the best, isn't it?