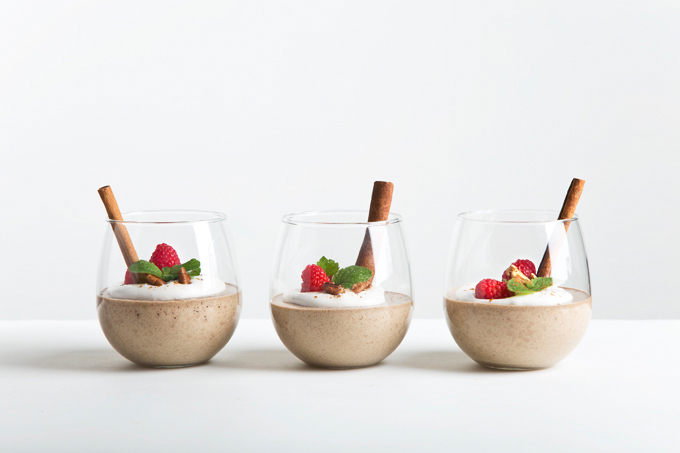 I was aiming for Fall vibes with these photos, but looking at them now I'm feeling like maybe I overshot a little and landed in Winter? That might be in part because it was 38 degrees this morning (!!!) and I'm already piling on the fuzzy socks and rationalizing why it's okay for me to buy Amish-looking long underwear from L.L. Bean. It's been in the 50s/60s during the day, which is quintessentially Fall-like and crisp, but we're at that weird time of year where because it's been warm for months, anything below 70 feels downright frigid. And yet, come January, I know 38 is going to feel so balmy it will basically be shorts weather! Sigh. I think I've lost my New England edge.
One good thing to come from all of this is that the cooler temps mean more motivation to exercise. We converted our spare bedroom into a home gym and it's been key for stress-relief, happy endorphins, and just plain staying warm. Aaron's back on the heavy weight-lifting train and I'm currently showing my eight pound dumbbells who's boss, which means we're both paying more attention to eating enough protein. We're doing a lot of beans, tofu/tempeh, protein oats and shakes, but by far our favorite way to get in a lot of protein is through REBBL's Protein drinks because they are insanely good.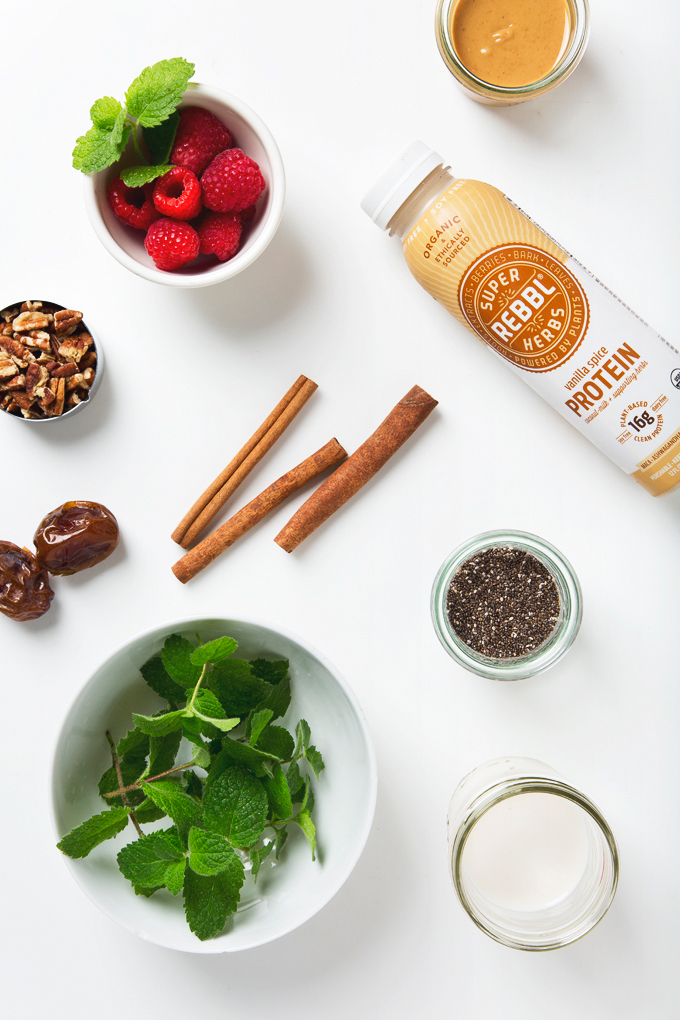 I first posted about REBBL back in August when I used their Ashwagandha Chai Elixir to make vegan creamsicles with raw chocolate magic shell. Their entire lineup of flavors is stellar, but their protein drinks deserve a special mention because the texture is so on-point. The drinks use a blend of pea, sunflower, and pumpkin protein, but unlike a lot of other plant-based proteins, REBBL's blend isn't chalky or gritty, and equally important—it's easy to digest. I honestly can't even tell it's a protein drink, and yet a single serving has a whopping 16 grams in it!
For today's recipe, I put my love for the Dark Chocolate Protein aside (I swear it tastes like a grown-up Yoo-hoo) because the Vanilla Spice flavor is just too perfect for this time of year. REBBL's creamy coconut milk base takes their drinks into melted ice cream/milkshake territory, which makes them ideal for whipping up healthy, high-protein snacks that taste like dessert.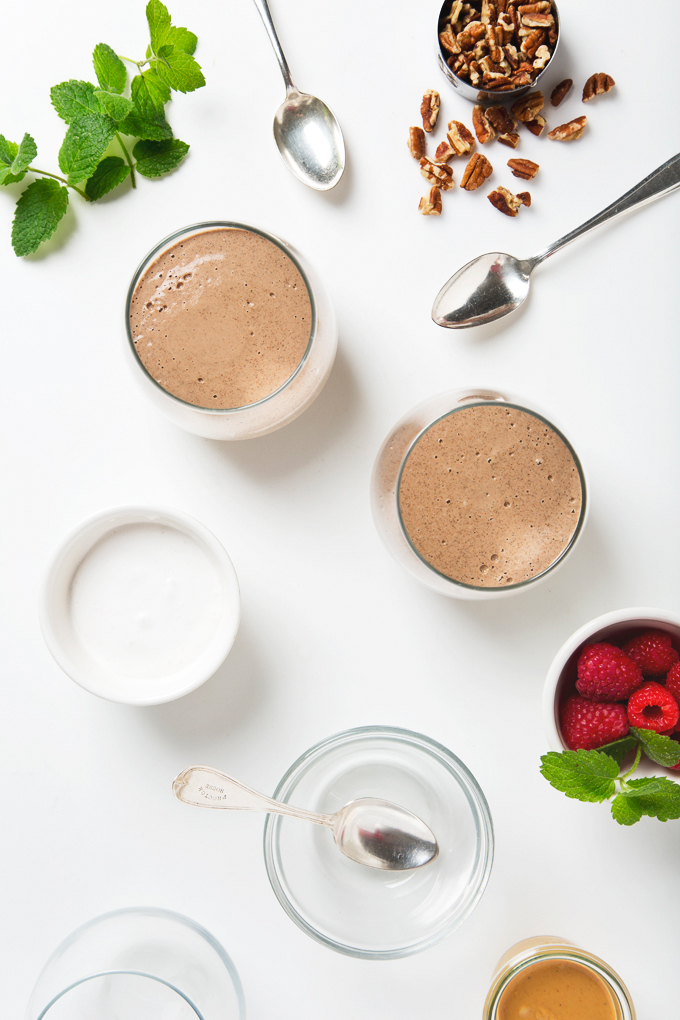 This spiced vanilla vegan protein pudding is one of those recipes that takes only five minutes to pull together, but then it kind of blows you away with how awesome it tastes. The ingredients are simple and wholesome, and the nutritional value is high—this pudding is not only an excellent source of plant-based protein; it's also high in good-for-you fats and naturally sweetened with dates. Top it with some coconut whipped cream, chopped pecans, fresh fruit, and a sprinkle of pumpkin pie spice for a really satisfying post-workout snack or dessert. Don't be surprised if you find that this is your new favorite way to eat more protein!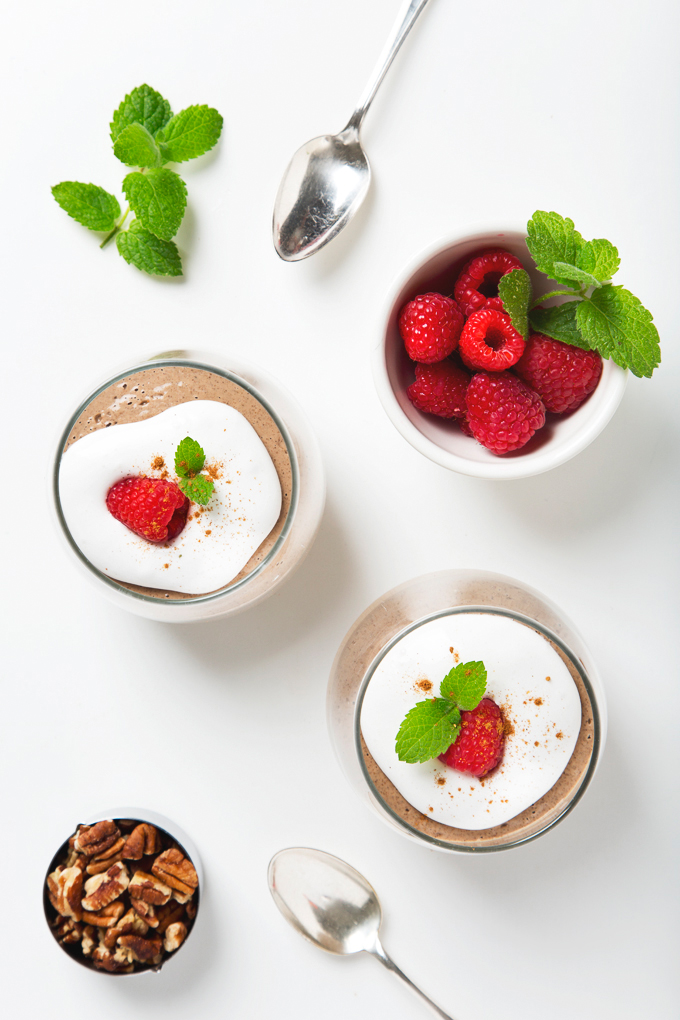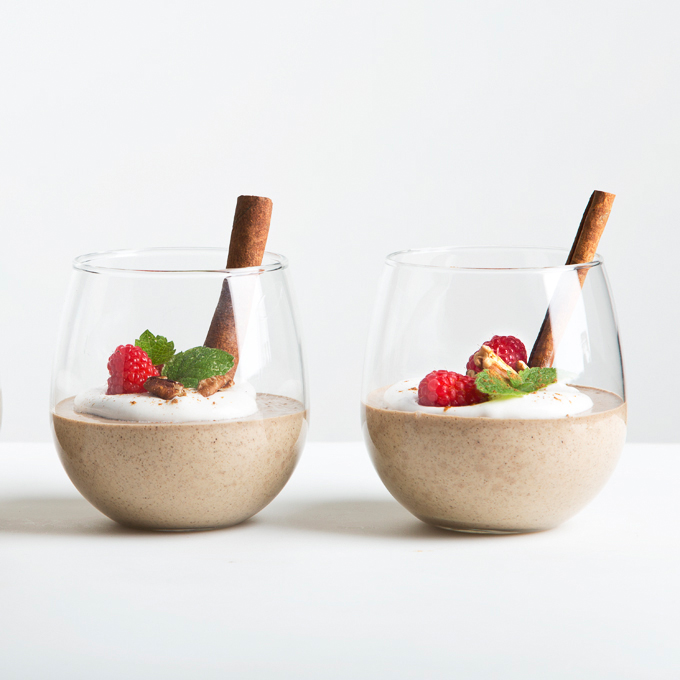 ---
Thank you to REBBL for sponsoring this post! We love their Super Herb Elixirs and Plant-Based Proteins!