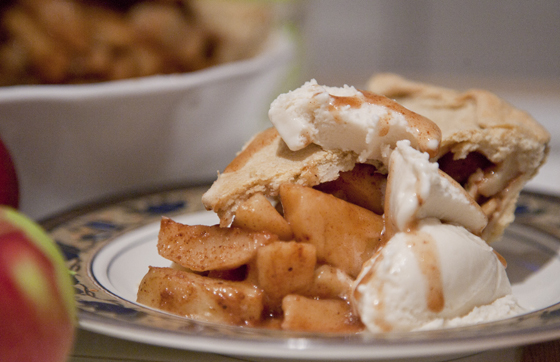 I'll be honest, baking an apple pie sort of intimidates me. Aside from the amount of time it takes to peel a million apples (forever since my apple peeling skills are that of a five year old), I always stress over making the crust.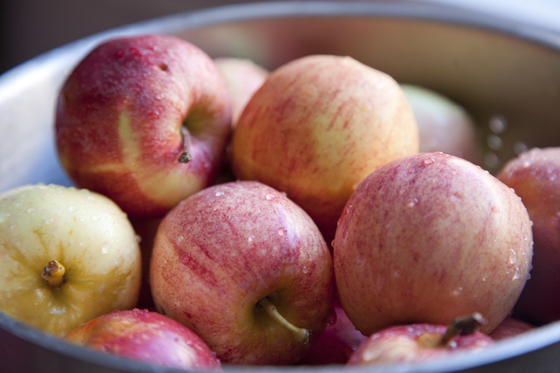 Although the ingredients are simple (flour, shortening/butter, salt, sugar, ice water), it's all too easy to make a crust that tastes like cardboard.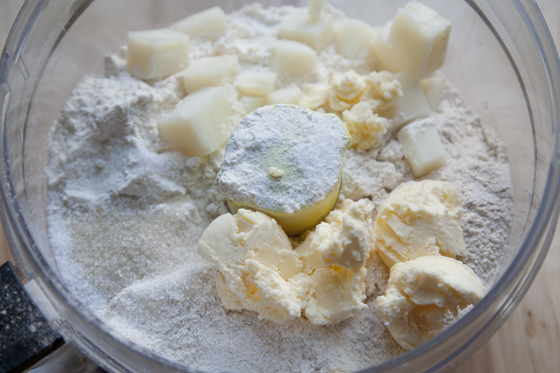 Especially when you're using vegan shortening and butter.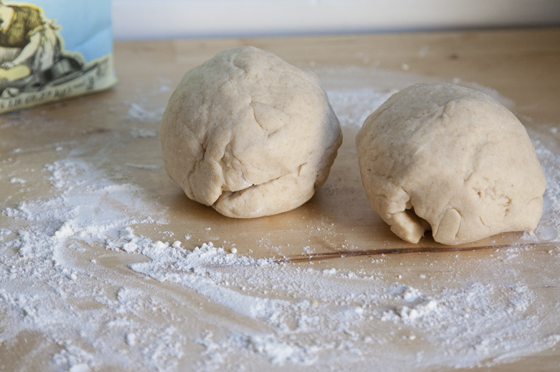 I've had a new, ceramic pie pan sitting in my kitchen since June, just begging to be put to good use. This, combined with the fact that it was my dad's birthday yesterday (happy birthday, dad!) , motivated me to face my pie-making fears. My dad LOVES pie and I knew he would appreciate the effort, even if my recipe completely tanked.
I'll admit I was heavy-handed with the spices, particularly the nutmeg. You'd think I would have learned my lesson after ruining many a latte at Starbucks with their enticing nutmeg and cinnamon dispensers. I haven't though. When you pay $4 plus an extra 50 cents for soy milk, you dump as much free nutmeg as possible into your beverage.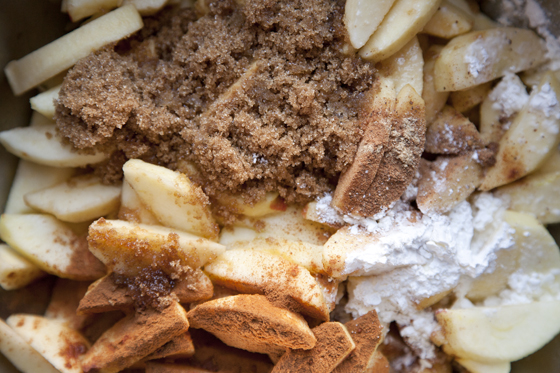 That said, I've edited this recipe a bit so the spices aren't so strong, and I'd definitely recommend tasting as you go to make sure they're to your liking.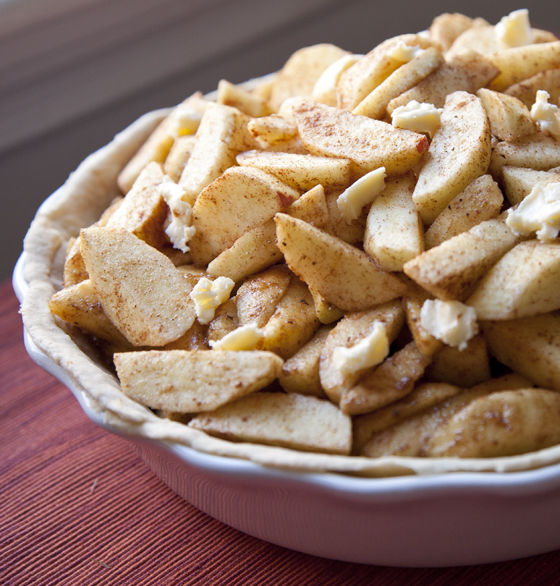 Now, this pie isn't like the overly sweet kinds you'll find at most grocery stores. It's so much better! The crust has only a tablespoon of sugar and a relatively small amount of brown sugar in the filling. This allows the natural sweetness of the apples to take center stage, and you won't be fighting a sugar crash an hour after you have a slice.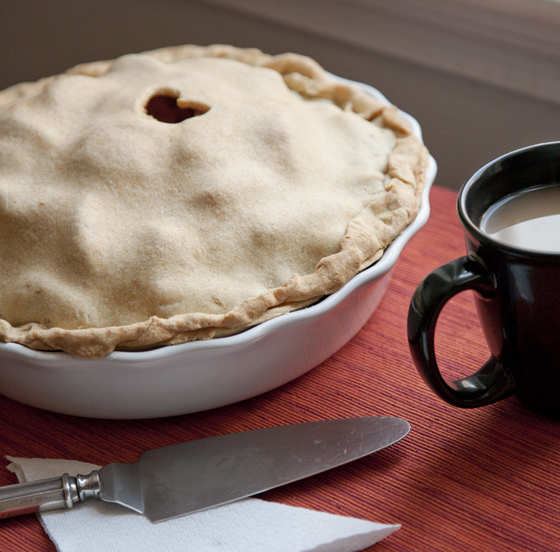 Unless you then go eat a bunch of Halloween candy. Sorry, the apples can't help you there.
I do, however, highly recommend topping your slice with a generous scoop of your favorite vanilla bean ice cream. I'm a fan of the TJ's brand of vanilla soy ice cream, but coconut milk would be lovely as well.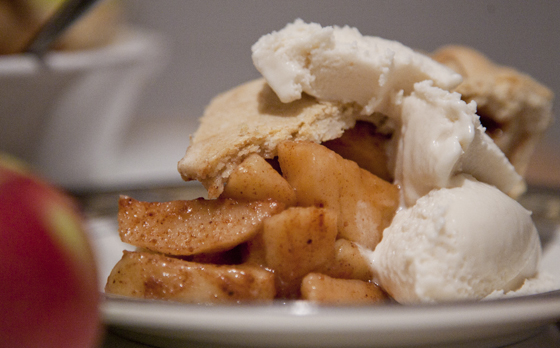 Author:
Total time:
1 hour 45 mins
Crust:
2 C. All-Purpose Flour
1/2 C. Whole Wheat Flour
1/2 Tsp. Sea Salt
1 Tbs. Sugar
4 Tbs. Vegan Shortening (I used Earth Balance brand)
4 Tbs. Earth Balance (or other vegan buttery spread)
1/2 C. Ice Water
Filling:
11 C.* Apples (I used Gala)
1 tsp. Nutmeg
1 tsp. Cinnamon
1 tsp. Ginger
2 tsp. Pure Vanilla
Juice of 1 Lemon
1/3 C. Brown Sugar (regular sugar would also work)
3 Tbs. Cornstarch
2 Tbs. Earth Balance
To make crust, first pre-heat oven to 425 degrees.
Combine all ingredients except ice water in a food processor or by hand.
Mix until pea-sized crumbles form.
Add ice water a couple of tablespoons at a time to form dough. You may not need all of the water.
Place dough on lightly floured surface and form into a ball. Split dough in half.
Roll out each ball to fit pie plate.
Lay 1 round of dough in pie plate. Trim edges if necessary.
Bake for 5 minutes, or until edges begin to change color. Do not cook all the way through.
Lower oven temperature to 375 degrees.
To make filling, peel and slice apples, then toss with spices, vanilla, lemon juice, sugar, and cornstarch.
Place filling in pie pan. Your pan should be heaping with apples, as they'll cook down by about 1/3rd when you bake them.
Sprinkle 1 Tbs. of Earth Balance over the top in small dollops.
Cover with remaining round of crust.
Pinch crust edges to seal and slice a few openings (or the design of your choice) to allow steam to escape.
Melt remaining 1 Tbs. Earth Balance and brush over top of crust.
Cover edges of crust with tin foil and bake for 20-25 minutes.
Remove foil and bake for an additional 20 minutes.
Allow to cool so filling can thicken before slicing.
Serve warm with your favorite ice cream!
*My pie pan happens to be massive. Perhaps twice the size of a "normal" pan. I think most people will be able to halve this filling recipe and have plenty of apples. Bonus: less peeling! Or skip the peeling altogether if you don't mind the skin.
I used pie weights when I pre-baked the crust, but this probably isn't necessary. Again, I had these sitting unopened since June and really wanted to use them. It was either that or pretend they're a necklace.