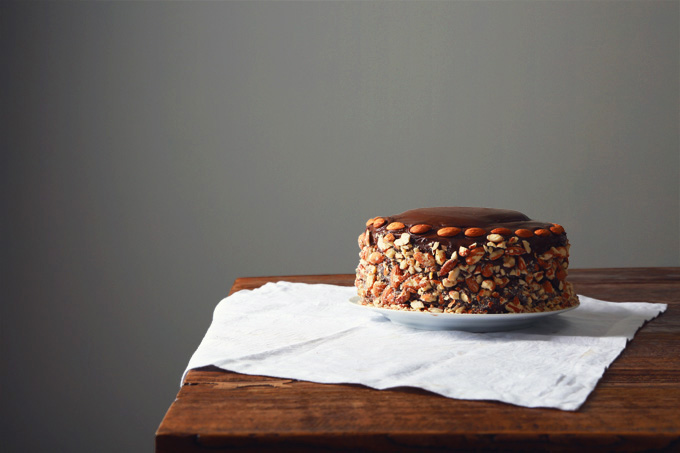 This weekend Bostonians felt the warmth of the sun on our skin for the first time since…September? Words cannot even begin to describe how needed and uplifting this was for all of us who have been buried beneath epic amounts of snow and layers upon layers that never quite kept us warm enough. Aaron and I celebrated with a trip to our old neighborhood rose garden park, bustling with happy people picnicking and little kids zooming around surprisingly fast on tiny bikes and scooters. I forgot sunglasses and the brightness was a bit too much for my sun-deprived eyes, so I closed them and was able to feel the warmth and hear the little ones racing by even more intensely. I realized I need to sit outside and close my eyes more often.
That park is my happy place. Aaron said for me it's like Superman's Fortress of Solitude, which I admittedly had to look up because I wasn't sure what he meant. He's right though. It's calming and centering, and the perfect amount of cheerful background noise to crowd out the not-so-helpful inner voices, but quiet enough to hear those voices that are much wiser and not so caught up in the details. The rose garden park is where I go to envision the bigger picture stuff.
There is a lot of noise in our day-to-day if we let it in, and one area that's felt too noisy to me in recent months is this blog space. I redesigned Pickles & Honey around October of last year and in an effort to monetize, I added new display ads. This is an honest post, so here's the truth: this always felt like a compromise to me. But my traffic had grown and I wanted to start contributing more financially, so I cringed a tiny bit and I added them anyway, thinking the money would make it worthwhile. The reality is that the money rarely makes a feeling of compromise worthwhile. This is not to say that there is anything wrong with display ads, because there isn't, and it's all about doing what feels personally authentic. I know I may even find that I've changed my mind again in a few months, but for right now and the foreseeable future, I'm removing those ads from this space.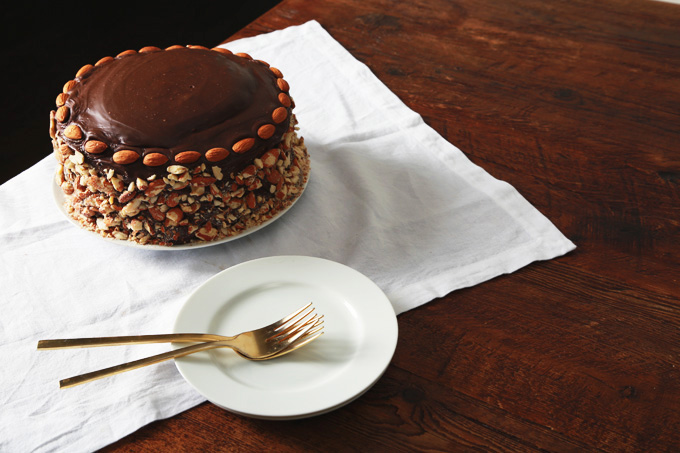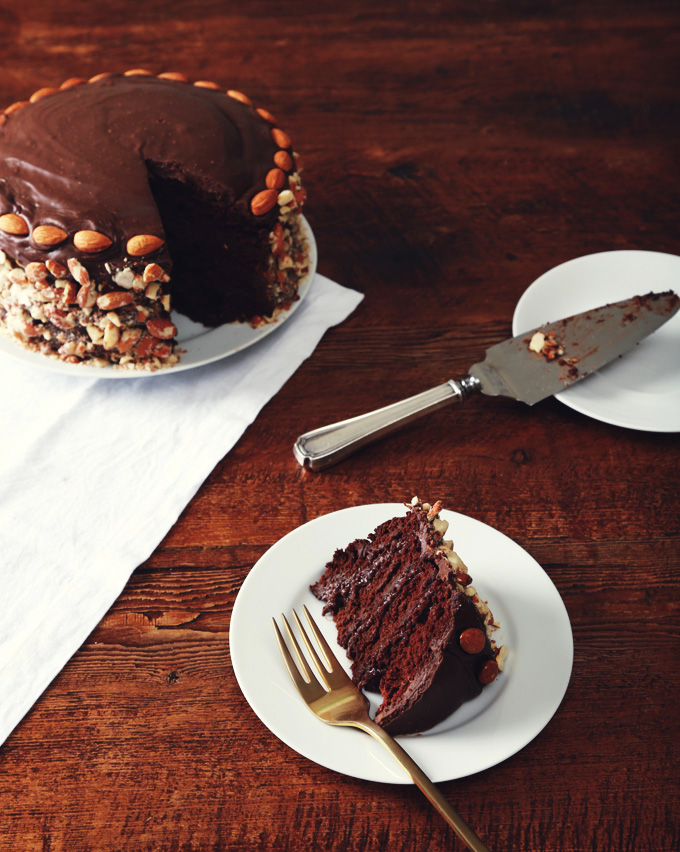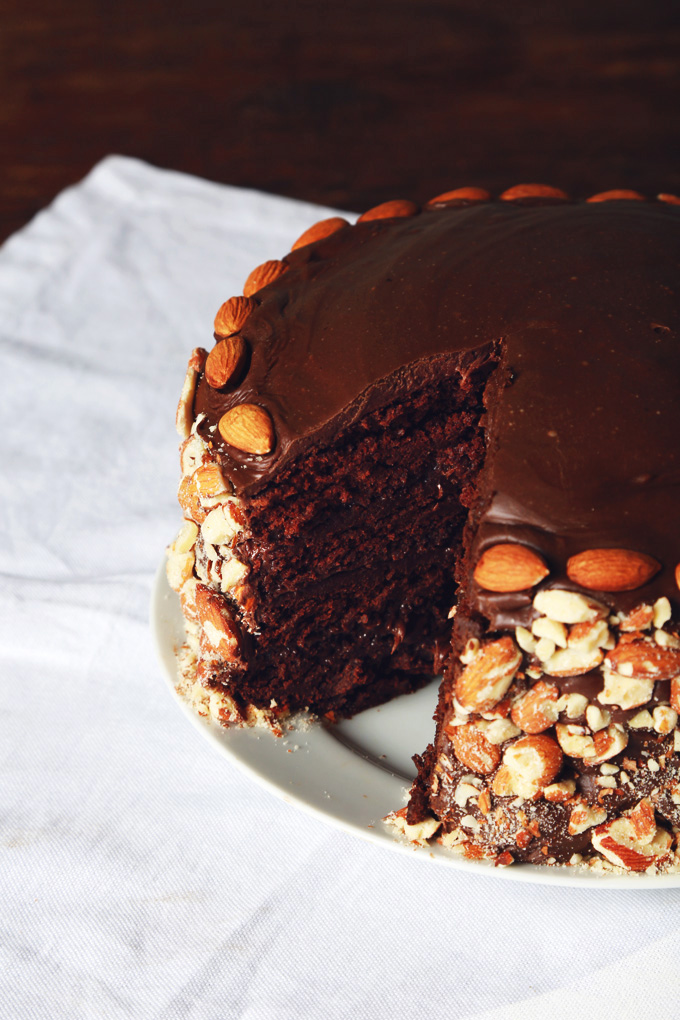 When you visit P&H, we want it to be about the recipes, the writing, and the photography. The timing of this recommitment to content is not great for taking on a redesign because we're leaving in a month for our extended road trip, but it is rather perfect for stripping away the clutter. I have a good feeling that doing so will not only allow our content to take center stage, but it should also give us the needed space to take in what's sure to be a transformational year and see where we land. I don't know how we'll monetize (maybe we won't), but this next year is one we're dedicating to living as authentically and constraint-free as possible. It's all about the once-in-a-lifetime things and exploring to see whether we can't make the rest of our years the same.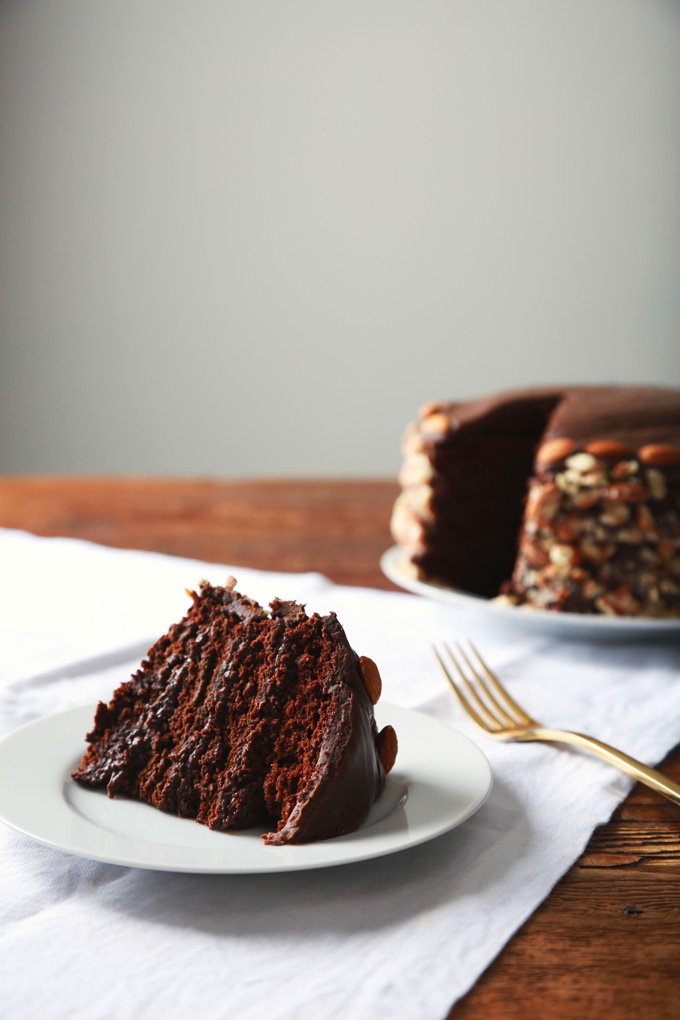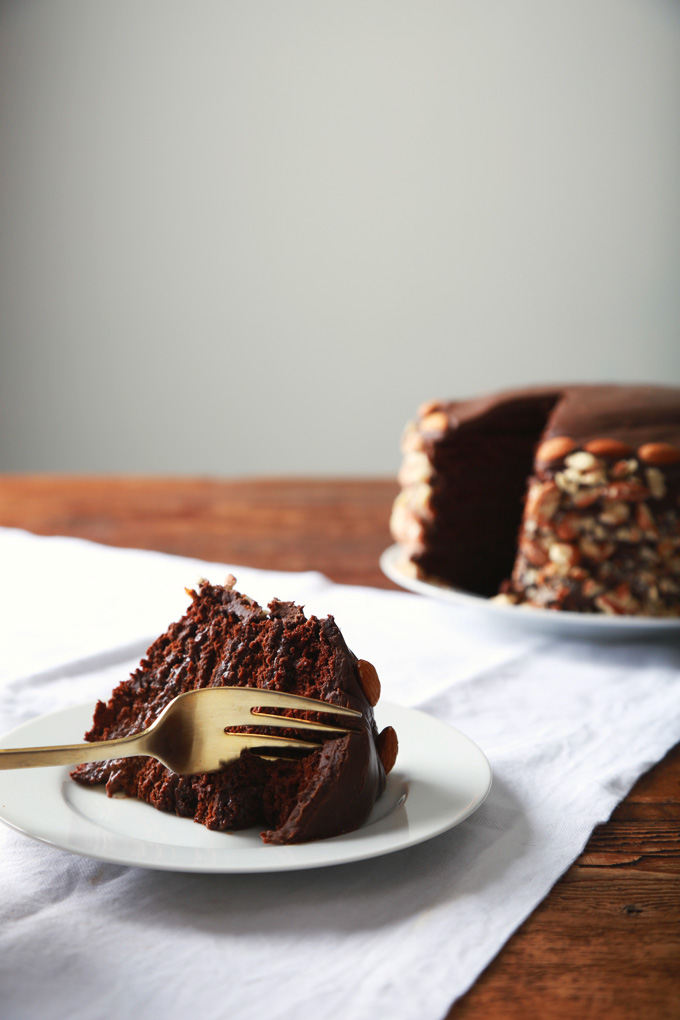 This brooklyn blackout cake is the richest, most decadent vegan chocolate cake I've ever made. I looked to the tradition recipe—a two-layer chocolate cake with a chocolate pudding filling—then took it up a few notches, doubling the layers and creating a filling and frosting that's somewhere between luscious pudding and ganache. It's four layers of intense dark chocolate with a generous coating of chopped almonds for texture and flavor. The filling stays pudding-like in the center but turns to fudge on the exposed top and sides. Think true blackout cake meets Cheesecake Factory meets vegan. No compromises.