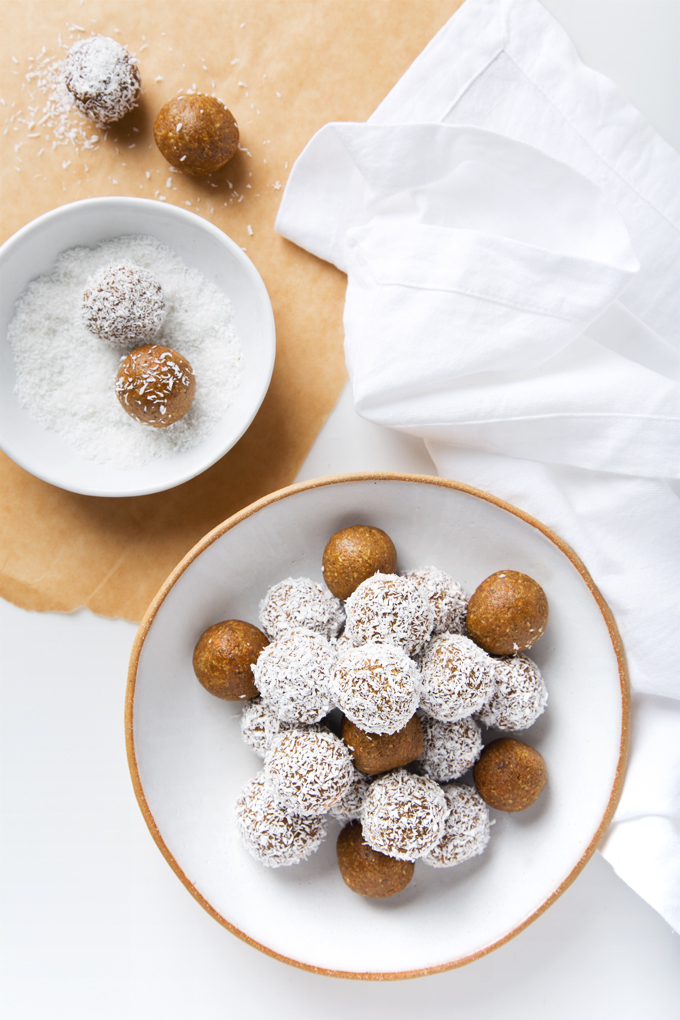 So…let's talk fat balls. Have you heard of them before? I feel like I started seeing them everywhere a handful of months ago*, and I have to admit my initial reaction involved an eye roll. I pictured a greasy snack ball coated in oil and I wanted nothing to do with it. Cue a month or so ago when I overhauled my diet to include less sugar and refined carbs and yes—more quality fats—and fat balls started to sound like something I might want to try.**
*I just re-read this and OMG, what is even happening with this post?! lol
**Yep, still talking about fat balls the food. bahaha
Firstly, let's squash my initial reaction that fat balls = greasy. That's thankfully not the case. Fat balls are more like the Larabar-type snacks we've all been eating for years, but with a much higher proportion of nuts and seeds to dates. This makes them higher fat, higher protein, and a lot lower in sugar (even if it was "natural" sugar to begin with). They're also high calorie and extremely filling. Truly, one or two is likely all you'll want to eat in one sitting.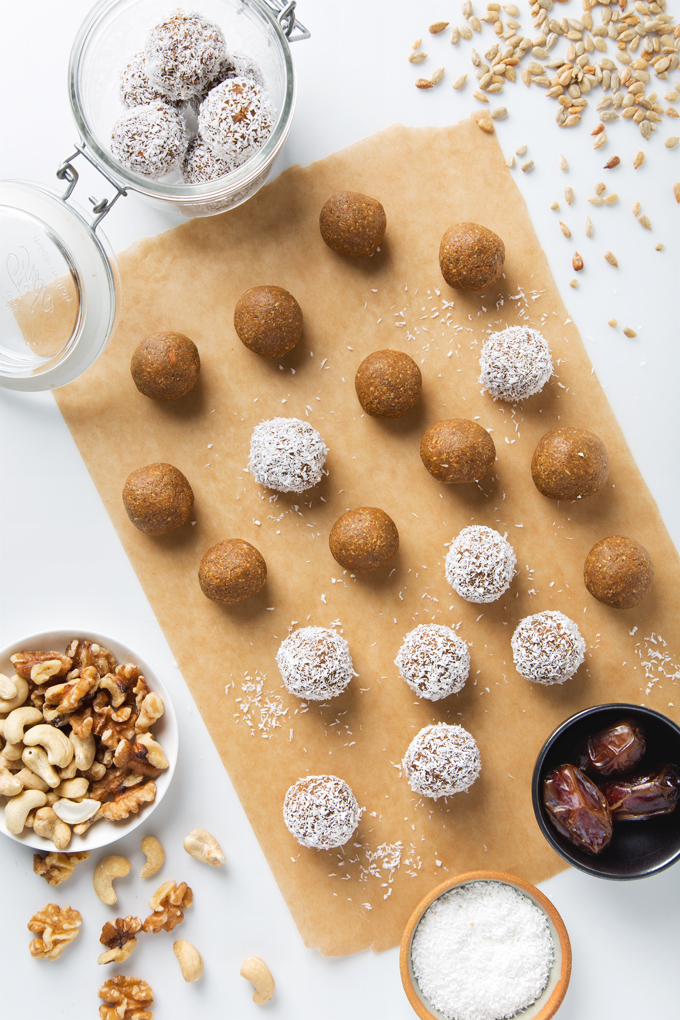 I've since experimented with a few different fat ball flavors, and the one I'm currently digging is carrot cake! I'm obsessed with all things carrot cake (cupcakes, muffins, breakfast cookies…it never gets old for me) and I love these carrot cake fat balls because they satisfy my cravings in a really healthful, blood-sugar-balancing sort of way. They're made from carrots, coconut, cashews, walnuts, sunflower seeds, chia seeds, and almond butter, spiced with cinnamon and ginger, and sweetened with only a few medjool dates and some sweet potato purée. Aaron thinks they taste like a cross between carrot cake and gingerbread.
These take 15 minutes max to whip up and they're great as a mid-morning or afternoon snack, post-workout treat, or even as a quick grab-and-go breakfast. One batch makes about 25 balls, which keep for a week in the fridge or a month in the freezer. I store ours in the freezer, then defrost a couple at a time as needed (3-5 minutes at room temperature does the trick).
If nothing else, you have to admit that saying "fat balls" is fun, right? (We're 30+ going on 12 over here…many a ball joke was uttered during this photoshoot.) 😉