Before you feel sad that you don't own an ice cream maker – don't despair! This recipe can also be made using ice cube trays and a blender or food processor.
I've mentioned before that I used to be an ice cream junkie. I actually don't indulge all that often anymore, unless you count frozen banana soft-serve, in which case, yes – I indulge several times a week. For the most part, though, extra thick smoothies have replaced my once nightly ice cream (or frozen yogurt) habit.
Every so often, however, I get a craving for one of my old favorites: Ben & Jerry's Cherry Garcia.
The giant chunks of chocolate, the big pieces of sweet cherries…eating that ice cream was like digging for gold, except I came up rich with every spoonful. You would not have wanted to share a pint with me, unless you enjoyed smooshed around vanilla ice cream. I am a mix-ins hog and I selfishly have no plans to reform my chocolate and cherry-loving ways.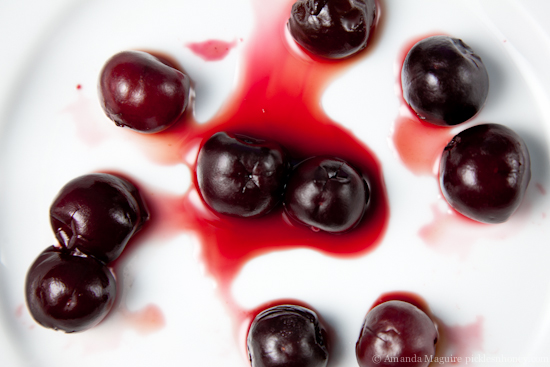 Since Ben & Jerry's doesn't make a non-dairy Cherry Garcia (yet!), I made my own. And I made some for you too.
I used a combination of decadent full-fat coconut and rich, homemade cashew milks as the base. These are slightly sweet on their own, and I decided to play up that natural sweetness with medjool dates in place of sugar. It might seem overly healthy, but not to worry – I made up for that with lots and lots of chocolate chunks and slivers. I was heavy-handed with the cherries too, making sure each bite would have plenty of both.
Really, there's no need to go digging for cherries and chocolate in this ice cream. I've got you covered.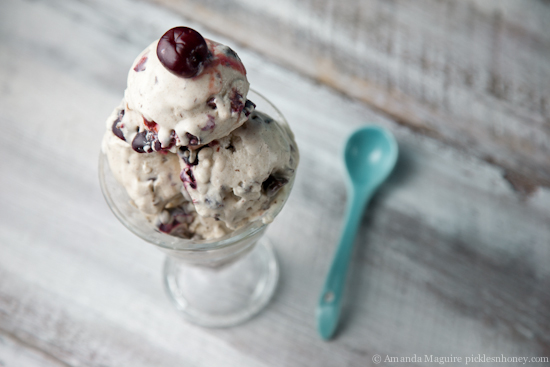 Ice cream confession time: are you guilty of eating all the mix-ins and putting a container of plain ice cream back in the freezer? Aaron loves when I do this.