Are you ready for another holiday cookie recipe? I hope so, because these vegan gingerbread cookies are a keeper and they're based on a secret family recipe!
For as long as Aaron can remember (and definitely as long as I've known Aaron), his mom, Kathy, has been making big batches of cookies from Thanksgiving through Christmas. There is never a shortage of cookies at the Scott house any time of year, and this is especially true around the holidays. Each year, Kathy makes candy cane cookies, almond cookies, snickerdoodles, and my favorite—gingerbread cookies. It's not a visit to Aaron's parents' house unless you've eaten at least five cookies and left with a tupperware of more to take home.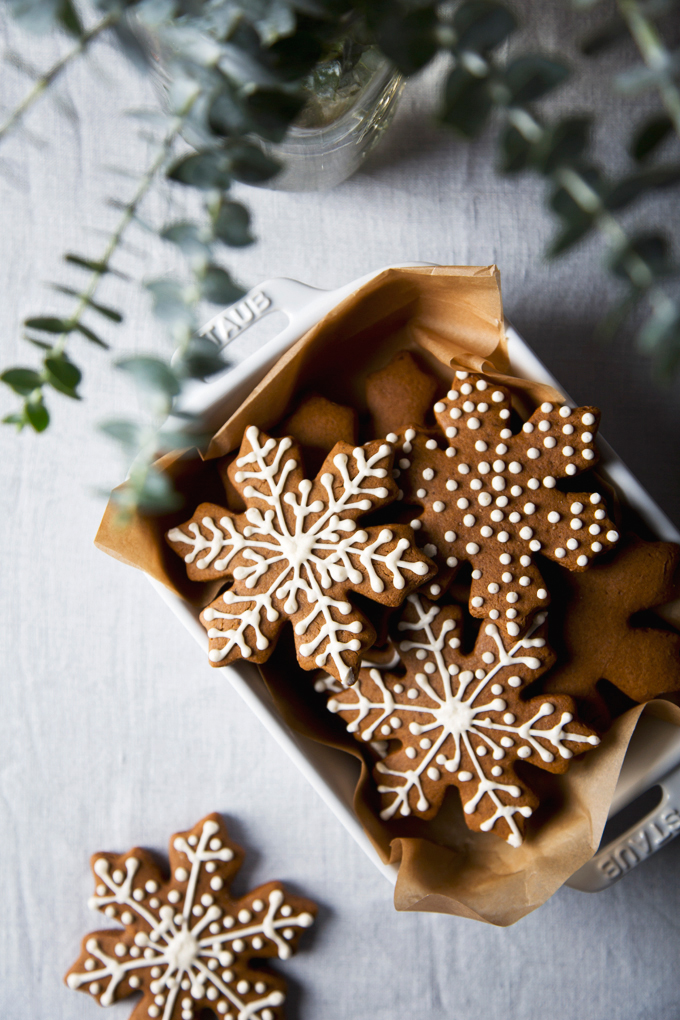 This abundance of cookies growing up is for sure why Aaron asks me, half seriously, "where are the cookies?" most nights after dinner. (he knows the answer is almost always, "the cookies are at the store.") There is so much nostalgia associated with these cookies, and I really like the idea of making the same few treats at certain times of the year. Aaron and I don't have a lot of our own traditions just yet, so when we visited his family for Thanksgiving and his mom brought out a plate of her classic gingerbread cookies, I knew I wanted to see if I could put my own spin on her recipe and make vegan gingerbread cookies a regular part of our winter celebrations.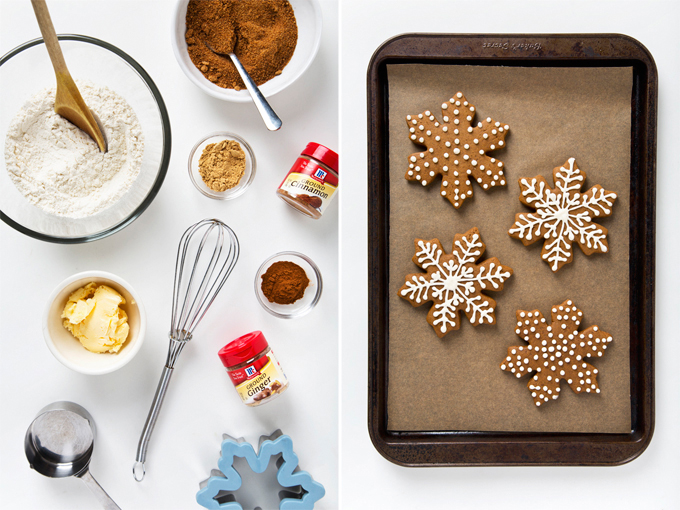 I think it's always important to use quality ingredients, but especially around the holidays when you're often making food for other people. For these vegan gingerbread cookies, I used McCormick Ground Cinnamon and Ground Ginger, and added ample amounts of both because I love their cozy flavors. Even though I don't have any really strong family cookie traditions, those two spices take me right back in time to some of my favorite memories, when my mom also used the McCormick brand and her spice cabinet was lined with little red-capped containers.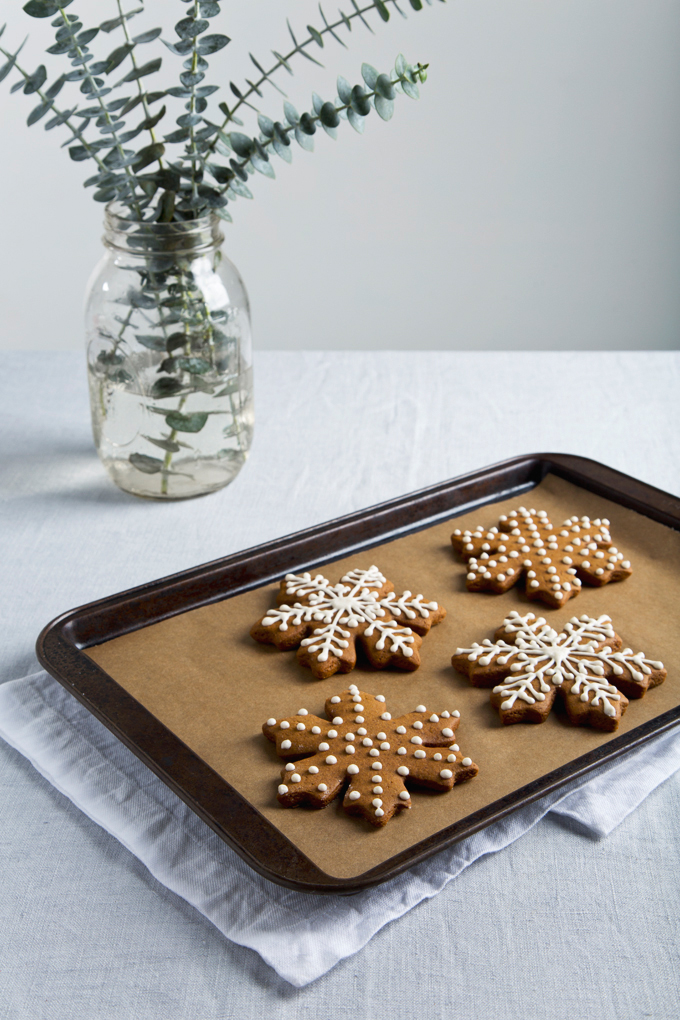 To make the cookies vegan, I swapped the egg and butter for a flax "egg" and vegan butter, traded white sugar for coconut sugar, and then replaced the light molasses with blackstrap, although you could certainly use regular molasses if you prefer a less molasses-y cookie.
The icing is a non-dairy version of a classic mix: vegan butter, powdered sugar, and a little almond milk to thin it out. I filled a small, sealable plastic bag with icing, cut off a tiny portion of one corner, and then decorated to my heart's content! You can be as simple or as fancy as you like, or skip the icing entirely and quickly dust your gingerbread cookies with powdered sugar. I got really into "the baking zone" and before I knew it, I had spent nearly an hour creating different snowflake patterns. It was kind of like those adult coloring books that people use to reduce stress, except I got to eat my work when I was done!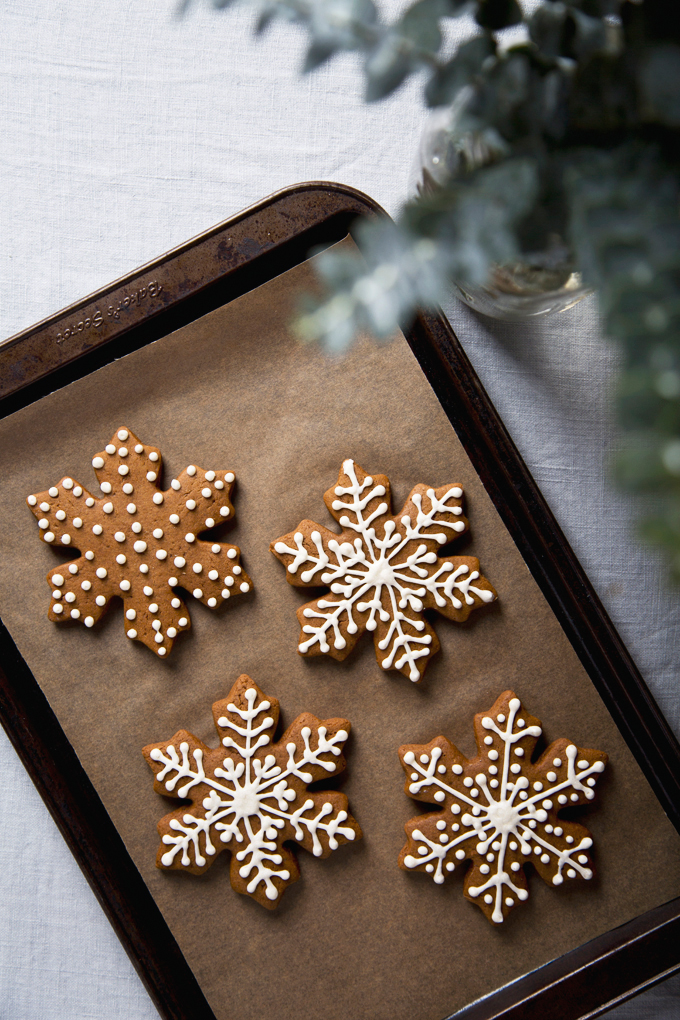 If you're looking for a classic and vegan gingerbread cookie recipe, I think you're going to love this one. The original recipe has stood the test of time in the Scott family, and I expect this version will stand the test of time in our little family now too.
Wishing you the happiest of holidays (and lots of cookies)! xo
---
Thank you to McCormick® for sponsoring this post!