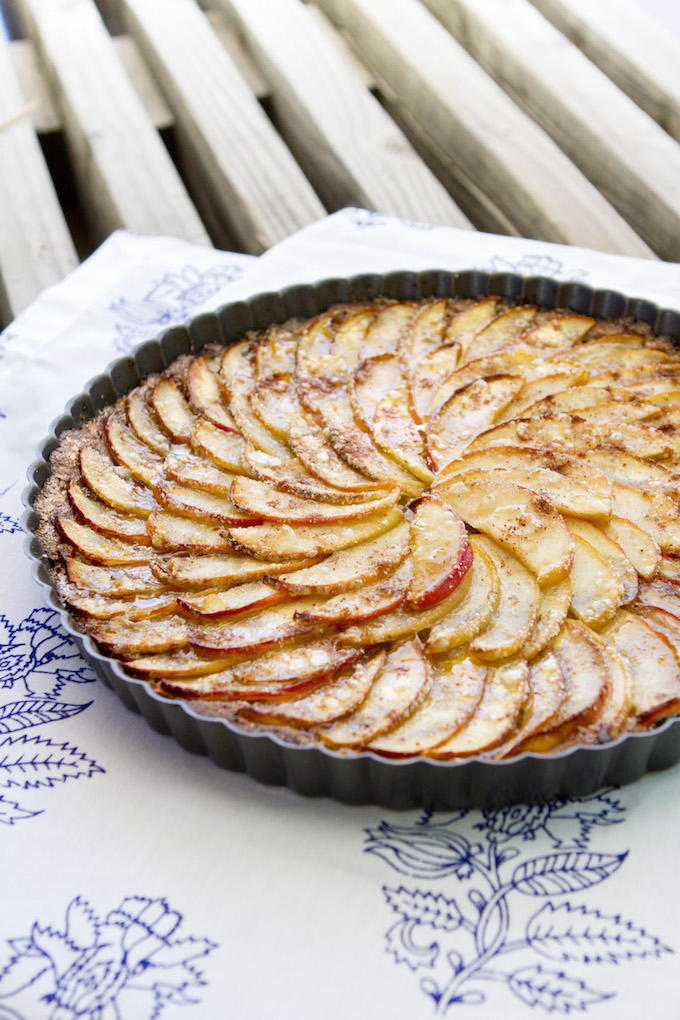 Apple pie is one of those desserts that I bet you reserve for going out and treating yourself. Am I right?
Most versions are complicated or at least time-consuming to make yourself. There's peeling a million apples (peeling produce is my nemesis—I just can't seem to not destroy the fruit/veggie in the process), making the crust with just enough flour and just enough butter (and praying it doesn't crumble), and then baking the pie only to have that beautiful tower of apples shrink down into a sad, concave pile of mush. Apple pie can be hard. I hear you.
This apple pie though…this one is from the new, very chic vegan cookbook, The Plantpower Way, and let me tell you: it is easy. Here's why:
NO peeling apples!
NO messing with finicky pie dough!
It's just 10 simple ingredients, it takes 40 minutes to bake, and you're going to feel good about eating this one because it's pretty darn wholesome too. The crust is made of walnuts, flaxseeds, and dates, which means it's loaded with healthy fats and has a good dose of protein, so a little goes a long way in feeling satisfied. Compared to traditional pie crust, this one's a cinch to make.
In other words: this vegan and gluten-free apple pie recipe is yours for the baking. Plus, that gorgeous apple spiral! It's going to wow at your next holiday celebration.
P.S. If you feel like vegan food is all hippie-dippy and patchouli and that doesn't get you jazzed, The Plantpower Way might be the perfect cookbook for you. It showcases gorgeous (and dare I say glamorous?), wholesome vegan recipes that are easy to prepare without the crunchy granola vibes. Think: bright white, California sun, and mid-century modern design as the backdrop. Dreamy.