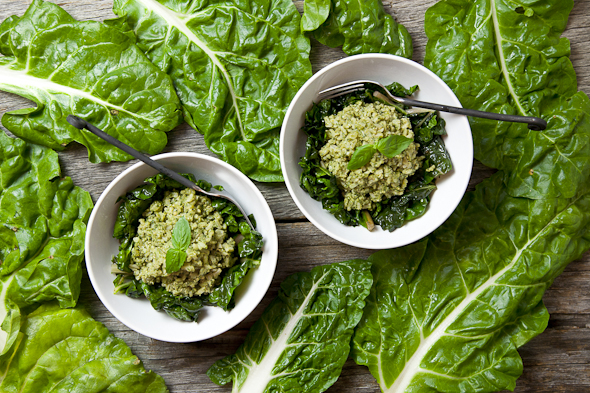 You know how you go into a weekend thinking you're going to unwind, get some extra sleep, watch a movie, make your favorite pancakes for breakfast—just generally forget about the work stress of the previous months week…do you see where this is going?
Instead, you find yourself staring down a long backlog of to-dos, cleaning up dog pee, talking about finances and work stress, and trading in that movie to fight Lightroom to edit photos of food? Okay, so a few of those are kind of specific, but I'm betting you may be able to relate to feeling like you sometimes need a vacation from your weekend.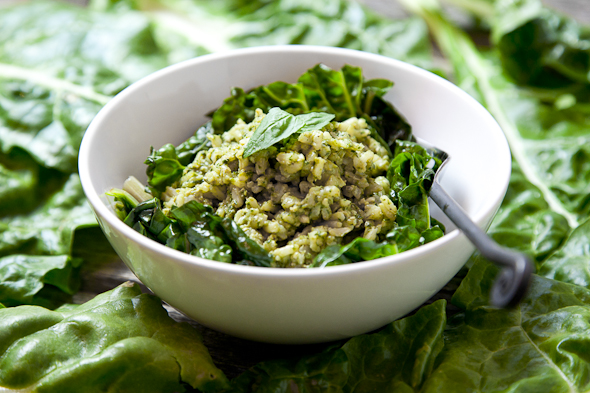 The Lightroom thing is annoying (can anyone tell me how to not make it take for-ev-er to preview photos before importing?). The dog pee thing, well, I tell the dogs it happens to the best of us. And the work stress, that has little to do with me, but I have a habit of taking on other people's problems and trying to fix them. Seeing as how this blog, culinary school, and homemaking are my jobs right now, my "workdays" are pretty fantastic. I could do without the dog pee though.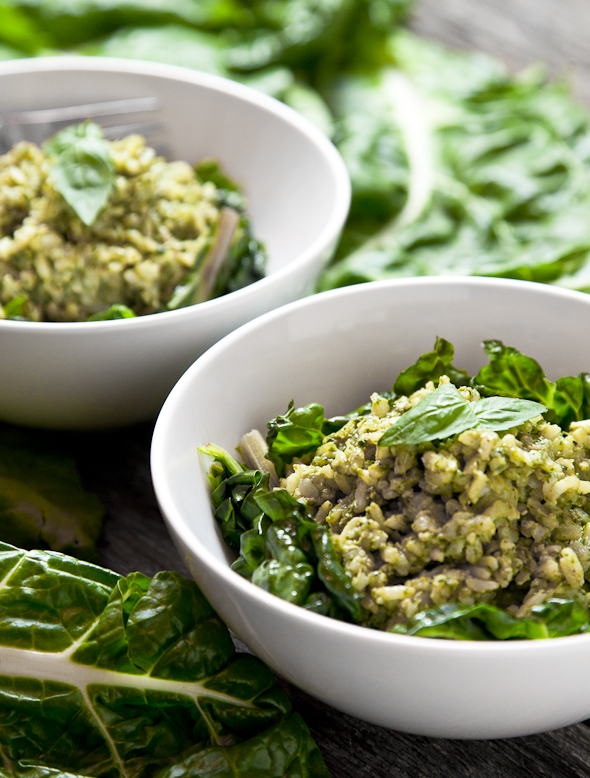 I did have a nice unexpected win last week food-wise! It was Thursday evening and I'd already made the recipes I had planned, which meant our fridge was looking a little sparse, aside from a decent amount of basil (I somehow always have fresh herbs and no idea what to do with them). This time, though, I also had pine nuts. So, pesto! But I didn't have pasta. So, brown rice! This is sort of how my brain works with recipes—I see an ingredient I want to use, and then scan our pantry like I'm putting together a puzzle. Sometimes it works, sometimes I'm the only one who will eat it.
This one worked, and was made even better atop a big bowl of sautéed Swiss chard. Give me all the greens! ← that might be my life motto.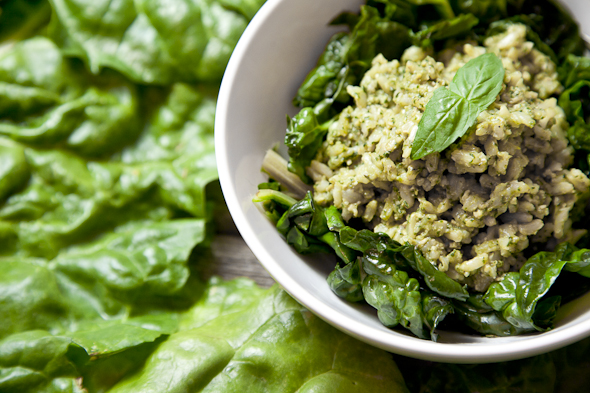 So, when this weekend ended up being more draining than rejuvenating (productive, at least), I knew exactly which recipe I would make for dinner on Sunday and leftovers during the week.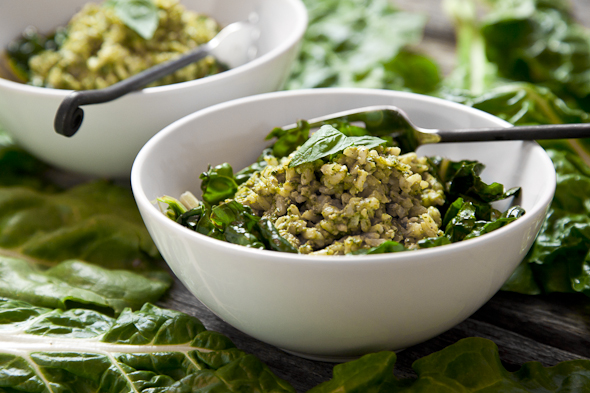 This vegan pesto brown rice is creamy and comforting, but very light on the olive oil because I have a "thing" about tasting a lot of oil in my food. I added brightness with lemon juice and some cheesy flavor with nutritional yeast, and as with all good pesto, it's sufficiently garlicky. It's also really quick to come together:
Simmer rice, throw  pesto ingredients in food processor, pulse pulse pulse, sautée greens, plate + serve. Easy!
It's fast, feel-good food.