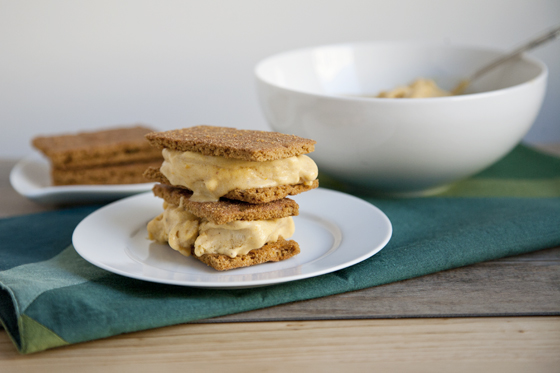 Ice cream is perhaps my favorite food. I spent three years in high school and part of college working at a homemade ice cream shop and would still leave my shifts wanting ice cream for dessert. Now, this particular ice cream shop used only super premium ingredients and prided themselves on having higher milkfat content than Ben & Jerry's. So it's no wonder why it was so addicting, and also why my pants got a little tighter (At the time, I blamed the dryer. Always blame the dryer.).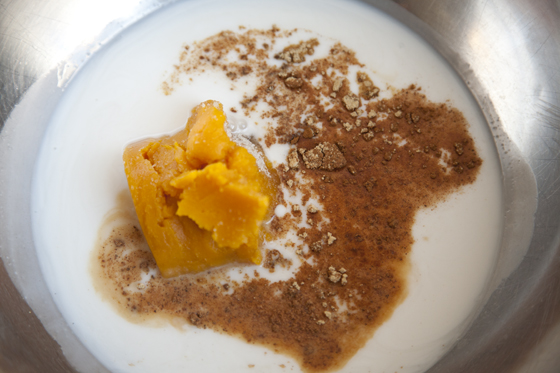 Now that I eat a healthier and mostly vegan diet, I find that I don't really crave the rich ice creams and actually prefer the lighter frozen yogurts. As I mentioned in my pumpkin molasses smoothie post, I love to load up my ice cream with toppings and I think a less rich base allows the topping flavors to come through more.
Today I decided I would forego the crazy add-ons and let the pumpkin pie spices take center stage, but then I remembered I had some cinnamon graham crackers and couldn't resist making ice cream sandwiches. It was a very good decision.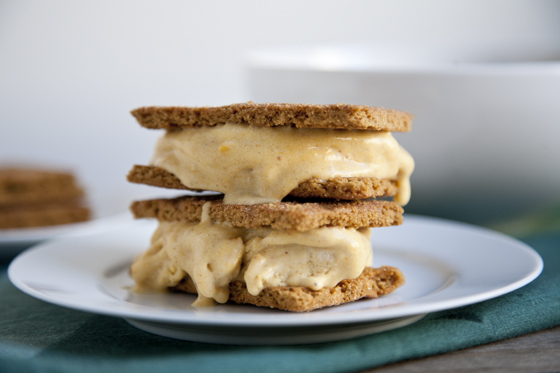 A recipe for pumpkin pie ice cream probably would have been more appropriate last weekend when it was in the mid 80s in Boston, but I don't let the cooler temps mess with my ice cream cravings. Just chase this with a shot of hot chocolate and a cozy sweater.
| | |
| --- | --- |
| Vegan Pumpkin Pie Ice Cream Sandwiches | |
Author:
This vegan pumpkin 'ice cream' tastes indulgent, but is actually quite healthy thanks to the light, naturally sweet coconut milk as the base. Feel free to play around with the spices and sugar to make this as spicy and sweet as you like!
1 15 oz. Can Light Coconut Milk
1/2 C. Pumpkin Puree
1/3 C. Sugar
1 tsp. Pure Vanilla Extract
1 tsp. Cinnamon
1/2 tsp. Nutmeg
1/2 tsp. Ginger
1/4 tsp. Cloves
Pinch of Sea Salt
Cinnamon Graham Crackers for Sandwiches
Combine all ingredients, except graham crackers, in a large mixing bowl and whisk until combined.
Pour mixture into ice cream maker and let churn for 20 minutes, or until it has the consistency of soft serve.
Spoon onto graham crackers to make ice cream sandwiches, or crumble graham crackers on top to mimic pumpkin pie crust.
This will make quite a few ice cream sandwiches, or serve 4 if you're eating it sans graham crackers. You can store any leftovers in a container in the freezer, or let chill for a couple of hours to get a more hard-serve ice cream texture.