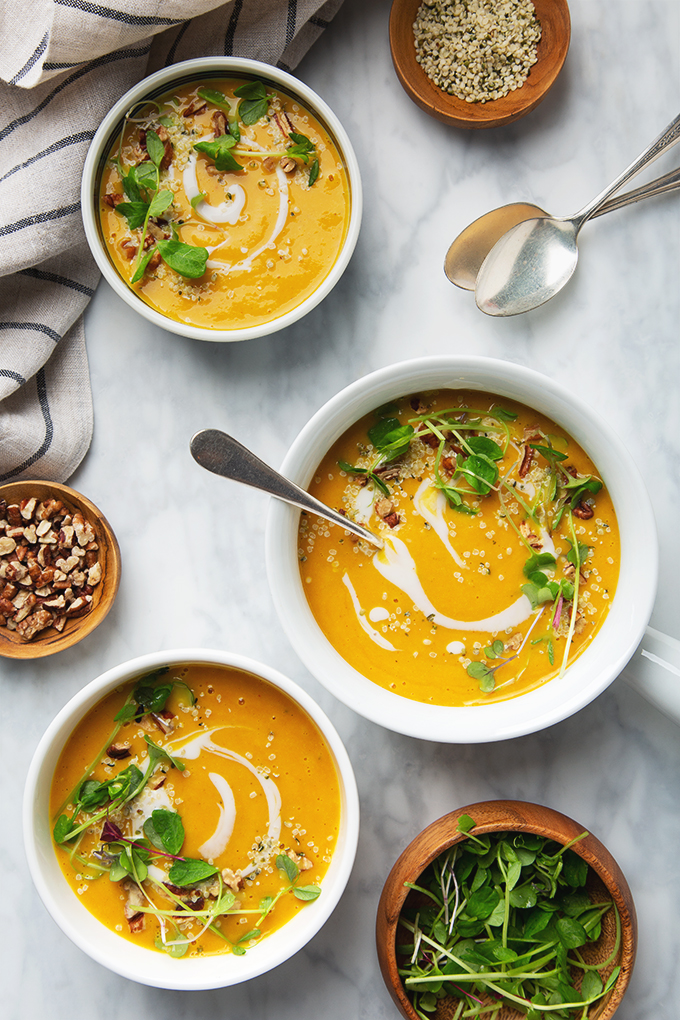 I'm wearing thick, fuzzy socks, I have a dog snuggled on my lap, a faux-fur blanket wrapped around my shoulders, a heating pad on my lower back (for no other reason than it feels so nice), and I'm eating a hot-but-not-too-hot bowl of creamy butternut squash soup. Yep, it's definitely February! AKA one of my least favorite months, right up there with March, when I wonder if Winter will never end. This is the time of year where I start getting super antsy for sunshine, signs of Spring, and 67% of my meals involve soup with toasted sourdough smothered in vegan butter.
Soup is my ultimate cozy comfort food and it's 100% necessary for keeping Winter's chill at bay. Plus, it's so easy to double the recipe to make leftovers for lunches and dinners AND it pretty much always tastes better on days 2 and 3. If you're in need of a new soup recipe (or five) to add to your rotation, here are a few I've been loving lately…
(Click on the recipe name below the photos to go to each recipe)
Pictured above: Curried Butternut Squash Soup
This butternut squash soup is deceptively simple yet so flavorful, with the ideal level of warming heat from curry powder. All you need to do in terms of prep work is roast some cubed butternut squash, whole cloves of garlic, and chopped onion in a bit of extra virgin olive oil, sea salt and pepper.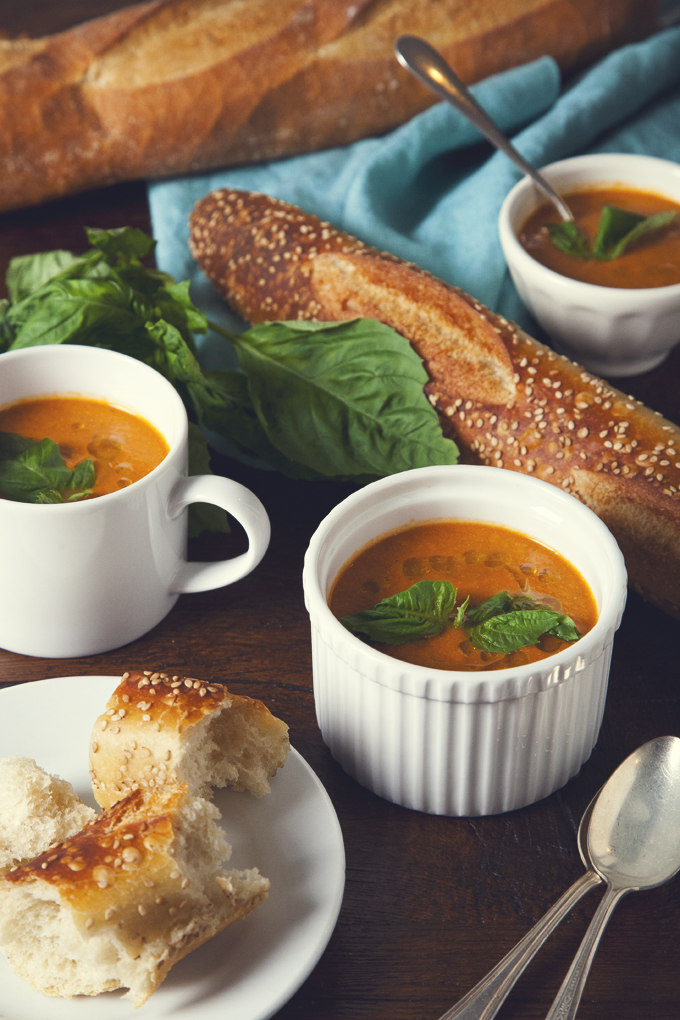 One Pot Creamy Tomato Soup
I've been enjoying this recipe for over four years now (whoa!) and it's one I continue to turn to again and again, especially when we have guests for dinner. I mean, who doesn't love a good tomato soup?? The creamy component comes from soaked and blended cashews, with just a touch of sweetness from balsamic vinegar, brightness from fresh basil leaves, and the slightest hint of warming spice from red pepper flakes. Aaron prefers this soup chunky and you could certainly serve it that way, but I like it best blended so all of the flavors meld together. The recipe is written to make a big batch for easy leftovers, and it will also freeze well if you like to meal prep in advance.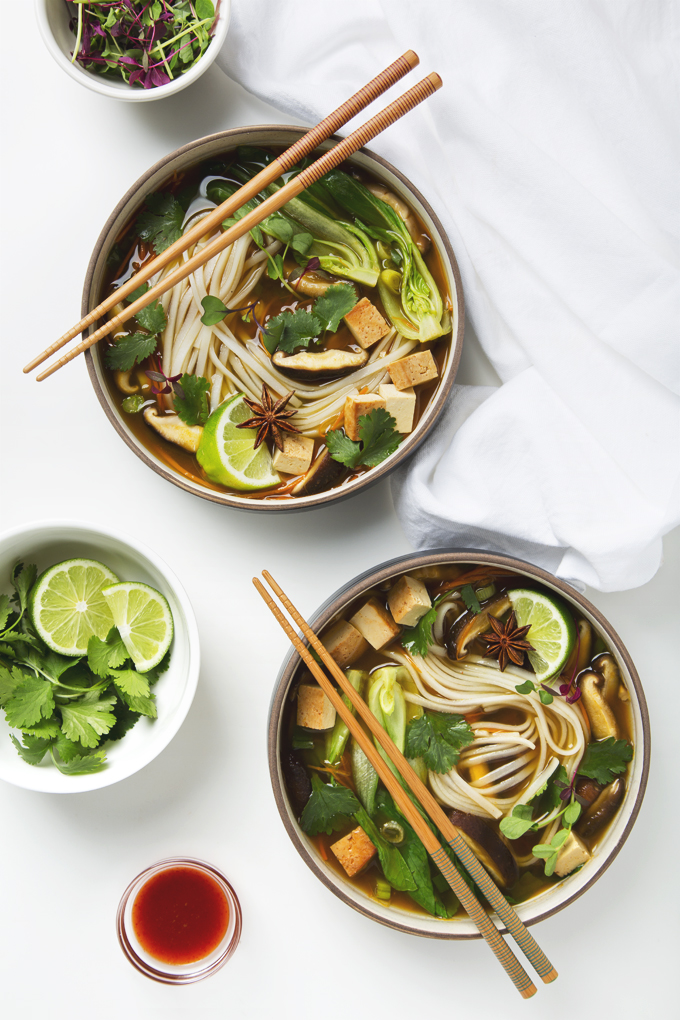 30-Minute Vegan Pho
This is another one of my always and forever soups and you guys seem to really like it too (yay!). I love the unique flavor that the star anise, cloves, and cinnamon stick lend, the noodle-y texture of the julienned carrots, the vibrant green bok choy, and the meaty sliced shiitake mushrooms. We always top ours with baked tofu for protein, lots of bean sprouts, chopped fresh cilantro, a squeeze of fresh lime, and sriracha for heat. It has all of the great flavors of our favorite restaurant version, but it's prepared in a much more wholesome way.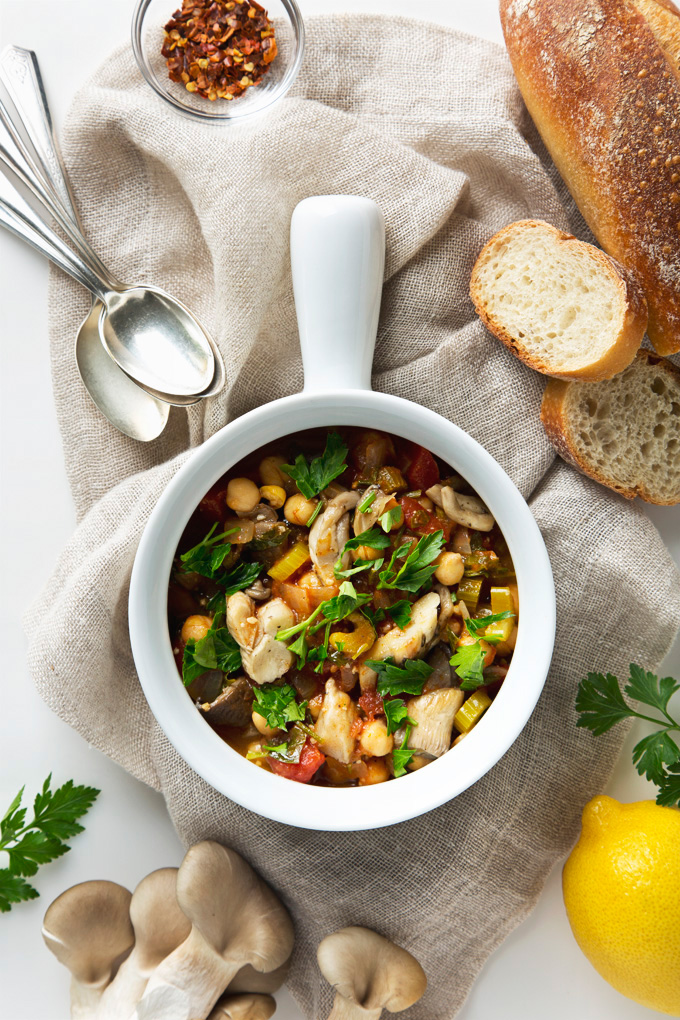 Vegan Cioppino with Oyster Mushrooms
My take on cioppino has a base made from celery, onion, lots of garlic, diced tomatoes, and vegetable broth. From there, I add chickpeas for protein and some roughly chopped oyster mushrooms instead of fish. After quickly searing the mushrooms, the stems really do remind me of scallops and the mushroom tops have a definite "fishy" texture. For a recipe that uses only 12 ingredients and takes under 30 minutes to make, this stew knocks it out of the park.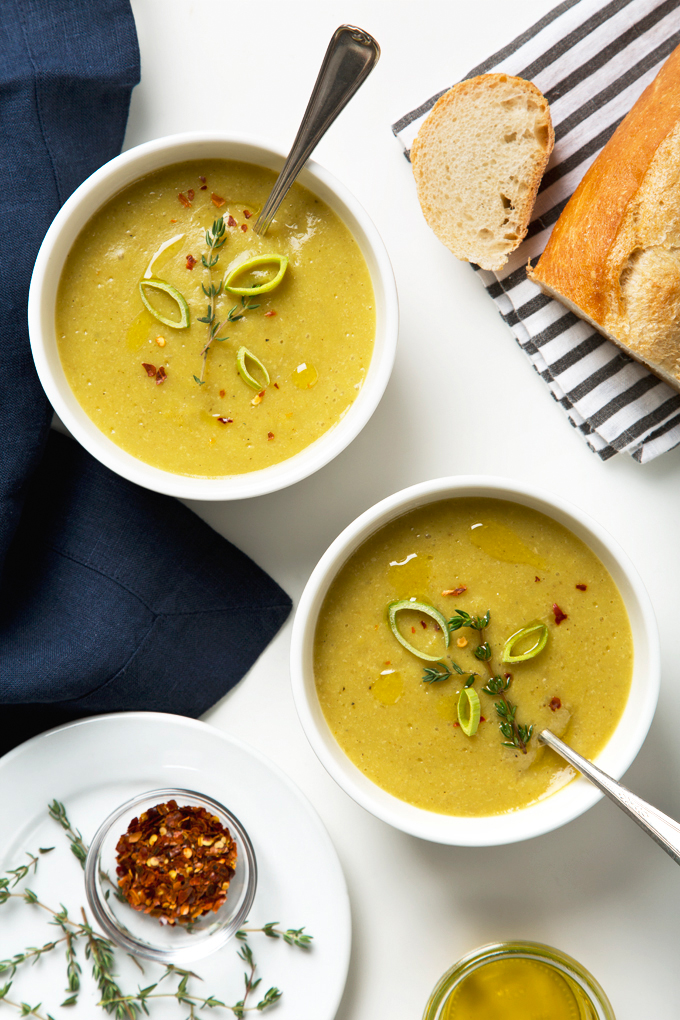 Creamy Potato Leek Soup
This is a simple recipe that Arron and I both really love. I love that it takes under 30 minutes and only 7 ingredients, nearly all of which I usually have on hand. And Aaron loves that it's filling and creamy—without any actual cream or butter. My secret is to use a rich cashew milk instead of dairy, nutritional yeast for a cheesy flavor, and yukon gold potatoes (one of my favorite varieties). For me, this is healthy comfort food at its best.
---
We'd love for you to follow us on Instagram!
Tag photos you post of our recipes with #picklesnhoney so we can see.