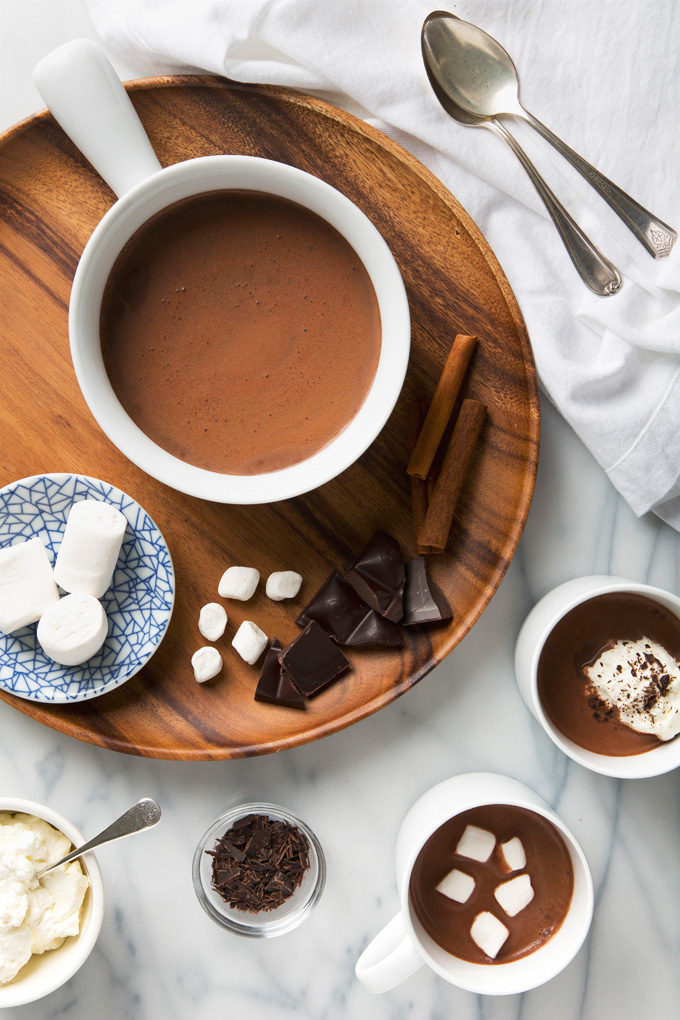 Raise your hand if you're counting down the days until Spring! I've been counting down since November, which, sanity-wise, is far too long to be doing that. I know the weather gods don't care that it'll be March 20th in a week and a half, but it's still a date that I hold near and dear to my heart because it means we are almost there! With "there" being above freezing temps and small things like not needing to go through the dreaded 20-minute routine of putting coats and booties on our three dogs every time we take them for a walk. (And yes, in hindsight three dogs is A LOT.) In the meantime, carbs and comfort food are helping me get by. Here are a handful of my favorite warm and cozy recipes, perfect for surviving this (hopefully) last stretch of winter…
(Click on the recipe name below the photos to go to each recipe)
Pictured above: Cinnamon Cacao Hot Chocolate
Indulging in really good hot chocolate is one of the small ways I make chilly days more enjoyable. This almond milk-based cinnamon cacao hot chocolate is Aaron and my go-to dessert at least a few times a week, usually enjoyed by our fireplace in the evenings (one of the best things about our condo). You can use regular cocoa powder, although we like it best with rich, raw cacao powder. Raw cacao is great because it's alkalinizing and brimming with antioxidants, and it tastes even better with a generous sprinkle of cinnamon, a splash of vanilla, and a little pure maple syrup to sweeten it up. I add the ingredients straight into a saucepan, whisk to combine, and then heat it on the stove. It takes five minutes, and hooray! There's only one pan to clean.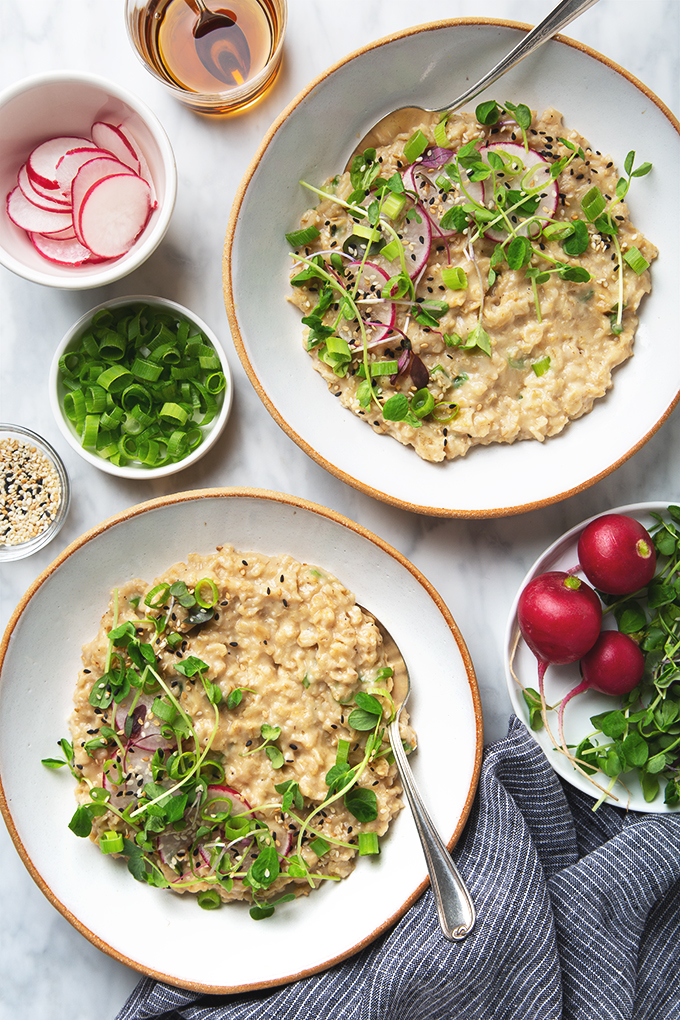 Savory Sesame Miso Oats
What do you cook when you're craving comfort food, you're due for a grocery store trip, and you're also short on time? I swear by savory oatmeal for breakfast, lunch, or dinner—you really can't go wrong. If you're looking for a go-to meal that you'll actually have the time and energy to make on busy weekdays, this 15-minute (and 10 ingredient!) sesame miso oatmeal will blow your mind without requiring a separate trip to the grocery store. I like to top mine with sliced radishes and micro greens, but by all means, feel free to incorporate whatever greens you already have on hand.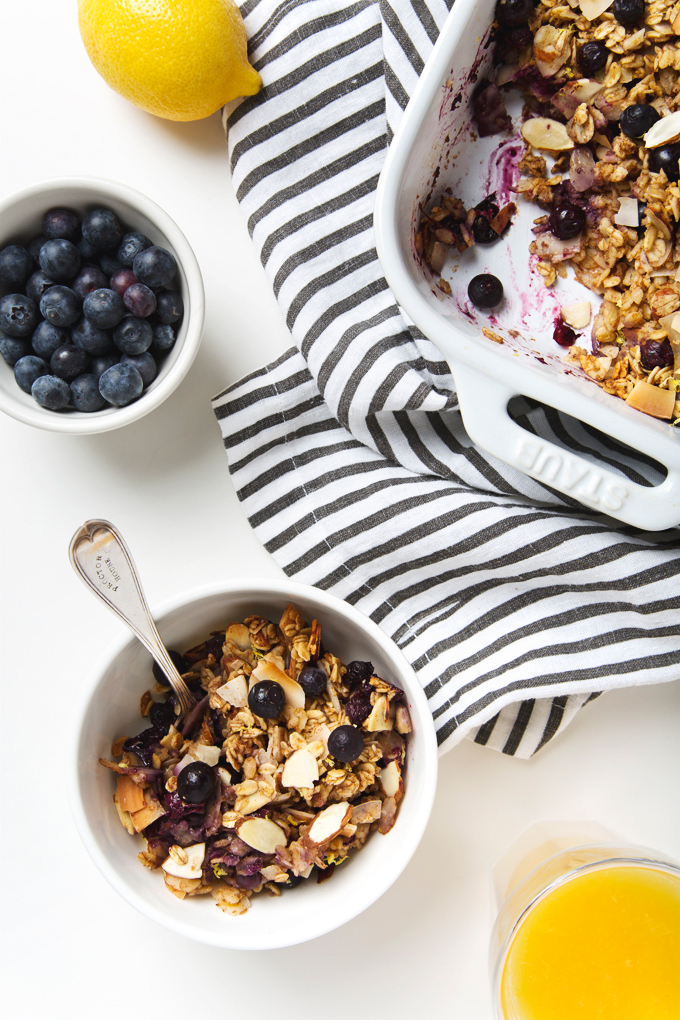 Coconut, Lemon and Blueberry Baked Oatmeal
Yep, another oatmeal recipe! This time sweet instead of savory. Whenever the weather is chilly, Aaron and I crave extra warm and cozy breakfasts, and coconut, lemon, and blueberry is one of our all-time favorite flavor combinations. The bright lemon and fresh blueberries are a lighter juxtaposition to the hearty baked oats, and we adore the large, crunchy coconut flakes and sliced almonds. This baked oatmeal recipe takes just 10 minutes to prep nearly a week's worth of breakfasts for two people. Yes!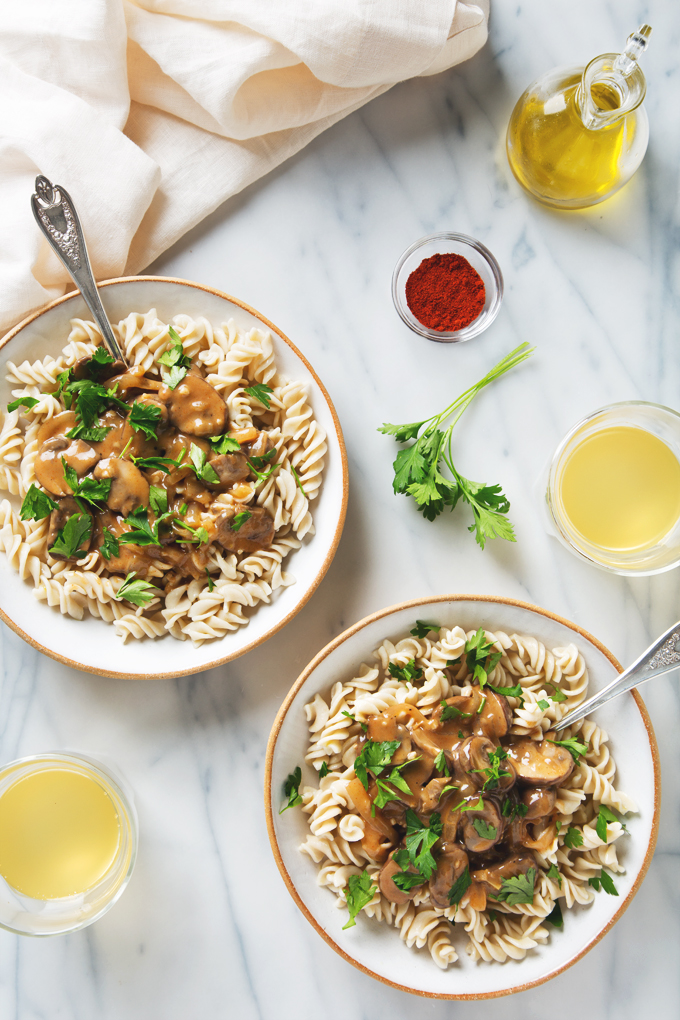 Weeknight Mushroom Stroganoff
This vegan mushroom stroganoff is always on regular rotation at our house. I's only 10 ingredients and it takes 25 minutes to make—perfect for a speedy weeknight dinner! Instead of using egg noodles, we use basic brown rice rotini pasta, although wheat, chickpea, or quinoa pasta will also work well. The sauce is a mixture of vegetable broth, all-purpose flour (feel free to use gluten-free flour here), and paprika. The flour thickens it into a sort of gravy, and then it gets poured over lots of sautéed mushrooms, thinly sliced onion, and minced garlic. This meal is 100% necessary to survive Boston's six months of winter.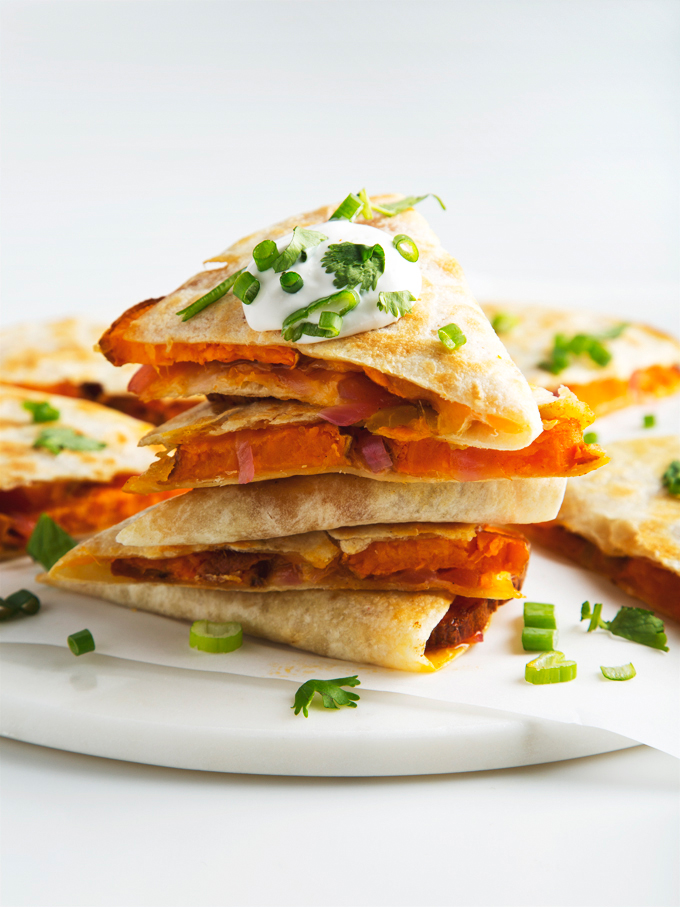 Vegan Sweet Potato Quesadillas
Aaron grew up eating a lot of quesadillas, and when we first moved in together after college and most of our income was going toward rent and student loans, we frequently made veggie quesadillas as an inexpensive and easy meal. The filling includes a layer of roasted and seasoned sweet potato rounds, some quick, pickled red onions, diced green chilis, and non-dairy cheddar cheese, all topped with fresh cilantro and scallions, plus a little vegan sour cream. The tortillas are golden and crispy, the cheese gets melty, and the sour cream balances out the heat…basically, these quesadillas do not disappoint!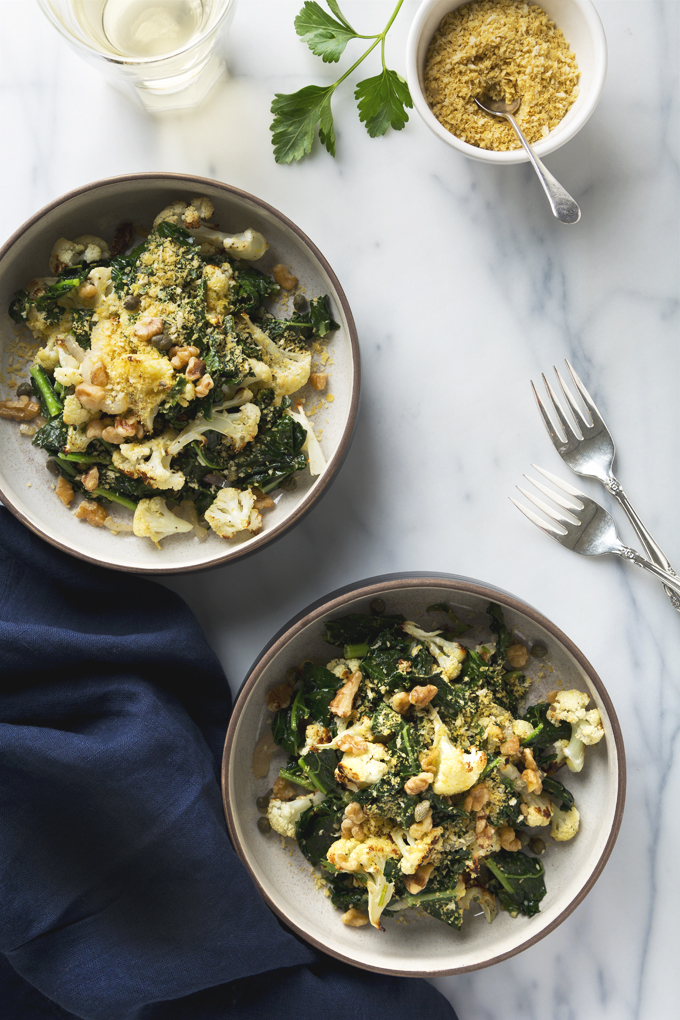 Warm Cauliflower and Kale Salad
Whenever I'm having trouble getting in the mood for a cold salad, this is my go-to recipe. It has warm roasted cauliflower and lemony sautéed kale with garlic and shallots, and my go-to lemon/olive oil dressing jazzed up with fresh parsley, salty capers, and chopped walnuts. The topping is a cheesy toasted panko bread crumb and nutritional yeast combo that's so good, I can't help but sneak bites of it straight out of the mixing bowl before it even makes its way onto my salad.
---
We'd love for you to follow us on Instagram!
Tag photos you post of our recipes with #picklesnhoney so we can see.