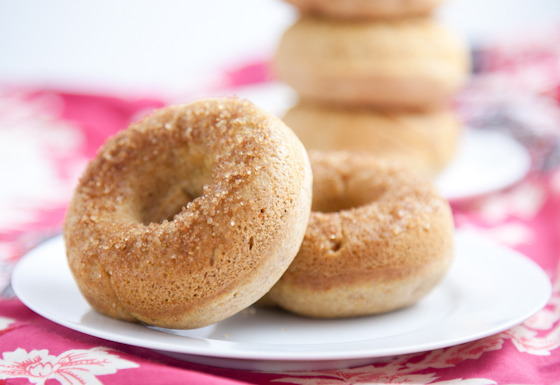 Every couple of weeks, someone will ask me to make them donuts. And no, it's not just the voice inside my head, although that voice agrees. Donuts are generally a good idea.
Let's be honest, baked donuts are essentially muffins, but there's something about that donut shape that makes them that much more fun. It's like I feel like I'm being super indulgent eating a donut, when in actuality, these little guys aren't half bad. Plus, they come with built-in portion control.
That is, if you stick to eating one…maybe two. Two isn't so bad, right?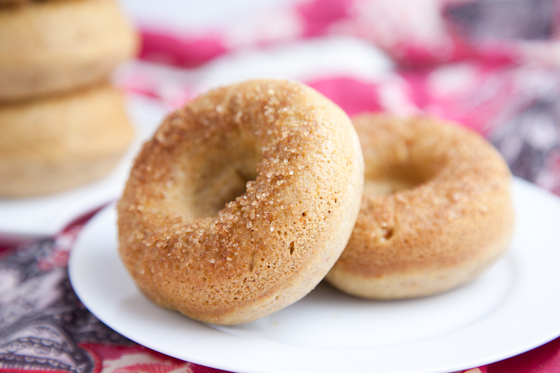 And this latest donut recipe – well, you can feel good about eating these. I adapted my pumpkin spice donuts to include half whole wheat flour, half the sugar, and replaced the Earth Balance with melted coconut oil.
Oh, and they also use freshly mashed sweet potatoes. That's right, these donuts have a vegetable in them. A starchy vegetable, but still, that has to count for something.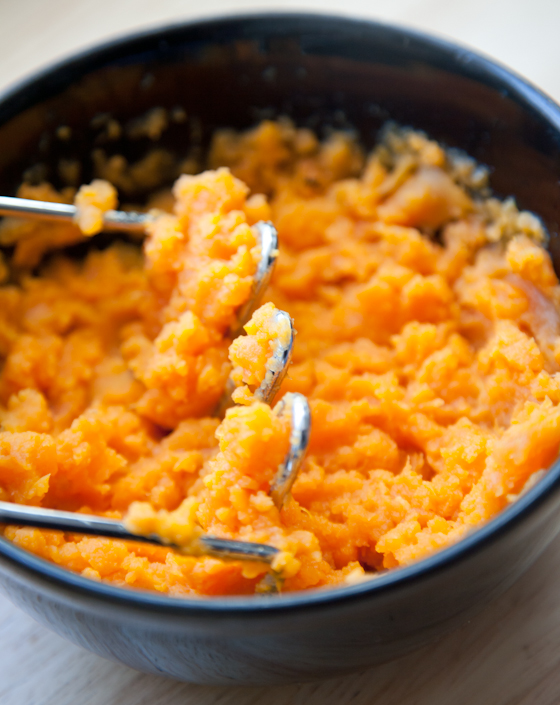 The mashed sweet potatoes are so naturally sweet that I can assure you, you're not going to miss that extra 1/4 C. sugar in the original recipe. I highly recommend mashing your own sweet potatoes for these donuts so you can control the texture (I left mine slightly chunky so they would have visible flecks of sweet potato throughout), but canned sweet potato puree should also work.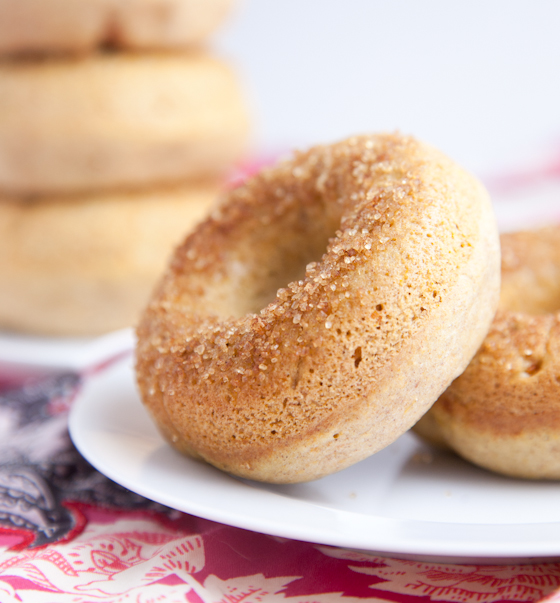 Now, to make up for some of the lack of sugar in the batter, I went ahead and finished the donuts with a raw turbinado sugar and cinnamon mixture. This is entirely optional, but a small sprinkle of this topping adds a great crunch.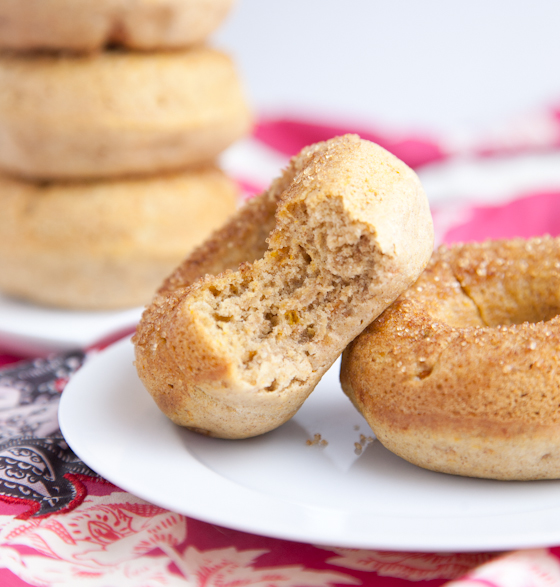 Of course, if you don't have a donut pan, it really isn't the end of the world. A muffin pan will do just fine. And even better, a mini muffin pan will essentially make donut holes! We all know that small bites don't have calories…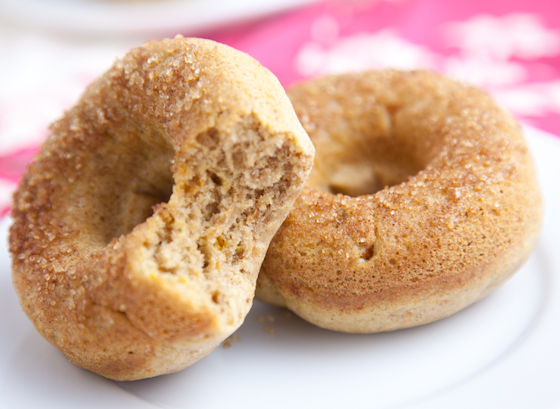 Sweet Potato Donuts with Cinnamon Sugar Topping
Recipe Type
:
Breakfast, Dessert
Author:
Prep time:
Cook time:
Total time:
Vegan Sweet Potato Donuts you can feel good about eating! These are made with half whole wheat flour, minimal sugar, and the smallest amount of healthy coconut oil.
For the Donuts:
1 C. Whole Wheat Flour
1 C. All-Purpose Flour
1 Tbs. Baking Powder
2 Tsp. Ground Cinnamon
1/4 Tsp. Salt
2/3 C. Mashed Sweet Potatoes, skins removed
3/4 C. Non-Dairy Milk (I used soy milk)
1/3 C. Raw Turbinado Sugar (or other vegan sugar)
2 Tbs. Coconut Oil, melted
1 Tsp. Pure Vanilla
For the Topping:
2 Tsp. Coconut Oil, melted
2 Tbs. Raw Turbinado Sugar
1/2 Tsp. Ground Cinnamon
Pre-heat the oven to 350 degrees. Lightly grease a donut pan.
In a large bowl, combine the whole wheat flour, all-purpose flour, baking powder, cinnamon, and salt. In a small bowl, combine the mashed sweet potatoes, non-dairy milk, sugar, melted coconut oil, and vanilla. Add the wet ingredients to the dry ingredients and mix until they're just combined. Be careful not to over-mix.
Spoon or pipe the batter into the greased donut pan. Bake the donuts for 10-12 minutes, until they are golden brown and firm to the touch. Remove the donuts from the oven and allow them to cool.
On a small plate, prepare the topping by mixing the turbinado sugar and cinnamon.
Once the donuts have cooled, brush the tops with a small amount of coconut oil and dip each donut into the sugar/cinnamon mixture. The donuts can be stored at room temperature for a couple of days, or in the fridge for up to a week (if they last that long!).
I mashed my own sweet potatoes (simply cut into large chunks, boil until fork-tender, remove the skins, and mash with a fork) and I also left them slightly chunky for some added texture. If you'd rather use canned sweet potato puree, that should also work.
I used a donut pan from Crate & Barrel, and this recipe made about 8 donuts. However, donut pans can vary a lot in size, so donut yield will likely vary. You may need to adjust your baking time accordingly.
No donut pan? No problem! You can use the batter to make delicious sweet potato muffins. Just bake the muffins for an additional 3-5 minutes, until a toothpick inserted in the center comes out clean. For mini muffins, bake for just 8-10 minutes total.