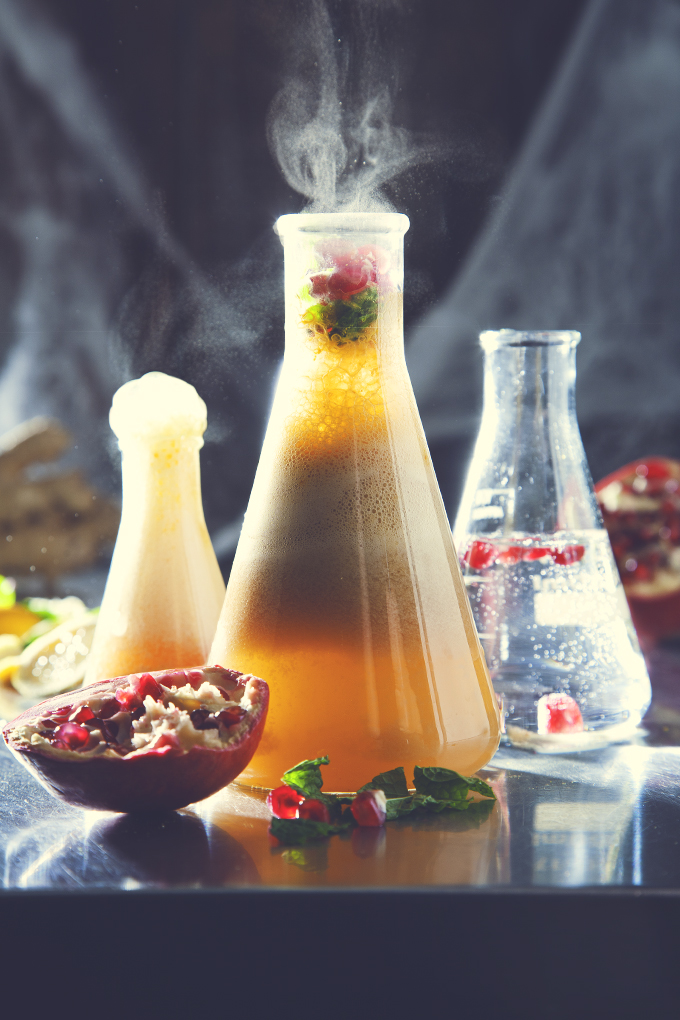 Thank you to Vega for sponsoring this post!
This might just be my most favorite Pickles & Honey recipe title. I always get such a kick out of bloggers who write about things like green smoothies as these high-vibe magical miracle manifestations (bonus points for alliteration!). I love it and I totally get it (green smoothies are pretty rad), but that is just so not how I talk in real life…though sometimes I think it would be really fun to authentically view the world through that lens.
This Magic Potion is all about Halloween and celebrating the nostalgia of Hocus Pocus and spookiness. Aaron and I had a blast brainstorming and creating, and he definitely captured my not-so-clear, abstract vision with these photos:
"You know, I'm thinking Halloween-y but not scary or gross…more mystical and maybe a little creepy…like a Johnny Dep film?" ← You guys get me, right?
Vega emailed around this time asking if I wanted to create a recipe for Halloween, and since I always enjoy working with them, I knew this potion would be the perfect collaboration. I asked for their brightest orange products based on my potion idea, and they delivered, big time. We tested a handful of things and ended up choosing the Vega Sport Recovery Accelerator in Apple Berry to make our back-to-life fizzy concoction.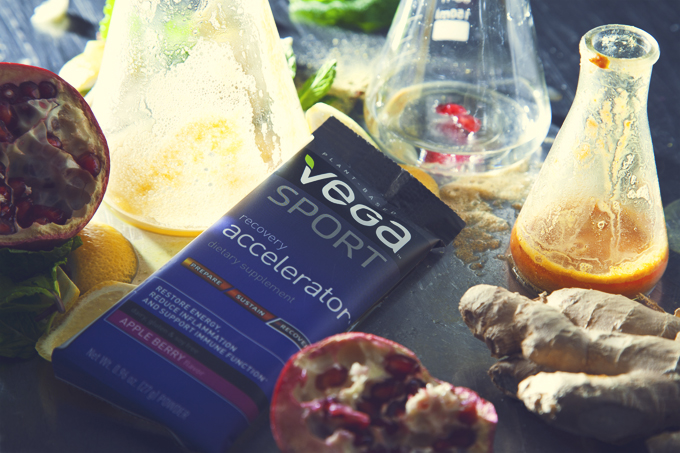 The Recovery Accelerator is intended to be used with water post-workout to help your muscles repair themselves, restore your energy, and reduce inflammation (side note for anyone wondering if it works: Aaron says he's noticed an improvement in his heavy-lifting workouts since incorporating the full Vega Sport line of products—pre-workout energizer, electrolyte hydrator, and performance protein). I went to town, first creating a very delicious base drink with my favorite Fall produce, some lemon, a kick of spicy ginger, and sparkling mineral water. When you add the Recovery Accelerator it turns this vibrant shade of orange and reacts with the sparkling water to get all mad scientist fizzy—I made a giant mess of my kitchen counters and floor, but it was worth it! That top photo with the smoke is legit—no photoshop to add it in.
I recommend garnishing your drink with torn fresh mint leaves and juicy red pomegranate arils for one beautifully festive Back to Life Magic Potion. Enjoy it after a workout or as a mid-afternoon pick-me-up, or simply mix the Recovery Accelerator with sparkling water and feel like a little kid making a volcano again.