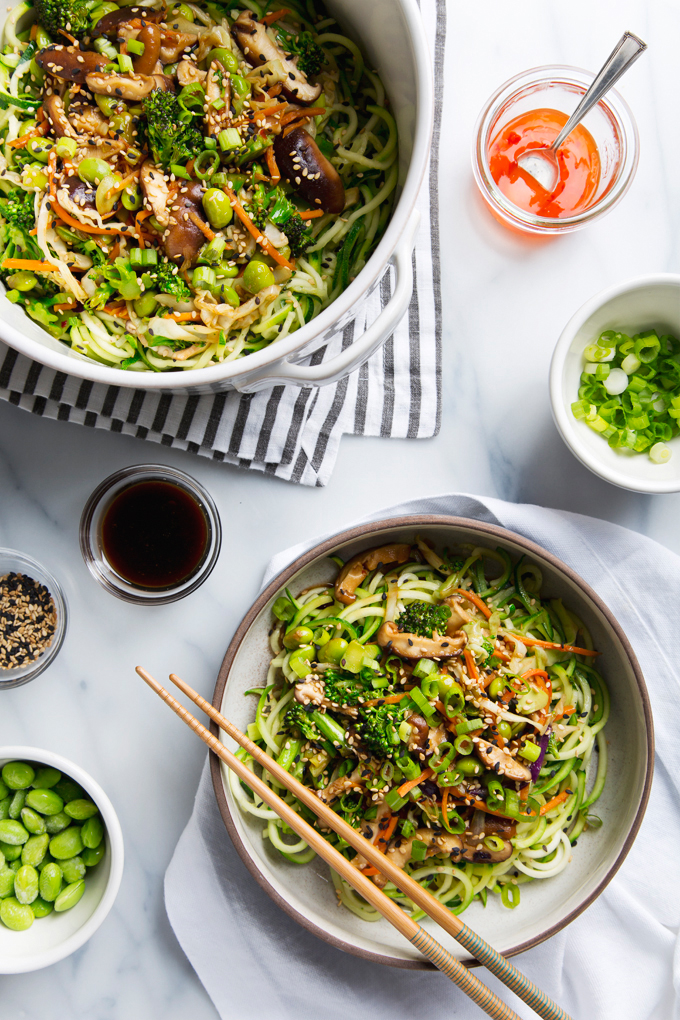 "Dump everything in a bowl" has been my dinner m.o. lately. It works out pretty well most of the time, but there comes a point when hummus, quinoa, and random vegetables dressed in the same olive oil/lemon juice combo begin to lose their luster. This is usually the time when Aaron starts regularly suggesting we get takeout, I lament the healthy options nearby, and he gets annoyed because all he really wants in life is pizza. (I'm kidding, he also wants cookies. 😉 )
In order to avoid that dreaded food rut on the horizon, I've put together a few of our favorite summer dinner recipes. These are health-ified versions of the kinds of dishes we'd be tempted to order in (with a heavy emphasis on Asian flavors because those are my personal jam), in case you could use a little better-than-takeout inspiration too…
(Click on the recipe name below the photos to go to each recipe)
Pictured above: Zucchini Noodle Lo Mein
Simple lo mein made with healthy zucchini noodles, aka the perfect way to put your summer zucchini to good use. We love this meal because it's ridiculously easy and fast (only 10-15 minutes to prepare!).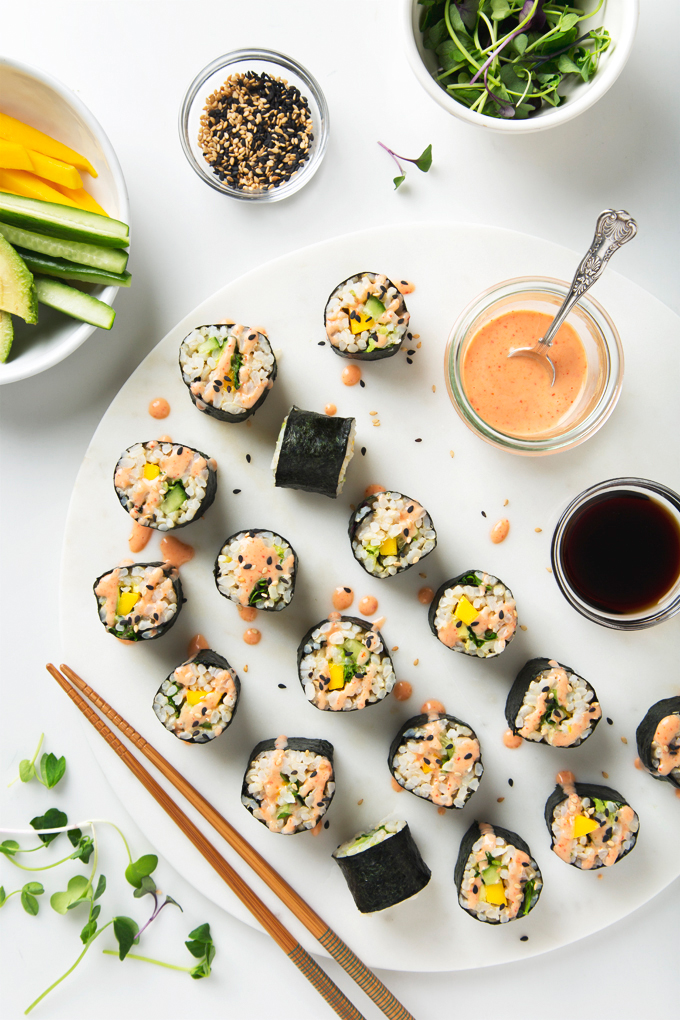 Spicy Mango and Avocado Brown Rice Sushi
Brown rice sushi with sweet mango, crisp cucumber, creamy avocado, and healthy micro greens. We like to serve ours with spicy sriracha mayo and soy sauce for dipping.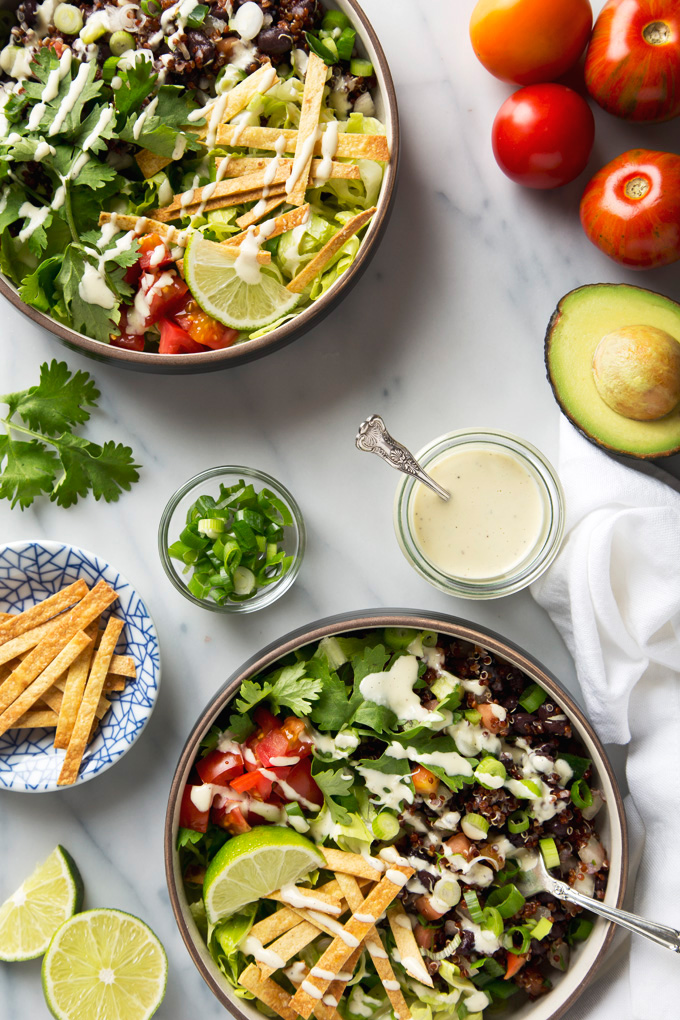 Quinoa Taco Salad with Garlicky Cashew Cream Dressing
Protein-rich red quinoa and black beans, fresh pico de gallo salsa fresca, creamy avocado, and crunchy baked tortilla strips. This salad checks all of the flavor and texture boxes and the 4-ingredient Garlicky Cashew Cream Dressing is sure to make you swoon. Pro tip: make a double batch of those tortilla strips. We always end up eating half straight off of the baking sheet.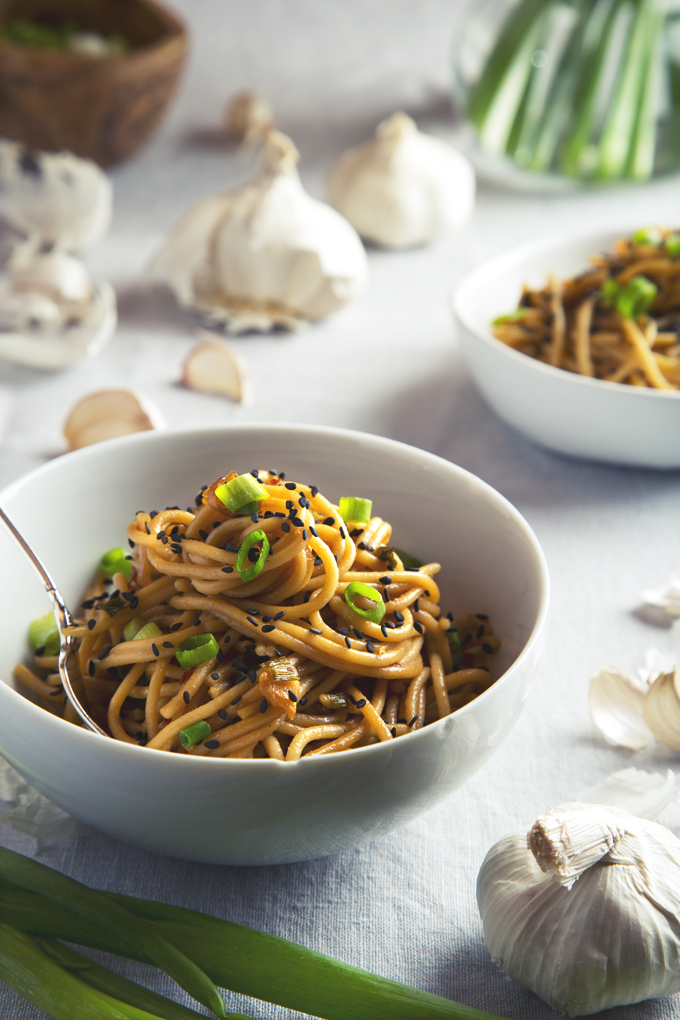 Garlic Sesame Noodles
This was the first recipe I made after Aaron and I set out for a full year road-tripping around the country. Meal prep took a backseat to getting out and exploring, and these garlic sesame noodles, with only nine basic ingredients that we could find at just about any grocery store (off the grid or in the city), really hit the spot. These salty/sweet, garlicky/spicy noodles have since become a staple for us, especially on nights when we're craving Chinese take-out.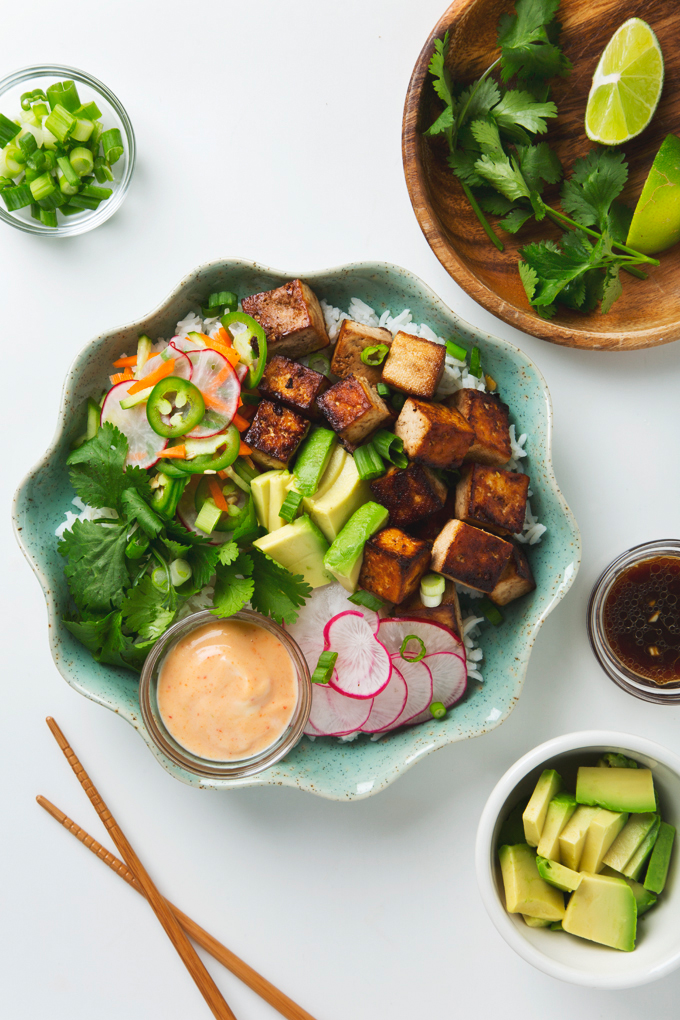 Tofu Banh Mi Bowl
This banh mi bowl is made with tofu and homemade pickles that you'll want to put on everything. We like to make our bowls with jasmine rice, but you can also use quinoa for an extra protein boost.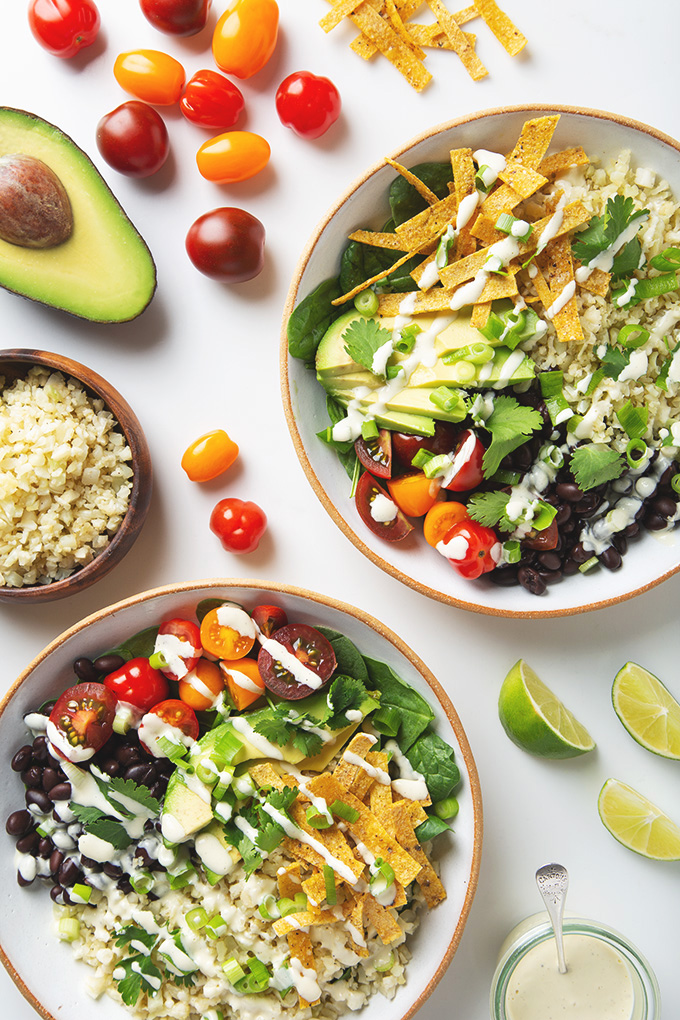 Cauliflower Rice Burrito Bowls
This 30-minute burrito bowl is made with quickly sautéed cauliflower rice, black beans, greens, tomatoes, avocado, cilantro, scallions, and two components that absolutely make this meal: crispy tortilla strips and creamy garlicky cashew cream dressing. It's a comforting and substantial dinner, with no need for actual rice.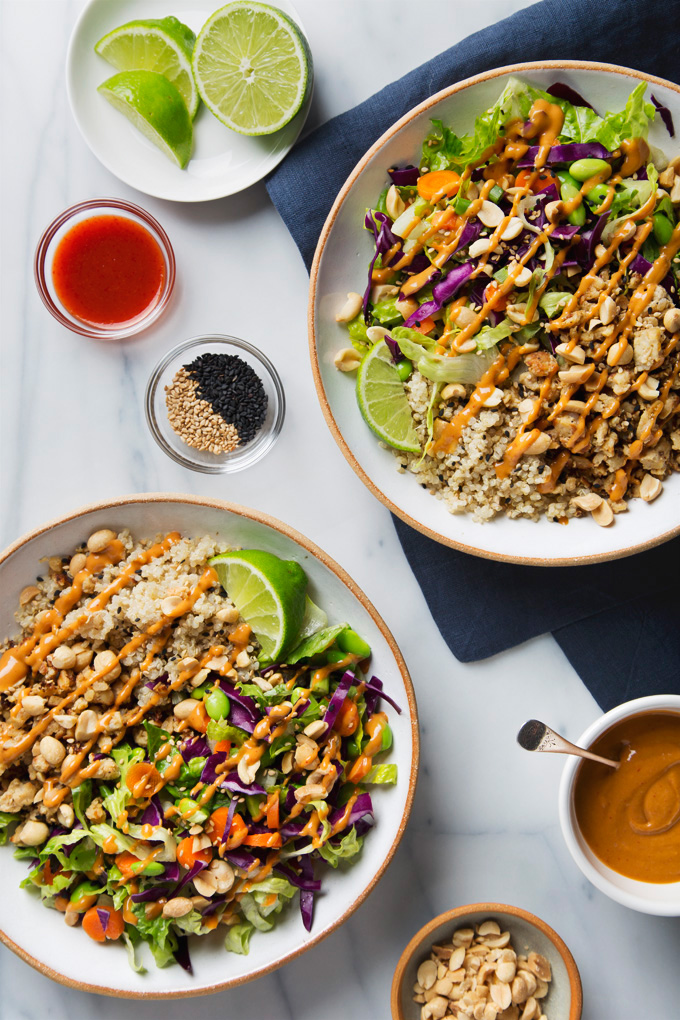 Spicy Thai Salad with Tempeh
Easy Thai Salad with protein-packed tempeh, lots of bright, crunchy vegetables, and a killer peanut sauce that's so delicious, you will want to lick your blender.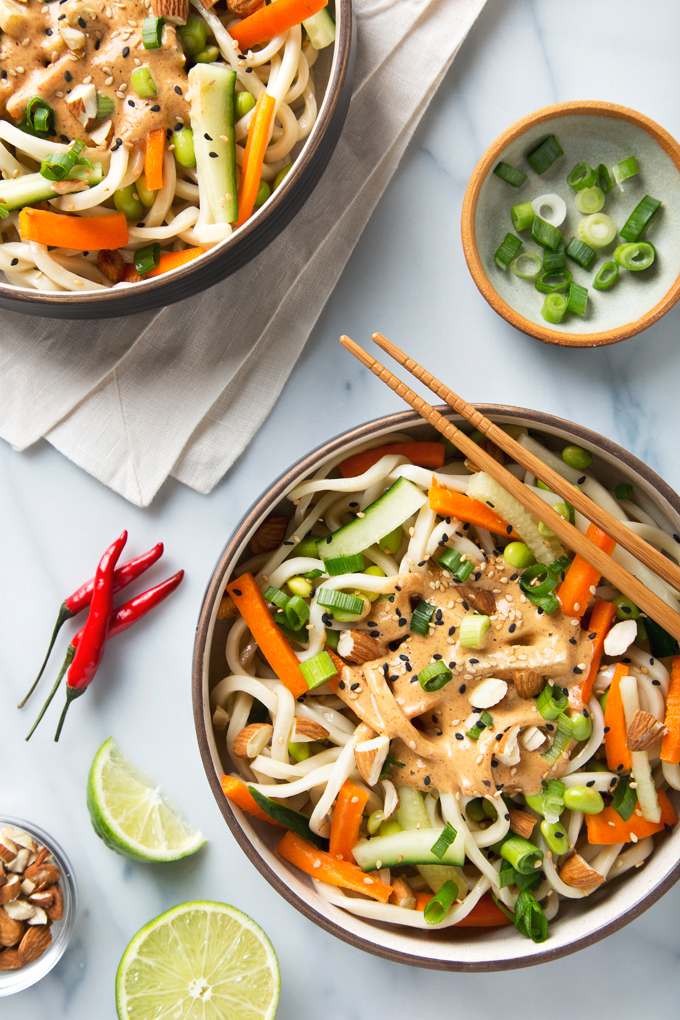 Spicy Almond Butter Udon Noodles
Peanut butter gets a lot of love at our house (especially peanut sauce with noodles), but have you tried almond butter instead? These 20-minute almond butter udon noodles have sriracha for heat and raw veggies for crunch. Super easy, very satisfying, and leftovers hold up really well on day 2.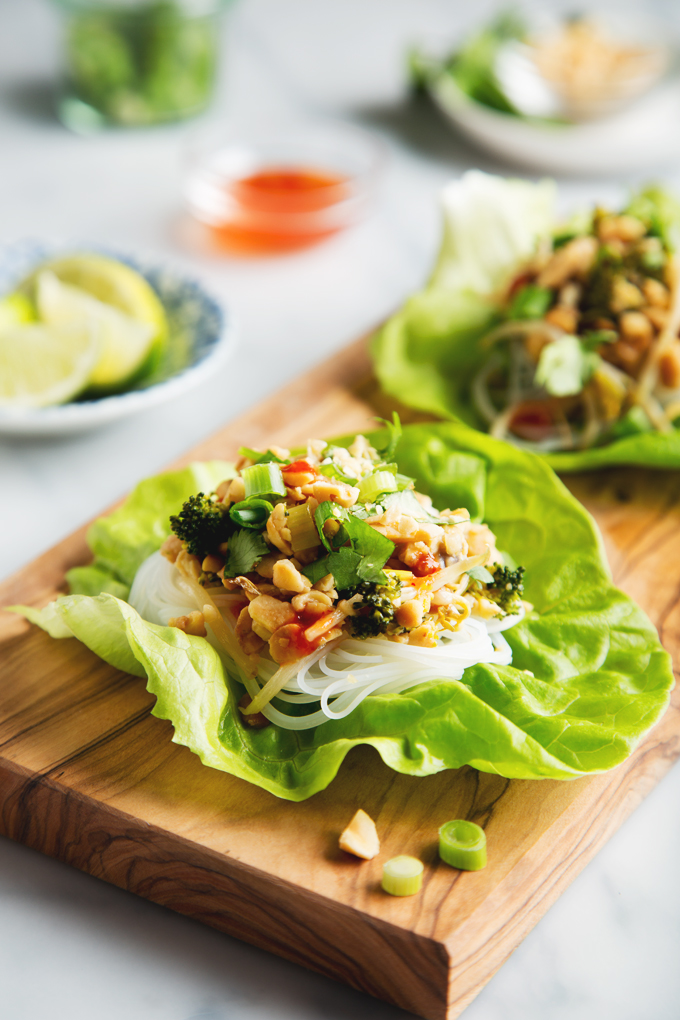 Vegetable Pad Thai Lettuce Wraps
The thing I love about these lettuce wraps is that you can eat a lot of them without feeling too full or low energy afterwards. (That's never the case for me when I get Thai take-out.) We like to pile our wraps high with rice noodles, warm Pad Thai filling, crushed peanuts, chopped cilantro, and a squeeze of fresh lime.
---
We'd love for you to follow us on Instagram!
Tag photos you post of our recipes with #picklesnhoney so we can see.