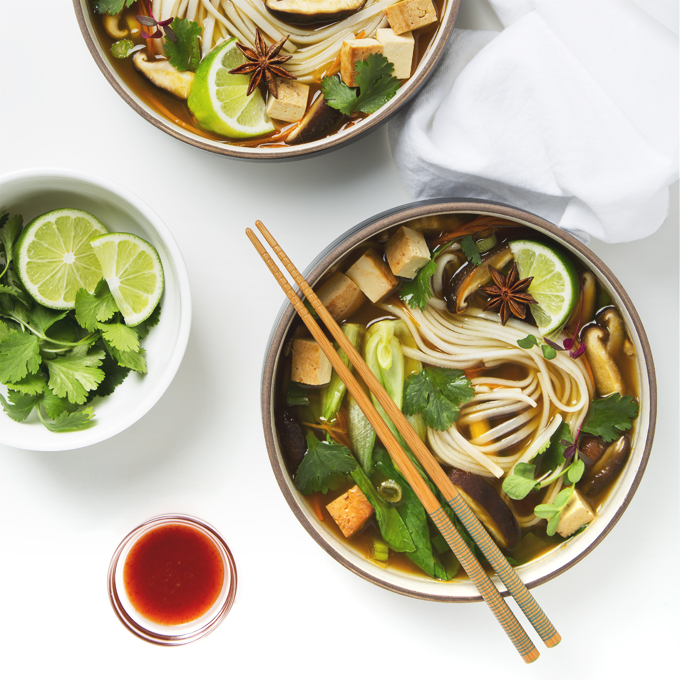 Happy 2018! How has this year been treating you so far?
Despite the brutally cold and snowy Boston weather we've been having, I've been enjoying a slower-paced and thoughtful start to the year. Last year was jam-packed with various work projects and not much else, and while we were grateful to be busy, both Aaron and I veered into burnt out/overwhelmed territory more often than not. This year we've decided to make an effort to be more selective about what we take on, hopefully getting back to a "less but better" way of living overall. I kicked things off with a big cleaning spree and decluttering session, and Aaron rearranged our entire downstairs plus half of our upstairs to better separate our work space from our living space. This inevitably led to us wanting to remodel and replace 80% of our stuff, but the change still feels really good.
In an effort to slow down a bit, I'm resisting my inclination to jump straight into new recipes and instead I want to pause for just a moment to highlight our most popular recipes from 2017, and I also want to get your thoughts on what you'd like to see in this space for the coming year! Last year, I received a lot of requests for more weekday-friendly lunches and dinners, and so I scaled back the sweets (just a little) to focus more on main meals.
For this year, I'd love to know what types of recipes you'd like me to share. More main meals, more breakfast recipes, healthier desserts, a mix of everything? I would be very grateful if you could leave me a comment so I can better customize new recipes to you!
Thank you so much for reading and making my recipes, and cheers to a new year with loads of possibilities! xo Amanda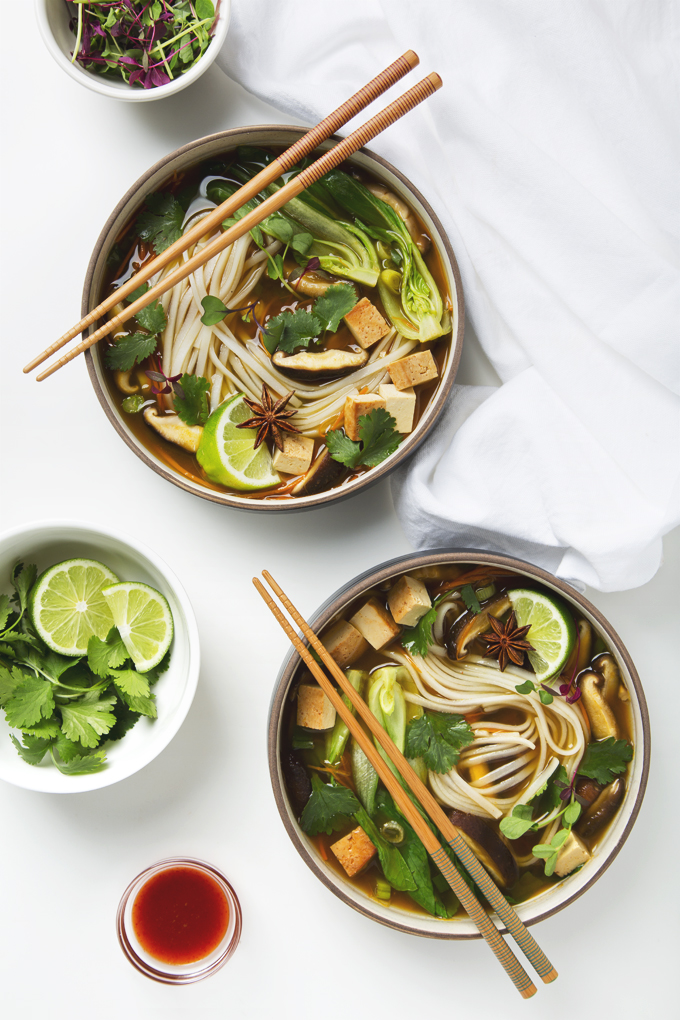 Easy Vegan Pho
This simple soup is actually the 2nd most popular recipe on P&H…of all time! (aquafaba pavlova is #1) It's made from pantry staples and ready in 30 minutes, and a big bowl is especially awesome when it's "feels like -28" outside. I love to top mine with cubed baked tofu, bean sprouts, cilantro, a squeeze of fresh lime, and sriracha for heat.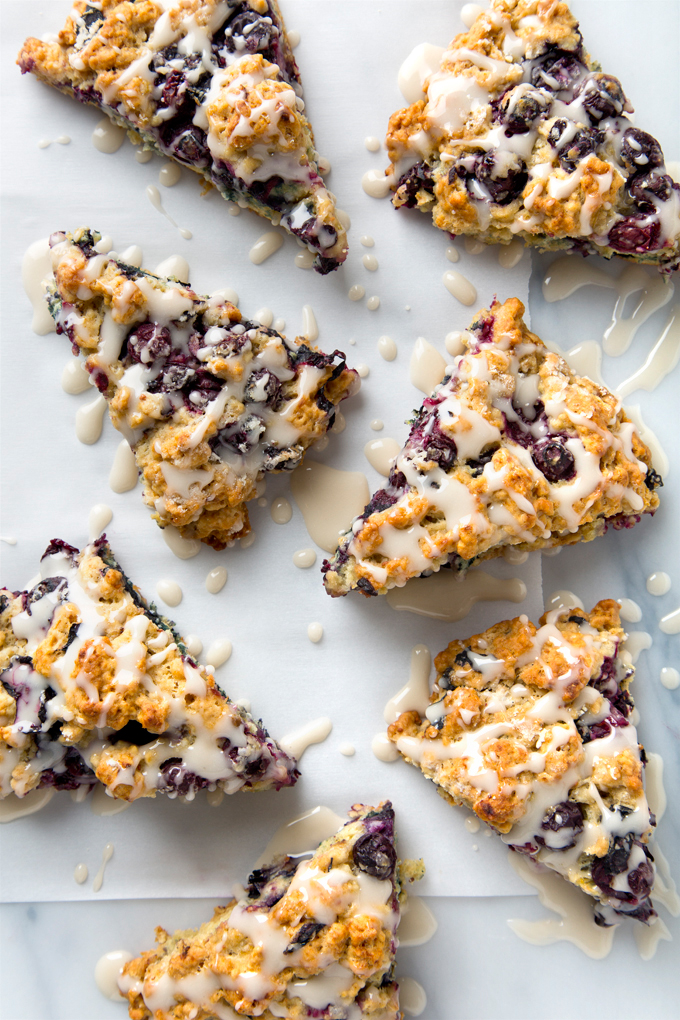 10 Ingredient Blueberry Scones (with a gluten-free option)
These simple vegan scones are studded with juicy blueberries and scented with lemon and vanilla. They're lower fat and lightly sweetened, and an especially great (easy!) recipe if you've ever felt intimidated about baking your own scones at home.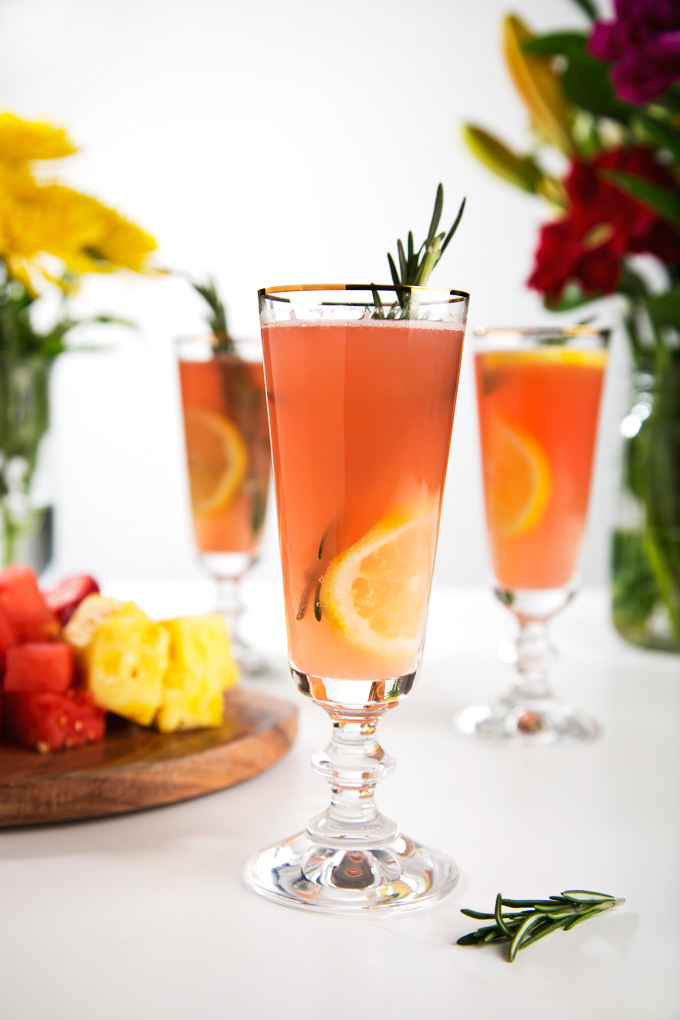 Sparkling Watermelon Rosemary Lemonade Cocktails
Remember when it was summer? Gah, I miss that warm sunshine so much. If you're looking to momentarily escape winter, or you live in Southern California (lucky!), mix up a batch of these perfectly sweet, tart, and earthy lemonade cocktails and enjoy a little mental vacay. You can go as boozy as you like, or sub sparkling water for a hydrating mocktail instead. Either way, they're delicious!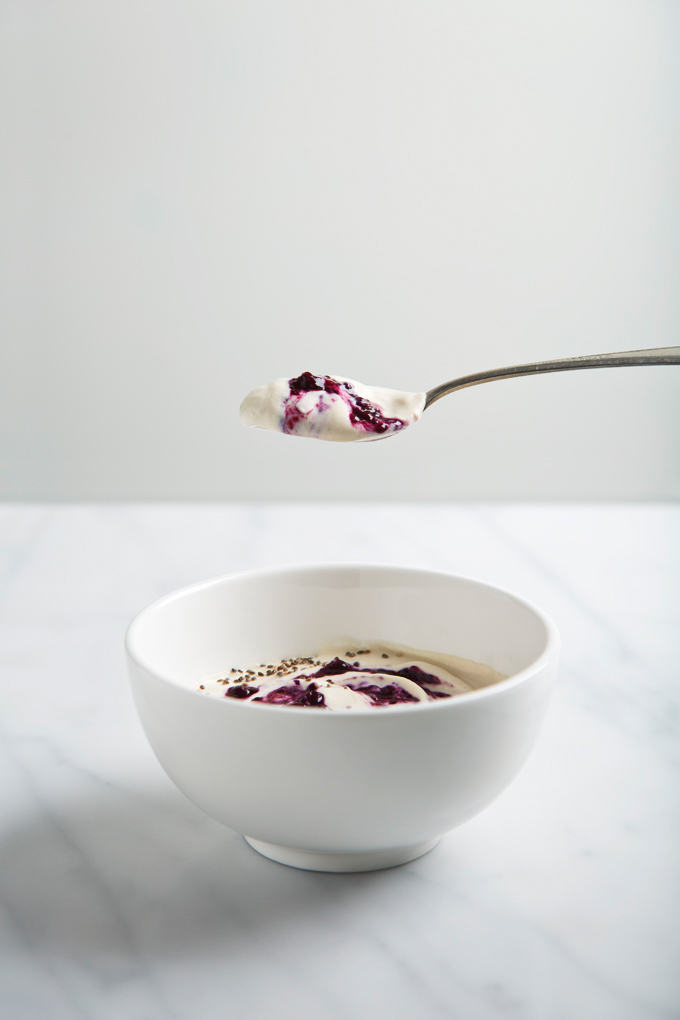 5 Minute Cashew Yogurt
If you're regularly buying yogurt at the grocery store each week, definitely give this recipe a try. You can keep your yogurt plain, or blend in some extras to make it flavored (I like to add a little lemon or lime zest, a splash of vanilla, or a handful of berries). Homemade cashew yogurt is extra creamy, low in sugar, and so easy! All you need are a few simple ingredients and a blender.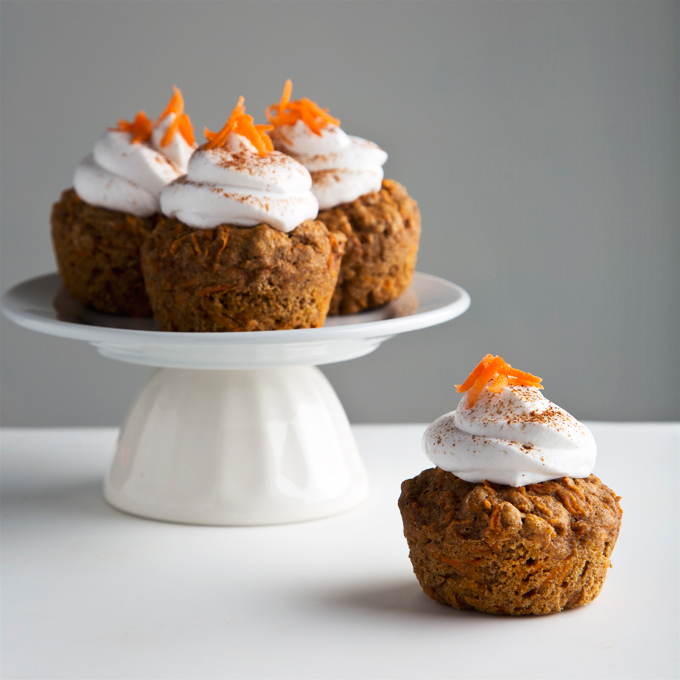 Hippie Carrot Muffins
These muffins aren't like most in that they aren't cupcakes masquerading as breakfast. They look a little like cupcakes thanks to that dreamy coconut whipped cream, but the ingredients are actually very wholesome (whole grain spelt flour,  almond milk, a flax "egg", a little coconut oil, lots of shredded carrots, and some coconut sugar for sweetness). I like to add a generous sprinkle of cinnamon to make them extra cozy and comforting.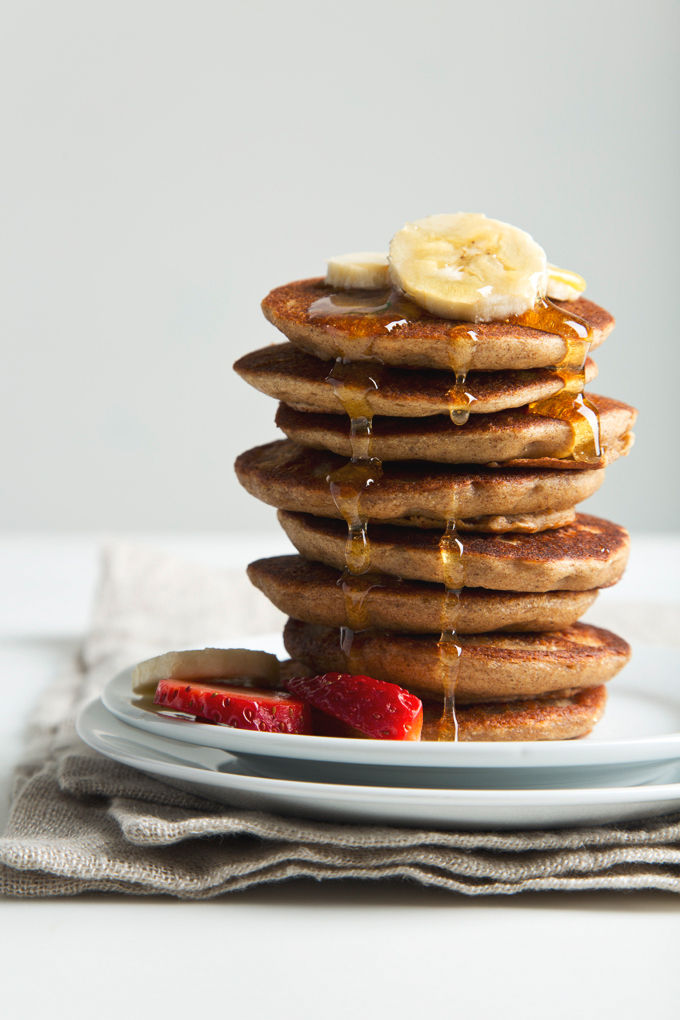 Banana Protein Pancakes
These continue to be Aaron and my go-to pancake recipe, especially when we're craving breakfast for dinner. They're simple and wholesome with only 7 ingredients, no added sugar, and no protein powder (because we get enough of that in our smoothies). Bonus: you can quickly mix up the batter in your blender to pour them straight into the pan.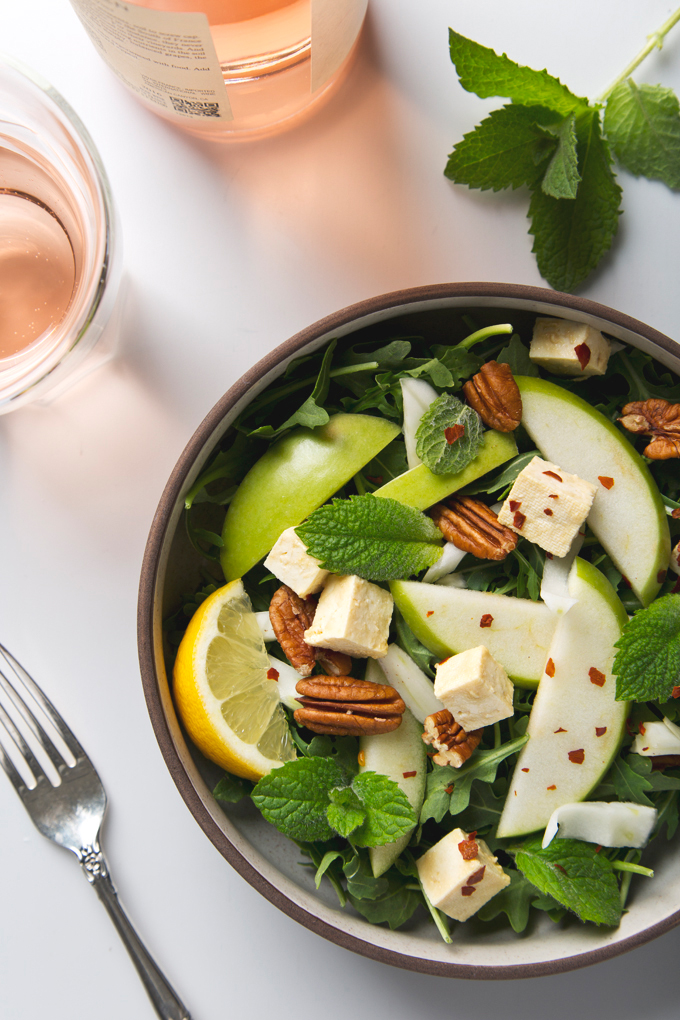 Tofu Feta Cheese
This is one of my favorite ways to jazz up a salad. It's made from extra firm tofu that's been pressed for a long time to remove excess water, and then the tofu gets marinated overnight in a combination of fresh lemon juice, apple cider vinegar, nutritional yeast, white miso, extra virgin olive oil, and garlic powder. It's salty, tangy, cheesy, and the texture is a really great substitute for dairy-based feta.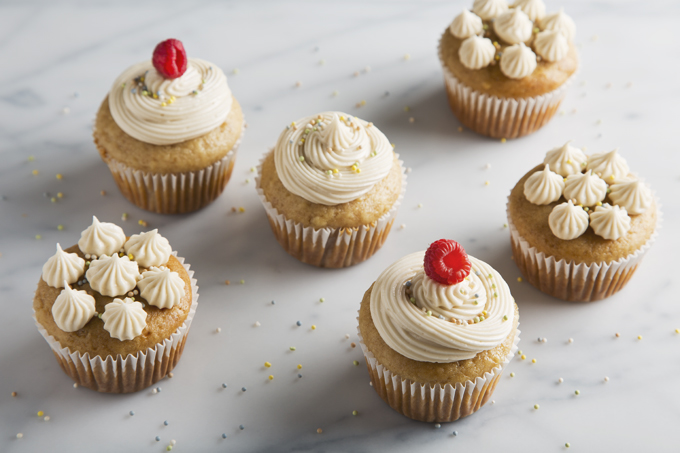 Vegan Cream Cheese Frosting
If I had to pick just one frosting to enjoy for the rest of my life, it would be this vegan cream cheese frosting (followed closely by lemon buttercream). The beauty of this recipe is that it's only 4 ingredients and it takes under 5 minutes to whip up. You can put it on vegan carrot cake cupcakes (duh), chocolate cake, and of course vanilla too. The cupcakes you see in the photo are my easy vegan funfetti cupcakes—so good!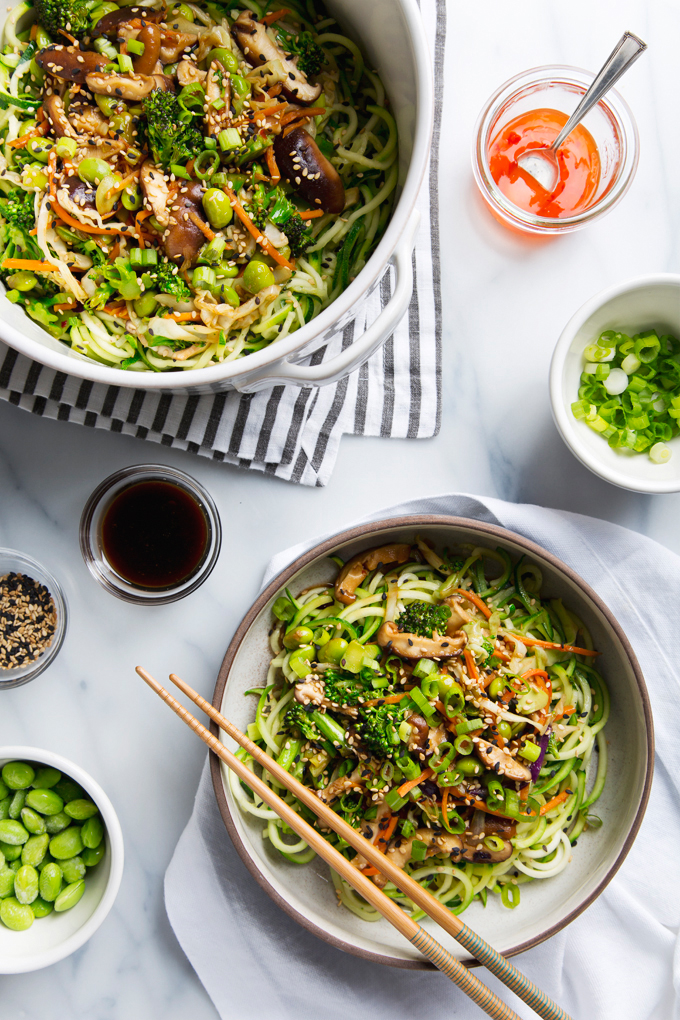 Zucchini Noodle Lo Mein
Simple lo mein made with healthy zucchini noodles. Aaron and I both love this meal not only because it's easy and fast (only 10-15 minutes to prepare!), but also because it's such a great alternative to takeout. The sauce is a mix of low sodium soy, sweet chili, and toasted sesame oil, and when you combine it with the sautéed garlic, shiitake mushrooms, perfectly al dente zucchini noodles, and loads of veggies…well, it's the kind of meal that makes you feel extra happy.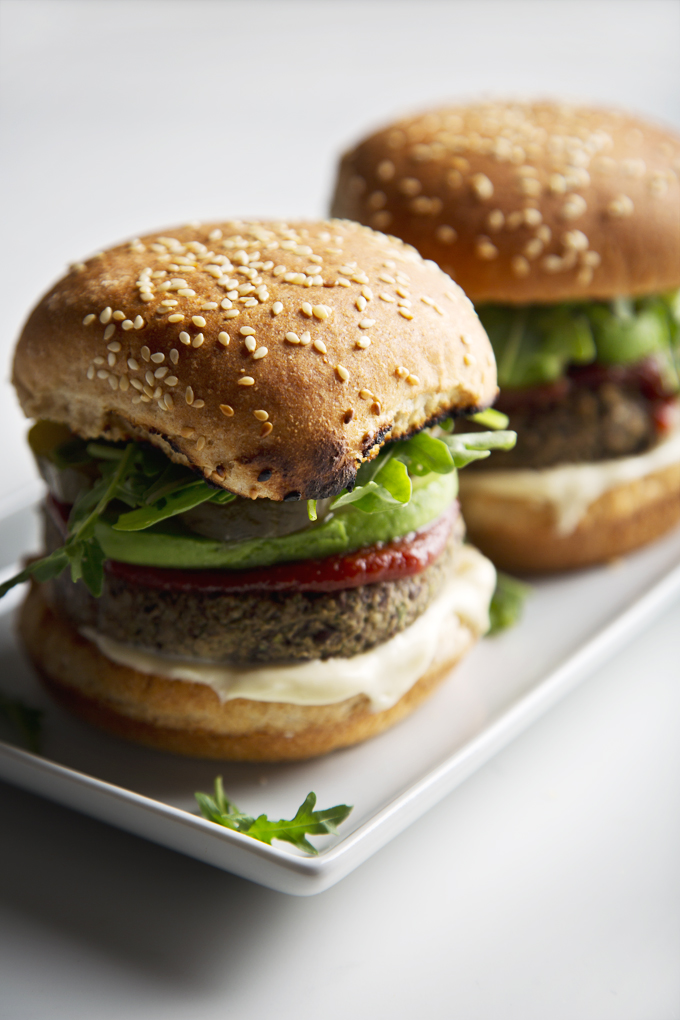 15 Minute  Black Bean Burgers
I'm a big believer that everyone needs a few really easy and healthy meals in their recipe repertoire. Recipes you can turn to when life gets extra busy, your fridge gets extra sparse, and you'd rather be curled up on the couch watching Lovesick and eating 
coconut milk ice cream
 straight out of the container. In addition to being 6 ingredients and 15 minutes to make, these black bean burgers are high in protein and hold their shape really well. There's no crumbling or falling apart mid-bite, and the flavor isn't so pronounced that you're likely to get sick of them in a hurry. They lend themselves to whatever you have on hand—change up the beans, play around with the herbs, or throw in some mix-ins.
---
We'd love for you to follow us on Instagram!
Tag photos you post of our recipes with #picklesnhoney so we can see.