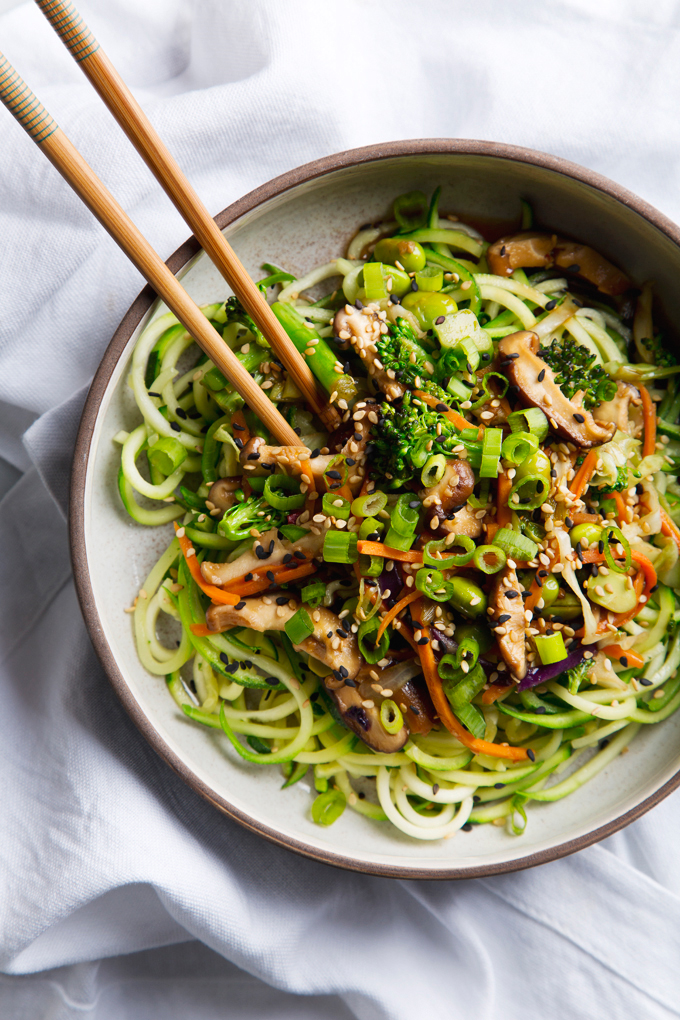 For the last couple of weeks (errr months?) Aaron and I have been hitting the holiday cookies a little too hard over here (these gingerbread cookies were too pretty to pass up!). If you find yourself in the same sweets-heavy situation and could use some more vegetables in your life, or if you've mostly managed to avoid the holiday-sweets-overload but are looking to change up your usual dinner rotation (props to you!), below are 11 of our top recommendations for healthy vegan dinner recipes—all easy and speedy enough to tackle even on busy weeknights.
(Click on the recipe name below the photos to go to each recipe)
Pictured above: Zucchini Noodle Lo Mein
Simple lo mein made with healthy zucchini noodles. We love this meal not only because it's easy and fast (only 10-15 minutes to prepare!), but also because it's such a great alternative to takeout.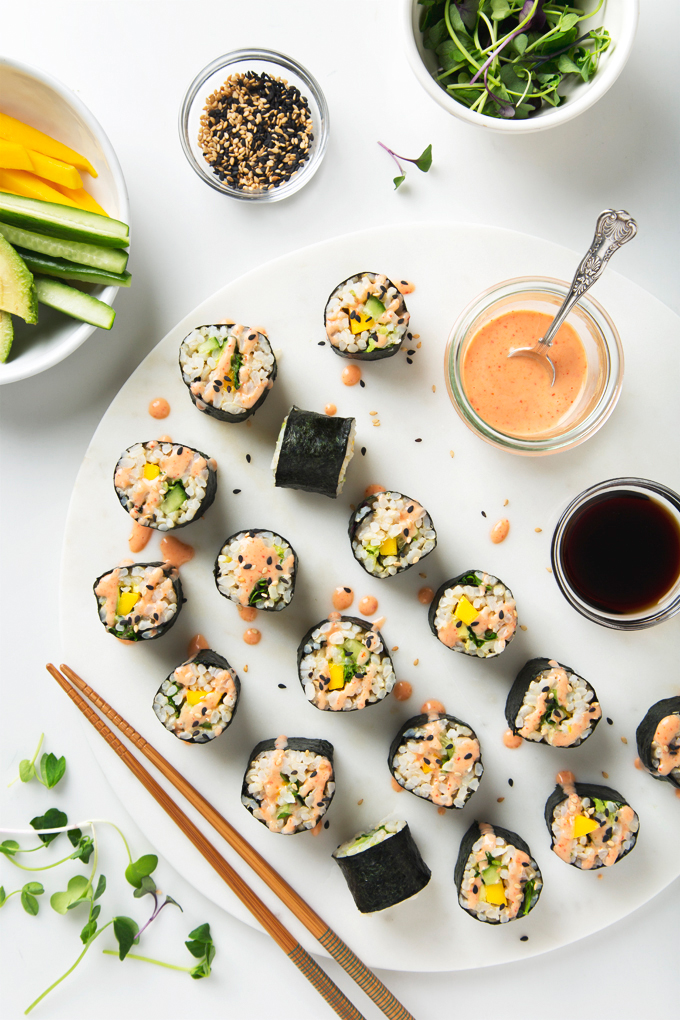 Spicy Mango and Avocado Brown Rice Sushi
Brown rice sushi with sweet mango, crisp cucumber, creamy avocado, and healthy micro greens. We like to serve ours with spicy sriracha mayo and soy sauce for dipping.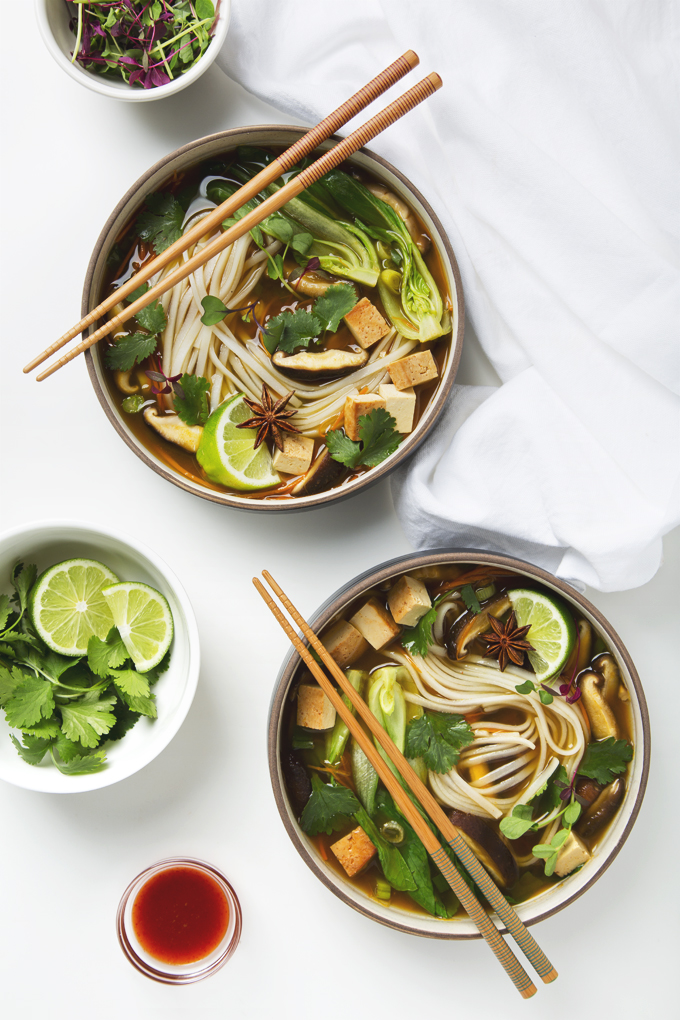 Easy Vegan Pho
Made from pantry staples and ready in 30 minutes! We recommend topping your bowl with baked tofu for protein, bean sprouts, cilantro, a squeeze of fresh lime, and sriracha for heat. This vegetable pho is extra quick and flavorful.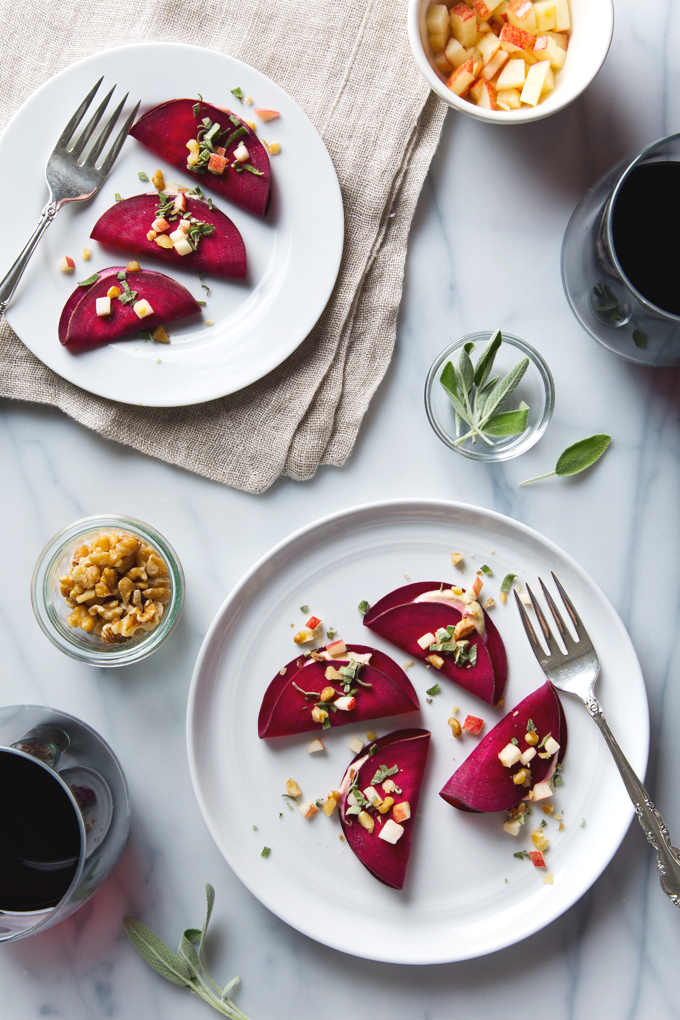 Raw Beet Ravioli with Cashew Cheese
Simple raw beet ravioli with a creamy vegan cashew cheese filling and apple, walnut, sage topping. This one is only 10 ingredients and takes just a few minutes to prepare.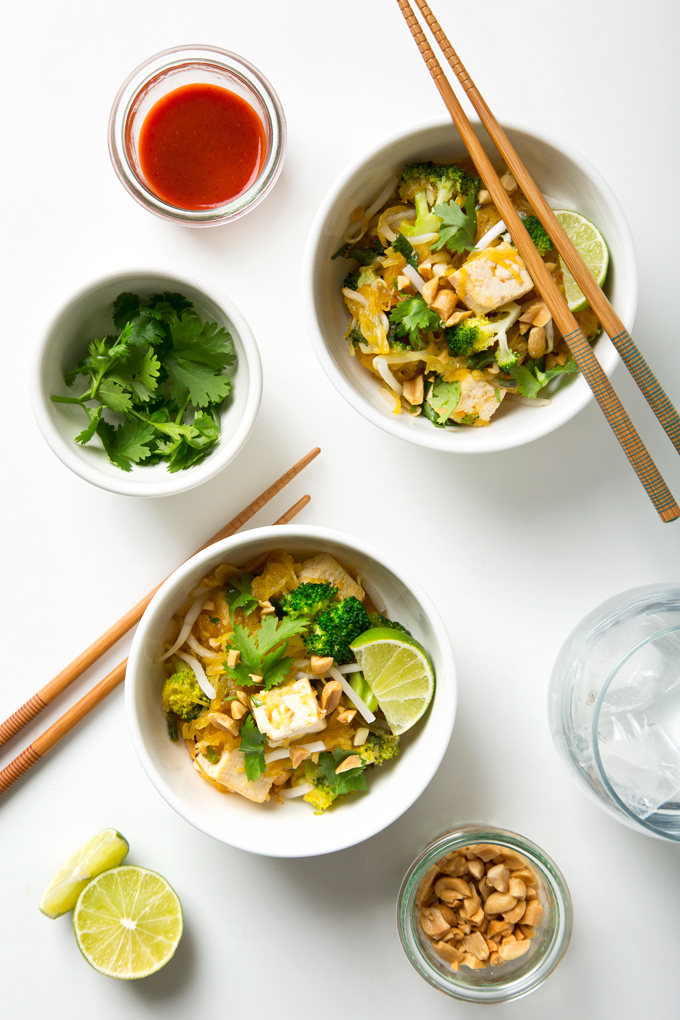 Spaghetti Squash Pad Thai with Tofu
Our take on pad thai is made with spaghetti squash instead of rice noodles and tofu for plant-based protein power. It has a 3 ingredient sauce, lots of fresh vegetables, and it's so much better for you than takeout.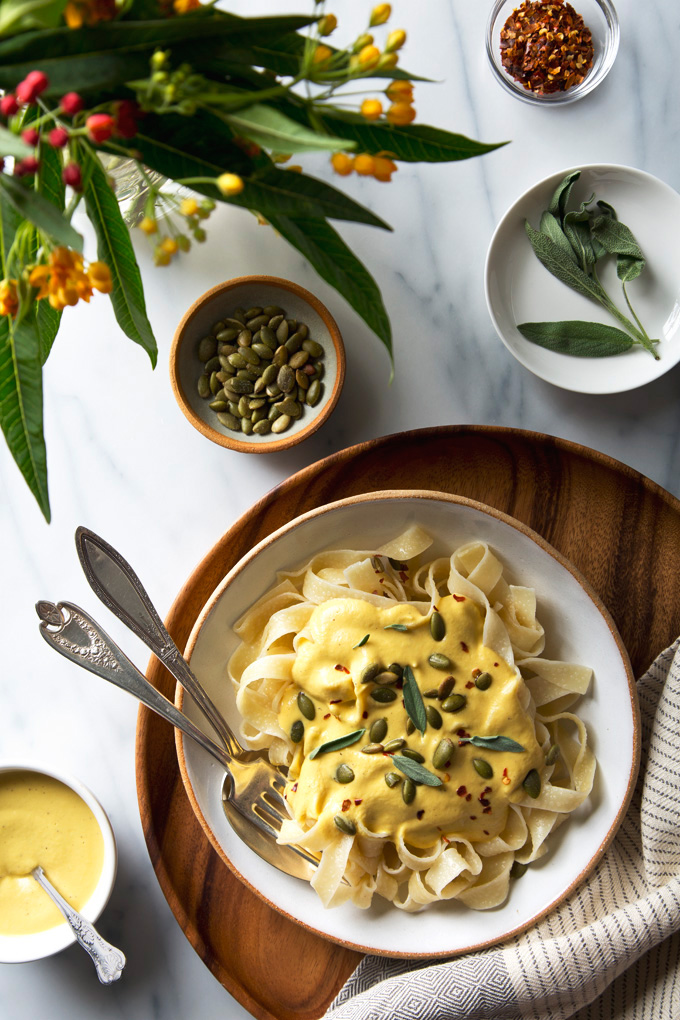 Creamy Pumpkin Pasta
Both Aaron and I are obsessed with this vegan pumpkin pasta recipe because it has the most creamy pumpkin sauce with very little added oil. Plus, it's only 9 basic ingredients (and you probably have most if not all of them already).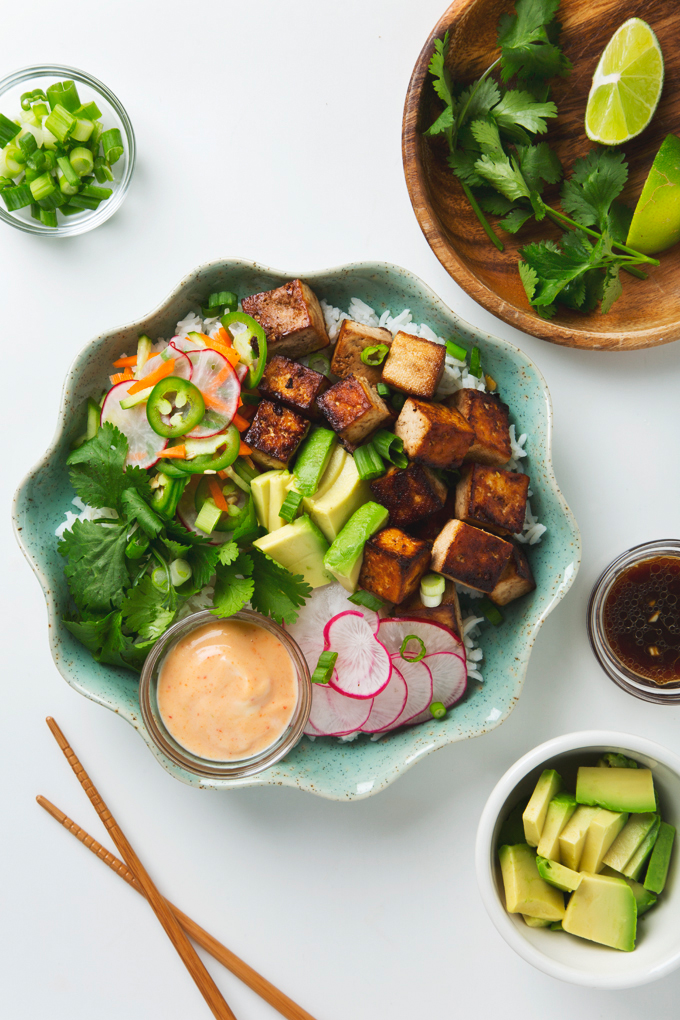 Tofu Banh Mi Bowl
This banh mi bowl is made with tofu and homemade pickles that you'll want to put on everything. We like to make our bowls with jasmine rice, but you can also use quinoa for an extra protein boost.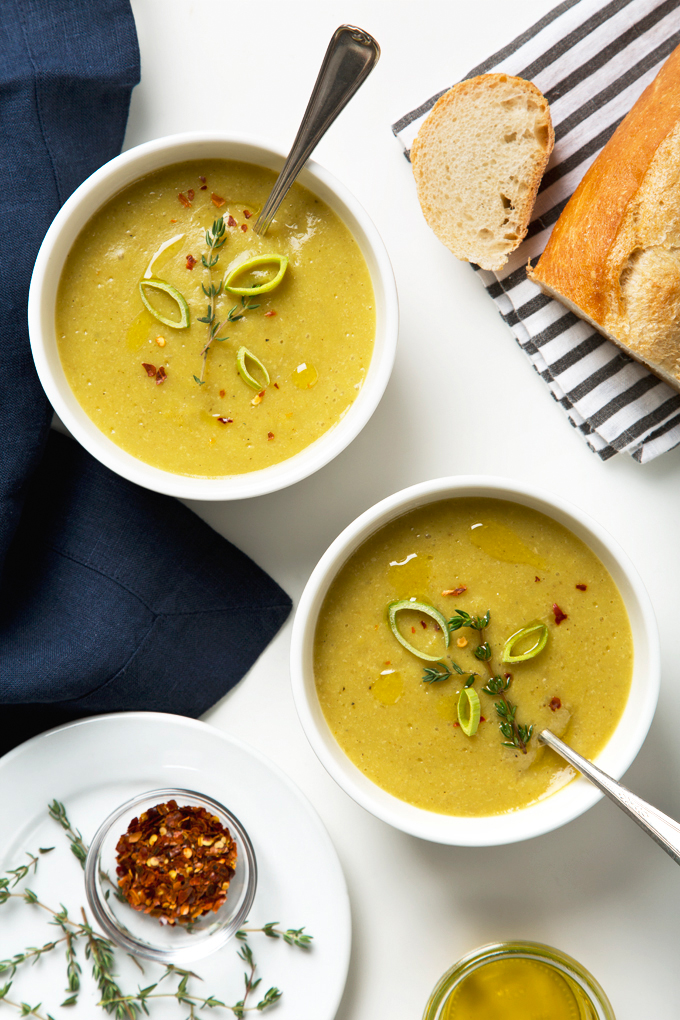 Potato Leek Soup
This creamy potato leek soup is so easy and quick to make, you'll have dinner on the table in under 30 minutes. Use cashew milk in place of cream and nutritional yeast for a cheesy flavor—this recipe is much better for you than traditional potato leek soup.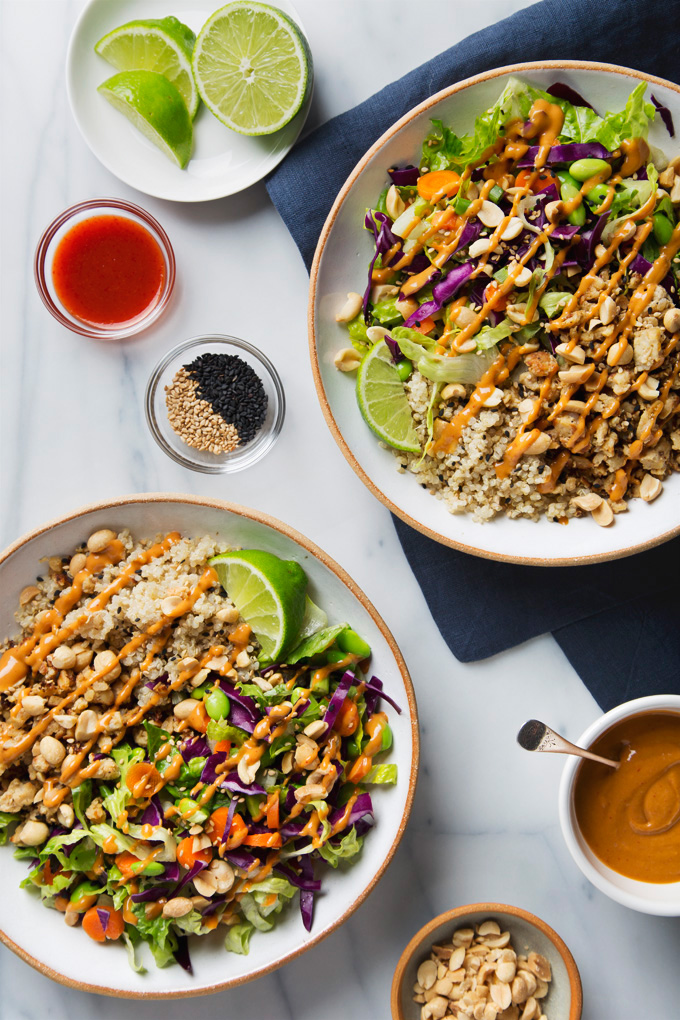 Spicy Thai Salad with Tempeh
Easy Thai Salad with protein-packed tempeh, lots of bright, crunchy vegetables, and a killer peanut sauce that's so delicious, you will want to lick your blender.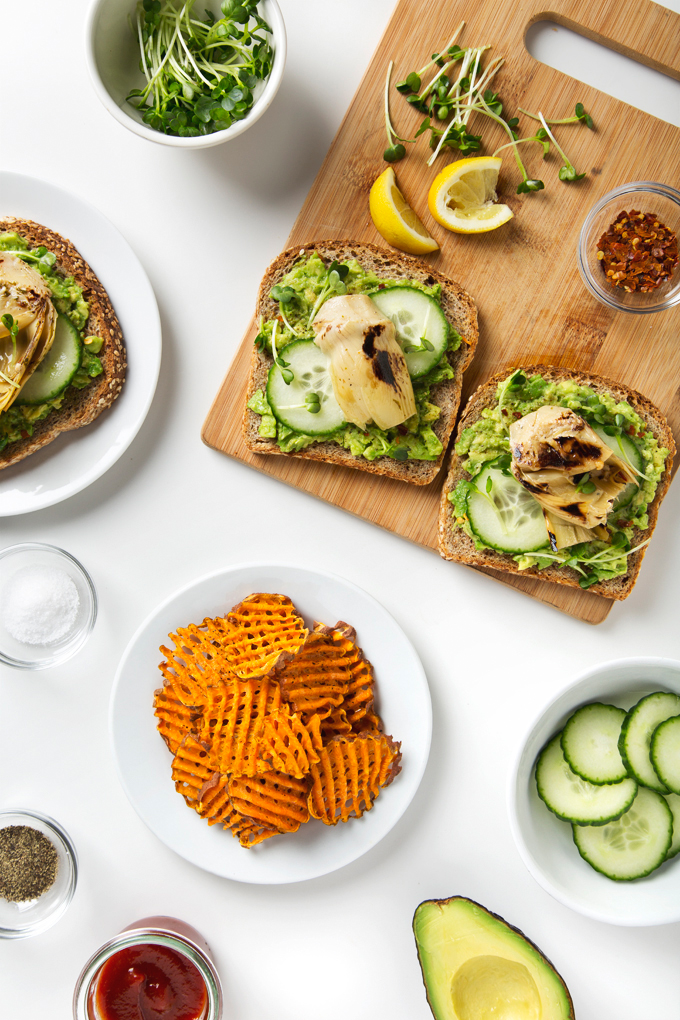 Grilled Artichoke Avocado Toast with Baked Sweet Potato Waffle Fries
We love this Artichoke Avocado Toast with baked Sweet Potato Waffle Fries because it's perfect for a wholesome, low-key, and no-fuss dinner. (Because avocado toast never gets old.)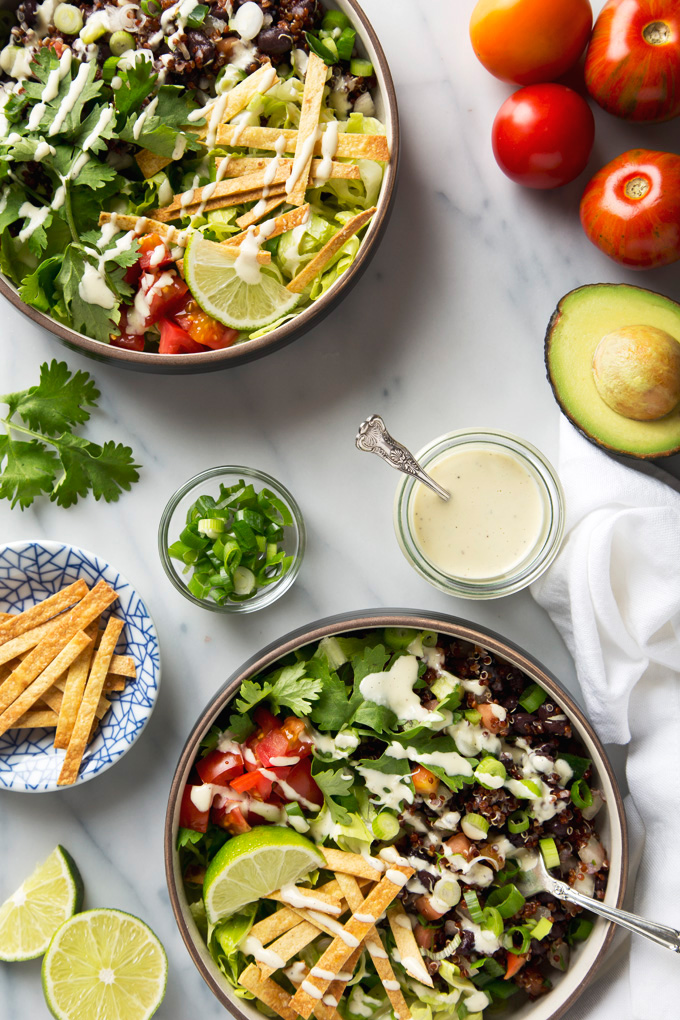 Quinoa Taco Salad with Garlicky Cashew Cream Dressing
Protein-rich red quinoa and black beans, fresh pico de gallo salsa fresca, creamy avocado, and crunchy baked tortilla strips. This salad checks all of the flavor and texture boxes and the 4-ingredient Garlicky Cashew Cream Dressing is sure to make you swoon. Pro tip: make a double batch of those tortilla strips. We always end up eating half straight off of the baking sheet.

---
We'd love for you to follow us on Instagram!
Tag photos you post of our recipes with #picklesnhoney so we can see.