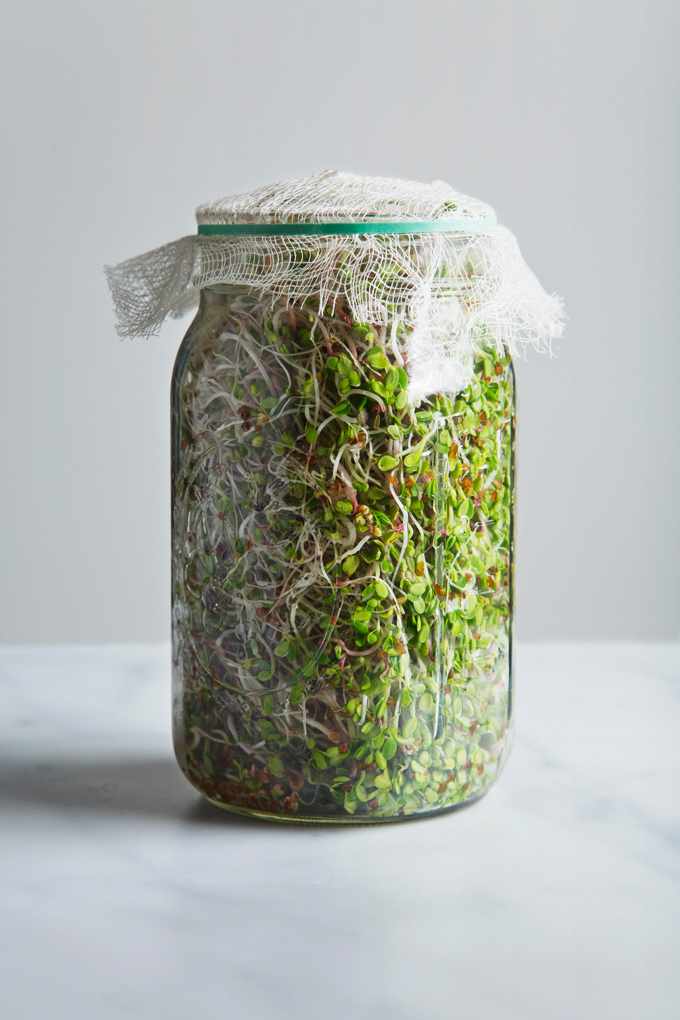 Even if you think you have a black thumb, trust me when I tell you that yes, you can absolutely learn how to grow sprouts in a jar. Need proof? A few weeks ago, I killed an air plant, despite the woman at the plant shop telling me they were "super easy and impossible to mess up." That air plant and I had a good, 5-month run until winter happened and I overwatered it and caused root rot. (Go figure my happiest plant is one from Ikea from 8+ years ago that I basically ignore.) After my air plant fail, I needed a win—one that I couldn't overwater. That's why I decided to get back into growing sprouts in a jar.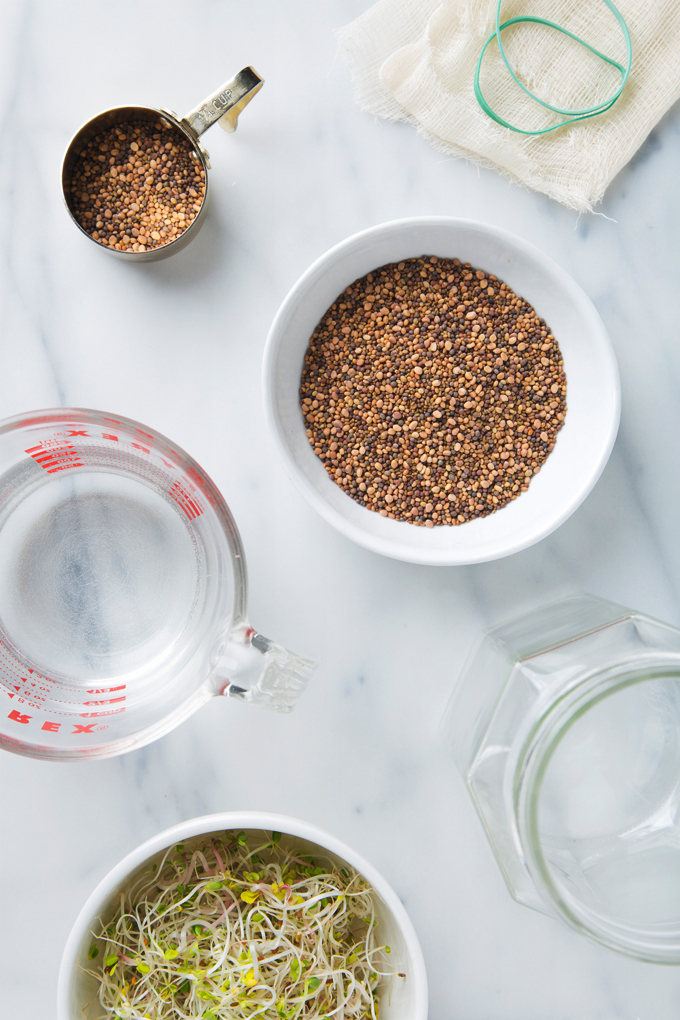 I'm sure there are many ways to grow sprouts, but my go-to method is to grow them in a big 32 ounce wide-mouth mason jar. From there, you only need a few things, including organic sprouting seeds (very important because you can't/shouldn't use any old seeds), a small piece of cheesecloth or fine mesh, a rubber band to secure the cheesecloth, and a medium bowl to allow excess water to drain while still letting air circulate. Two tablespoons of seeds will pack your jar so full of sprouts, you'll be able to enjoy them at least once or twice a day for a full week (yay!). This is a very awesome thing because a) sprouts are ridiculously good for you (especially broccoli sprouts, Google their cancer-fighting phytochemical, sulforaphane) and b) they're delicious.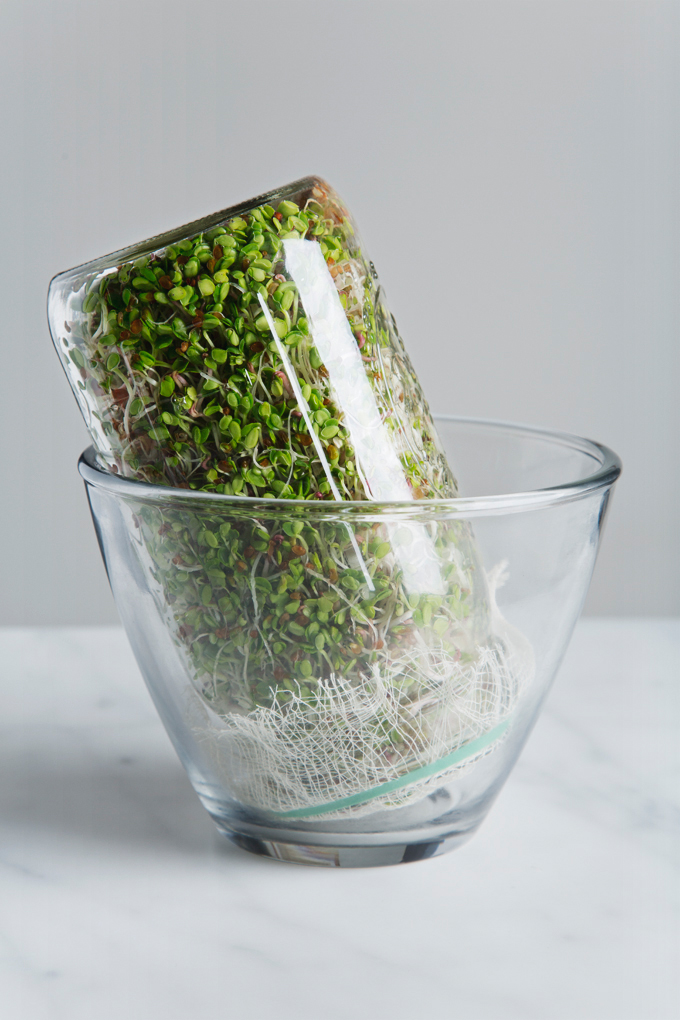 The key to loving sprouts is experimenting to find which types you prefer, keeping in mind that they taste almost exactly like their adult vegetable counterpart (for example, radish sprouts taste like radishes). This makes total sense, and yet it blows my mind so much so that practically every time I eat sprouts I think, "magic!". (they are pretty magical)
I buy my sprouts on Amazon for convenience and my favorite mix is called "Broccoli and Friends," which always makes me smile because it's full-on hippie-dippy. They come in a big 1-pound bag that lasts for-ev-er, and include a combination of broccoli, clover, red radish, and alfalfa seeds. The sprouts are mild-tasting with the perfect amount of bitter/earthiness and I use them on everything: avocado toast, salads, sandwiches, soups, flatbreads…I've even been eating them at breakfast.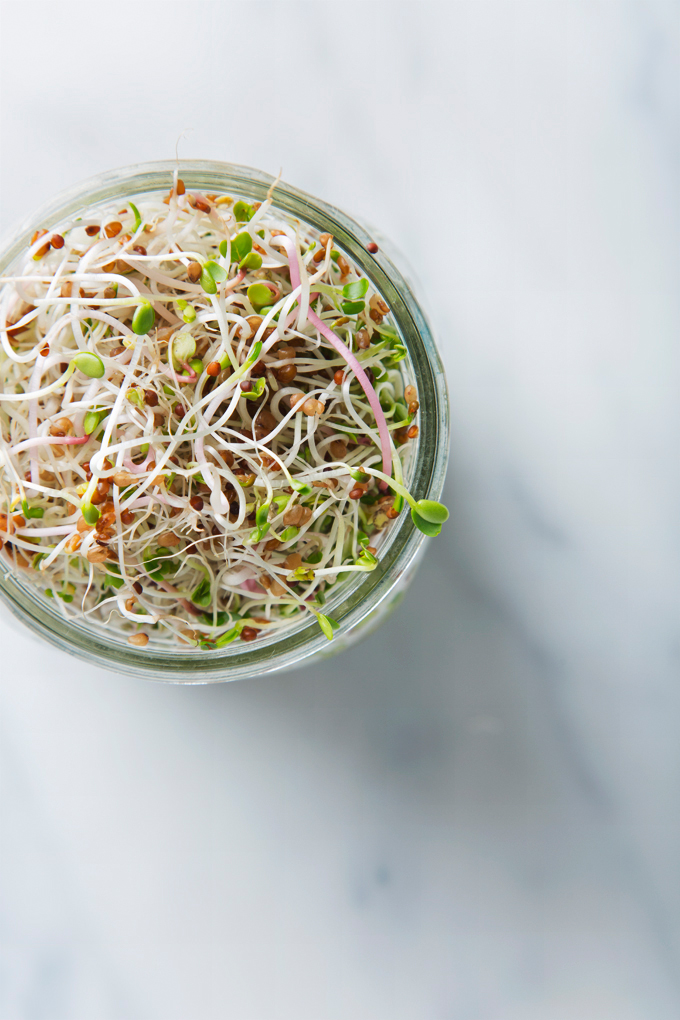 That one jar with just 2 tablespoons of seeds takes about 5 days to grow and easily makes more sprouts than I would get if I bought 4 plastic containers of sprouts from the grocery store. This probably saves me about $10/week and definitely encourages me to eat more sprouts. It's a great cycle and unlike what the woman at the plant shop told me about air plants, learning how to grow sprouts in a jar really is "super easy and impossible to mess up." Seriously, you've got this!