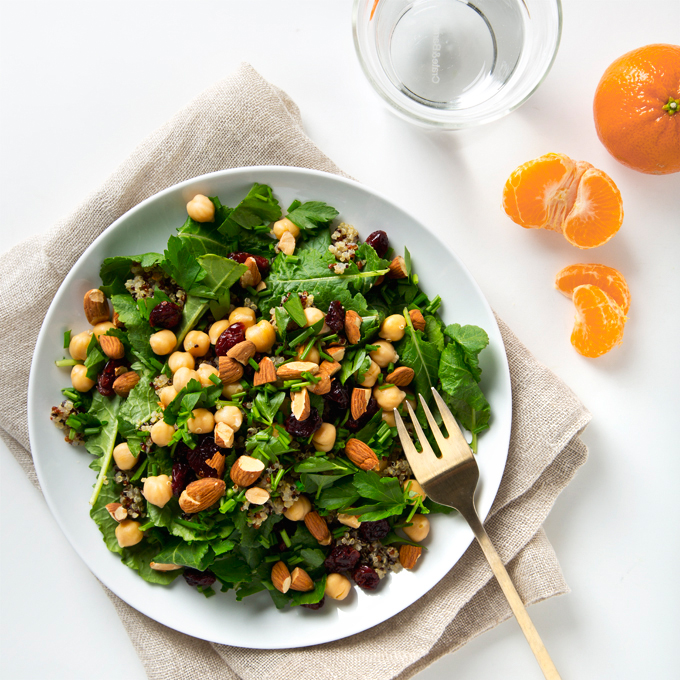 For as long as I've been posting to Pickles & Honey (over 5 years!), the food blog world has been all about kale. Kale smoothies, kale chips, and of course, kale salads. Every week when I go grocery shopping, I buy at least one big bunch, and last summer I filled my container garden with it. Somehow, I'm still not sick of kale. The key for me is varying the type I buy (purple, curly, lacinato) and how I prepare it. If you're looking to switch up your usual kale salad or you haven't quite jumped on this leafy green bandwagon yet, below are 7 simple kale salad recipes—great for getting in your daily greens with very minimal effort.
Pictured above: Quinoa and Kale Mason Jar Salad
This salad takes about 20 minutes start to finish and is perfect for portable lunches and dinners. It's high in plant-based protein and healthy fats, and an easy way to get in lots of good-for-you greens!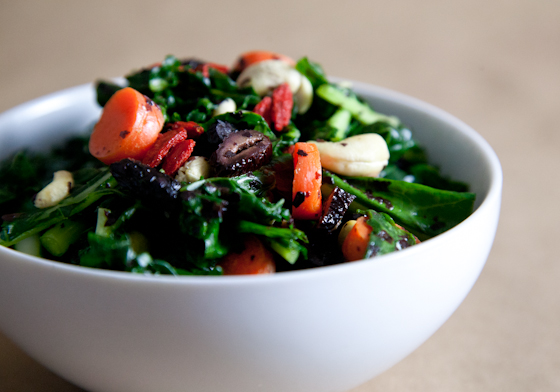 Superfood Kale Avocado Salad with Olives
This recipe is simple, versatile and packed with detoxifying greens and nutrient-dense superfoods. You can vary the type of greens, sprouts, herbs and veggies according to what's in season. As far as superfoods go, the more the better!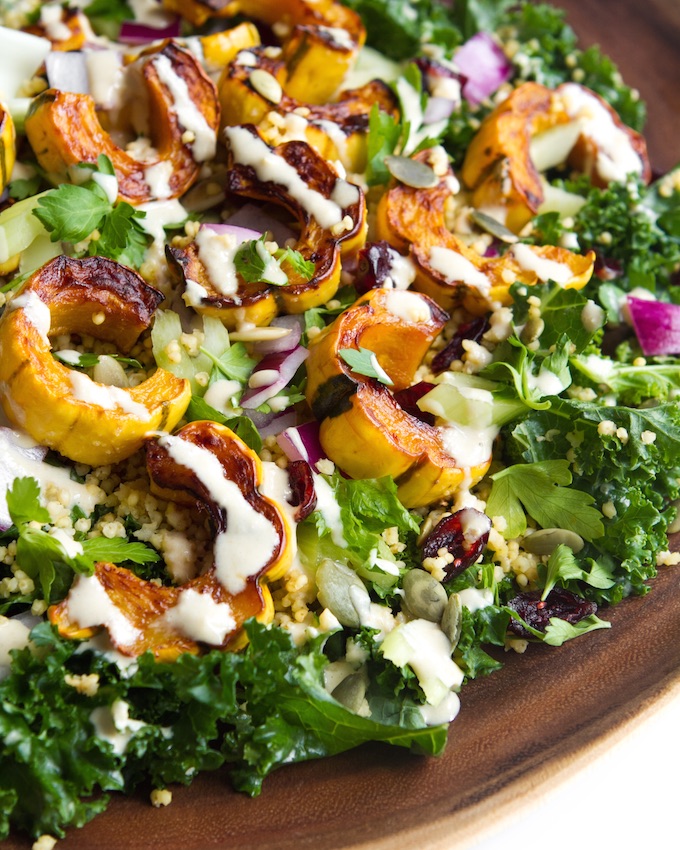 Delicata Squash, Quinoa and Kale Salad with Lemon-Tahini Dressing
This gorgeous recipe is from Angela's Oh She Glows Cookbook. It's hearty and comforting while still being light and energizing. Don't despair if you can't find delicata squash; feel free to substitute your favorite squash in its place.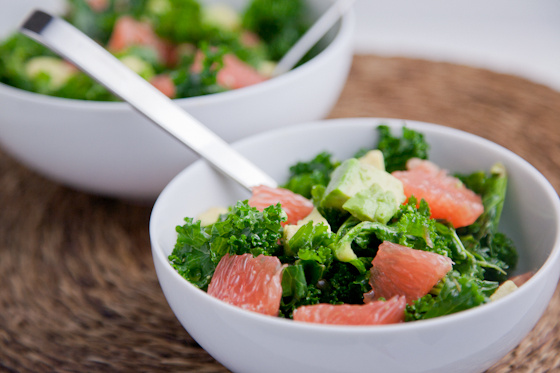 Kale, Avocado and Grapefruit Salad
An old favorite recipe, combining some of my most-loved ingredients—crunchy kale, creamy avocado, and grapefruit, all tossed in a refreshing ginger dressing.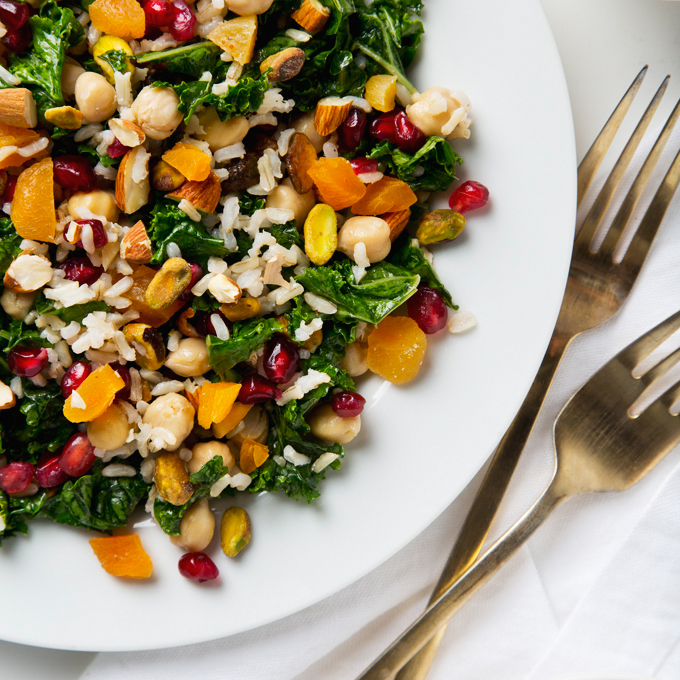 Winter Brown Rice and Kale Salad
This winter kale salad takes under 20 minutes start to finish and holds up really well for next-day lunches. It's easy, wholesome, and satisfying!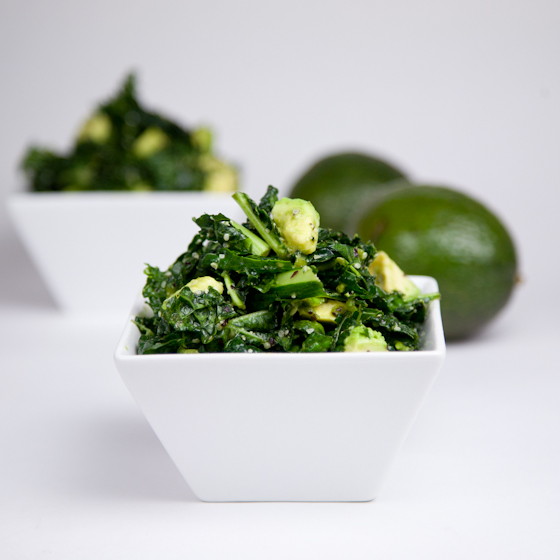 Kale Salad with Homemade Trader Joe's Island Soyaki Dressing
This recipe came to be after I discovered Trader Joe's Island Soyaki (technically a marinade, but great as a dressing). I decided to make a more wholesome homemade version with fresh pineapple juice, liquid aminos, and garlic as the base. It makes for a very crave-worthy kale salad with an awesome sweet/salty combination that's hard to resist.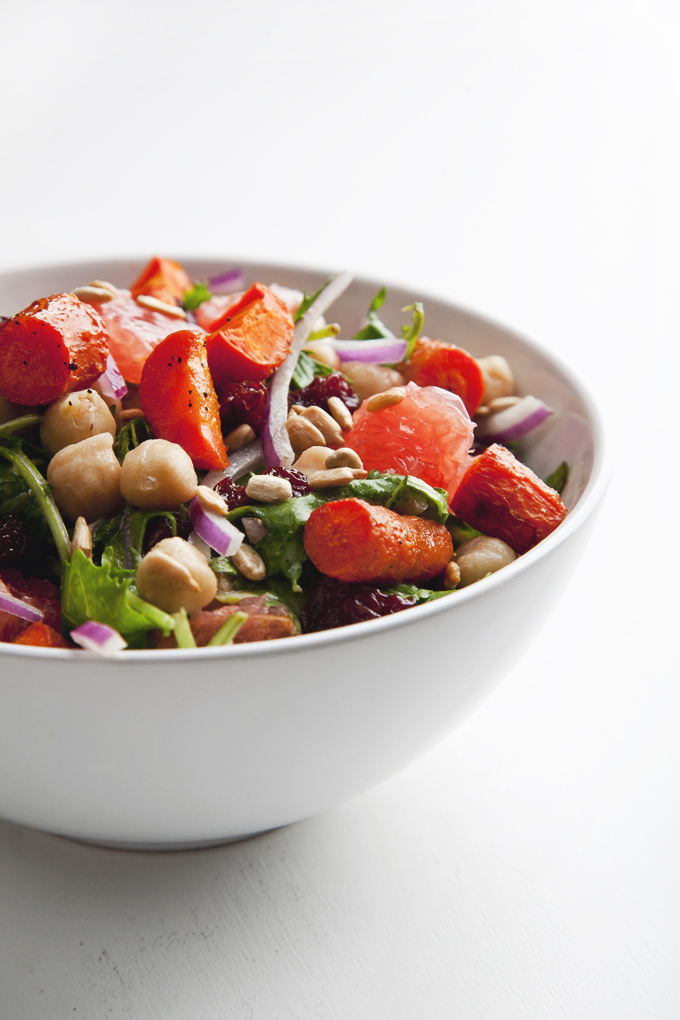 Citrus Kale Salad with Tahini Dressing
A hearty (and healthy!) baby kale salad with roasted carrots, vitamin c rich citrus fruits, crunchy sunflower seeds, tart dried cherries, and chickpeas for protein—all coated in a creamy tahini orange dressing. Minimal prep work and sure to satisfy in the flavor and texture departments.
---
We'd love for you to follow us on Instagram!
Tag photos you post of our recipes with #picklesnhoney so we can see.