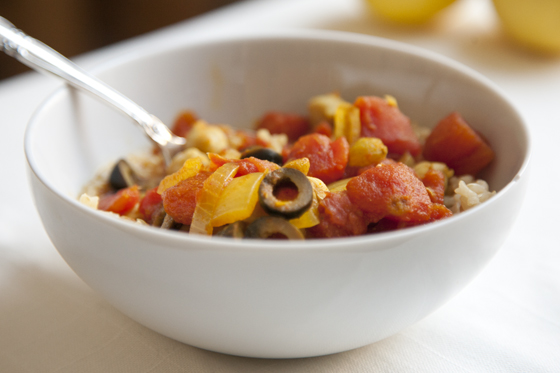 Last week, I shared my favorite hummus recipe. This week, I'm sharing the stew that inspired the hummus.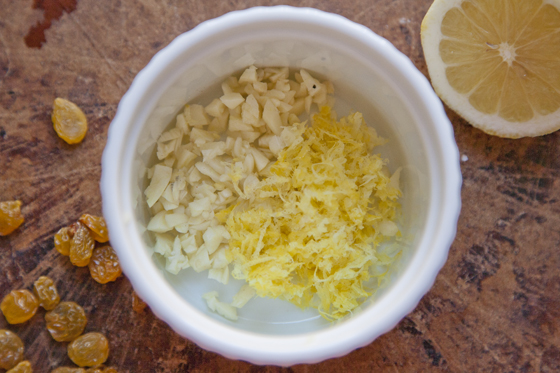 If you're looking for an easy, but flavorful stew to make, this is your recipe. The combination of the smooth chickpeas, sweet golden raisins, bright lemon, and salty olives is outstanding.
I have a thing for olives, and as my mom likes to remind me, I used to place them on my fingers when I was little, and carefully eat them one-by-one. She also likes to tell the story of how I once ate an entire can of black olives and then got sick to my stomach and couldn't eat them for months. I can't even fathom what my sodium intake was like that day.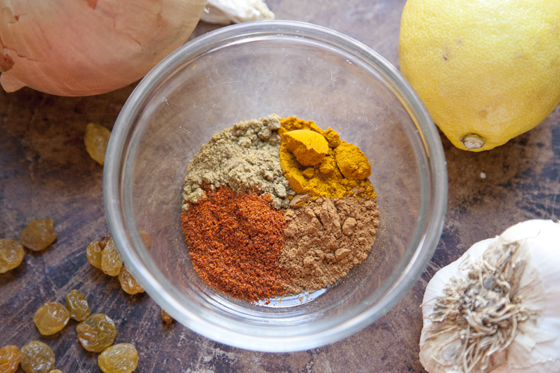 In addition to the olives, one of the things I love most about this recipe is that it's so visually stunning. It creates an especially vibrant stew, thanks to the turmeric, cumin, and paprika. There's also a touch of cinnamon that adds to the warm flavor profile.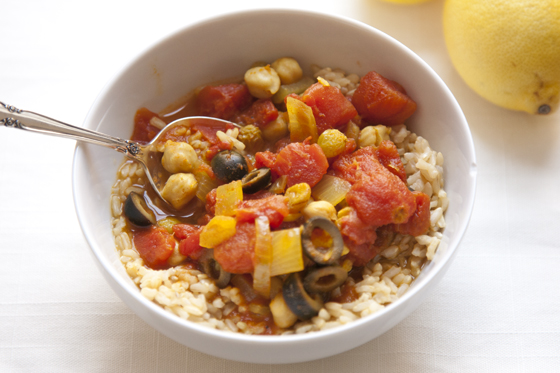 It can certainly be enjoyed on its own, but my favorite way to eat this stew is served over brown rice or cous cous, so the grains soak up some of the broth. It's a perfect meal.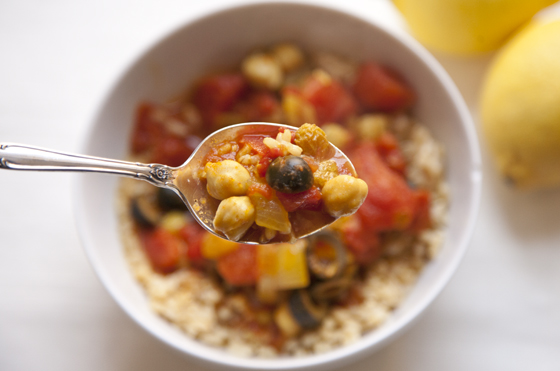 Author:
1 Tbs. Olive Oil
1 Large Yellow Onion, Roughly Chopped
3 Garlic Cloves, Minced
1/2 Tsp. Cumin
1/2 Tsp. Turmeric
1/2 Tsp. Paprika
1/2 Tsp. Cinnamon
1 28 oz. Can Diced Tomatoes (including juices)
Zest & Juice of 1 Lemon
2 C. Vegetable Broth
1/2 C. Raisins (I prefer golden)
1 15 oz. Can Chickpeas (or 1 1/2 C.)
1/2 C. Sliced Black Olives
Heat oil in a large stock pot over medium heat.
Add chopped onion and cook for 5 minutes, or until soft.
Add minced garlic, cumin, turmeric, paprika, cinnamon, tomatoes, and lemon zest and juice.
Stir in vegetable broth and raisins, cover, and bring to a boil. Reduce heat to low, keep covered, and allow to simmer for 30 minutes.
Add the chickpeas and sliced olives, stir, and allow to simmer for an additional 5-10 minutes.
Taste and add salt and pepper as necessary.
Serve hot over your favorite grain.