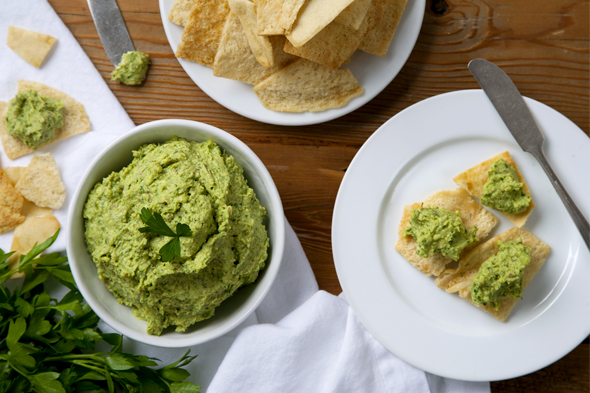 Whenever I'm brainstorming new recipe ideas, my mind gravitates to dessert. I've thought about making this a sweets-only space, but then that feels restrictive to me. What if I want to make something salty instead of sweet? What if I suddenly come up with the most genius, unique, interesting, flavorful savory dish and I can't share it because I only do desserts? This absurdity happens probably once every two weeks, but then it always gives me a good kick in the butt to shift gears. And for the last few months, pesto is always the first, second, and third thing to come to mind. Pesto brown rice, pesto this, pesto that. I'm making up for lost time because for years I didn't like pesto, at least not the oily, heavy kind.
I try to force my mind from pesto, and then I usually move on to hummus. This time though, I let myself get lost in the marriage of pesto and hummus. But not just any pesto and not just any hummus: parsley pesto and white bean hummus. Bright and fresh and lemony, but also thick and hearty and creamy.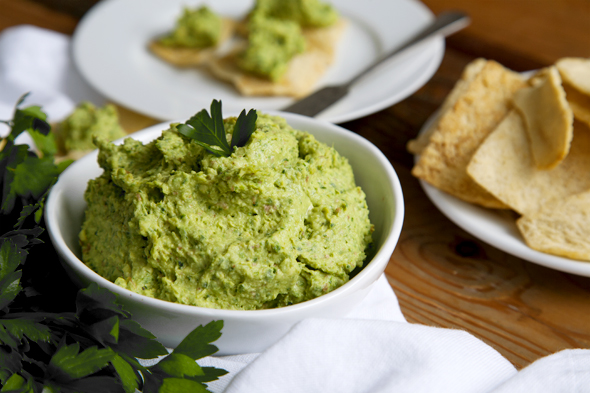 I fully intended to use pine nuts and even wrote them on my shopping list, except I have this new little habit of writing things down, staring at the list, and not seeing at least one ingredient. It's there, but my mind plays tricks on me or I get distracted by summer cherries and watermelon, and then I later realize – always during a random moment when I'm doing laundry or walking the dogs and not thinking about food – that I totally spaced on a key ingredient. I don't know what this says about my mental state these days. I do know that it forces a certain level of creativity because I have to work with what's in my pantry.
This is all to say that I forgot the pine nuts, so I used raw almonds. And I didn't even toast them, just tossed them in my food processor and hoped for the best.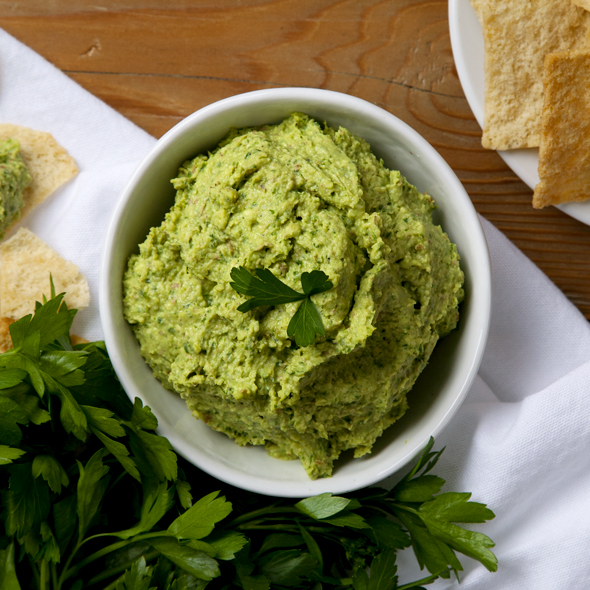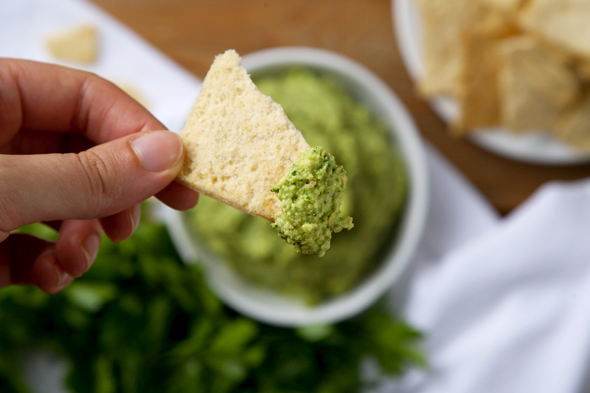 It worked! I like the mild almond flavor and definitely the slightly crunchy texture. You could sub raw walnuts and I bet hemp seeds or even cashews as well. Or if you're a traditionalist who's able to stick to a grocery list, pine nuts would of course be lovely too.