With all of the heavy and decadent desserts available this time of year, I eventually find myself craving something a little lighter. Sure, I eat my fair share of apple and pumpkin pies, donuts, and cookies. But I reach a point where I feel like if I take another bite of a heavy dessert, I'm going to go into a sweet-induced coma.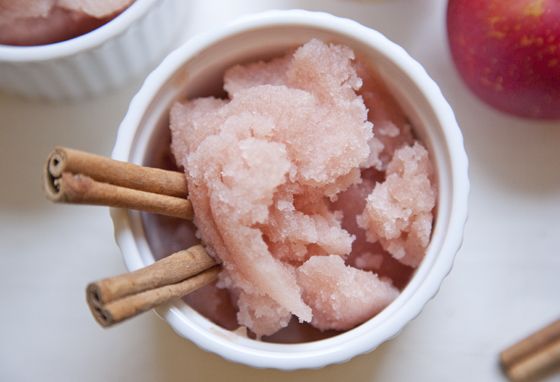 And while I love ice cream, sorbet ranks right up there as one of my favorite frozen treats. Although it's typically associated with summer  (think lemon, mango, and raspberry sorbets), I decided to give it a more seasonal twist by using spiced apple cider as the base.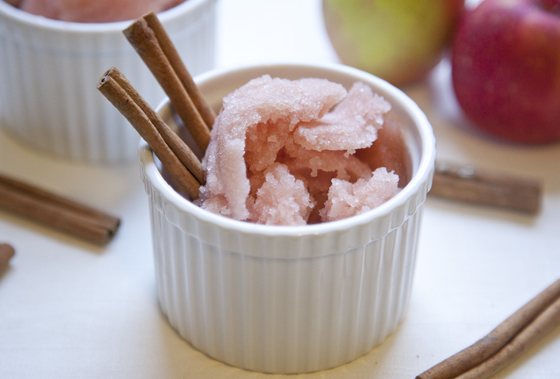 I also recently read that alcohol is the key to creating a homemade sorbet that doesn't turn into a rock when it's fully frozen. Say no more – I'm on it.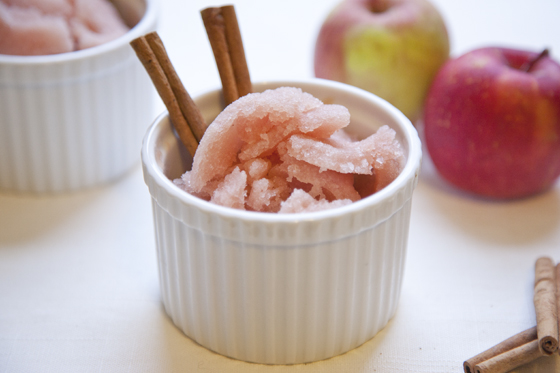 I initially thought rum would work well, but we didn't have any, and I've spent enough money on random food-related purchases this week. Then I remembered one of my favorite sorbets – black raspberry merlot. I believe Ciao Bella is the brand, and it's absolutely phenomenal. As an added bonus, I feel very sophisticated when I eat it, as opposed to my other favorite flavor – mint chocolate chip. So, I poured a couple of tablespoons of red wine into the mix, resulting in a lovely pink color that gave it just a hint of merlot.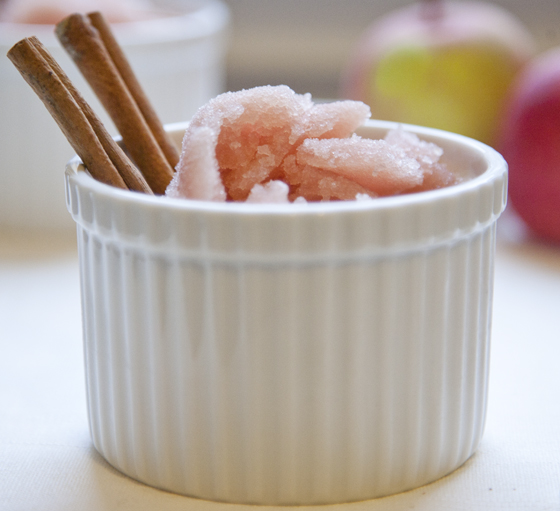 And what do you know? Adding just that little bit of wine created a sorbet with a perfectly scoopable texture, even after sitting in my freezer overnight. I think this is going to make it necessary that all of my homemade ice creams contain alcohol moving forward.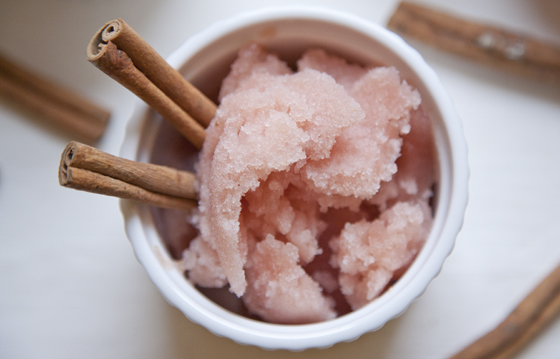 | | |
| --- | --- |
| Spiced Apple Cider Sorbet | |
Author:
This spiced apple cider sorbet is the perfect palate cleanser between bites of pie. It's light, but still sweet, and refreshing, but still satisfying.
2 1/2 C. Spiced Apple Cider (I used TJ's brand)
1/4 C. Granulated Sugar
1 1/2 C. Unsweetened Apple Sauce
2 Tbs. Lemon Juice
2 Tbs. Red Wine
Heat cider and sugar in a saucepan over medium heat, stirring occasionally until sugar dissolves.
Remove from heat and add to mixture: apple sauce, lemon juice, and red wine. Stir to combine.
Transfer cider mixture to a tupperware and place in fridge until chilled (a couple of hours).
Once chilled, pour cider mixture into your ice cream maker, and freeze according to your ice cream maker's instructions (about 20 minutes) until just frozen. The texture will resemble a frozen drink.
Allow sorbet to harden in the freezer for 4 hours, or until it reaches your desired consistency.
If you don't have or can't find spiced apple cider, I recommend simmering regular apple cider with a few cinnamon sticks for 10-15 minutes while you dissolve the sugar.
I made the sorbet using an ice cream maker and then put it in my freezer, but you may be able to get away with simply putting it in your freezer overnight. I haven't tried that, but if you do, please leave a comment letting me know how it turned out!