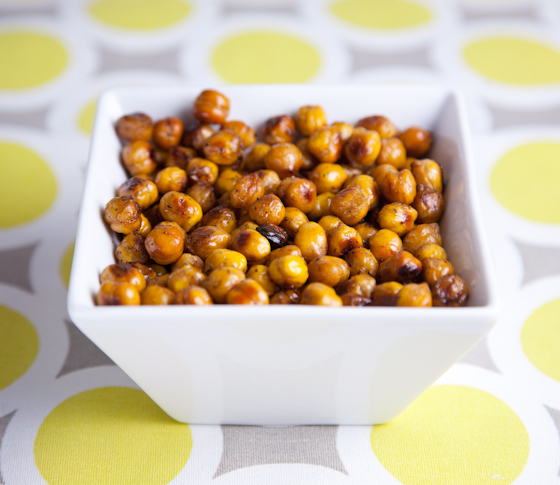 I'm having one of those weeks where I can't believe it's only Thursday. Usually, I feel like the weeks fly by, but this one has been really, really slow. What I would give to transport myself to a sunny, tropical island right now and just lay on the beach for a solid week, reading silly chick lit and drinking fruity cocktails. I need a vacation. And a tan. And these crispy roasted balsamic chickpeas to snack on.
I've been feeling kind of lazy on the food front recently, although I'm proud that this has translated into simple snacks and meals, and not takeout from the Japanese place across the street. As easy (and delicious) as it would be to order some seaweed salad and miso soup, I have a well-stocked fridge and a pantry with about a year's worth of dried beans. One can never have too many beans!
Similar to just about every other week, chickpeas have made an appearance most days. I go through phases with foods, but chickpeas seem to be one of the few that I never  get sick of eating. And this week, when I was too tired to make hummus (okay, too lazy to wash the food processor), I had an intense craving for roasted chickpeas. Simple, no fuss, and minimal dish-washing.
Normally, I would make a batch of BBQ chickpeas, but the BBQ sauce bottle has been sitting in my fridge for months with about a teaspoon of sauce left. I just don't have the heart to toss it, or the patience to finagle the rest out of the bottle. It'll likely stay there until my next cleaning rampage, when I'll decide we have too much clutter and Aaron will come home to find that I've "simplified" our entire apartment. What can I say, I like things very "zen."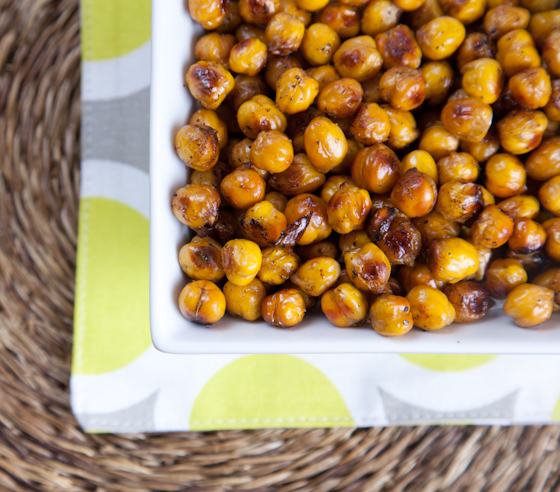 Not having enough BBQ sauce turned out to be a good thing, however, because it forced me to reach into the depths of my pantry for a bottle of balsamic vinegar. I let the chickpeas marinate in the vinegar, then drained the excess, tossed them in a little olive oil, salt and pepper, and baked them until they were perfectly crispy. Tangy and reminiscent of salt and vinegar potato chips, these crunchy balsamic chickpeas are so much healthier and more satisfying! If you've never tried roasted chickpeas before, you must make these.