Thanks so much for all of the positive feedback on Monday's how to grow a kombucha scoby post! I know the process seems a little intimidating and the kombucha "mother" isn't the prettiest (okay, it's kinda gross), but I promise brewing your own is totally doable. And if I can get past the whole jellyfish-looking scoby, you can get past it too. Trust me, I'm a wimp when it comes to this stuff.
I'm finally enjoying my first batch of kombucha this week and I added some blueberries to about half of it, and it's much more appetizing, I swear. I'll be posting a follow-up in the next week or two explaining how you can turn the scoby into kombucha that rivals the pricey bottled stuff. You know, so you can spend more money on fancy coffee, coconut water, etc.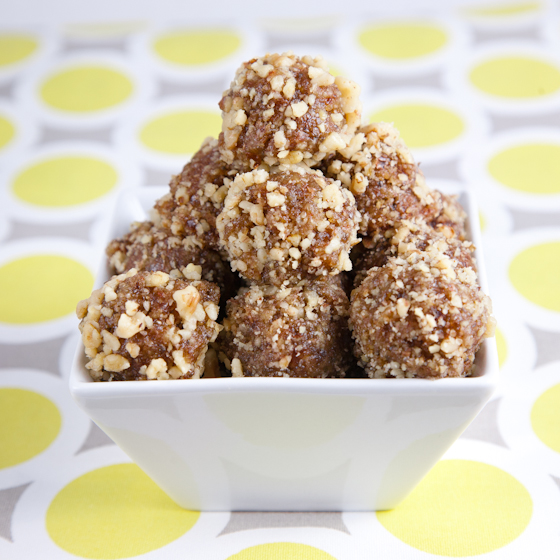 I had originally titled this post "Vanilla Ginger Balls", but calling these "balls" sounds a little crude, no? Then again, I'm not sure "snack bites" is much better. Regardless, balls/bites – these are my latest snack obsession.
I don't know why it took me so long to post this sort of a recipe. It's the type of thing I see on other blogs all the time and I always have the urge to drop everything I'm doing and make them. Instead, I add it to my out-of-control list of "things I want to make", get caught up in a freelance project, Olive eating something she shouldn't (a towel, the rug, the baseboard), and then go right back to eating my delicious, but boring snack of plain medjool dates and walnuts.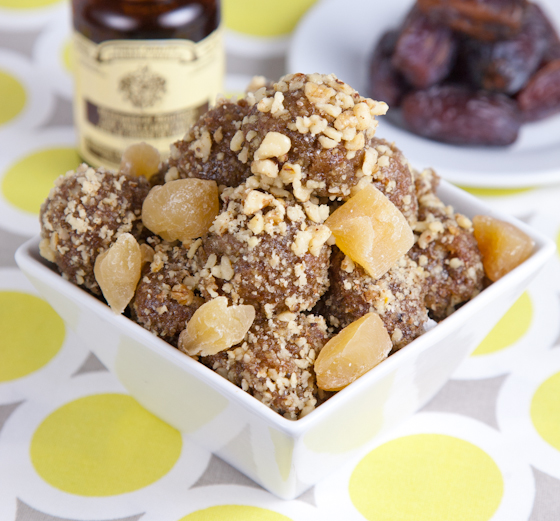 The other day, I finally got my act together and made some balls (there, I said it). I'm still on a ginger kick and recently bought some candied ginger that ended up being a great addition to the dates and walnuts. I processed it until it was finely chopped and paired it with a heavy dose of vanilla bean paste, some chia seeds for crunch, and just a touch of sea salt. I'm a big fan of the vanilla and ginger combination, although you could definitely play around with other flavors. I'm thinking dried cherries and cinnamon for my next batch.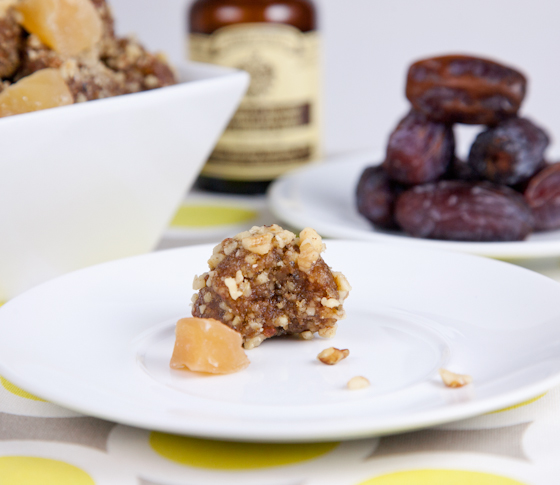 You can store them in the fridge or freezer, but my vote is to freeze them. They don't freeze solid, and instead take on this very addictive, chewy texture. They're perfect for pre- and post-gym snacks or as a way to satisfy your sweet tooth after dinner, without going to town on a bag of chocolate chips. Not that I would know anything about that…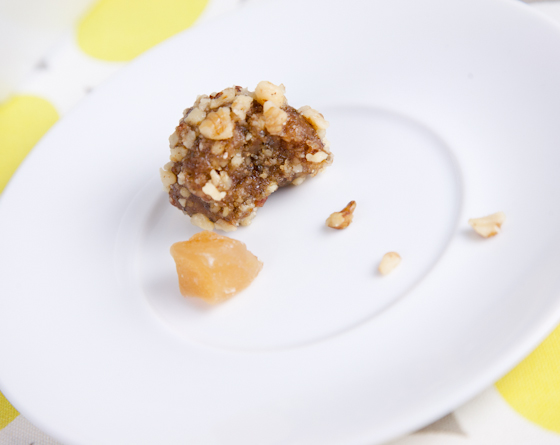 | | | |
| --- | --- | --- |
| Vanilla Ginger Snack Bites | | |
Recipe Type:
Snack, Dessert
Author:
Total time:
1 hour 5 mins
These vanilla ginger balls are naturally sweet and slightly spicy, with a texture that closely resembles a Larabar. They make an excellent pre- or post-workout snack and a great healthy dessert.
1 1/2 C. Chopped Walnuts, plus an additional 1/3 C. for coating
3/4 C. Pitted & Chopped Medjool Dates
1/4 C. Chopped Candied Ginger (I used uncrystallized, but crystallized should work too)
1 Tbs. Chia Seeds
1 Tbs. Vanilla Bean Paste (or Pure Vanilla Extract)
1 Tsp. Ground Ginger
1/4 Tsp. Sea Salt
Line a baking sheet with parchment paper and set aside.
Place the 1 1/2 C. chopped walnuts, dates, and candied ginger in a food processor and pulse until ground.
Add the chia seeds, vanilla, ground ginger, and salt and pulse until the mixture forms a ball.
Using a cookie dough scoop or a tablespoon, portion the mixture into small balls, and roll them in the additional 1/3 C. chopped walnuts to coat them. Place the balls on the prepared baking sheet.
Allow to harden in the fridge for an hour or the freezer for half an hour and enjoy!
Can be stored in the fridge or freezer.
These balls are easily customizable to suit your taste preferences. Not a fan of ginger? Try dried cherries and cinnamon instead.