Thank you to PAM Spray Pumps for sponsoring this post!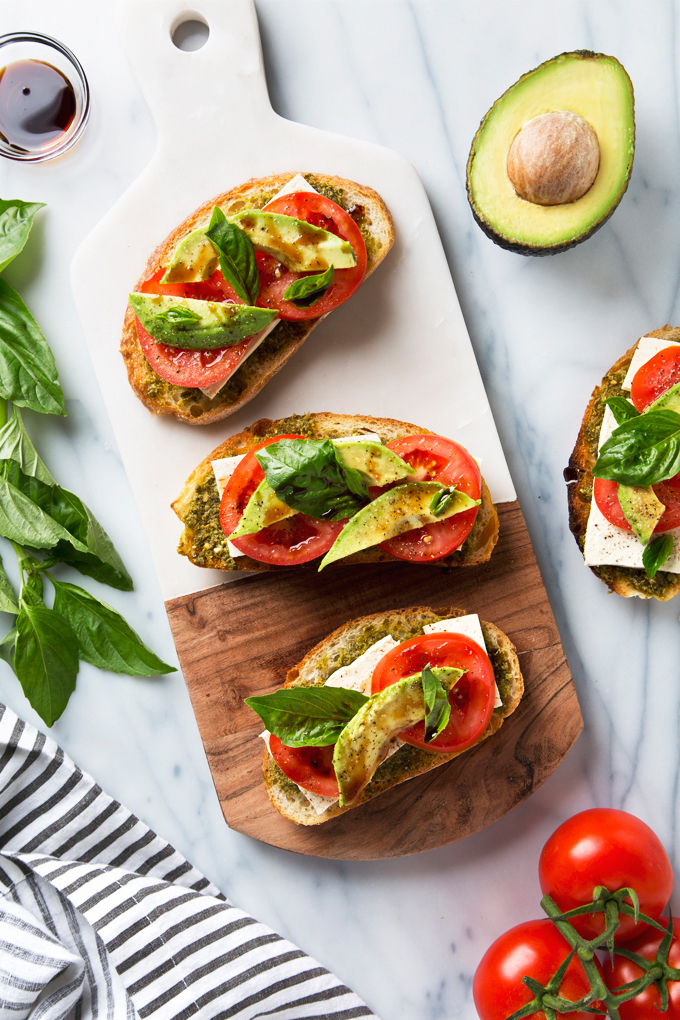 A handful of years ago, Aaron and I were living in a two bedroom apartment in Brookline, just outside the Boston city line. As far as rentals go it was actually pretty decent, with one of our favorite parts being a small deck off of our back bedroom. The wood was rickety and the view consisted of a parking lot surrounded by the backs of old brownstones, but it was just enough space for a small table and chairs, a few potted herbs, and some tomato plants that we attempted to grow upside down from recycled water bottles.
Whenever the weather was nice we would eat dinner outside, garnishing whatever we had made with herbs from our tiny urban garden. One night Aaron decided he would slice us some tomatoes and avocado to make a sort of vegan caprese salad, using the creamy avocado in place of mozzarella cheese. We added freshly torn basil from our plant, a touch of really good extra virgin olive oil, balsamic vinegar, and some sea salt and pepper. It was one of the most basic yet unexpectedly memorable meals.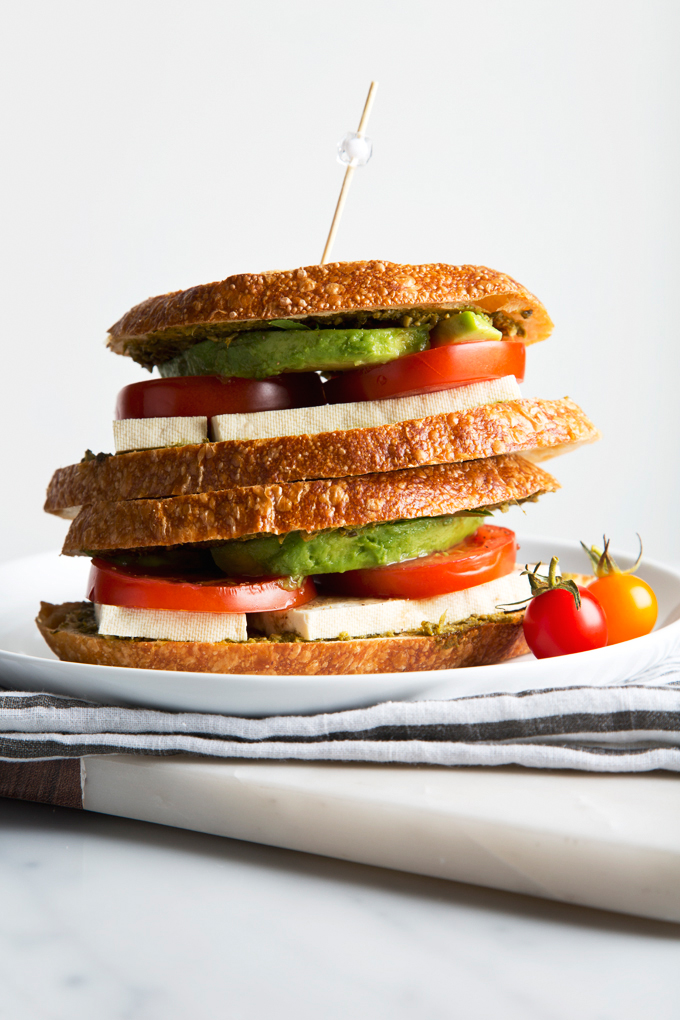 Vegan caprese salads have since become a summer tradition for us, when tomatoes are at their very best and we like to enjoy them as simply as possible. This year, as we transition into early fall and the afternoons and evenings become more brisk, we've been turning to comforting Vegan Caprese Grilled Cheese Sandwiches as our casual go-to lunch or dinner.
Today's caprese grilled cheese is based on our original vegan caprese salad, but for this latest rendition I used both avocado and pressed, extra firm tofu in place of the mozzarella. I also made a batch of my quick vegan pesto to slather on the bread, then dressed it all up with a sweet and tangy balsamic vinegar reduction before heating it on the stove.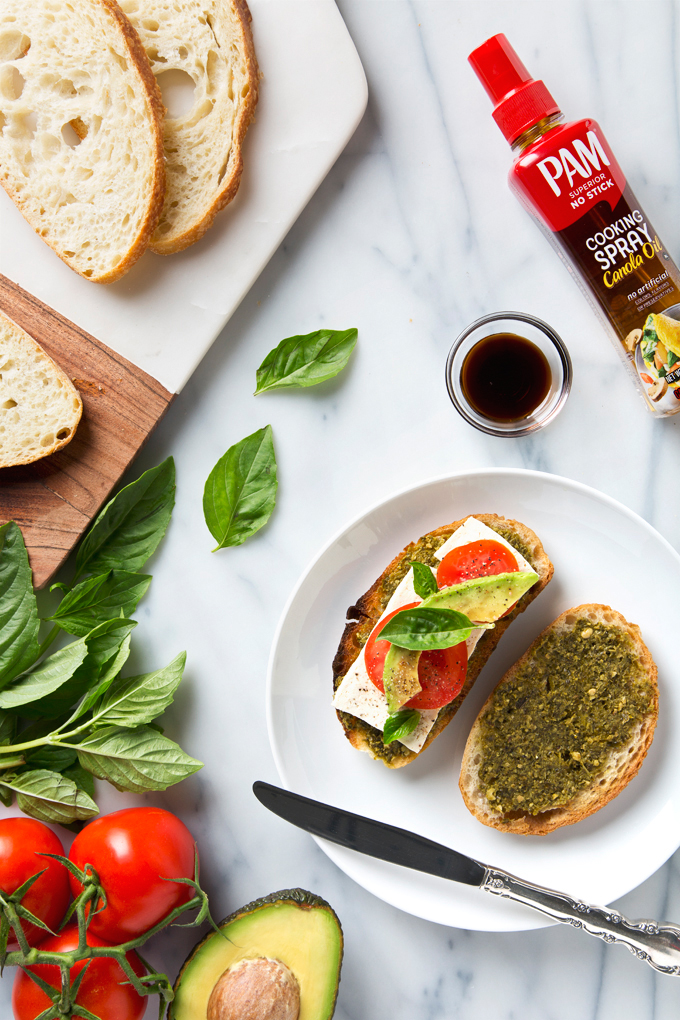 To keep the oil light and allow the ingredients to stand on their own, I used the new PAM Spray Pumps to grease the pan and get the bread perfectly browned and toasty. It's available in two varieties: Olive Oil and Canola Oil, and both come in clear, non-aerosol bottles with no artificial colors, preservatives or flavors. I prefer it because unlike other oils and butters, it lets me easily control how much I use and the bottle doesn't get jammed up the way other spray oils tend to do. Their tagline also makes me smile—"You PAM do it!"—because who can't benefit from a little meal prep encouragement?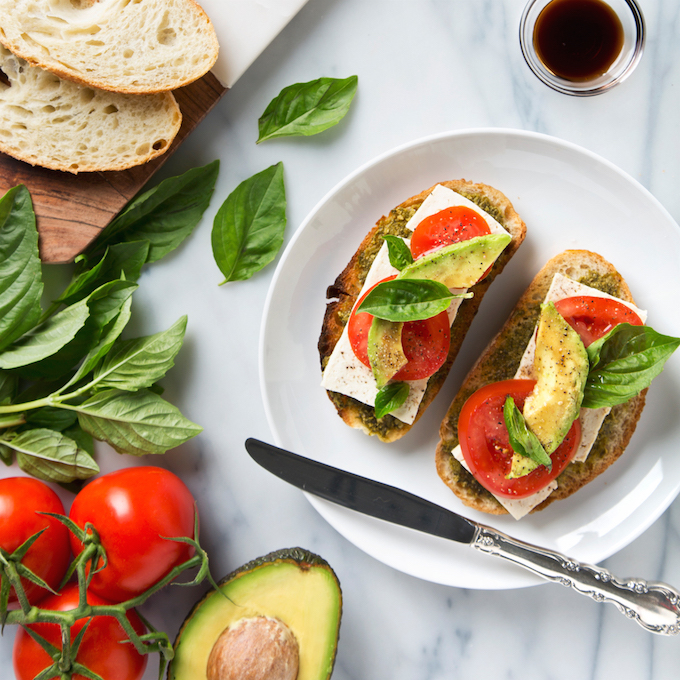 If you're looking for a slightly messy, very comforting meal that takes under 10 minutes to assemble, I have a feeling this Vegan Caprese Grilled Cheese Sandwich might just be your new go-to recipe. Serve it atop your favorite sliced bread (we like sourdough), sit in the sunshine, and enjoy the spectacular late summer/early fall produce.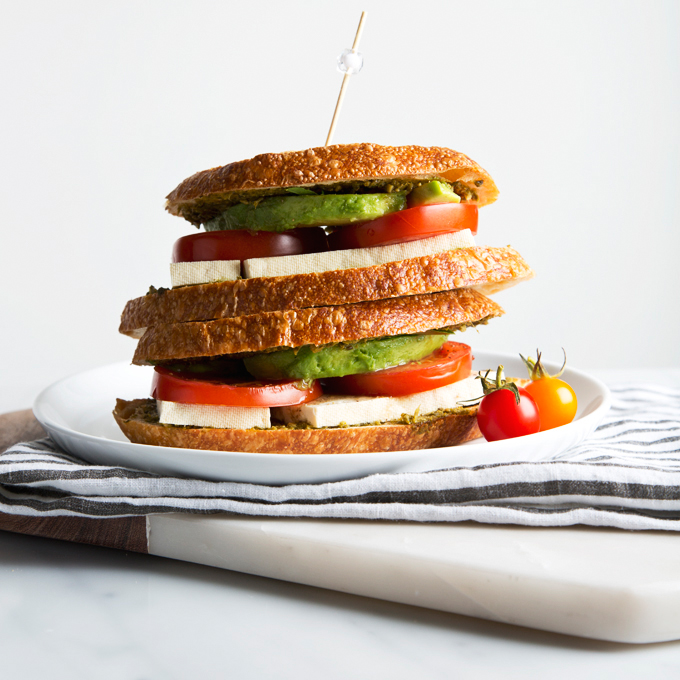 ---
This is a sponsored post written by me on behalf of PAM Spray Pumps.