About a month or so ago, I decided it was time to clean up my diet. It wasn't even that I was eating poorly, but more that Aaron and I were relying on packaged convenience foods a little too much. Things like pre-made veggie burgers, granola, jam, cashew yogurt, soy creamer—just a lot of everyday staples with sneaky ingredients like "natural" flavors and carrageenan that I would never add to my food if I were making it myself. Eating this way was making me feel sluggish and I knew I could do better. So, I decided to take a quick inventory of the convenience foods on our grocery list, and came up with a few really simple recipes to replace them.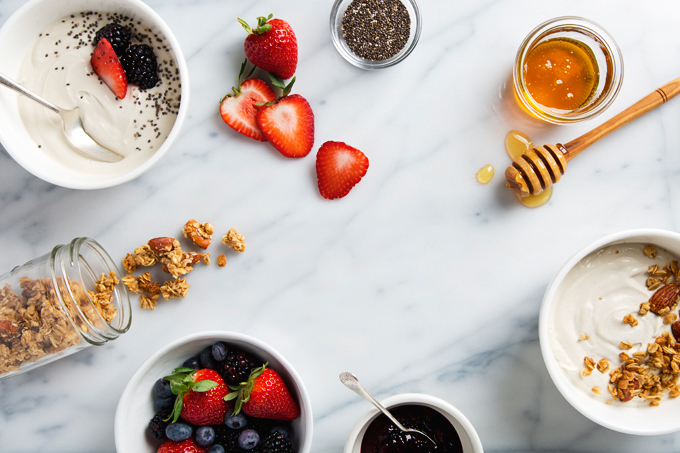 The creamer was a very easy swap because I already had an awesome vegan coffee creamer (seriously, you've gotta try that recipe!). From there, I tackled our expensive, sugary non-dairy yogurt habit. Aaron is the primary yogurt-eater at our house. He has it almost every morning with his granola or muesli, and he was hooked on a brand that costs $2/serving. I knew I could edit my cashew-based creamer recipe to make a thick and rich cashew yogurt recipe that would rival our favorite store-bought brand.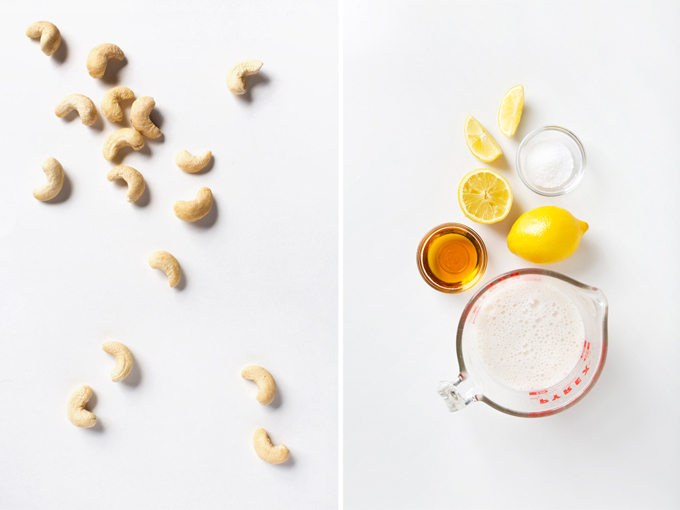 As it turns out, all you need are 5 ingredients: cashews, almond milk, lemon juice, a tiny bit of maple syrup, and a pinch of salt. Soak the cashews, add everything to your blender for about a minute, and you have the richest, creamiest, low sugar vegan yogurt. The texture and flavor remind me of cheesecake filling!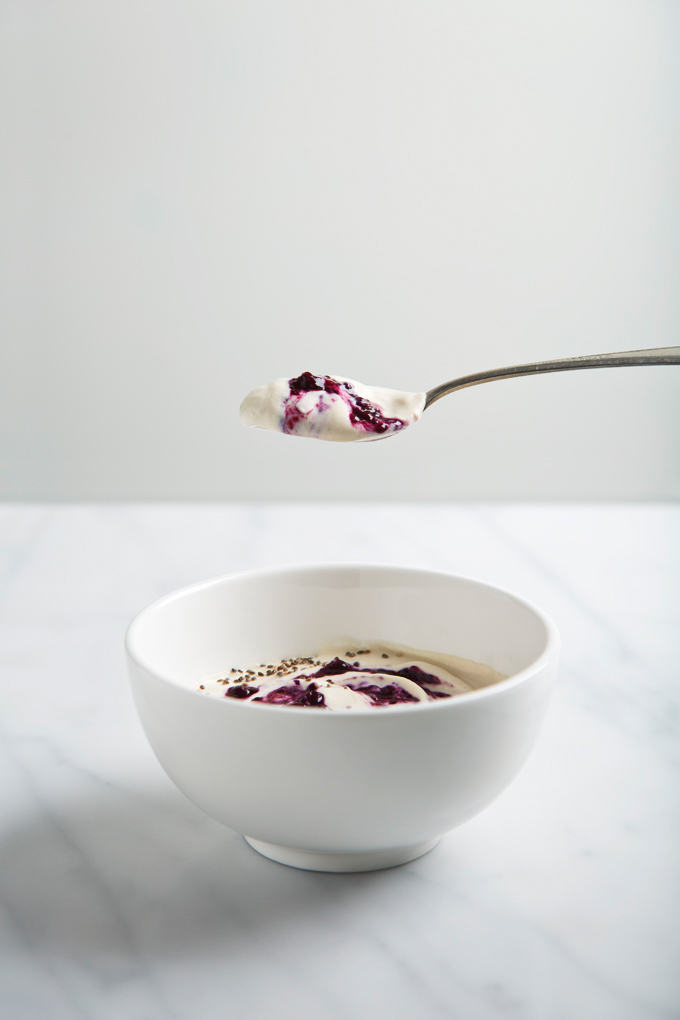 You can keep your cashew yogurt plain, or blend in some extras to make it flavored. Here are a few add-in ideas to get you started:
organic lemon or lime zest
a handful of fresh fruit—strawberries, sliced peach, pineapple, etc.
a splash of vanilla, almond, or other extract
one to two tablespoons of raw cacao powder (chocolate yogurt!)
fresh vanilla bean scrapings, or a couple small pinches of vanilla bean powder (vanilla bean flecks!)
If you're regularly buying yogurt at the grocery store each week, definitely give this cashew yogurt recipe a try! Just one pound of cashews is enough to make 2 batches of cashew yogurt and 2 batches of cashew creamer, and with the exception of needing to soak the cashews, it will take you all of 5-10 minutes total. I love it when the homemade versions of things are better tasting, better for you, and less expensive!