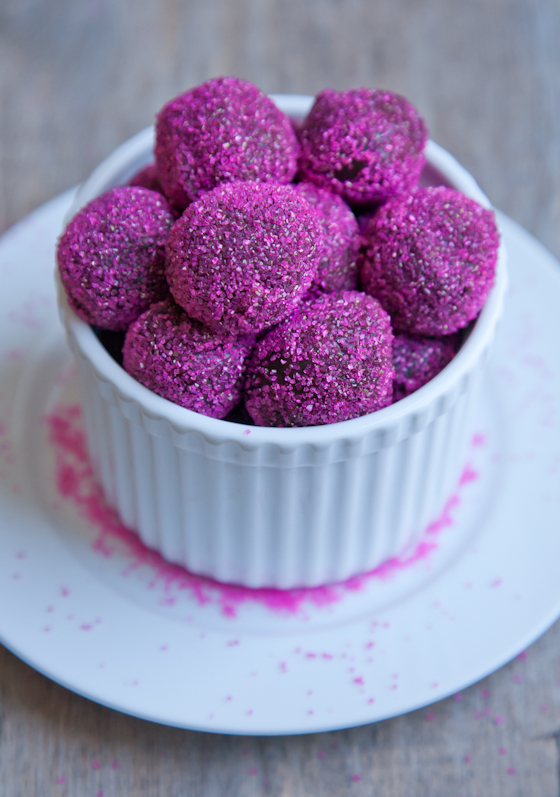 Yesterday morning, before I had even eaten breakfast and about thirty minutes before I was supposed to leave for the gym, I got this intense urge to make truffles. I think it was due to a combination of being bombarded with Valentine's Day advertising for the last several weeks, needing to eat a proper breakfast (I didn't), and wanting an excuse to not have to make the frigid walk to the gym. It was freaking cold in Boston yesterday.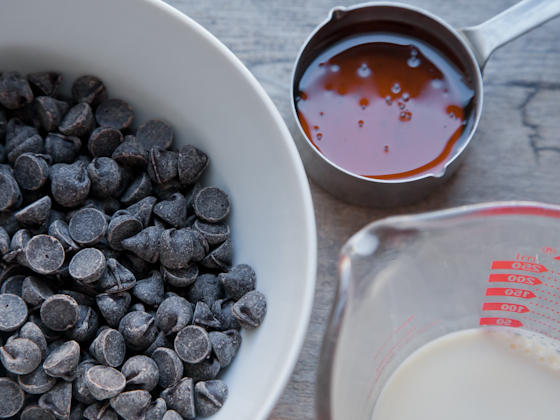 Also, since discovering my love for ginger last week, I've been dreaming about how I could incorporate it into some sort of chocolate recipe. These truffles gave me the perfect opportunity to use up nearly all of the fresh ginger in my fridge. I also went to town on some pink sprinkles too. I couldn't help myself.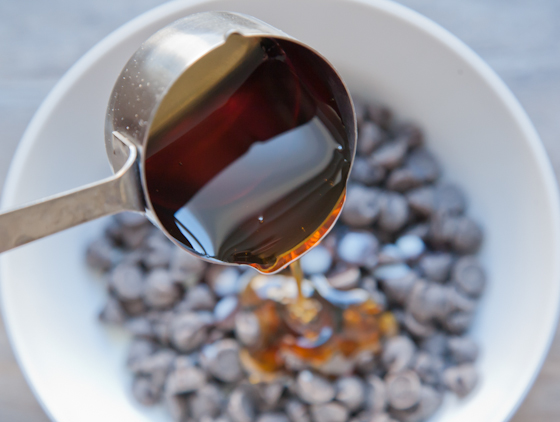 Needless to say, the gym didn't happen. Instead, I spent a glorious Sunday morning making a mess of my kitchen, getting melted chocolate and sprinkles on every surface, and doing an awful lot of quality control via sampling.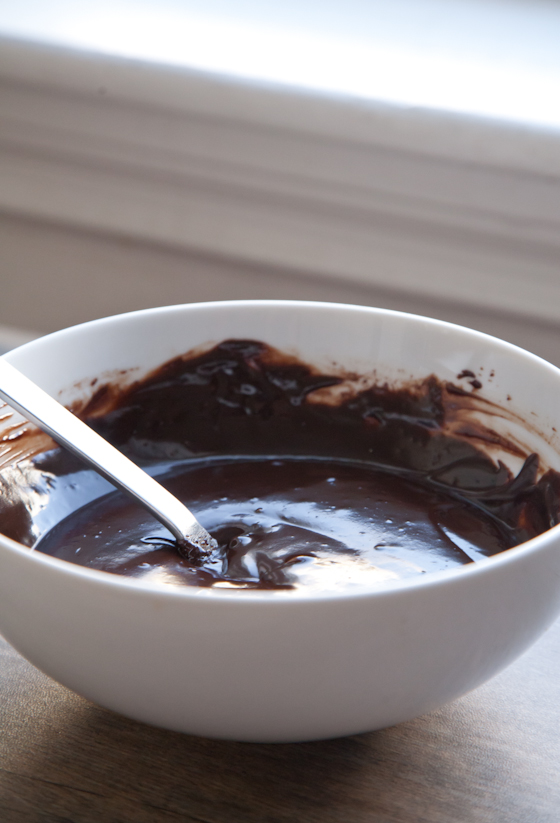 Confession: sometimes I like to make desserts simply because I want to lick the bowl. This is one of the best perks of vegan baking.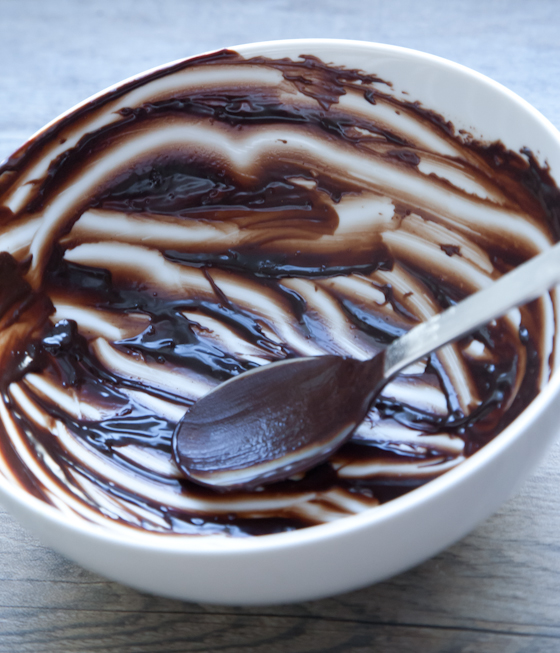 The truffles turned out incredibly well! It's definitely a messy process that requires a fair amount of inactive prep time (waiting for the chocolate mixture to cool in the fridge), but the ingredients are simple and the flavor is spot-on—smooth and velvety, with just enough spice from the ginger, and a rich chocolate taste. I'm a big fan of the crunchy colored sugar coating, but these would also be heavenly rolled in some powdered sugar or cocoa powder.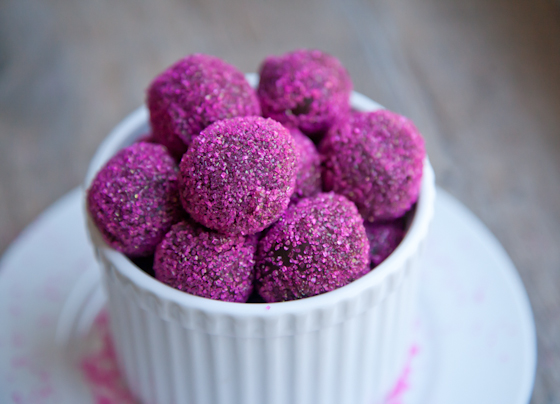 So, whether you're celebrating Valentine's Day or just looking for a little pick-me-up after a weekend that went by way too fast, do yourself a favor and make a batch of chocolate ginger truffles. One of these babies is more than enough to quell even the most intense chocolate craving.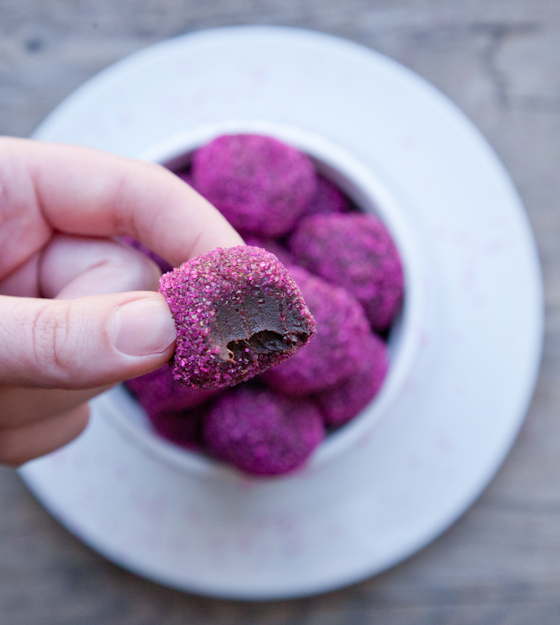 | | | |
| --- | --- | --- |
| Vegan Chocolate Ginger Truffles | | |
Author:
Prep time:
1 hour 35 mins
Total time:
1 hour 35 mins
8 Ounces Vegan Chocolate Chips (I used TJ's brand)
1/4 C. Plain Non-Dairy Milk (I used unsweetened soy milk)
1/4 C. Agave (maple syrup would also be great)
1 1/2 Tsp. Pure Vanilla Extract
2 Tsp. Freshly Grated Ginger
1 Tsp. Ground Ginger
Sprinkles, Cocoa Powder, or Powdered Sugar for Coating
Lightly grease an 8×8 baking pan and set aside.
Add the chocolate chips, non-dairy milk, and agave to a microwave-safe bowl. Heat for 30 second intervals, stirring in between, until the chocolate has melted. The texture should be smooth with no lumps.
Add the vanilla, fresh and ground ginger, and stir to combine.
Pour chocolate mixture into the prepared baking pan, cover with plastic wrap, and refrigerate for 1 hour. Once cooled, the mixture should resemble a thick chocolate ganache.
Line a baking sheet with parchment paper, scoop tablespoon-sized balls of the chocolate and place them on the parchment paper.
Once all of the truffles have been portioned out, roll each truffle center between the palms of your hands to form smooth balls. This is a messy process and the chocolate melts quickly, so work fast!
Return the truffles to the fridge for 30 minutes to firm up.
Roll the chilled truffle centers in sprinkles or the coating of your choice.
Store in the fridge.
I used a microplane to grate the ginger. It created a very fine pulp that evenly distributed in the melted chocolate.