This vegan marzipan recipe is so simple and seriously delicious! Roll your marzipan into balls, then toss a few of each in coconut, pistachios, cinnamon/coconut sugar, and cacao powder for your very own beautiful, homemade assortment of vegan marzipan truffles!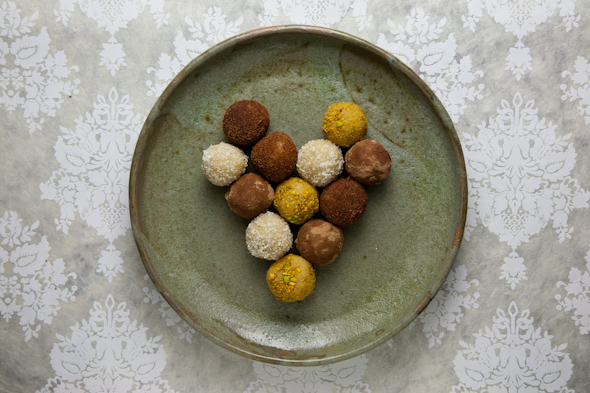 Well, it seems to be full-blown flu season around here, and just about everyone I know is recovering from something unpleasant. Aaron, who almost never gets sick, is down and out, but still trying to power through his work week. I'm feeling the first inklings of an achy, tired, head cold and making it my mission to eat all the kale. This is not much different from other weeks though.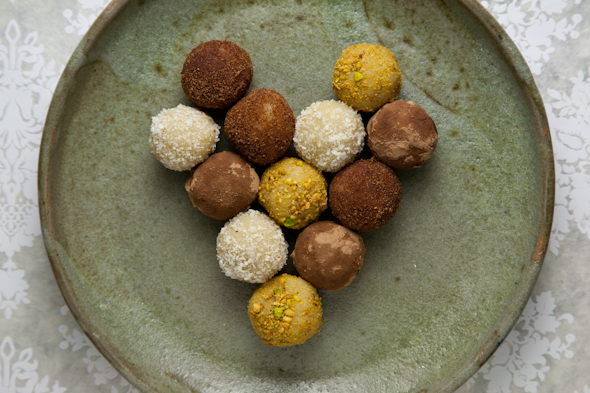 Winter sickness aside, I wanted to share this crazy simple, seriously delicious recipe for vegan marzipan truffles. It's so easy, even those of us who are battling the flu can likely muster up the energy to make them. And we can thank my dad for the idea! He emailed me last week with a link to a vegan marzipan recipe that was at least fifty percent processed white sugar and asked if I could come up with a healthier alternative.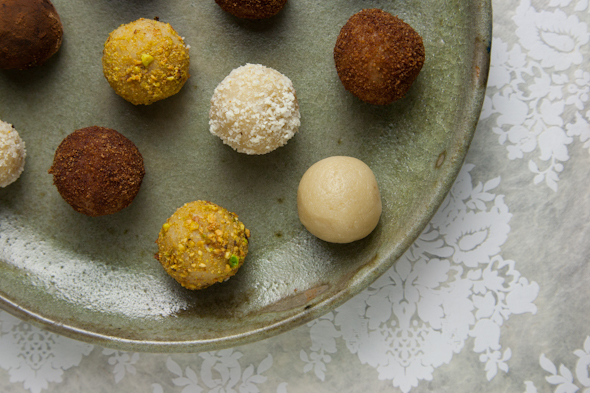 Ask and you shall receive! I get giddy when it comes to taking traditional recipes and health-ifying them, trying to find that sweet spot between decadent and energizing, as opposed to short-lived sugar high followed by need-to-take-a-nap.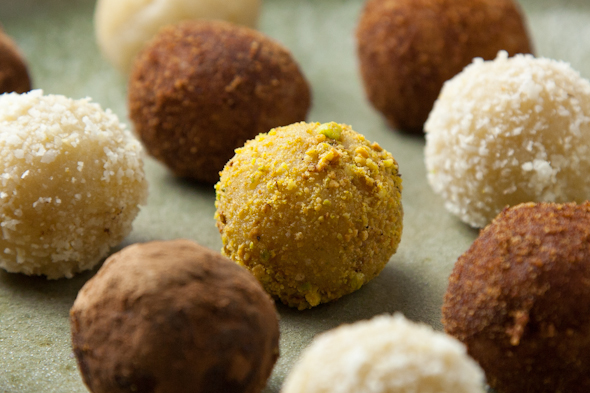 I've professed my obsession with almond extract before and I will say it again: that stuff is heaven. Intoxicating. Comfort in a bottle. And these truffles are heavy on the almonds and almond extract—as marzipan should be. I used light agave nectar in place of white sugar, both for it's neutral flavor and ability to bind everything together with ease, along with a small pinch of sea salt to enhance the sweetness. That's it!
You can roll the vegan marzipan into balls and enjoy them in all of their simple glory, or you can take things up a notch and do what I did, which was to toss a few of each in coconut, roasted pistachios, cinnamon and coconut sugar, and raw cacao powder for your very own beautiful, homemade assortment of marzipan truffles. Each of these toppings pairs perfectly with the marzipan, though I particularly enjoyed the contrast of the more bitter cacao and sweet almond filling. Any excuse to eat chocolate!