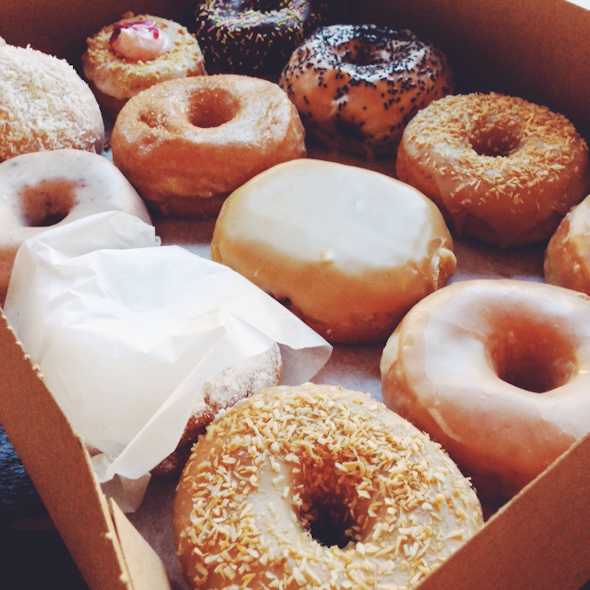 For the last several years, I have been compiling a list of all of the vegan restaurants and shops I would love to visit. I started doing this when we were living in San Francisco but knew we wouldn't be staying, and it was a great way to make sure I left without regrets. It mostly worked well, except I somehow missed Millenium? Yeah, I don't know how that happened either. I'd go back just for that dining experience, along with a few days in wine country.
I quickly realized, however, that nearly all of my top vegan must-sees were in NYC, and resolved to plan a foodie trip when we were settled on the East Coast again. It took two years, but I was finally able to take my much-anticipated trip this past weekend. It was Aaron's wedding anniversary gift to me, and it was one of the best gifts I've ever received. I immediately started creating an itinerary for us based on my very long list of must-visit places and it probably took me half a day just to carefully narrow it down to what we could ambitiously cover in three days. Aaron, of course, knows me well enough to know that half the fun for me is in the research, planning, and anticipation, and although he did look at me like I was slightly crazy, I think he ultimately appreciated my well-curated itinerary. We didn't have a single bad meal, snack, or drink while we were there.
Let's start with our last day: Brooklyn. Specifically, the very hip Williamsburg.
…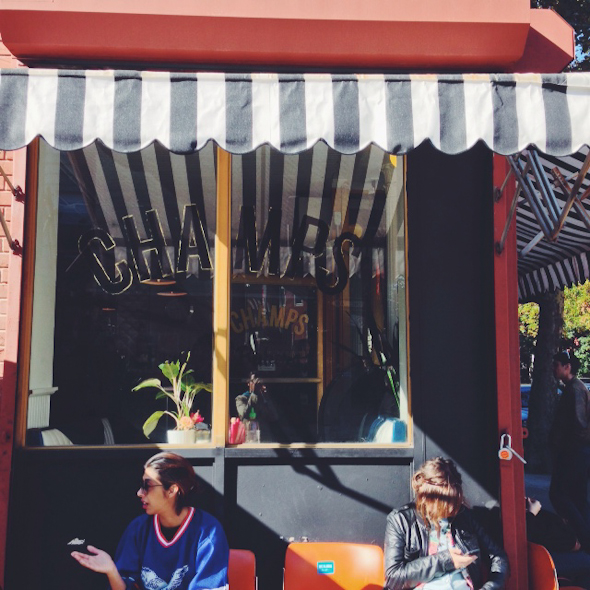 I had only briefly visited Williamsburg once before and Aaron had never been, so we were both excited to explore a new part of town. We opted to drive rather than take the subway, since we were staying in the West Village and planned to head back to Boston that afternoon. Fortunately, street parking was a breeze and we found a spot right next to Champs.
In an otherwise quiet, residential neighborhood, Champs is clearly a happening place. We arrived around 11am and there was a thirty minute wait, but the weather was mild and sunny, and we entertained ourselves people-watching (okay, and dog-watching too). The vibe there is so different from other parts of the city, and I definitely felt like I needed Keds, a chambray shirt, messier hair, and Aaron needed a beard and tighter jeans.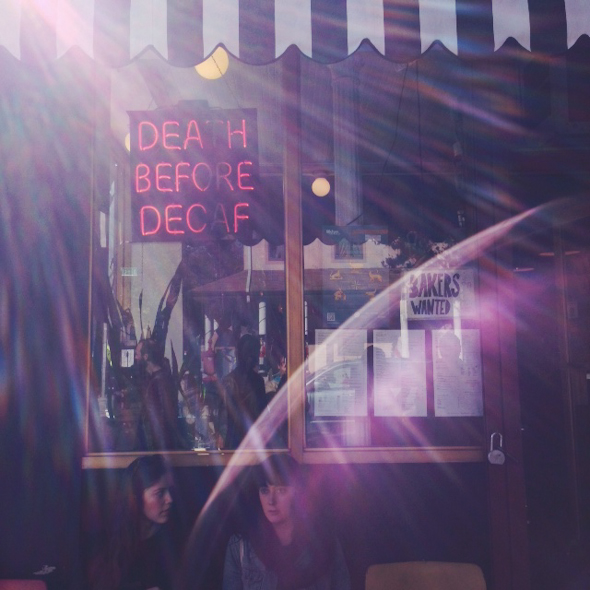 We opted to eat outside because there was a much shorter wait time. Aaron ordered coffee with almond milk to start, and I tried to savor the last of the warm(ish) weather with iced tea, sweetened with stevia. These are the little details that makes me happy.

I had been making an effort to choose healthier options on the other days (or at least include a green juice here and there), but Sunday at Champs was all about the comfort food. It's not my favorite way to eat, but I can appreciate a diner meal now and again, and I knew Aaron would love this place.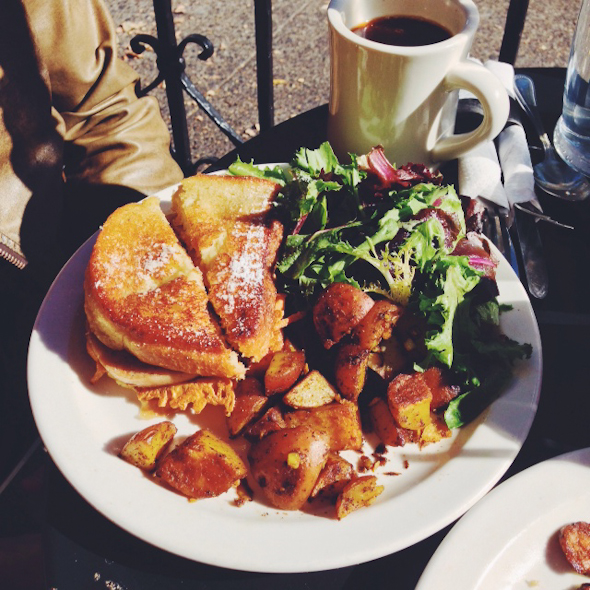 Aaron went with the Monte Cristo, with grilled ham and melted cheese on French texas toast, and home fries and salad on the side. I snagged a bite of his sandwich and a couple of home fries and they were awesome! I think this would be a great place to take someone who's not so sure about vegan food. The flavors were spot-on.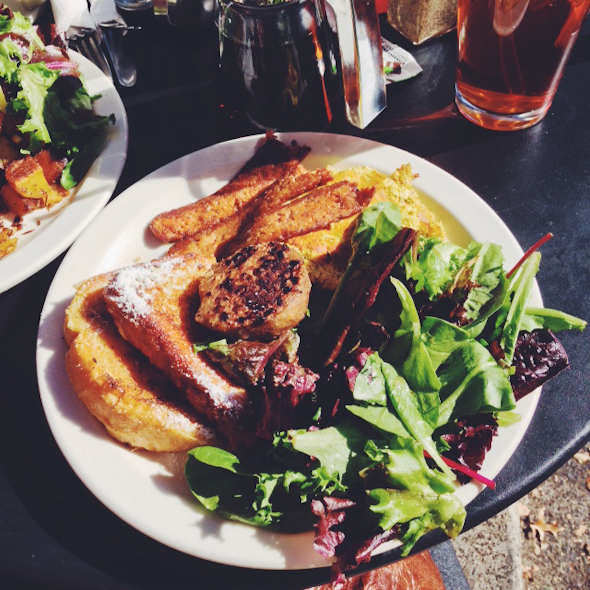 For my meal, I ordered the French Toast Slam, which came with light and not-too-sweet French toast, a perfectly spiced tofu scramble, rosemary-infused soysage, and delicious tempeh bacon with salad. It was a great way to try a bunch of different things, and it was vegan diner food perfection.
We were too full to get dessert (next time!) and also knew we'd want to save room for the next destination on my list…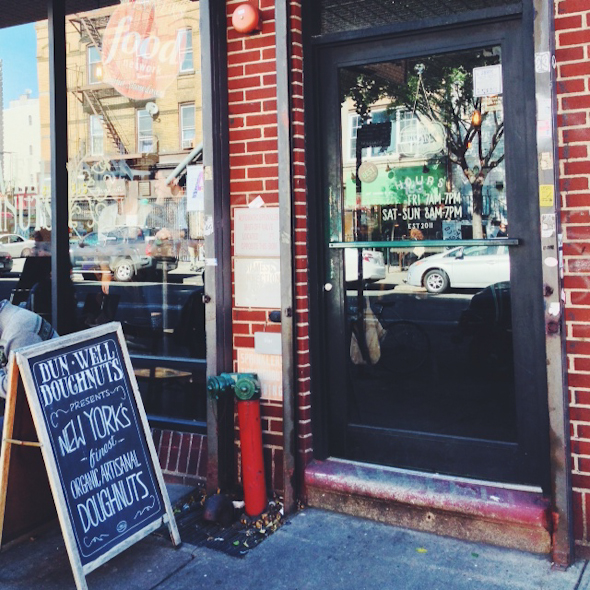 I've been following Dun-Well Doughnuts on Instagram for a while now, and I'm always so impressed with their flavor selections. I had heard so many good things about their vegan and organic doughnuts, I was worried it was destined to be a letdown. I shouldn't have worried. These were the best doughnuts of my life.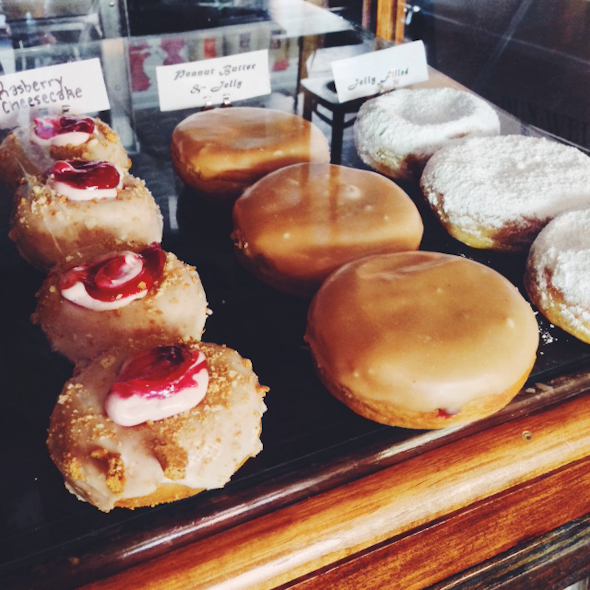 The shop is charming and vintage-y, with cool little details and really great energy throughout. I loved everything about it and I totally lived out my dessert dreams when I told the cashier: "We'll take one of everything."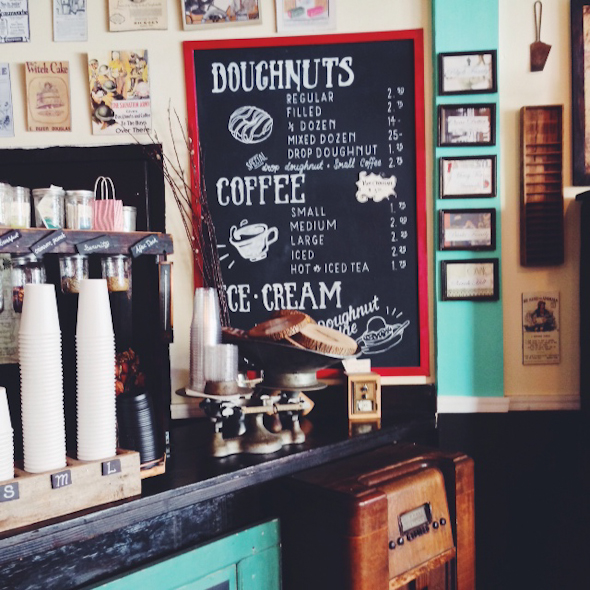 We were there later in the day and the selection was a little limited, but this still amounted to ten flavors of doughnuts. We paced ourselves throughout the day, reserving a few for my parents as a thank you for watching Honey and Barley, but sitting in the car for four hours with a box of doughnuts on your lap is a dangerous thing.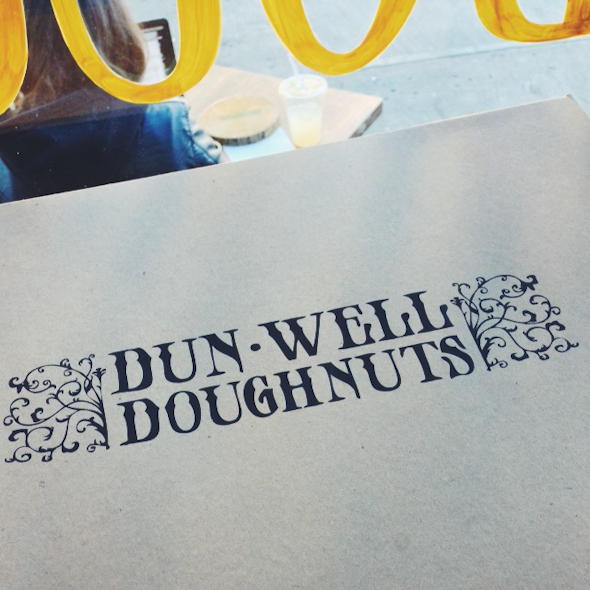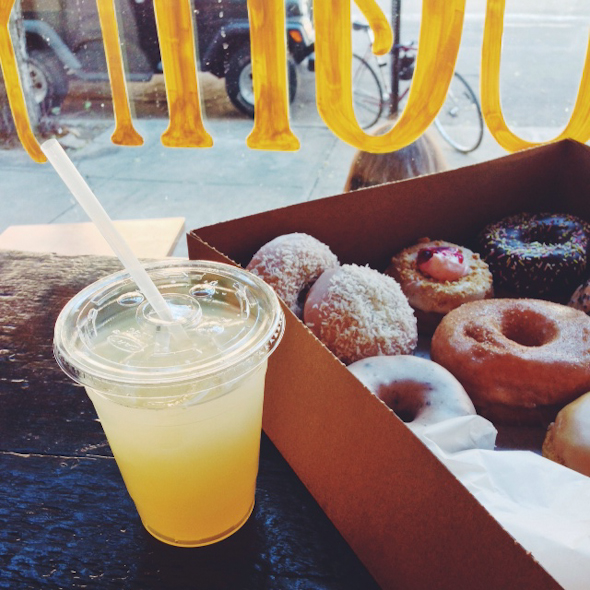 We did a lot of snacking – all in the name of research! – and every single flavor was superb. Every time we tried to choose a favorite it went something like this: "Raspberry cheesecake! No, peanut butter and jelly! Oh, chocolate-frosted with sprinkles!" until we had literally listed every flavor in the box. I think it's safe to say you can't choose a "meh" doughnut at Dun-Well. Also, I'm worried they have ruined all other doughnuts for me. It's a good thing I ate enough to get me through the next year or two.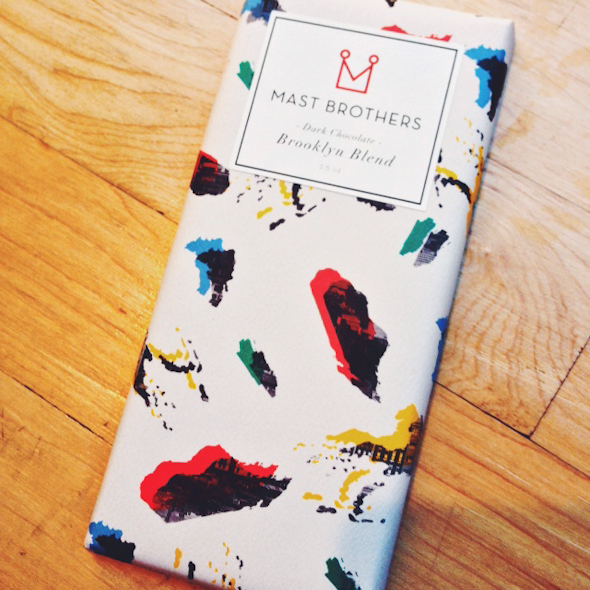 This wasn't on my vegan foodie list, but it should have been. Mast Brothers has a store in Williamsburg, but I actually grabbed this on an impromtu coffee run to Blue Bottle. The coffee, unfortunately, was mediocre, despite it being one of the best parts of living in SF. I don't know if it's the air in California or what, but it just wasn't very good in New York. The chocolate, on the other hand, is perfection. The flavor is similar to Taza Chocolate and made from two ingredients (cacao and cane sugar), except with a smoother texture. I will definitely be making it a point to stop by their Brooklyn store the next time I'm in the area. For now, I am savoring every bite of that (pricey) bar.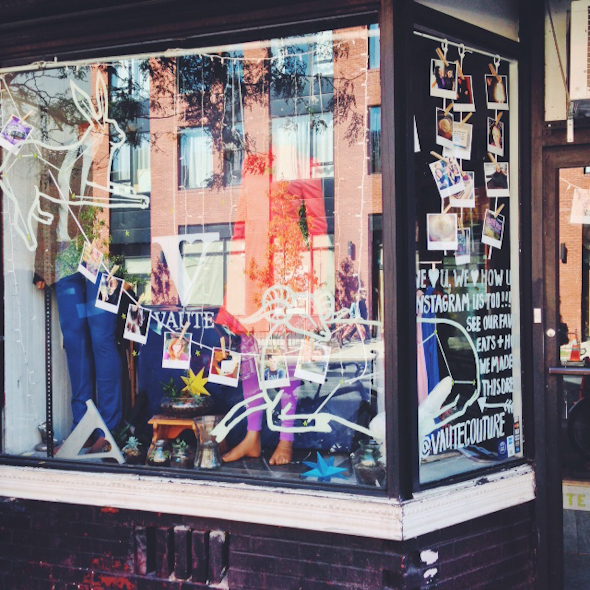 If you're at all familiar with vegan fashion, you've probably heard of Vaute Couture. They have a bit of a cult following and are best known for their beautiful, well-made winter coats. I knew we had to visit their flagship store while we were in Williamsburg.
The store is quirky and fun, and the woman who helped us was so nice and knowledgeable. We also bonded over our mutual love for Lula's Sweet Apothecary (more on that in another post) and she gave us a few restaurant recommendations for the next time we're in the city.
Sidenote: this stellar customer service was true for nearly every place we visited. The people working at each shop seemed genuinely happy to be there and proud of the products. It made the experiences that much better and made us feel really good about our purchases, especially when the prices were a little on the expensive side. In these instances, you get what you pay for, and we were happy to support them.
Back to Vaute Couture – I am now dreaming about the Emily coat (velveteen or moleskin? That's the big question.) and Aaron is planning to treat himself to the Stargazer on Tuesday, when we learned all of their men's winter coats go on pre-sale for 50% off for twenty-four hours! I missed the boat on the women's winter coat's (those are now 25% off instead of 50%), but tomorrow is the day to buy your guy (or yourself, if you're one of Pickles & Honey's two male readers) some luxe new winter wear. The fabrics and designs are beautiful, and pre-ordering funds the production of each piece, which Vaute Couture makes in small quantities right in NYC's garment district.
I already have a puffy winter coat and another fancier pea coat (both from my pre-vegan days), but I am really trying to justify that Emily coat. I am a sucker for the giant, removable hood and zipper details. So fun.
In summary, Williamsburg is worth the trip. And I am probably not cool enough to live there. Visiting, on the other hand, I can totally do.
xo
Amanda