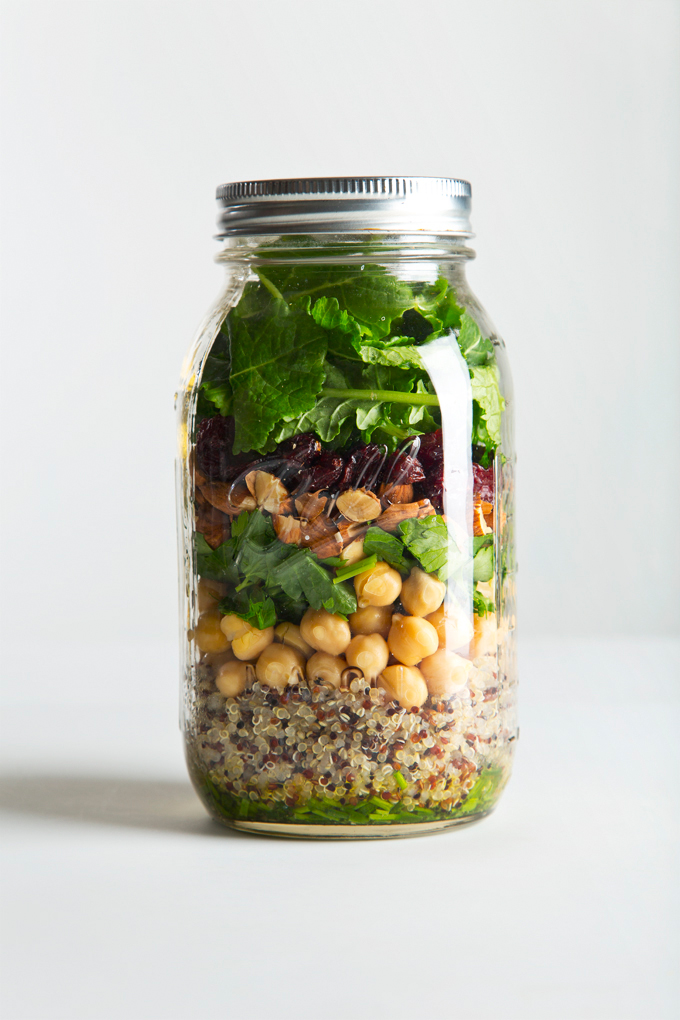 When I asked for your feedback earlier this year about the types of recipes you wanted to see more of,  I received a lot of requests for lunches and dinners, and quite a few of you mentioned needing more ways to use up pantry staples. Since Aaron and I always seem to have at least one type of quinoa in our pantry, I thought some main meals using this gluten-free, protein-packed super seed (because quinoa is actually a "pseudocereal," not a grain) would be a good place to start. Below are a few of our favorite quinoa recipes, if you'd like some new ideas.
(Click on the recipe name below the photos to go to each recipe)
Pictured above: Quinoa and Kale Mason Jar Salad
This salad takes about 20 minutes start to finish and is perfect for portable lunches and dinners. It's high in plant-based protein and healthy fats, and an easy way to get in lots of good-for-you greens!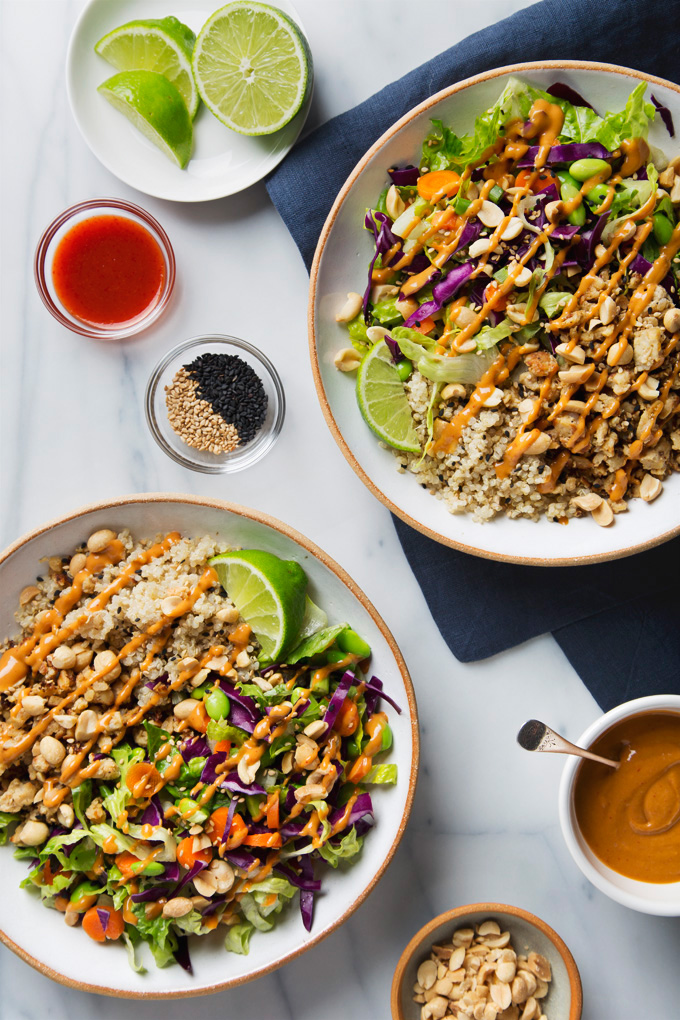 Spicy Thai Salad with Tempeh
This hearty vegan Thai Salad has crumbled tempeh, lots of bright, crunchy vegetables, and a simple peanut sauce that's so delicious, you will want to lick the blender. (No judgement from me if you do!)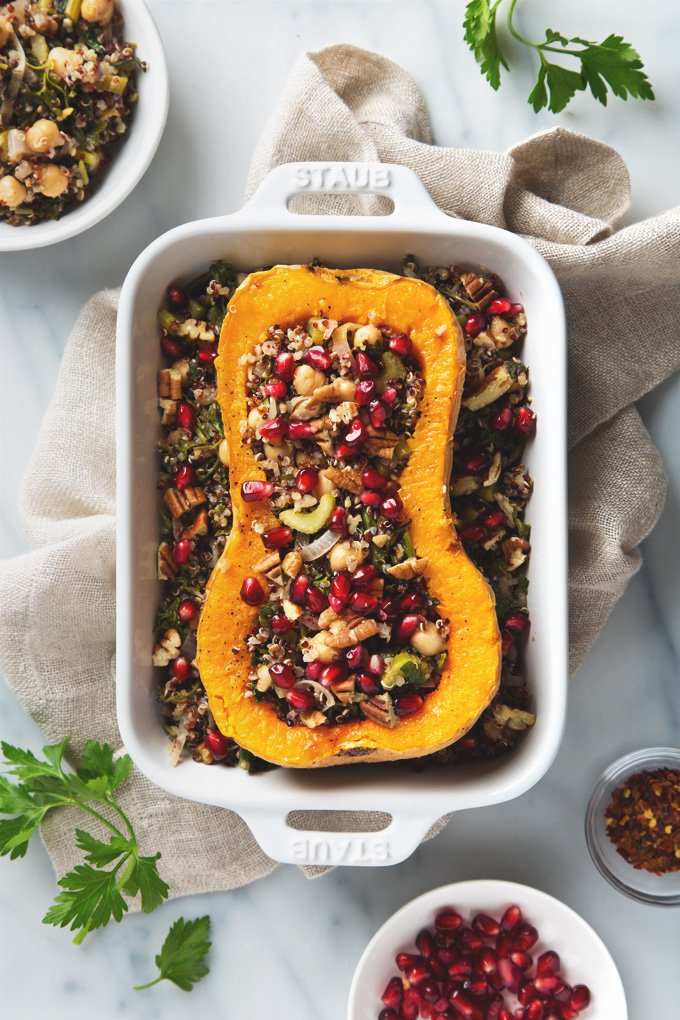 Stuffed Butternut Squash with Quinoa Salad
I love this meal because it's easy to make and pretty too! It's made using a roasted butternut squash that's stuffed with a simple and cozy warm quinoa salad—the perfect winter comfort food.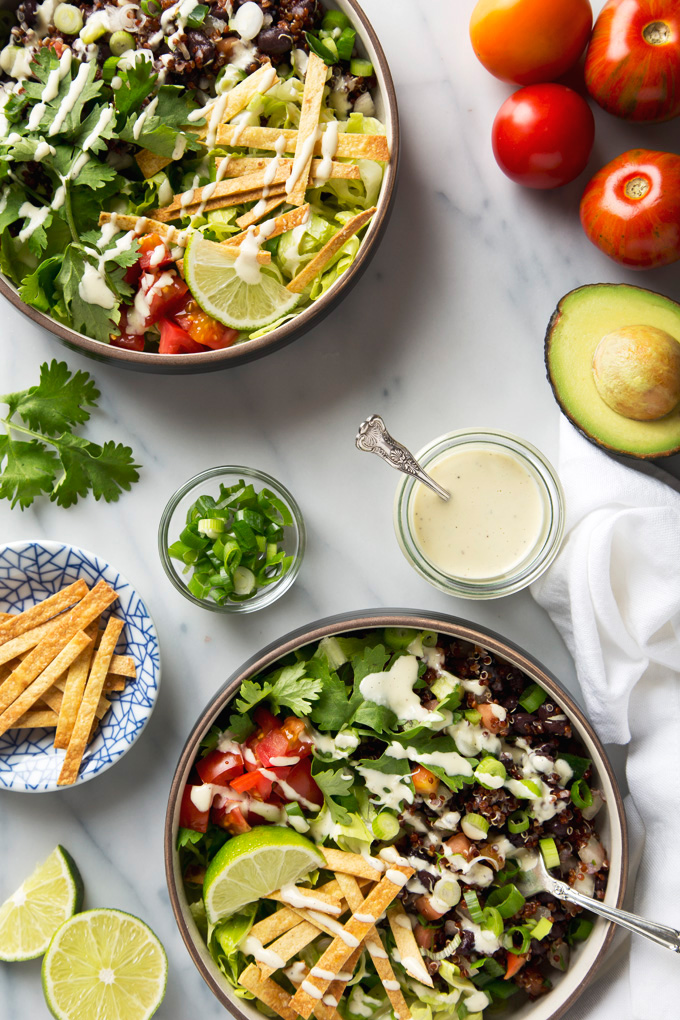 Quinoa Taco Salad with Garlicky Cashew Cream Dressing
This Quinoa Taco Salad uses red quinoa and black beans for protein, fresh pico de gallo salsa fresca, creamy avocado, and crunchy baked tortilla strips. It's dressed in a simple 4-ingredient Garlicky Cashew Cream Dressing that's really hard to resist. Pro tip: make a double batch of the tortilla strips because if you're anything like Aaron and me, half of them won't even make it past the baking sheet.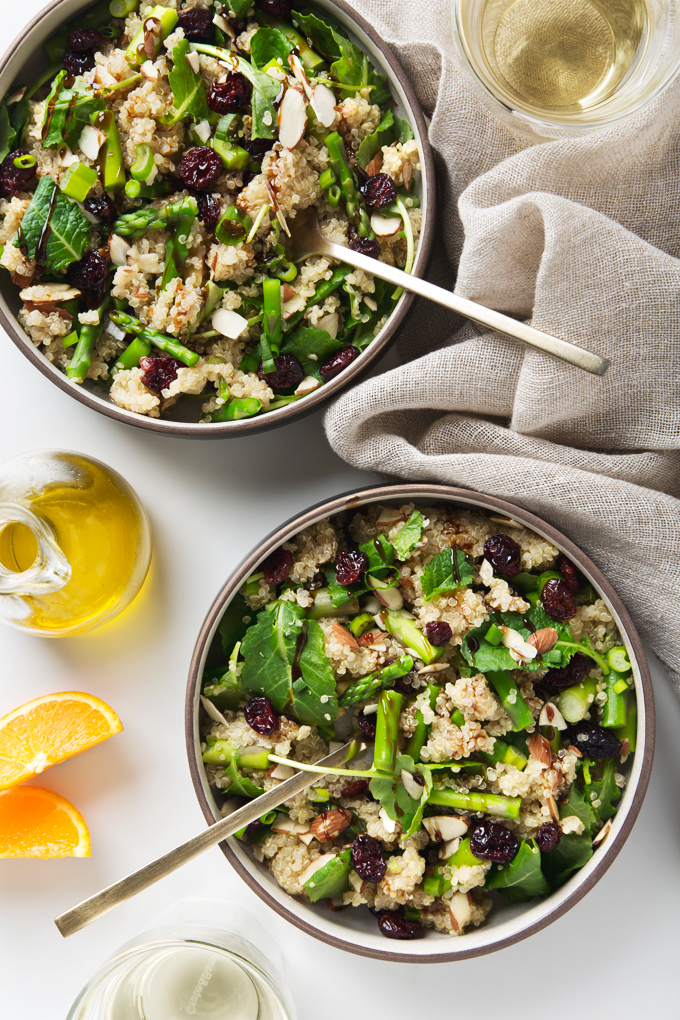 Spring Asparagus and Baby Kale Quinoa Bowl
It's currently snowing outside in Boston, but I can't help but look ahead to warmer Spring days and all of the wonderful produce that's to come, like fresh peas, artichokes, fennel, and asparagus! This 9 ingredient  quinoa bowl takes about 20 minutes start to finish and holds up really well for next-day lunches. It's easy, wholesome, and so satisfying…even if you get a little ahead of yourself and make it in winter.
---
We'd love for you to follow us on Instagram!
Tag photos you post of our recipes with #picklesnhoney so we can see.