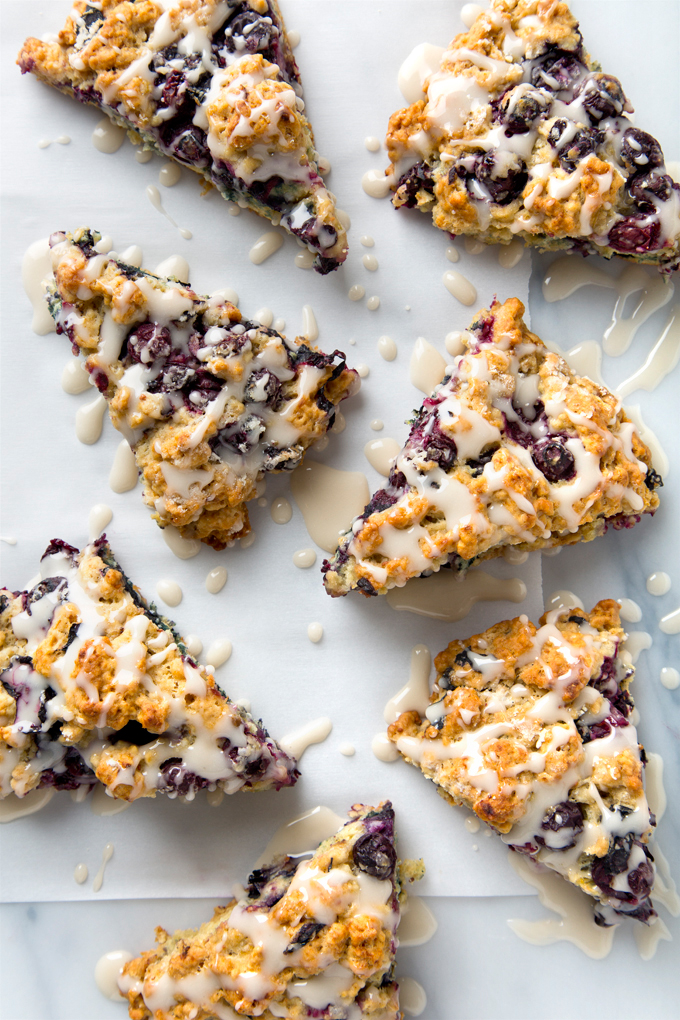 I don't mean to be an alarmist, but gut check: we're nearly halfway through August! Seriously, how did that even happen? I'm feeling slightly angsty that Aaron and I have been working like crazy and not making the most of this all too short season.
How about you? Have you enjoyed a few beach days and eaten your weight in watermelon, tomatoes, and cherries (tasks I take very seriously)? If yes, go you! If not, perhaps today's post can serve as the kick in the butt we need to re-prioritize all of the things that make summer so great.
If you're looking for a little inspiration on the food front, below are 12 recipes that make the most of summer produce, with a heavy emphasis on ice cream (because ice cream is basically its own food group in my mind). Feel free to adapt them to whatever produce looks best at the markets near you! For example, those blueberry scones could go peach, raspberry, cherry…there are so many delicious possibilities.
(Click on the recipe name below the photos to go to each recipe)
Pictured above: 10 Ingredient Blueberry Scones (with a gluten-free option)
These simple vegan scones are studded with juicy blueberries and scented with lemon and vanilla. They're lower fat and lightly sweetened, and an especially great (easy!) recipe if you've ever felt intimidated about baking your own scones at home.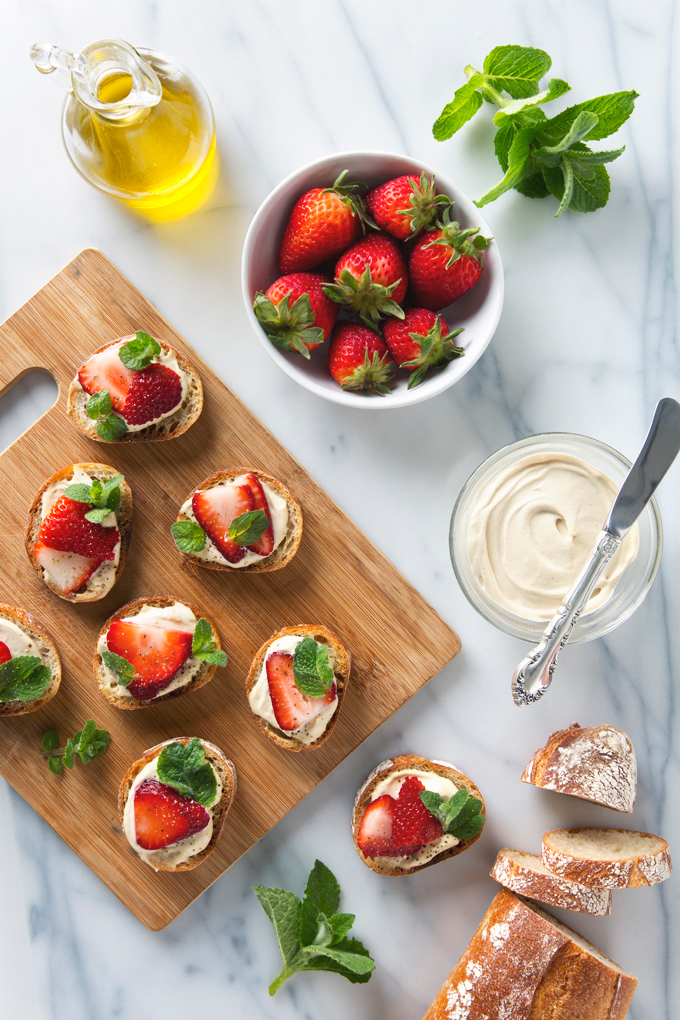 Strawberry, Mint and Cashew Cheese Crostini
Aaron and I have been making cashew cheese on repeat, and a seasonal crostini sounded like a great vehicle. To make this easy appetizer, all you need to do is thinly slice a baguette, drizzle it with olive oil, and lightly toast it in the oven. Meanwhile, you can blend up your cashew cheese (it literally takes 5 minutes), slice up some strawberries and pick a few mint leaves (I plucked ours from our yard!), and rub the toasted bread with garlic. From there, it's all about assembly: a layer of cashew cheese, a couple of sliced strawberries, and a mint leaf or two. Simple, light, and perfect for pairing with your favorite summer cocktail.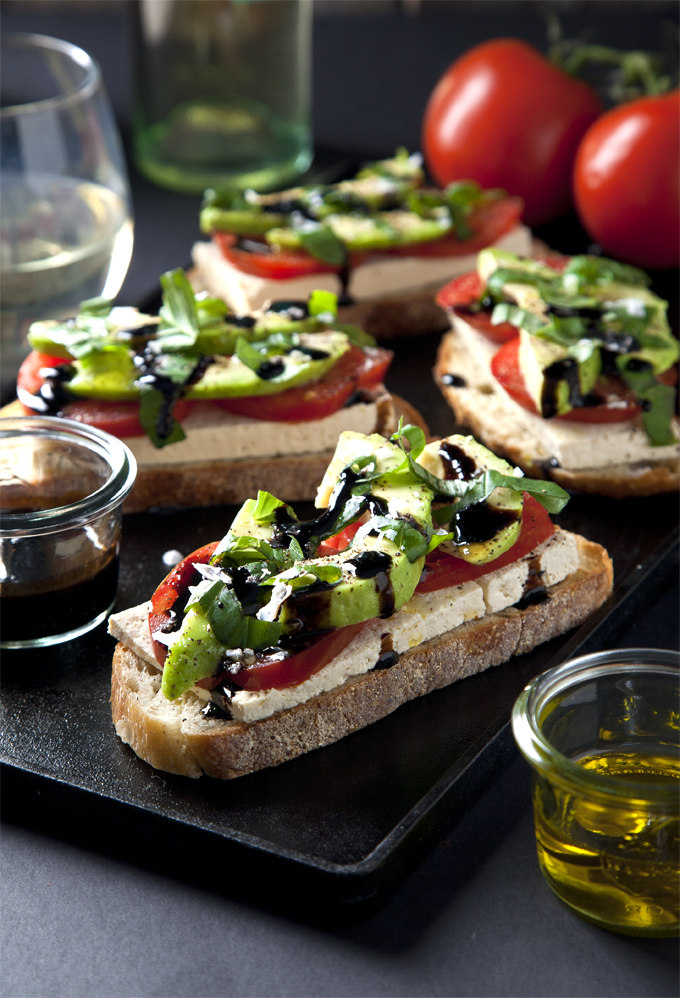 Open-Faced Vegan Caprese Sandwiches
Your favorite caprese salad, veganized and in sandwich form! With creamy avocado and chewy, dense, pressed tofu—I promise you won't even miss the cheese.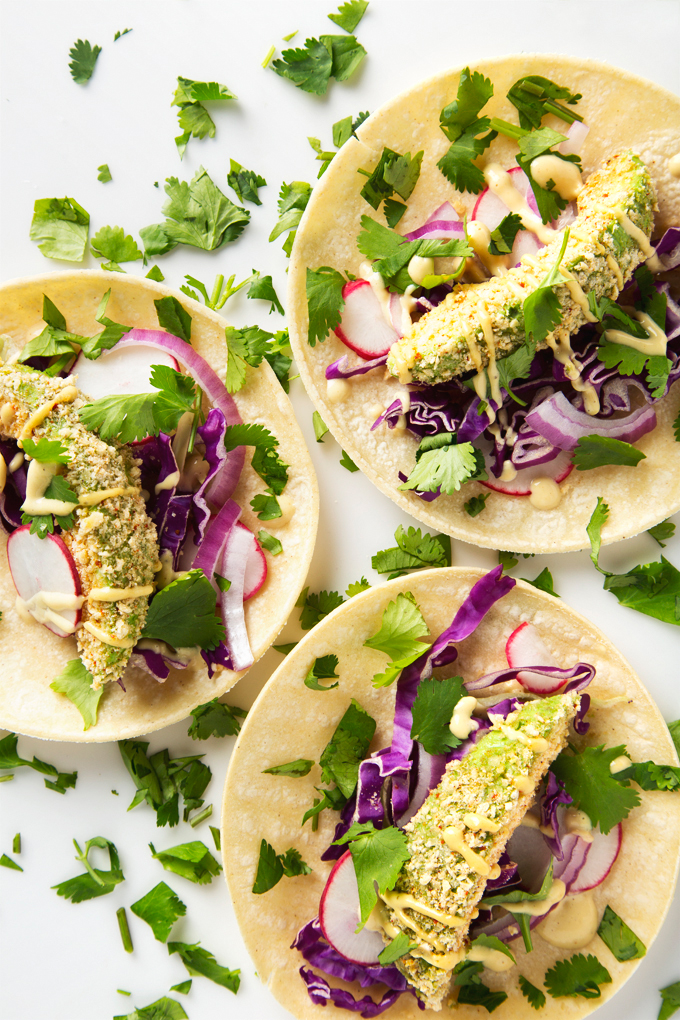 Crispy Avocado Tacos (recipe via The First Mess Cookbook)
I love a vegan taco with a clever and saucy mushroom/bean/lentil/tofu/tempeh filling. If the taco has an avocado-based topping though—either simply sliced, made into a crema, or some kind of guacamole, that's always my favorite part. For this main, I coat the wedges of ripe avocado in crushed-up, seasoned rice crackers for a very satisfying crunch. The finish of my Creamy Garlic Dressing is the perfect complement.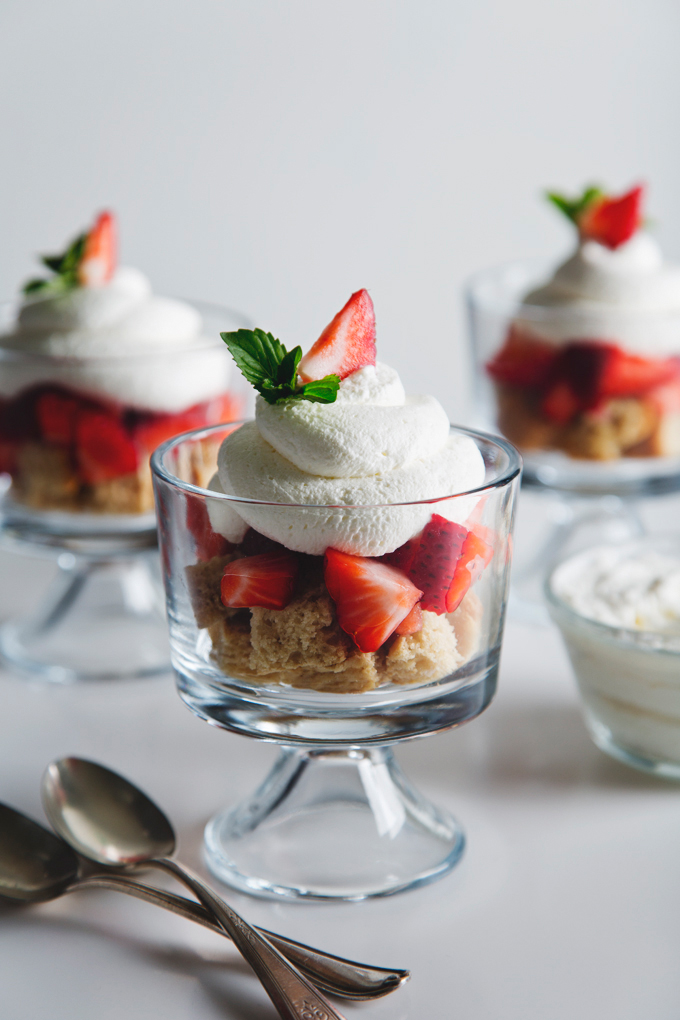 Mini Strawberry Shortcake Trifles
Simple 10-ingredient vegan strawberry shortcake trifles that are naturally sweetened and made with wholesome pantry staples. This dessert is easy, pre-portioned, and one of my favorite light summer treats!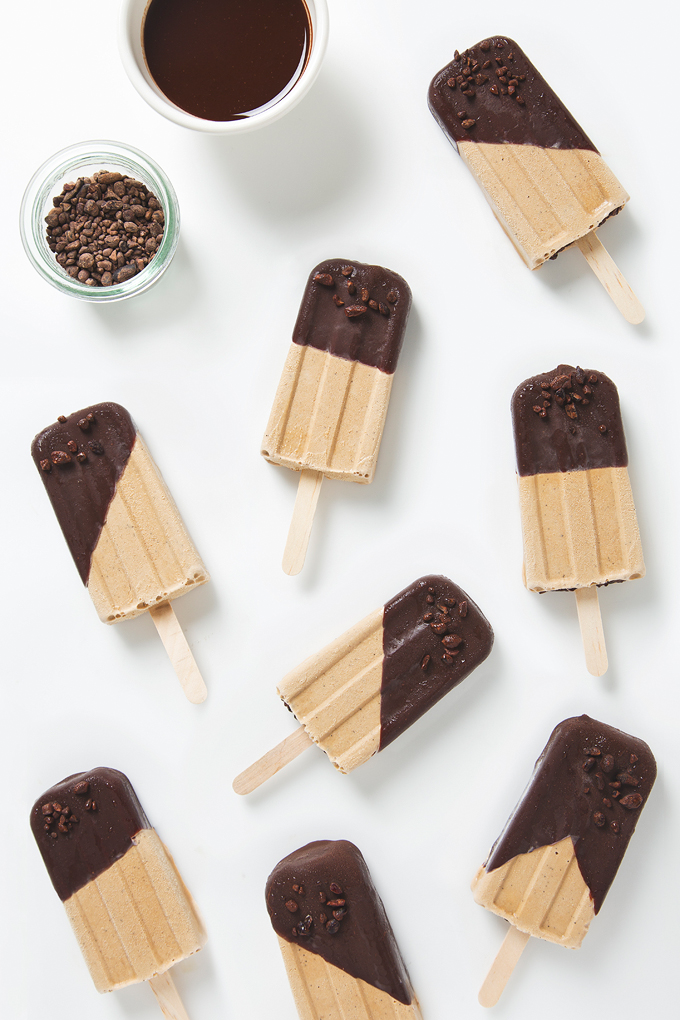 Chai Creamsicles with Raw Chocolate Magic Shell
These 7-ingredient vegan chai creamsicles are made from whole foods, they're naturally sweetened, and they're so simple to make. Just blend, freeze, and dip in easy raw chocolate magic shell!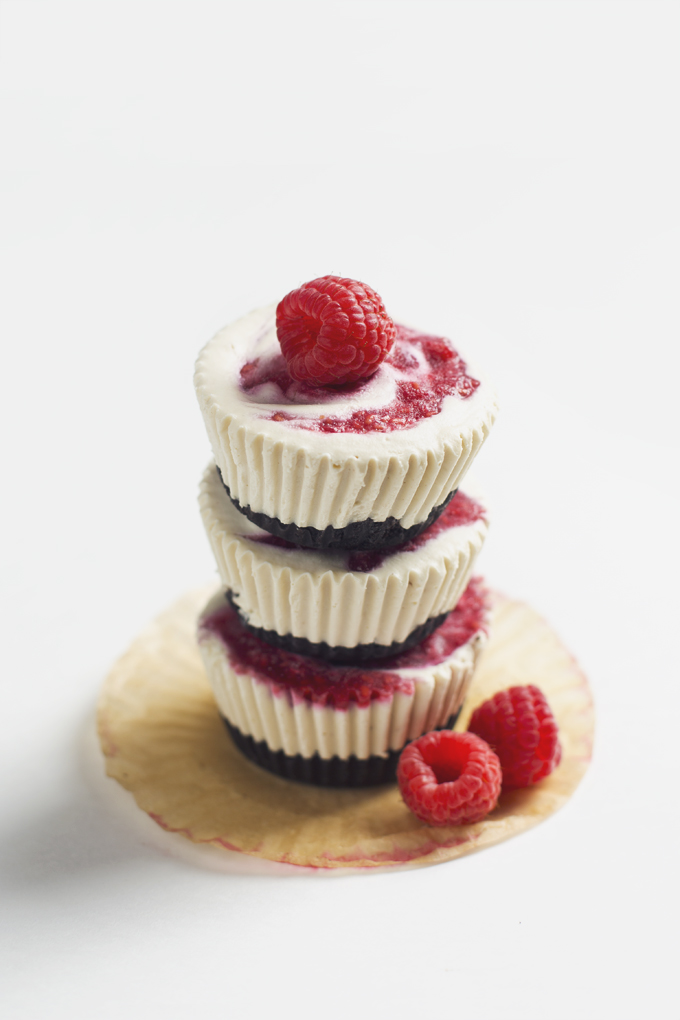 No-Bake White Chocolate Raspberry Cheesecake
Oreo cookie crust, creamy white chocolate cheesecake, and fresh raspberry swirls. These no-bake mini vegan cheesecakes require very little effort for big flavor returns. Also, how pretty is that raspberry swirl?!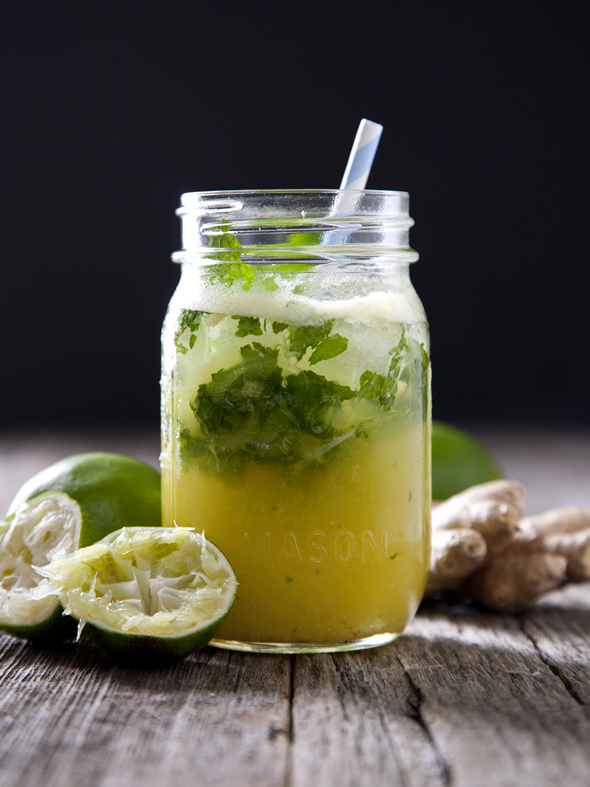 Pineapple Ginger Mojitos
This recipe is a fun spin on my most favorite watermelon mojito recipe from a few years ago. I am loving the pineapple/mint/ginger/lime combination, and this drink is perfectly refreshing, but spicy and strong if you go heavy on the rum. Alternatively, it also makes a fabulous mocktail.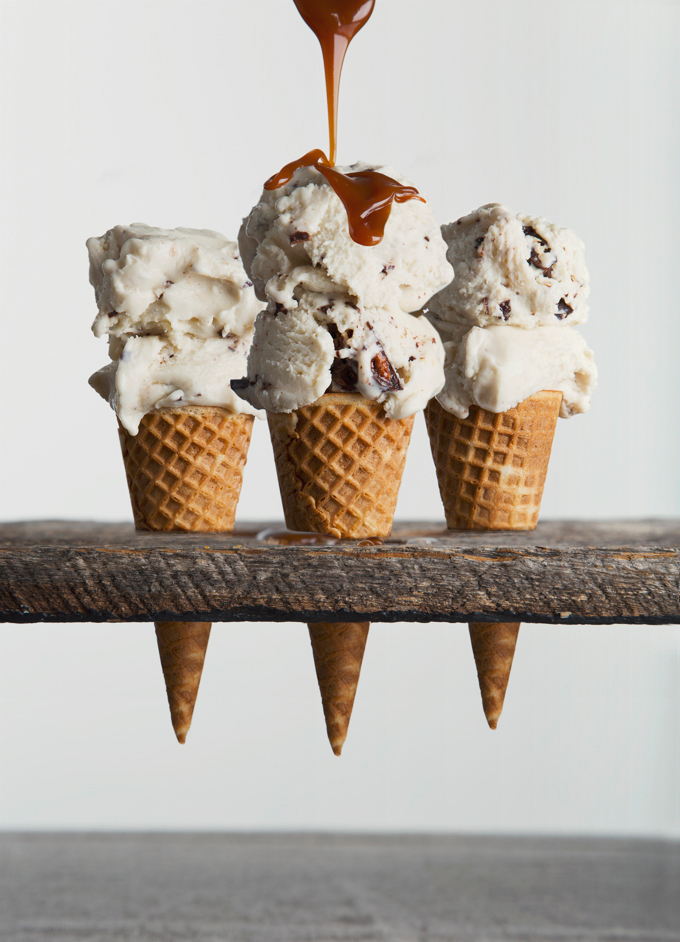 Bourbon Salted Chocolate-Pecan Cluster Ice Cream (recipe via Pantry to Plate)
I love that this ice cream pairs classic flavors—vanilla bean and bourbon—with fun add-ins and spices. Even if for some reason you don't make the ice cream, you must make the salted chocolate-covered pecans because they will rock your world! They're spiced with cinnamon, cardamom, and cayenne, and sweetened with maple syrup that gets perfectly sticky and chewy in the oven. I always make a double batch, knowing full well that I'll be lucky if half make it into the ice cream. If you don't love a boozy kiss in your dessert, simply leave out the bourbon.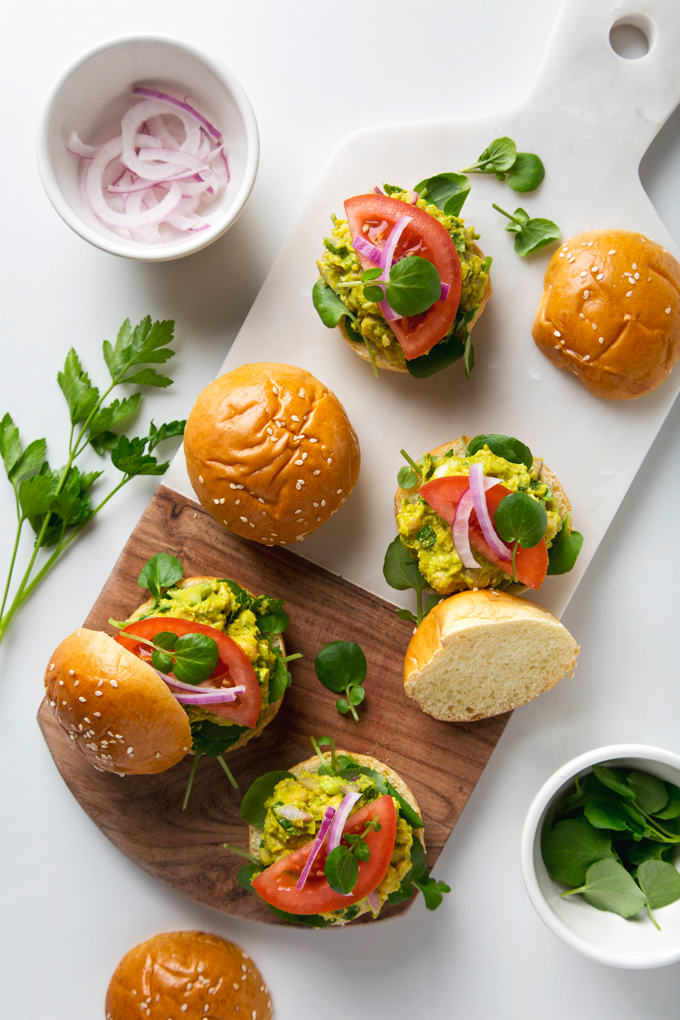 Avocado Chickpea Salad Sandwiches
A wholesome and equally high protein take on egg salad, with creamy avocado instead of mayo! This easy recipe takes just a few minutes to prepare.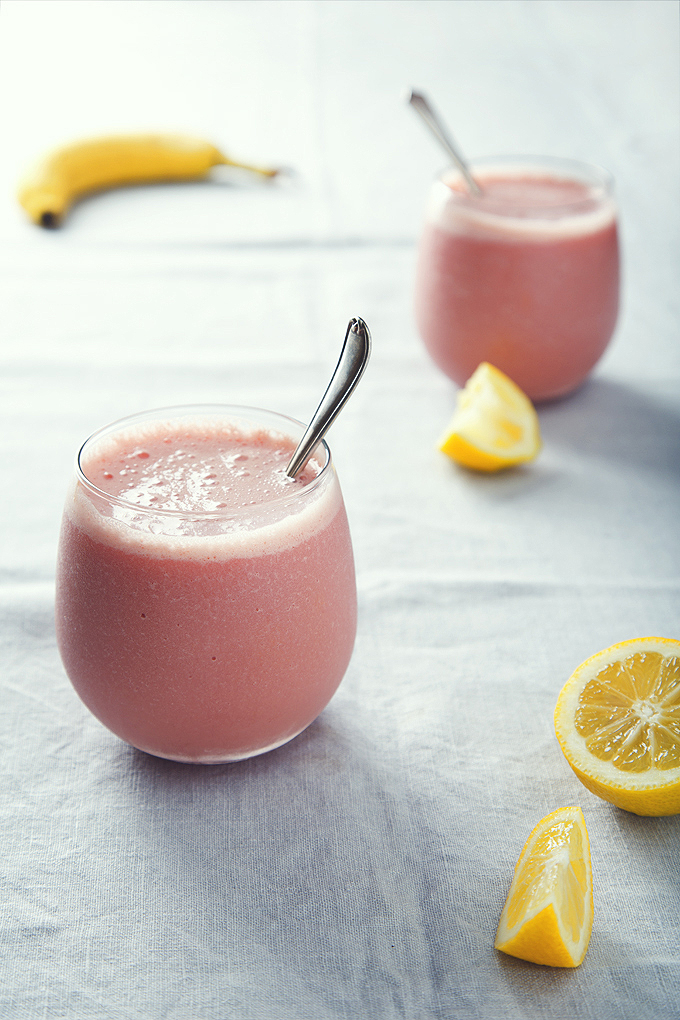 Watermelon Milkshakes
A new and healthy spin on your favorite milkshake, lightened up for summer and naturally sweetened. This 4-ingredient vegan milkshake is equal parts creamy, cold, and refreshing.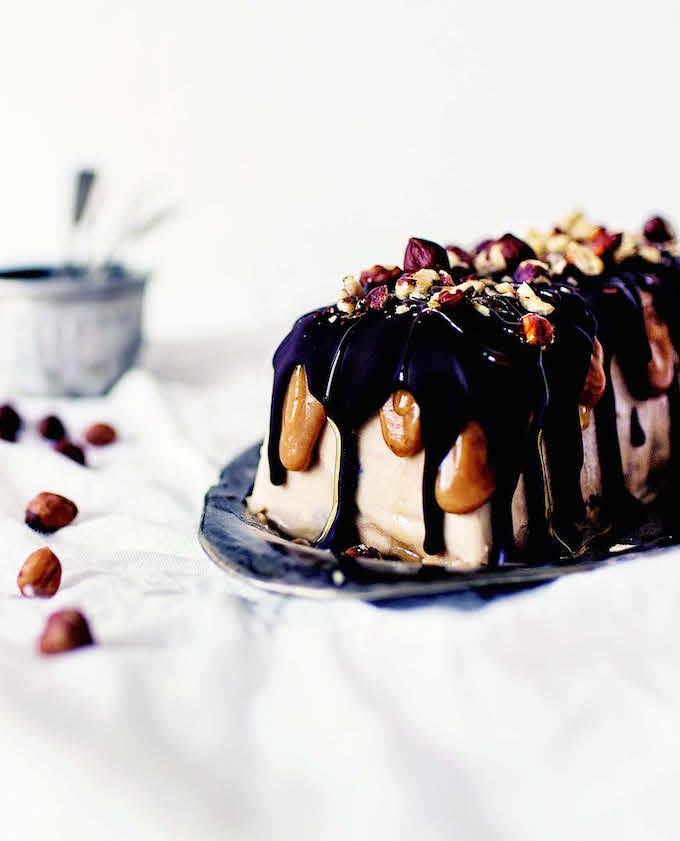 Vegan Snickers Ice Cream Cake (recipe via N'ice Cream)
If you're a peanut and chocolate lover like myself (and um, who isn't?), you are going to love this easy ice cream cake. The base is a super creamy mix of full-fat coconut milk, frozen bananas, and peanut butter, with some raw peanuts for crunch. The sticky caramel sauce is made from more peanut butter, dates, coconut oil, and coconut milk. And then the chocolate sauce! It's like chocolate magic shell but better, and so simple to make with just four good-for-you ingredients.
---

We'd love for you to follow us on Instagram!
Tag photos you post of our recipes with #picklesnhoney so we can see.