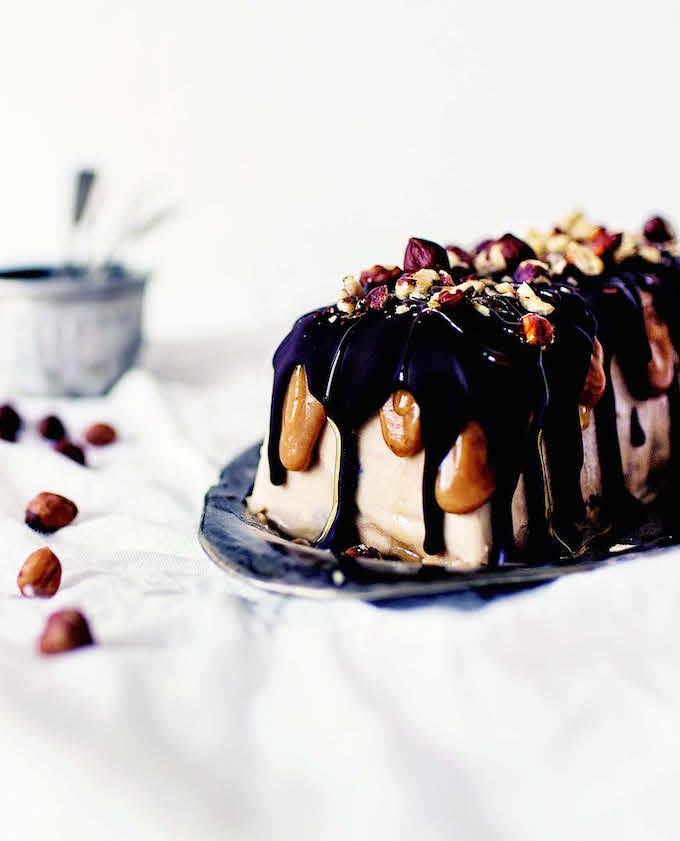 I've always had a big sweet tooth. Growing up, two of my most favorite treats were ice cream and Snickers bars (and Junior Mints, but that's a post for another day). I get my ice cream love from my mom and my Snickers love from my dad. My mom only ever bought Snickers bars for halloween to hand out, and every year she would have to hide them from the rest of our family, and especially from my dad who did not feel one bit guilty about eating all of the candy that was meant for trick-or-treaters. My mom eventually started buying him his own bag of Snickers and/or NOT buying halloween treats in advance. Smart lady.
I couldn't tell you the last time I ate a Snickers bar, but I still have a giant sweet spot for the combination of chocolate, chewy caramel, and crunchy salted peanuts…heaven. And now that Spring's making the turn into Summer and the days are dipping into the high 80s/low 90s, all I want are two of my childhood favorites rolled into one blissfully delicious dessert: vegan snickers ice cream.
This is why I was practically giddy when a copy of Virpi and Tuulia's new N'ice Cream book arrived on my doorstep with over 80 (!!!) simple recipes for healthy homemade vegan ice creams. This is my book!
I've since flagged at least 15 recipes to make in short order, and I did a little happy dance when I flipped to the back of the book and stumbled upon Caramel Peanut Ice Cream Cake with Chocolate Sauce Frosting…aka vegan Snickers ice cream cake!
If you're a peanut and chocolate lover like myself (and um, who isn't?), you are going to love this easy ice cream cake. The ice cream base is a super creamy mix of full-fat coconut milk, frozen bananas, and peanut butter, with some raw peanuts for crunch. The sticky caramel sauce is made from more peanut butter, dates, coconut oil, and coconut milk. And then the chocolate sauce! It's like chocolate magic shell but better, and so simple to make with just four good-for-you ingredients: raw cacao butter, coconut oil, raw cacao powder (← fave brand + affordable!), and coconut nectar syrup. I have big plans to use it for chocolate-covered popsicles very soon!
The recipe calls for topping the ice cream cake with crushed hazelnuts, but if you want to keep it truly reminiscent of Snickers bar flavors, you could of course garnish it with more peanuts. Hard to go wrong there.
Who else is totally pumped for summer (and ice cream)?!
I think N'ice Cream is going to get a lot of love in my kitchen these next few months…