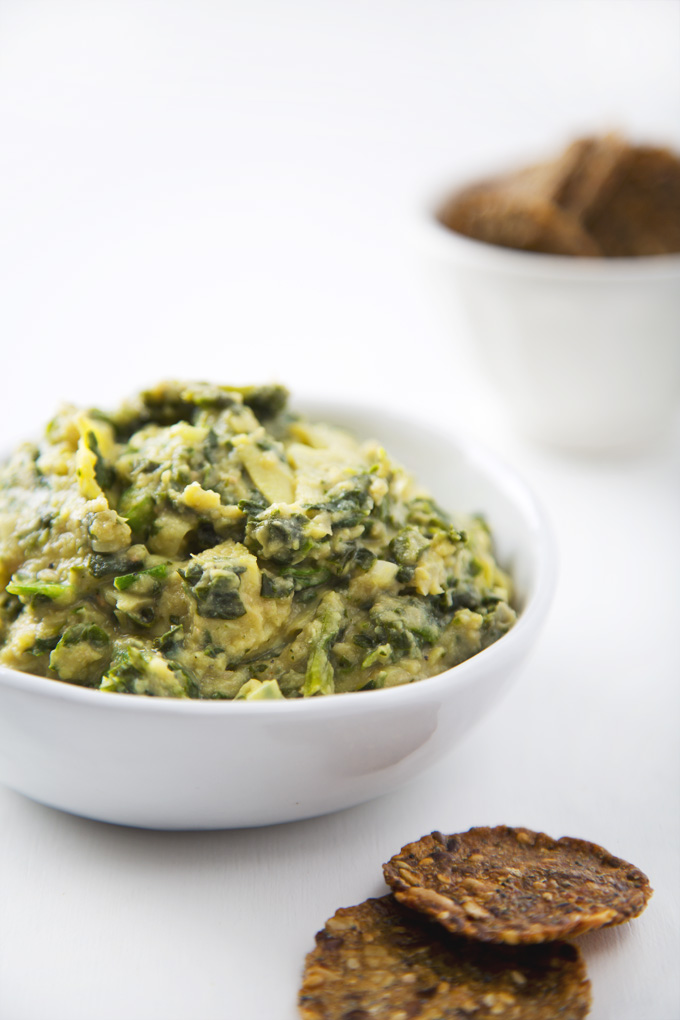 I don't have many restaurant-associated food memories. Growing up, my family did most of our own cooking, even if that meant pouring a bowl of cereal on nights my parents were too tired to cook. My mom called this "buffet night" and got out the boxes of cereal for us to make our own dinners—it was awesome and it's probably why I sometimes "treat" myself to cereal for dinner. I think most people probably have restaurant traditions or certain food memories that carry a lot of nostalgia. For Aaron, that would be getting DQ on Sundays after church, which is why he was very excited when I recreated a vegan mint oreo blizzard recently. Or when his family would go out for dinners at Olive Garden and he would eat all of the breadsticks and (some of) the salad. I remember when Aaron and I first met, he even took me to OG on one of our first dates…I had never heard of it.
The one restaurant food that does hold some nostalgia for me is spinach artichoke dip. Whenever I'd go shopping at the mall with my best friend and her mom, we'd inevitably end up somewhere like CPK or Cheesecake Factory and order spinach artichoke dip as an appetizer. It seemed kind of fancy at the time, and I loved the creamy, salty, artichoke-heavy dip. Anything with artichokes and/or olives makes me happy. I thought it must be healthy enough too, with spinach and all.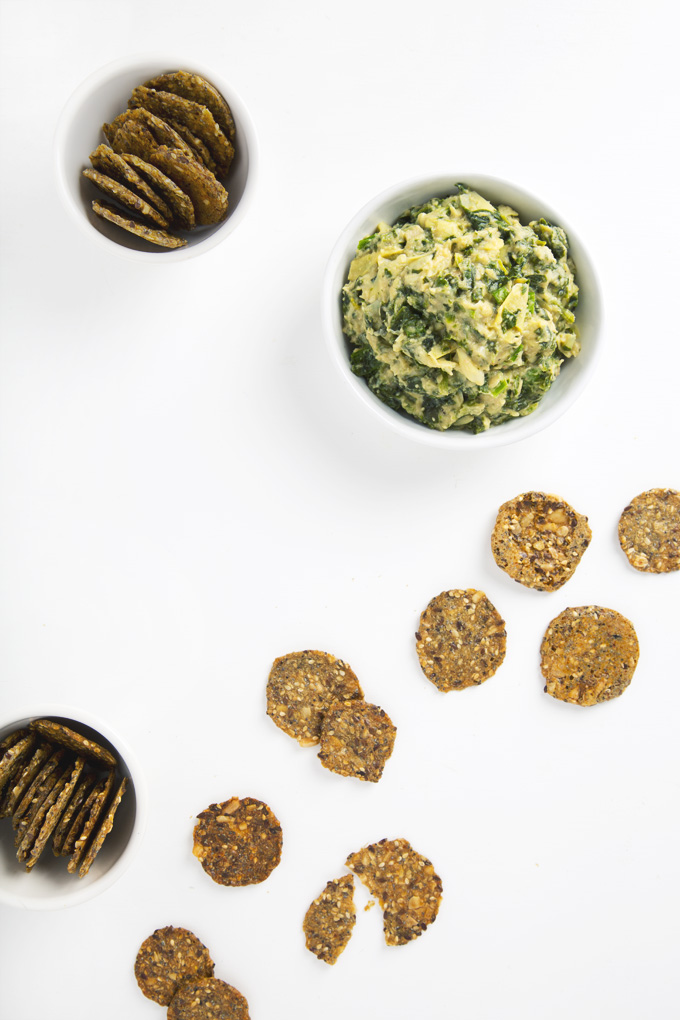 I had a sudden hankering for spinach artichoke dip the other week and so I set out to create a vegan version that is actually health-promoting instead of nap-inducing. Protein-rich cannellini beans make up the creamy base, with nutritional yeast and apple cider vinegar for that cheesy tang, and of course, I loaded it up with spinach and artichoke hearts, some blended and some chopped for that perfect smooth/chunky texture.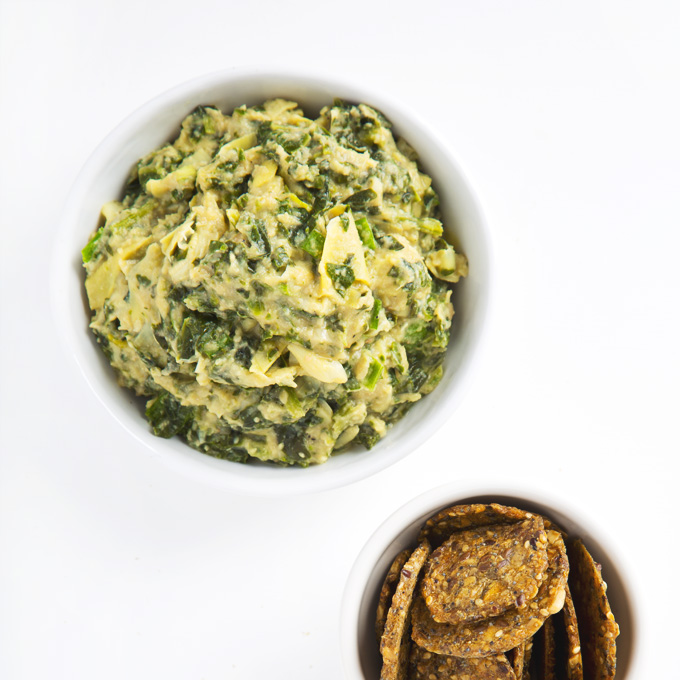 This vegan spinach artichoke dip is easy. Even though simplified recipes are my niche, I'm always surprised at just how awesome this kind of food ends up being. The flavors are so much brighter and more satisfying when they're not drowned in a bunch of dairy or extra oils, and you really can eat a giant bowl of this and feel awesome afterwards. With only 10 ingredients and 10 minutes of prep work, this is one home-cooked appetizer that far surpasses the restaurant offerings.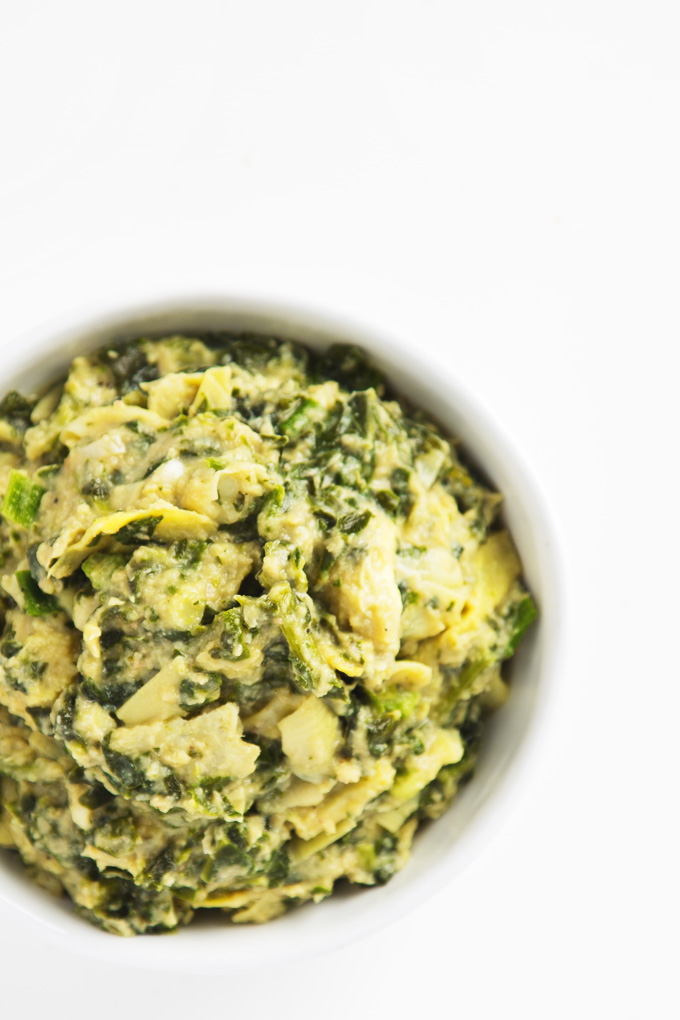 We've been enjoying our dip with super seedy and crunchy gluten-free crackers, but it would be great served atop toasted baguette rounds for a legit restaurant appetizer experience. Also, I have a feeling it will make for one killer sandwich spread.