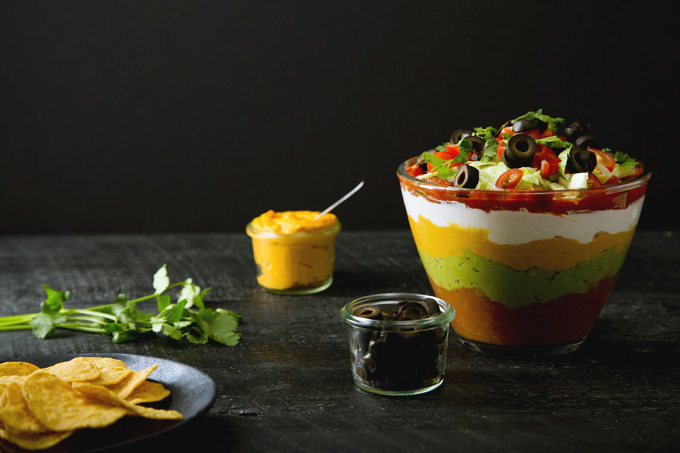 When I think back to growing up and the seemingly endless string of birthday parties, pool parties, sleepovers, movie nights, and other random get-togethers with big groups of friends, the food was definitely one of the highlights. Pizza! Brownies! Chips! Ice cream! And always (always) a big bowl or casserole dish of seven layer dip. I thought maybe it was simply my group of friends, but Aaron has similar memories because his mom was the one who made sure every party, church group, and movie night was well-stocked with seven layer dip and extra large bags of crunchy tortilla chips. I was struck with nostalgia for this dip recently and knew I needed to come up with a vegan version to satisfy the craving.
Life has been a little chaotic lately as we gear up to leave behind the familiar in search of the new for at least the next year on the road. We've been showing our home to prospective tenants this week and buzzing around on the daily to keep it neat and tidy and a little bit staged. As if our kitchen counters are always clear of dishes and my one-too-many appliances, and our bed is always perfectly made with the covers tucked in and pillows fluffed just so. Maybe it's all in my head, but I think those small details matter, at least to the types of renters we'd like to attract. The good news is it seems to be working and hopefully, fingers and toes crossed, very soon we can check "rent out condo" off of our lengthy to-do list. That will be a huge weight lifted off of our shoulders.
Seven layer dip is technically more of an appetizer or a snack than a proper meal, but our meals this week have been more about assembly and not dirtying a bunch of dishes or cluttering up the counters, and so we've been treating it like lunch or dinner. I love the informality. It just feels so relaxed and of course the nostalgia of those childhood get-togethers makes it even more fun to eat chips and dip and call it dinner.
One of my favorite spreads I've made to date is a simple vegan queso. It's become a weekly thing for us, replacing our usual hummus on everything habit. I think it's a bit underrated to be honest, and not surprisingly, it gets overshadowed by other more exciting treats like chocolate cake or cinnamon rolls, but if you're looking for a wholesome and cheesy spread or a break from chickpeas, definitely give it a try. Or, just make this easy vegan 7 layer dip and go heavy on the queso. I've specified measurements for the recipe based on my ideal ratios, though this dip is really all about the assembly and thus very customizable. Obsessed with avocados? (who isn't?) Use more guacamole. Not a fan of iceberg lettuce? Swap it for romaine. A little confession: I love iceberg lettuce. I never buy it because kale and other more nutritious greens steal the show, but the mild, extra crunchy, and slightly sweet flavor gets me every time.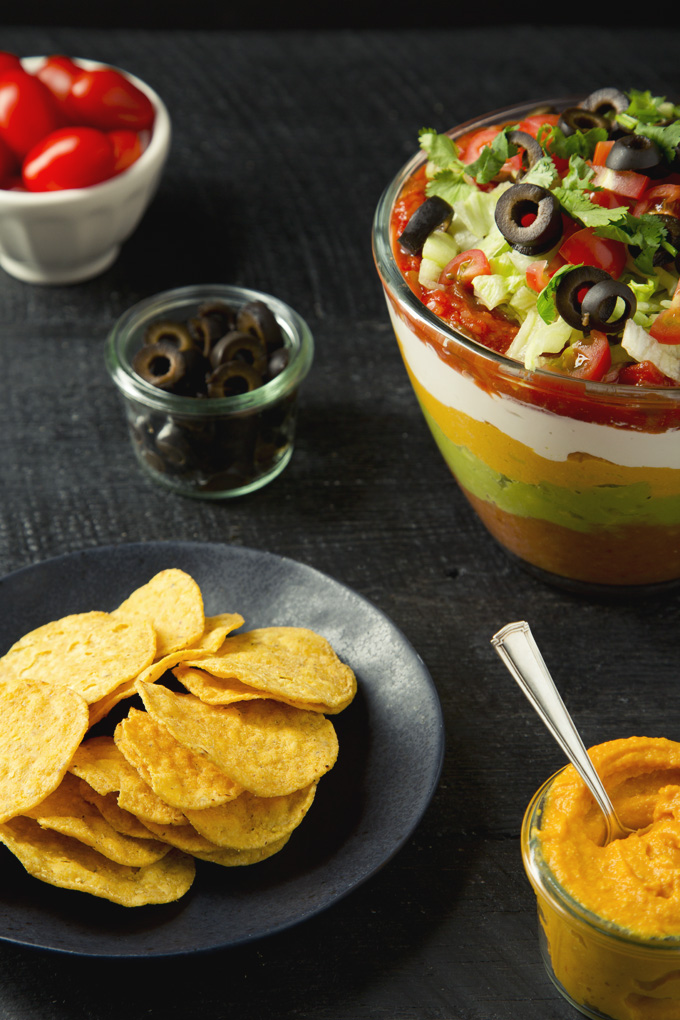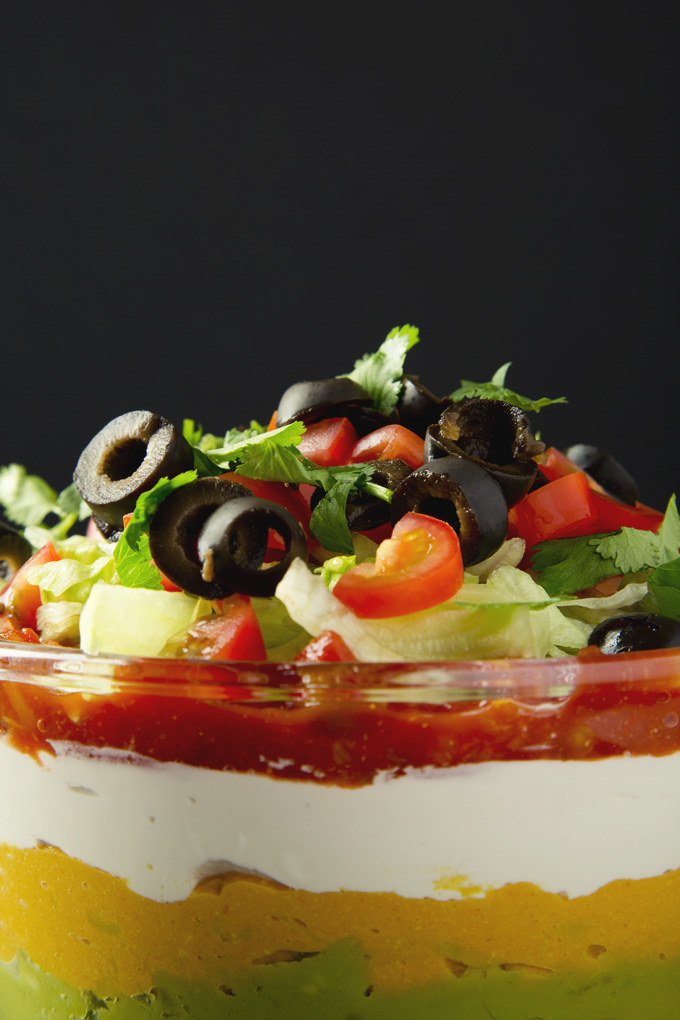 There's no wrong way to enjoy this dip: as a snack or as a meal, with tortilla chips or veggie sticks (more power to you!), while catching up on your favorite shows or catching up with your partner for a sit-down dinner.
Our moms were definitely on to something when they made sure every fun social gathering we attended as kids had a big bowl of seven layer dip. And lots of ice cream to follow.