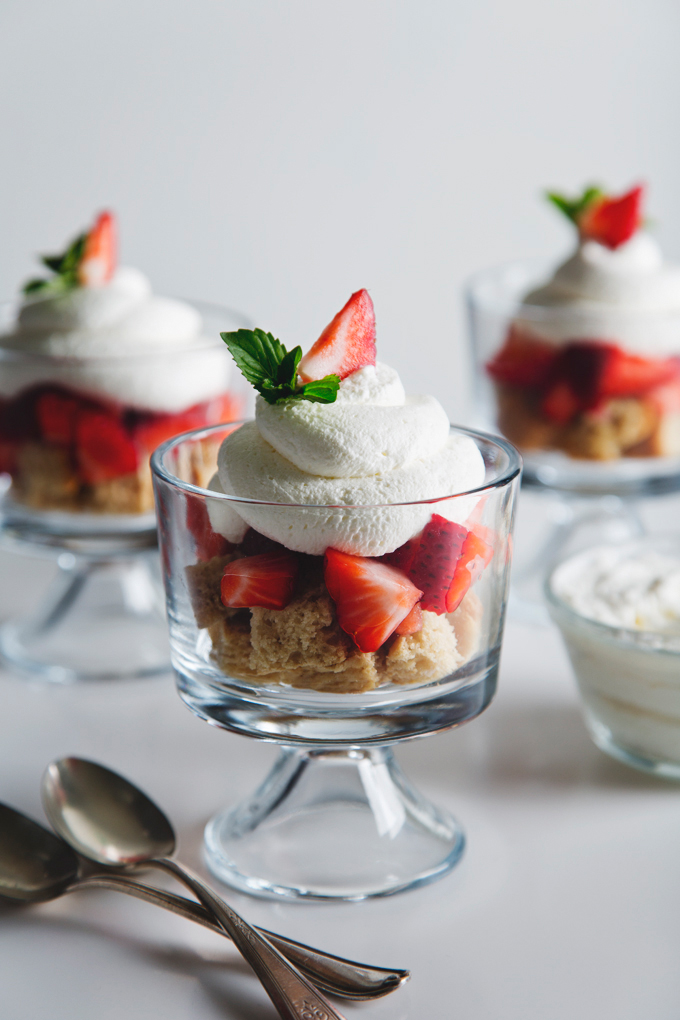 I still remember the first time I discovered dessert trifles. I was in middle school and at least ten of my girlfriends and I were having a sleepover at our friend Erika's house (because she had a giant trampoline in her yard). Erika's mom went all out on the food—pizza, nachos, cookies, soda, ice cream, and the star of the table: a massive homemade trifle with layers of chocolate cake, whipped cream, vanilla pudding, and fresh berries. Up until that moment, I had no idea such a thing even existed. It was the best and we burned it all off seeing how high we could launch ourselves on that trampoline, until inevitably one of us took a tumble or rolled an ankle and we were forced inside to console ourselves with more sweets.
For as much as I love trifle, I had never attempted to make my own. But a few weeks ago when Aaron and I stopped to get something cold to drink at Starbucks, I noticed they added a couple of trifle options to their menu, with one of them being a strawberry shortcake flavor. Of course, their version is re-purposed vanilla scones (clever), strawberry syrup, and whipped cream, and it isn't anywhere close to vegan. I love strawberry desserts though, which is why I set out to create my own mini (!!!) vegan strawberry shortcake trifles.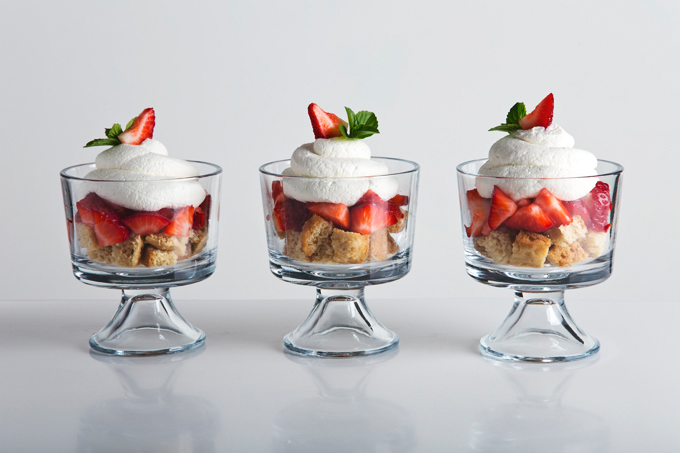 This recipe is everything I love about trifle, with layers of lightly sweetened shortcake, freshly sliced strawberries, and fluffy coconut whipped cream. I mostly used coconut sugar as the sweetener, but it's minimal because strawberries are so naturally sweet this time of year. I also did something a little hippie-dippie with the berries: I macerated them in homemade water kefir. That might sound sort of strange, but a while back Lindsey of Dolly and Oatmeal made a flourless almond cake with kombucha macerated strawberries and I thought it was pure genius. I used raspberry water kefir since I had it on hand (it's my current obsession and it's SO good!), but any complimentary flavored water kefir or kombucha will work.
This vegan strawberry shortcake trifle is simple, easy, and quintessentially summer. The cake part is actually so speedy, you may even wonder if you missed a step (don't worry, you didn't). You can serve it pre-portioned in mini trifle dishes or small jars, or go all out and do one big trifle like my friend Erika's mom always used to make.