I do my fair share of batch cooking, whether that means doubling dinner for lunches the following day, or making a gigantic pot of soup to eat throughout the week with plenty to freeze for later too. I love leftovers, and at least a couple of times a week, you can find me enjoying roasted veggies for breakfast from the night before, or tofu stir-fry served over mixed greens. I was totally that girl who would happily eat cold pizza for breakfast. Now that I think about it, it's sort of strange—I live for dessert, but I lean more savory for breakfast. Maybe that's my way of balancing my meals?
One thing I overlooked and underestimated, however, is a good make-ahead casserole. And actually, I've overlooked casseroles in general. I can't even tell you how nice it is to open the fridge and realize all I have to do is pop that sucker in the oven, prep a quick salad to go with it, and maybe an easy source of plant-based protein (give me ALL THE BEANS), and dinner is served! Divide and conquer.
But you know when make-ahead dishes are even better? Thanksgiving. And Christmas. And basically every day between November 1 and January 1, when it's all about the holidays and the shopping and the planning and a million and one errands on top of an already busy schedule. This is when make-ahead recipes can mean the difference between eating well and ordering in Thai food or burritos (just me?).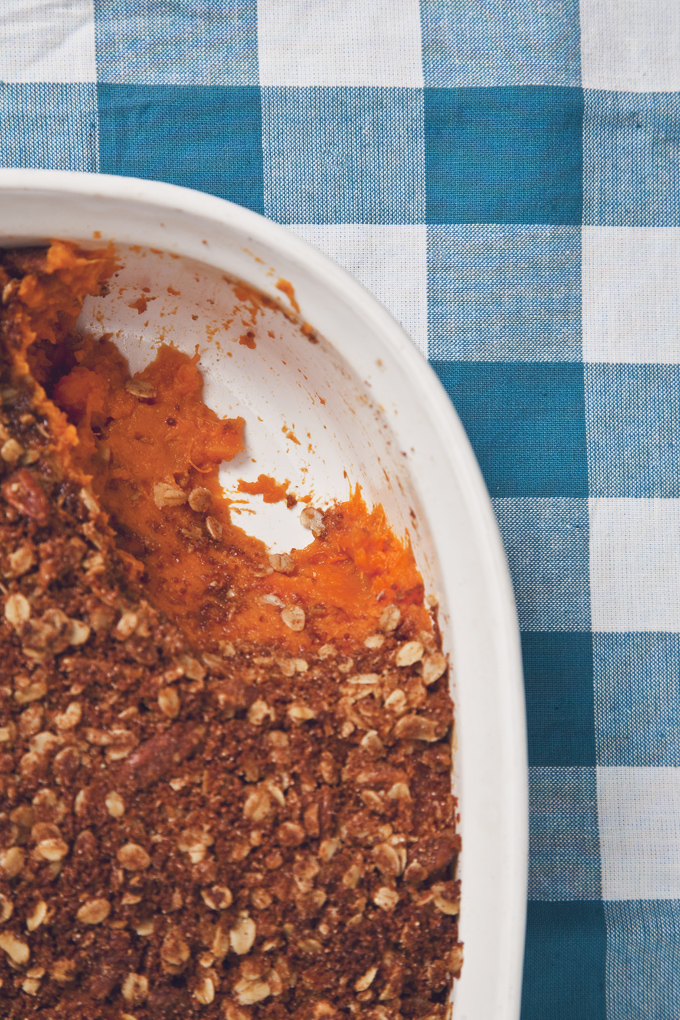 Mashed potatoes, whether white or sweet, have always been the highlight of my Thanksgiving dinners in recent years, and they would have been in all years past except my family never seemed to have them?! I know…believe me, I KNOW. I'm making up for lost time, and silky smooth mashed sweet potatoes + cinnamon-spiced pecan oat crumble topping…this is the vegan sweet potato casserole of my holiday dreams.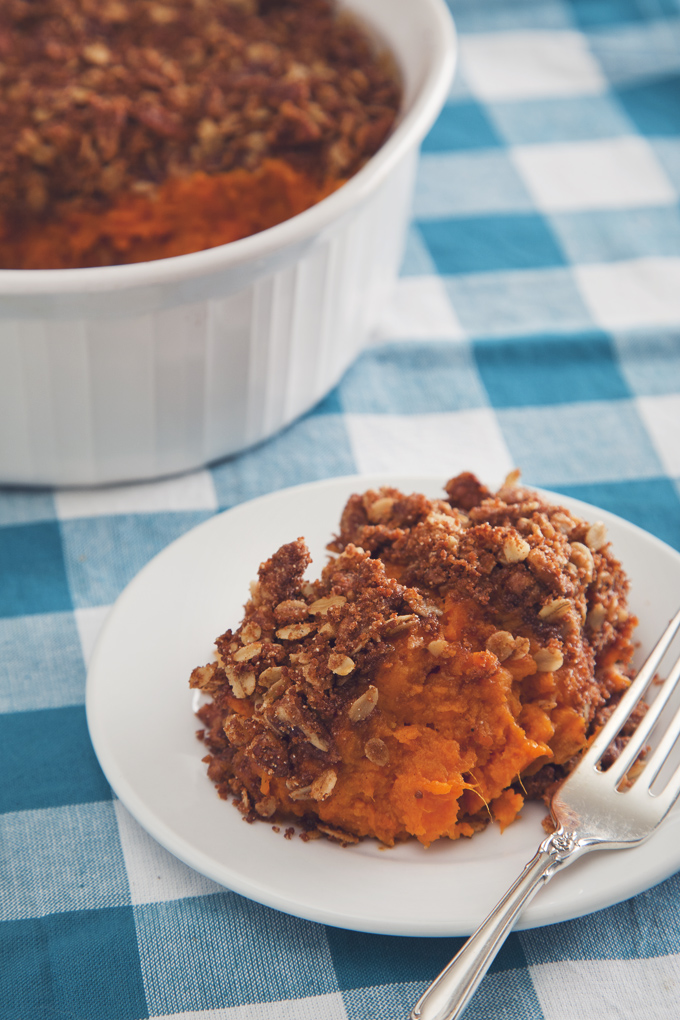 Because I hate peeling vegetables (and fruits) and avoid it like the plague, I roasted the sweet potatoes whole, then sliced them in half and very speedily removed the skins. It was SO easy, and also roasting trumps boiling flavor-wise, so it's a win-win, plus another win because I didn't risk my fingers attempting to peel potatoes.
This casserole serves a crowd, making it perfect for your holiday get-togethers or for a family of two with a week's worth of very happy leftovers.
P.S. 44 Easy Vegan Thanksgiving Recipes for a No-Stress Feast