Anyone else feeling a little less interested in food these last couple of days? I love being in my kitchen, but after four straight days of prepping, cooking, and baking, I'm ready for a break. Fortunately, I'm happy to report that all of that time paid off. I made a mix of my own recipes, as well as a few that I bookmarked (some forever ago), and all of them were absolutely delicious. Here's what my family enjoyed…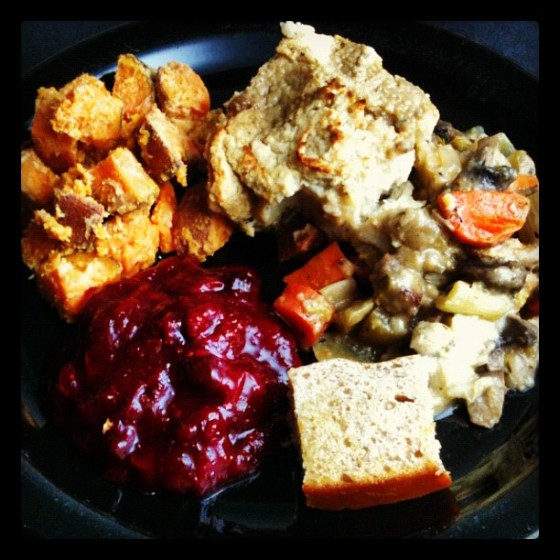 Rustic Bread. I used spelt flour this time, but unfortunately the yeast wasn't good! It rose a little and ended up being edible, but I also threw together some cornbread in a slight and unnecessary panic as my family arrived.
Orange-Scented Cranberry Sauce via Healthy. Happy. Life. I followed Kathy's recipe exactly, but used half the sugar and adjusted the sweetness with a little liquid stevia. It was the perfect balance of tart and sweet, and I loved the fresh orange juice and zest.
Roasted Sweet Potatoes with Miso Sauce via Daily Garnish. I had been seeing this recipe everywhere and was so excited to try the combination of miso and tahini. It did not disappoint. I've been putting the leftover sauce on everything…tofu, raw veggies, a spoon…it's awesome.
Chipotle Seitan Sausage via Vegan Yack Attack. I've made this a couple of times now and Aaron is obsessed. Not only is it more cost effective to make seitan at home, but the flavor in Jackie's recipe is the ideal mix of sweet, savory, and spicy. It beats out nearly all store-bought seitan I've tried.
Shepherd's Pie. A new twist on one of my all-time favorite meals. Recipe post is coming soon!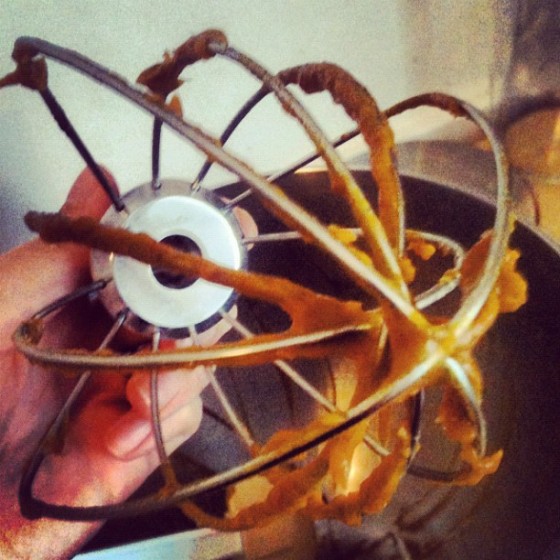 Pumpkin Custard. The only change I made from my original recipe was to use coconut sugar instead of cane sugar. It gave the custard a deeper color, but also played up the molasses flavor, which I really liked.
No-Bake Pecan Pie Bars via The Detoxinista. I only recently discovered Megan's blog and I just about dropped everything I was doing to make this dessert. I absolutely love pecan pie, but I rarely indulge because the traditional version is both not vegan and not conducive to fitting in my jeans. Megan's version isn't low-calorie, but it uses simple, real ingredients (dates, pecans, coconut) and manages to taste just like pecan pie. I didn't use chocolate when I made mine, but I'm sure that's incredible.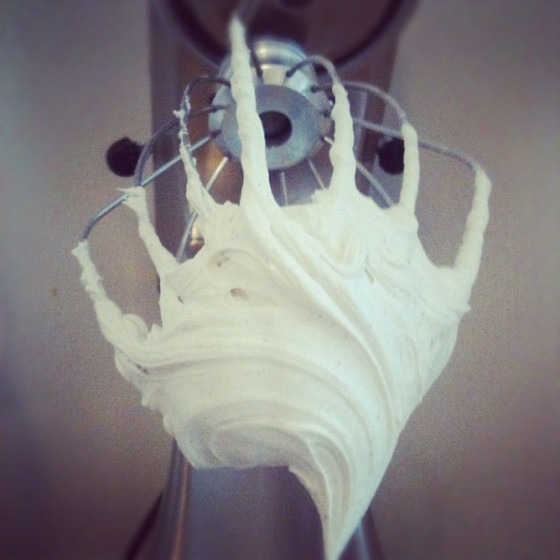 Sunshine in a Jar with Coconut Whipped Cream via A Dash of Compassion. This one has been bookmarked for months and my only regret is not making it sooner. It's like a mix between lemon meringue pie and lemon bars.  Need I say more? Nicole is seriously talented.
…
So, do you see what I mean about needing a little break from the kitchen? Today, I am thankful for leftovers.