Thank you to Success® Rice for sponsoring this post! Success is in the bag.®
It's been a glorious few weeks of cookie, cupcake, and cake recipes, but I think we might be due for some vegetables. Who's with me? (also, there will be more cookies coming soon, so let's eat some greens first, okay?)
I love a good, hearty salad this time of year. We may not have summer tomatoes and little patio herb gardens at our disposal, but we do have sunshine-y citrus, bright red pomegranate seeds, and always-welcome kale to help keep us cheery.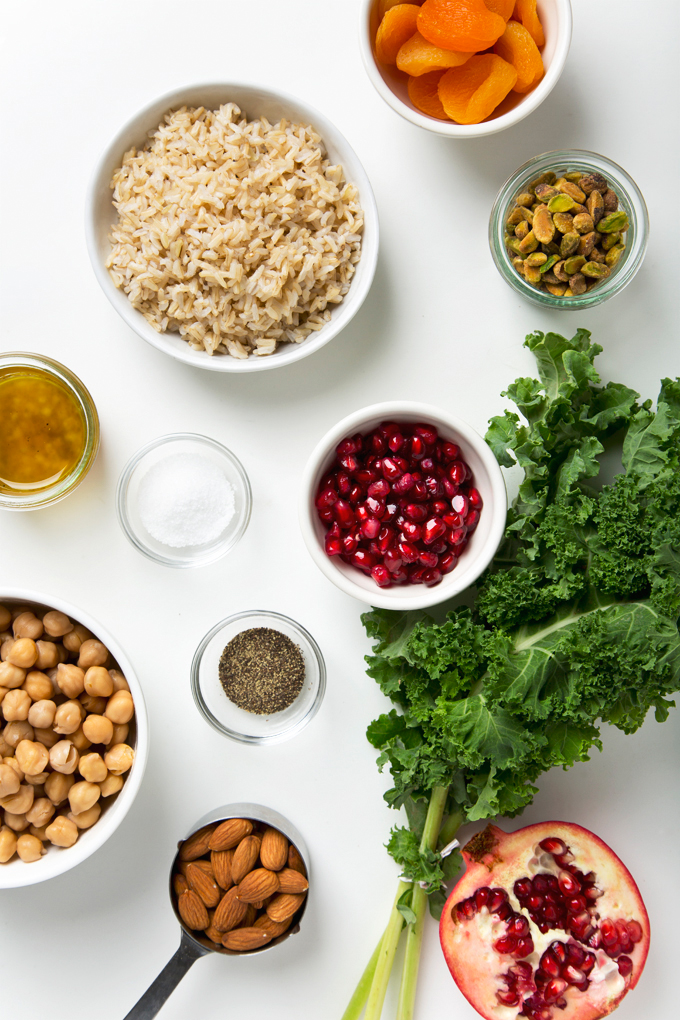 It's no secret that I don't like Boston winters. We had such a doozy in 2014 that Aaron and I packed up and left for a year, opting to spend a good chunk of winter in Southern California instead. We're constantly plotting our return to warmer weather, while in the meantime, trying our hardest to make these dreary and cold days in Boston more enjoyable. Here's what's been helping the most, in case you could use some ideas:
A new winter coat. The one I ultimately chose is heavy and not exactly flattering, but I don't even care because I'm warm! (Aaron took this a step further and ordered himself some inexpensive snow pants…the kind with a bib and suspenders. Ha!)
Real snow boots. Not uninsulated rain boots that I try to wear year-round because #minimalism.
Glow-y lights. I'll never again underestimate the mood-boosting power of a small pink salt lamp. Mine was sitting in a corner collecting dust and now I basically tote it around from room to room. I swear it's helped to reduce screen headaches.
Salads with all the toppings. I'll be honest: I have a harder time wanting to eat loads of veggies when it's freezing outside and the holiday desserts are calling my name. Treating salads like self-serve fro yo bars and loading 'em up with toppings is making all the difference for me.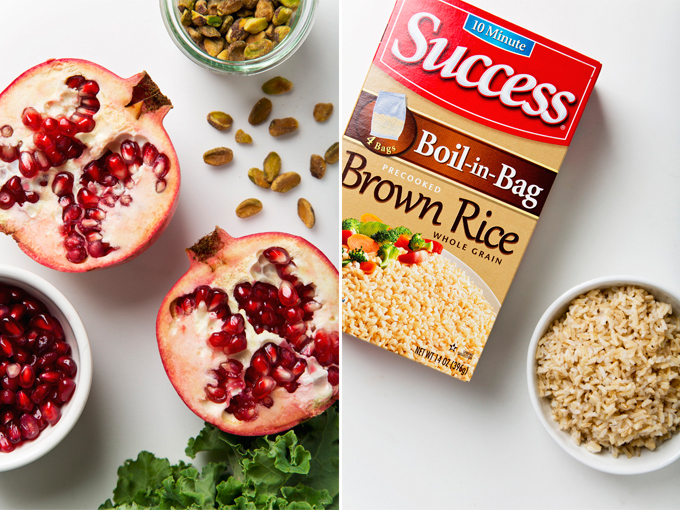 Adding a serving of brown rice to my salads is a current favorite mix-in, but I don't often have the time or the patience to wait forty minutes for it to cook. Success® Whole Grain Brown Rice has become my go-to for brown rice because it cooks up in under 10 minutes and it still has the same taste and similar nutritional benefits of regular brown rice—in one quarter of the cooking time! It comes packaged in pre-measured, colander-style BPA-free bags, so you can boil it in the microwave or on the stove top, and if you somehow don't hear your timer when it goes off (I seem to have become desensitized to hearing mine), the cooked rice can sit in hot water with the heat off for up to 30 minutes. I was very pleasantly surprised by the texture the first time I tried it—no one will know you only spent a few minutes making brown rice.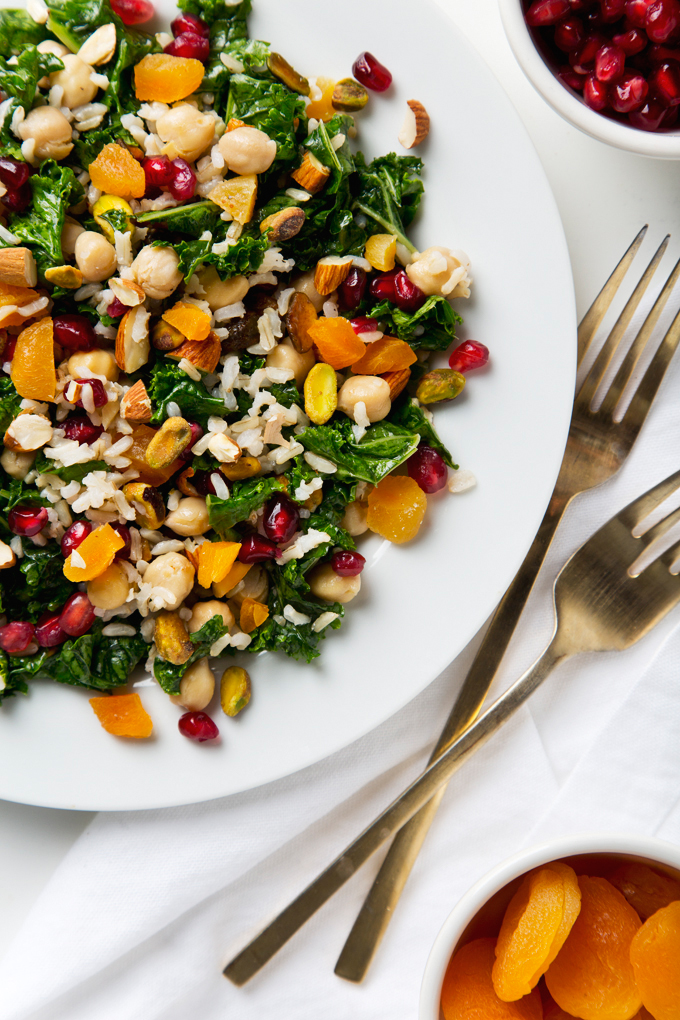 This winter kale salad takes under 20 minutes start to finish and it holds up really well for next-day lunches. To your base of lemon-y massaged kale and whole grain brown rice, all you need to do is add some protein-packed chickpeas, chopped dried apricots, almonds, pistachios, and juicy red pomegranate seeds, then toss it all together with a simple garlicky olive oil dressing.
We've been enjoying this quick salad for busy weekday meals, and I bet it would also make a great addition to your holiday table too!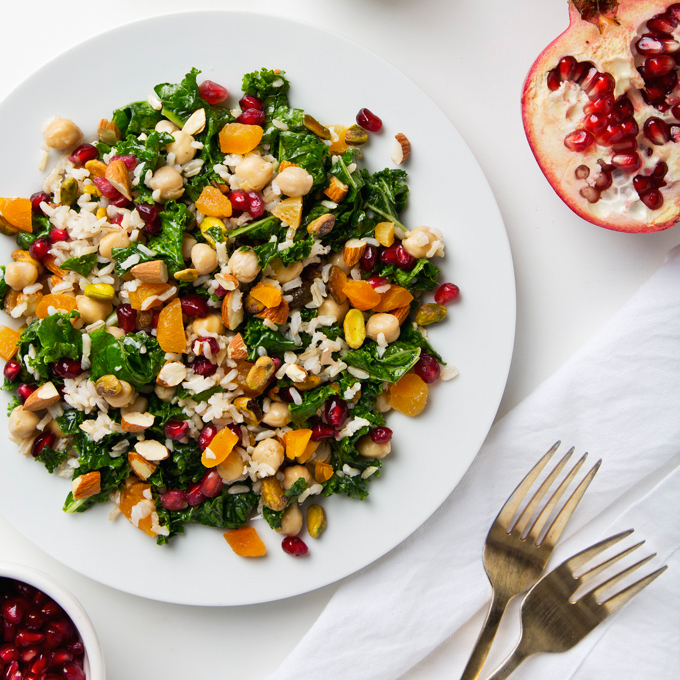 ---
This is a sponsored post written by me on behalf of Success® Rice. Visit SuccessRice.com to view other products, recipes, and special offers!