Thank you to Renew Life Probiotics for sponsoring this post!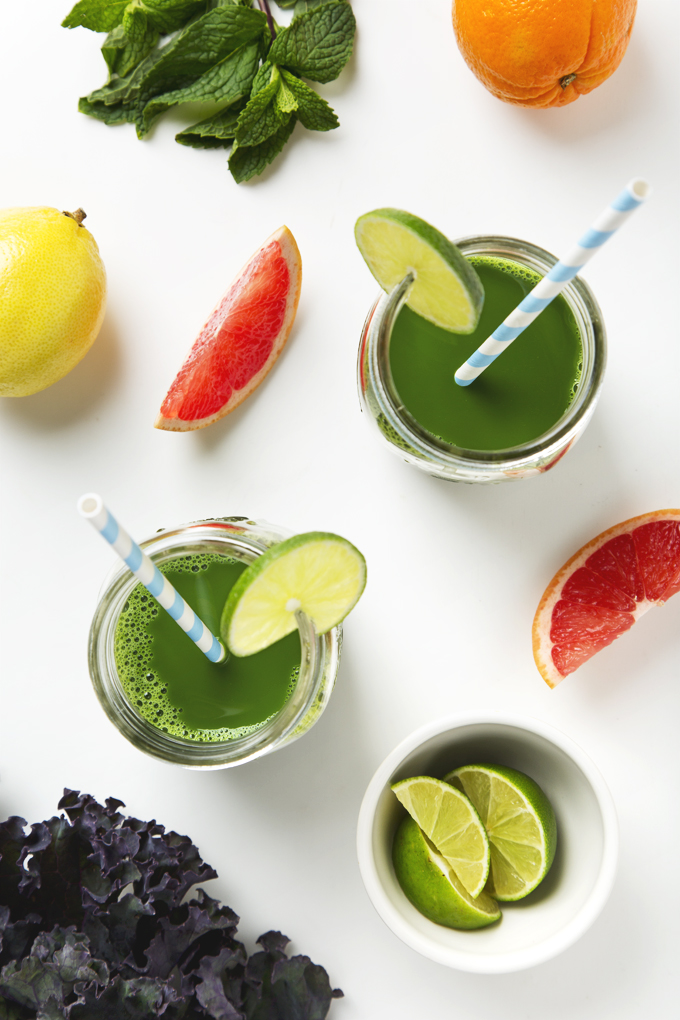 Eating a plant-based diet has a lot of awesome things going for it: it's good for us, it's good for the environment, and if you're vegan—it's really good for the animals. But one thing that I think sometimes gets glossed over is that eating plant-based can be a little tough on your digestion. It might only be during the initial transition, or it might be that specific foods or larger amounts of certain foods can cause discomfort that ends up being a big downer on an otherwise happy way of living.
Aaron and I first started taking a probiotic a few years ago when he began a vegan bodybuilding program and both of us shifted our meals to be more "on plan." The program included a lot of tofu, a whole lot of beans, and multiple servings of protein powder every day (for Aaron). And despite eating really "clean," our stomachs were SO bloated! We tried to power through it for a couple of weeks to no avail (thinking "this too shall pass" ← literally), and since then we've made some changes to how we fuel. Small things like choosing easier-to-digest sprouted tofu, drinking homemade kombucha, and switching to a different protein powder helped, as did not eating whole heads of kale in one sitting. However, the one change that immediately made a huge difference for us was incorporating a daily probiotic supplement.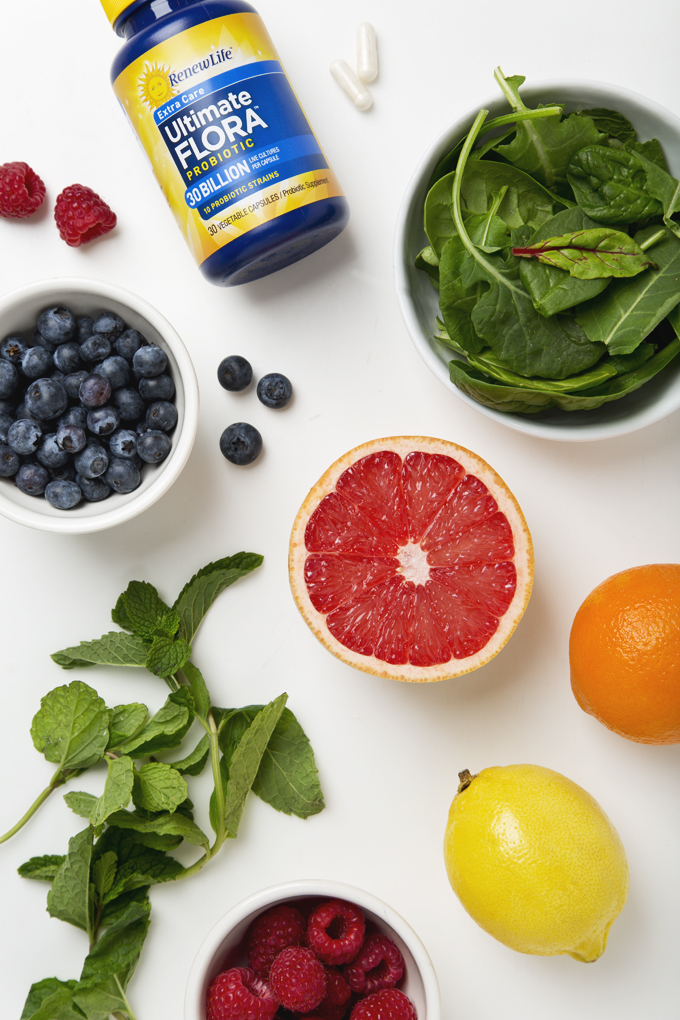 Currently, we both take Renew Life Ultimate Flora Probiotics with our breakfast every morning and in addition to keeping the bloating to a minimum, we've found that supplementing with a probiotic has also been helpful in maintaining our health overall. This makes a lot of sense when you consider that about seventy percent of our immune system is located in our intestinal tract and a proper functioning gut—containing a balance of both good and bad bacteria—plays a big role in our digestive and immune health.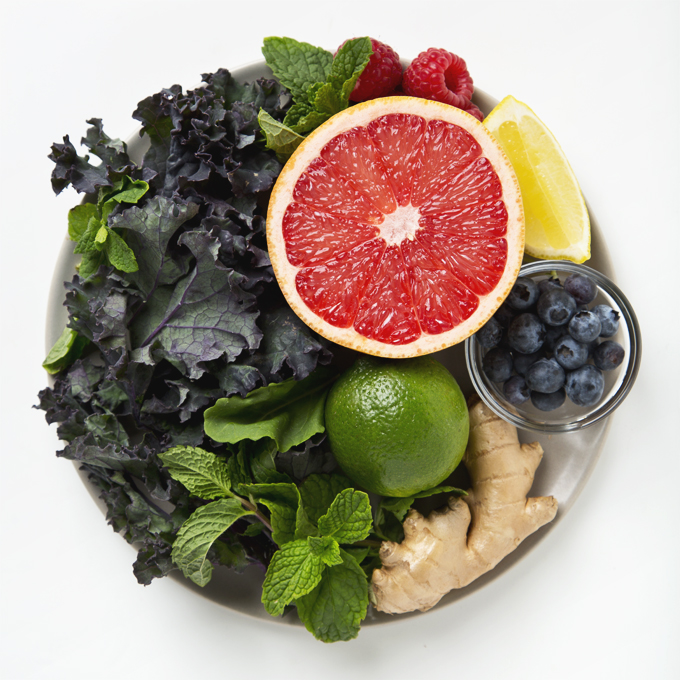 It's always important to pay attention to how we're feeling, but I think this is especially true over the holidays when it's all too easy for us to say yes to a bunch of commitments and let our more wholesome food choices get pushed aside for extra cookies and pie. I'm sometimes guilty of both of these things, and it always leaves me feeling depleted instead of energized when New Year's finally rolls around. Taking a probiotic supplement is an easy way to support balance in your digestive tract and replenish the good bacteria, so you can take on the holidays and the new year in high spirits and good health.
Are you interested in trying Renew Life Probiotics for yourself? Enter to win a 4-month supply of Renew Life Ultimate Flora Probiotics 30 Billion (ARV $80)! We're giving away FOUR prize packs to help jump start your 2017 New Year's resolutions. Enter via the Rafflecopter widget below!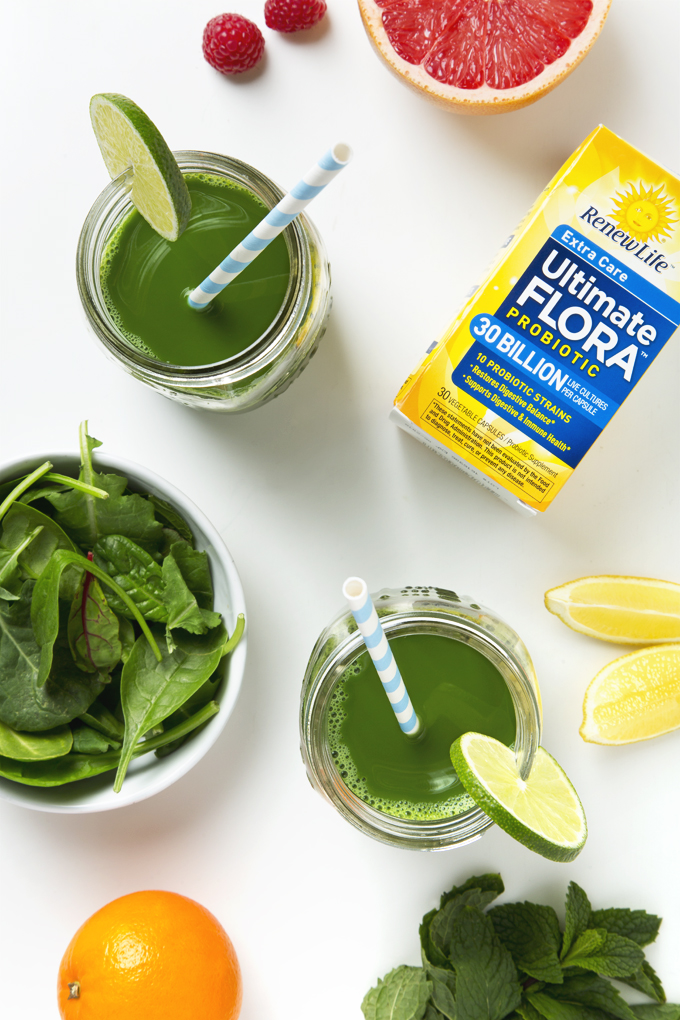 P.S. The green drink pictured above is my 6-ingredient Mighty Green Smoothie. I first made it as an antidote to several weeks of travel and not enough fresh fruits and veggies. It's great for digestion, high in antioxidants and vitamin C, and perfect if you need a quick greens-powered reset!
P.P.S. Renew Life Probiotics is launching a "Get to Know Your Gut" education campaign in order to increase awareness about gut health and digestive wellness. The campaign is based on a recent survey among U.S. women where they found that nearly three quarters of them had experienced a digestive/gut issue in the past 12 months, but nearly two in three women didn't feel comfortable talking about these issues with their friends. I hope that my post and this campaign will make the topic a little more approachable!
---
This is a sponsored post written by me on behalf of Renew Life Probiotics.
Find them at health food stores and major retailers, including Whole Foods, Target, and Walmart, or visit RenewLife.com for more information.